Blueberry-Citrus Water
Blueberries are wonderful fruits by themselves. They are loaded with antioxidants and iron and other nutrients, which is why you should consume them on a regular basis. However, if you put them in water, then you will also increase your water intake, which is always a good thing. Blueberries combined with any citrus fruit, such as lemons, oranges, mandarins or grapefruit can make for a delicious and refreshing detox water, that can keep you hydrated and energized throughout the day.
Watermelon-Mint Water
Mint, like lemon is something that you can use in all of your detox water. It is not only super refreshing as an ingredient, but nutrition wise, mint helps your body's immune system stay in top shape, and it soothes your stomach and all related problems such as indigestion and inflammation. Watermelon on the other hand is the ultimate fruit which can cool your system down during the hot summer months, and keep you hydrated for longer hours when you are working. This is a refreshing mix that you can carry around everywhere to give your body that extra boost.
Activated Charcoal-Lime Water
Since the everything-black food trend is taking over foodies everywhere, there is no reason to keep it out of your water as well, especially since it makes your water so much better. Activated charcoal has amazing absorbent properties, which can flush out the toxins from your body. When it is mixed with rock salt and lime juice, it makes for a revitalizing and refreshing drink, which makes you feel healthier, tastes great and looks like the absolute bomb.
Pineapple-Coconut Water
Coconut water is nature's very own detox water. It loaded with a ton of important minerals and vitamins, which makes your body healthier, and ensures that your systems are functioning as they should. However, there are ways that you can amp up coconut water as well. One great addition is pineapple slices, which are also a tropical fruit, and complements the flavors of coconut water wonderfully and makes it even more enriched with vitamins and enzymes. It keeps you cool and functional throughout the day, and it improves the general immunity of your body at the same time.
---
Suggested read: 15 Latest Food Trends On Instagram That Has The World #Obsessed And #Drooling
---
The best detox water is one which is custom made with the fruits and berries and seeds of your choice. This makes it a yummy drink which helps you increase your water intake consciously by making your water exciting. Detox water also makes your body healthier and adds to your nutritional requirements every day. Summer is coming and it is time that you stock up on these simple, but healthy and yummy detox water recipes, so that you can figure out one which suits your needs, and something that you wouldn't mind chugging multiple times a day!
Featured image source: Instagram 
Summary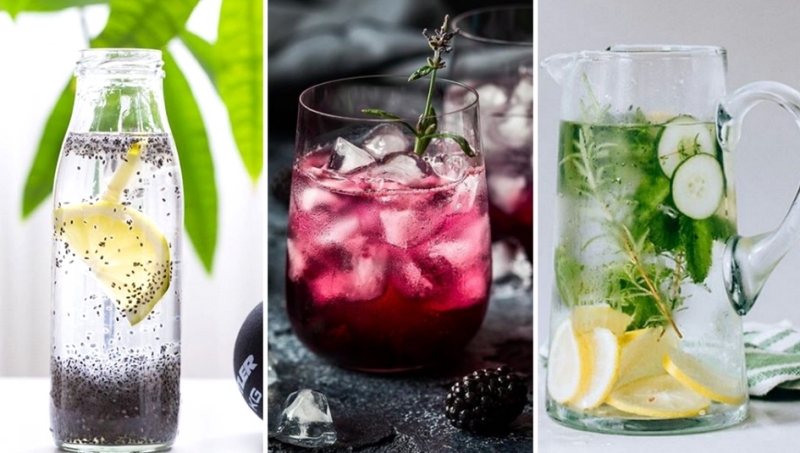 Article Name
The Best Detox Water Recipes Your Body Will Thank You For
Author
Description
Summer is here, and you need to be equipped with the best detox water recipes that'll not only keep you hydrated, but also take care of health and immunity.