Bikini wax is an 'ouch' affair! But besides that, there is another downside to it, and that is the in-between stage; the stage when your hair situation down-under makes you wanna cringe and reach out for that razor, or maybe book a number of salon appointments than you normally need. Well, the misery has ended. Believe it or not, there is an answer to this beach beauty bummer, and that is bikini waxing at home!
Waxing professional Nicole Garcia, who is the head aesthetician at the Bliss Spa in Dallas, says, "At-home bikini waxing is great for those times that you can't make it to the spa or need a touch up—especially during the summer months." The reason why we are providing you with a complete scoop on bikini waxing at home is that it not only aides you to have smoother skin always, but also saves you the huge price tag that follows a full-on wax at the spa.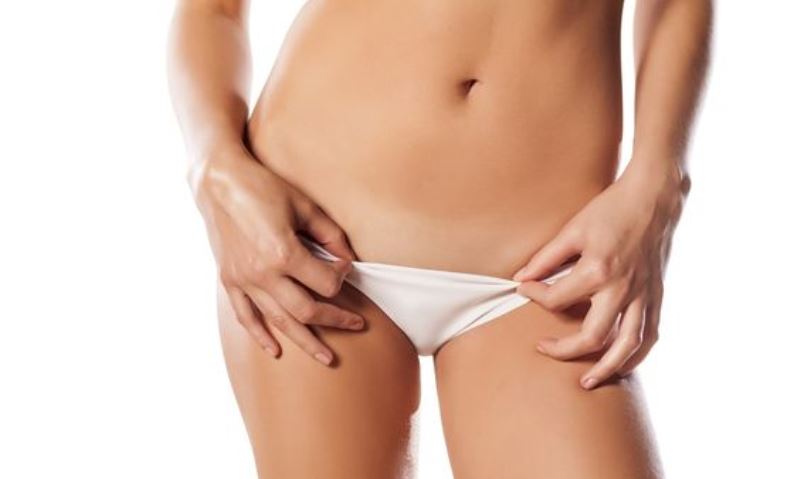 Image source: Pinterest
Though we are encouraging you to go the DIY route, let me warn you that it does not come without its own disadvantages! Generally, there is more room for error because of lack of knowledge on the part of the person trying it at home for the first time. There is the risk of burns and bruises. You may even end up pulling off your skin, or maybe yanking off your epidermis if you apply retinol to that area or if that area is sunburned!
There is a silver lining, people! You can avoid all these petrifying side effects by merely following a few simple instructions.
But before we get there, let's discuss some of the FAQs.
1. Why do I need to wax in the first place?
If you are one of the purists, who thinks that they don't need to take care of things down south, you should revel in it! Seriously, why trim to impress society?! But you should know that getting a bikini wax is actually hygienic. It helps you keep that area clean, beautifully smooth and healthy.
2. Shaving v. Waxing
So you don't want to be wincing in pain when hot wax is applied to your girl parts, and are skeptical about the hair being ripped out of your sensitive region? Shaving can be such a painless alternative, right? Well, waxing has certain advantages over shaving. These are:
It lasts longer. Shaving allows dots of hair on the skin that can be seen, since it cannot get to the root of the hair. Waxing not only lets you get to the root of the problem, but also destroys it so that it takes time to grow back.
You do not run the risk of cutting yourself. Shaving can be a real pain coz you tend to cut your ankles with the sharp razor. So bringing a sharp blade to your sensitive area can be quite dangerous.
You will have no ingrown hairs when it comes to bikini waxing. A perfect shave is a myth!
3. What are the benefits of waxing at home?
If you are not comfy with baring it all to a stranger, the advantages of waxing at home seem to dwarf the other options! To begin with, like we said, you don't have to stand naked in front of strangers. Watch any instructional Brazilian wax video on YouTube and you will know what we mean! Also, imagine an unknown woman (though she is a pro and she does this all the time!) feeling up your vajayjay?! Home waxing, it is then! Also, you can do the waxing bit at your own pace. You can go slow and do it a piece a time. Waxing your ouchies at home is way cheaper than getting it done at the spa. So, see what we mean? Home bikini waxing all the way, sisters!
We have a detailed guide on bikini waxing at home in the latter half of the article, but before you dive into it, we want you to skim through some dos and don'ts.
Dos:
a. If you want a full-on Brazilian wax, we suggest you get it done from the pros. (especially, if you are absolutely new to at-home waxing of any kind, do not begin with a Brazilian wax!).
b. A pre-waxing dose of Advil is advised to minimize the pain.
c. Before undertaking a bikini wax, practice on your arms or your legs first and then go for the trickier kind of waxing. Remember, the bikini line is extremely sensitive.
d. Make certain to check the temperature of the wax before spreading it on your bikini line. Try it on your forearm first, and then on your elbow.
e. Your hair should at least be a quarter of an inch long for best results. So start trimming with a pair of scissors before going for the wax stick.
Don'ts:
a. Waxing that area if the skin is sunburned is an absolute no-no!
b. Applying wax to that area, again and again, because the hair is not long enough and is not getting waxed properly, are you kidding me?!
Now we are ready to go through the drill! We have divided the procedure into sub-sections so that it is convenient for you to execute.
1. Buying the at-home waxing materials
When buying the waxing kit for home that too for the sensitive area, you need to make sure that you opt for the one that specifically caters to bikini or Brazilian waxing. We suggest, hard wax for that area. Hard wax does not require muslin strips. It is advisable since it is much better at picking up that coarse hair. There are plenty of varieties when it comes to wax for uneven hair, to choose from. Go for the one that compliments your skin type. Apart from that, you will be needing a Brazilian trimming razor. It will have the length settings. You will also require a skin moisturizer that is best for sensitive skin. A popsicle stick and a bottle of baby oil are recommended. A commercial kit for bikini waxing at home usually includes wipes and Popsicle sticks. Wipes can be used instead of baby oil.
2. Planning your approach
What shape do you want it to be? The common ones include a neat triangle, a love heart, a full-Brazilian, and a landing strip. You need to have a clear idea of the shape that you want if you wish for the results to be the same!
3. Trim after a shower
You need to take a shower so that your skin softens, which in turn will make the waxing bit easier. Then trim your hair to a waxable length of 6-8 mm using the razor. Moisturize the sensitive cream on to your vajayjay.
4. Preparations for waxing
For waxing, you should pick a room which has a comfortable bed and a dustbin. Lay a towel on your bed so that it does not get messy from the process.
5. Heating the wax
All waxes come with instructions. While some need more heating, the others don't. The hotter the wax, it is more likely to get viscose. It can also burn and be impossible to use.
6. Testing the temperature of the wax
This is when you use the Popsicle stick. Using it, dab some wax on your forearm. If it seems warm, apply it on your elbow. If you think it is burning hot there, let it cool a little and then repeat this step until the wax is comfortably hot.
7. Getting into position
While removing hair from any part of the body, you need to be able to see it clearly. So lie down on the bed, keeping your feet firmly on the floor. Your knees should be bent and slightly apart. Use a pillow to prop your head. By doing so, you will be able to see whether you are doing it right. Waxing between the legs is a little tricky and some gymnastic classes can come in handy! Come on, I'm kidding!
8. Applying the wax
Apply the wax using the Popsicle stick. Spread the wax in the direction of the hair growth. You should start at the root and then move along the direction your hair growth is. At the end of the strip, leave some wax unconnected to your skin, so that it hurts less.
9. Removing the wax
To remove the wax, you need to go the direction that is opposite to the direction of wax application. This will ensure that you secure a pain free and very smooth finish. You need to leave the wax on your skin for like 10 or 15 seconds. Hold the skin tight by spreading it using your fingers, bringing it away from the wax-covered area. Pull the wax parallel to skin, and not up off the skin. If there are some leftover hairs, remove them some other time and not immediately, because that will burn the waxed area.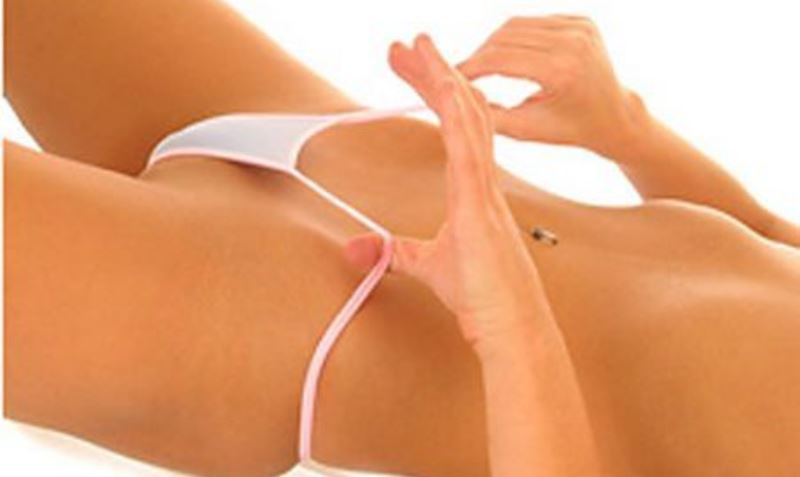 Image source: Pinterest
10. Apply the baby oil
To remove the wax residue, and also to soothe the discomfort, apply some baby oil. You can combine it with some gentle massage cream to calm the skin. The redness will reduce in an hour or two.
11. Rinse
A shower with some gentle moisturizing can help further soothe the skin, and also clean the area. All the pain that you have so far experienced should be over by now, and so the shower will help you relax.
12. Do not tweeze the small leftovers
If there are just some tiny hairs that remain where it's not waxed properly, wait for a few days and re-wax. Tweezing or waxing it then and there can be very hurtful and is warned against.
Was this guide helpful? Let us know in the comment section below.
Featured image source: Pinterest
Summary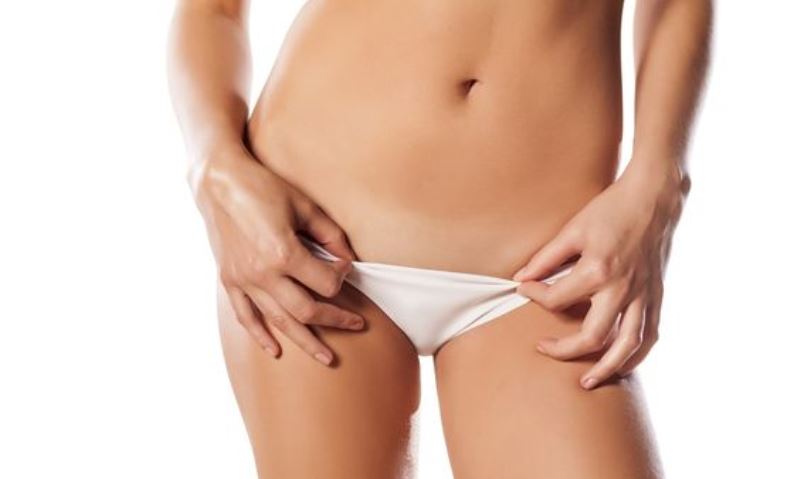 Article Name
The Complete Guide For Bikini Waxing At Home
Author
Description
So you're hitting the beach and want to be smooth down under? You don't need a spa for it. Do it at home with this complete guide for bikini waxing at home.