A lot of the times, fashion shows, models, and runways are about the clothes and the corresponding designers more than anything else. However, 2015 saw designers pull out the big guns and go out all out with their experimentation, not only in case of their clothing lines, which were fabulous as it is, but also with the accessories which the models sported on their long walk down the aisle. Some of the most striking features were the shoes that we got to see on the runway. Some were quirky, while others were downright creative and unexpected, while others experimented with old school footwear fashion, and left us wanting more.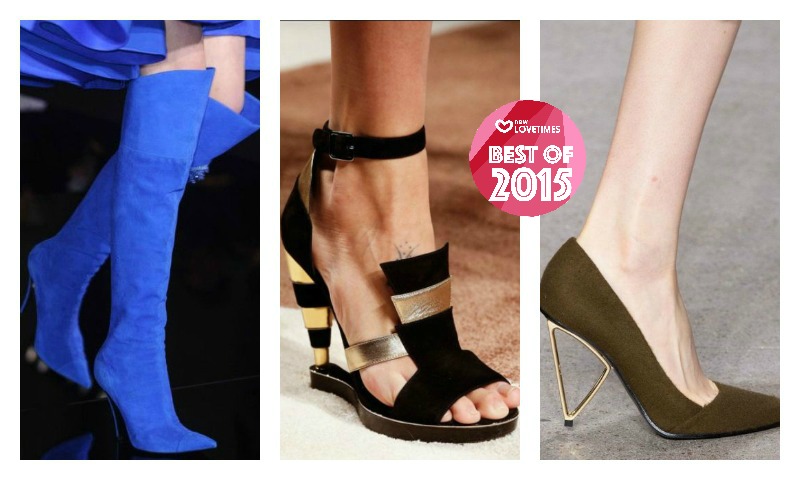 Here are some of the best runway shoes that we spotted during the course of 2015.
1. Olive green fabric pumps with striking gold heel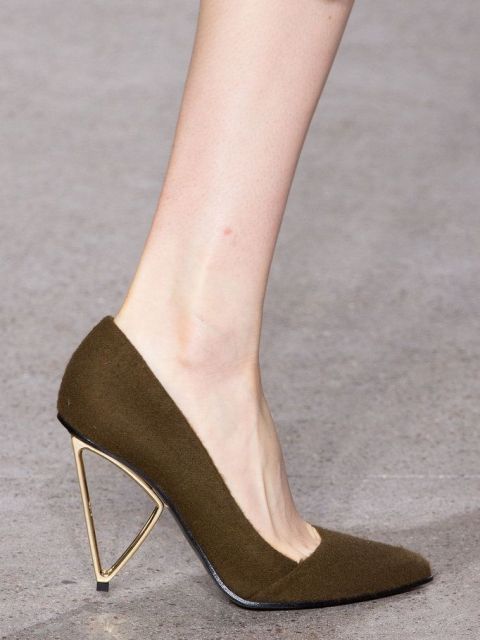 Image source: Pinterest
This quirky take on classic pumps was seen at the New York Fashion Week in 2015.
---
Suggested read: Top 20 ballsy celebrity outfits of 2015
---
2. Chunky leather and wood rustic heels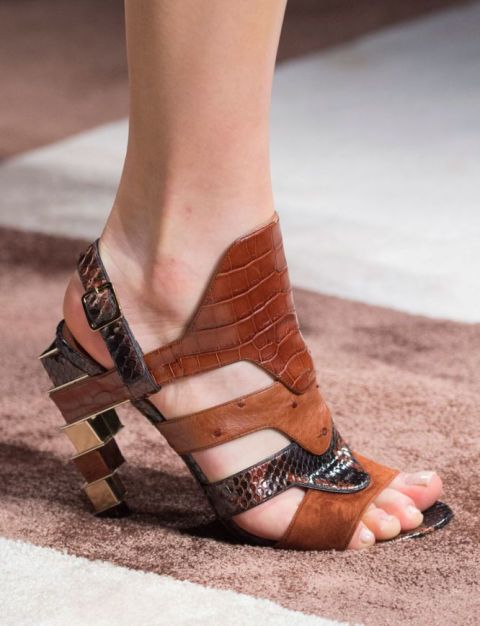 Image source: Pinterest
This chunky, tribal-inspired piece was seen on the runway at Salvatore Ferragamo Fall 2015 Collection.
3. Glass and gold embroidery boots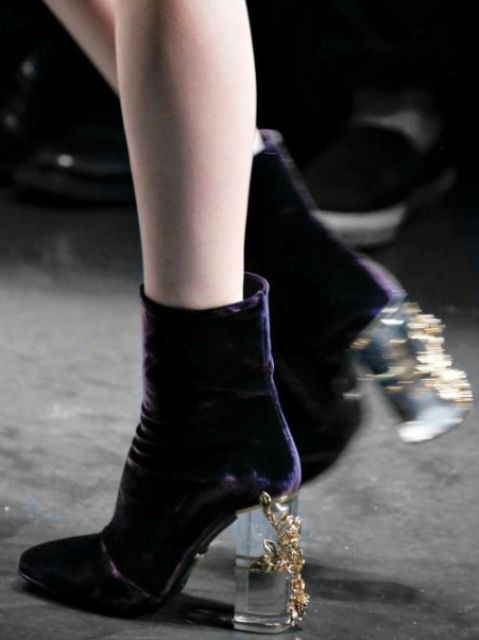 Image source: Pinterest
These eccentric pair of beauties had Oriental gold embroidery on their already unique glass heels on dark velvet boots.
4. Pink and translucent dainty straps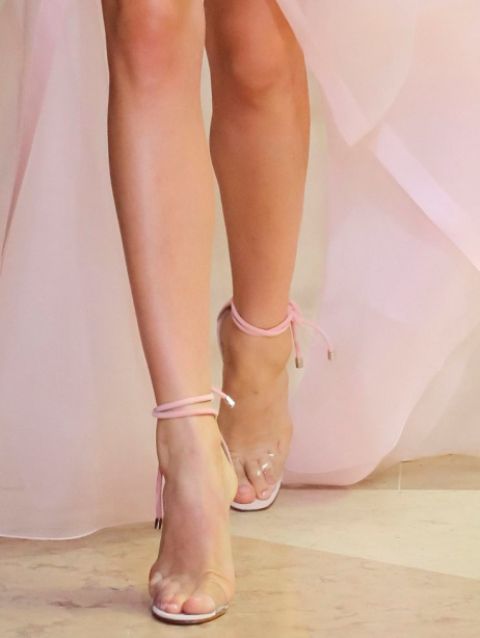 Image source: Pinterest
The remarkable feature about these pretty little things were the invisible front straps making the shoes look so light and airy, along with the light pink rope straps, spotted during the Carolina Herrera Spring 2016 Collection for Vogue.
5. Red and white embroidery platforms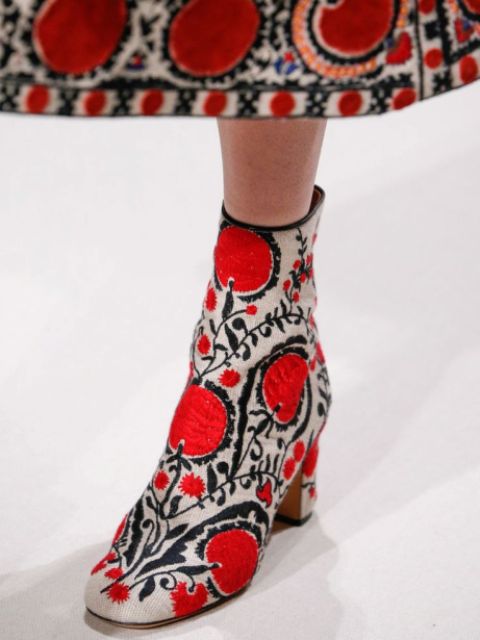 Image source: Pinterest
Spotted during Valentino's Spring 2015 fashion show, these embroidered shoes were custom-made to match the collection.
6. Colorful take on the gladiator shoes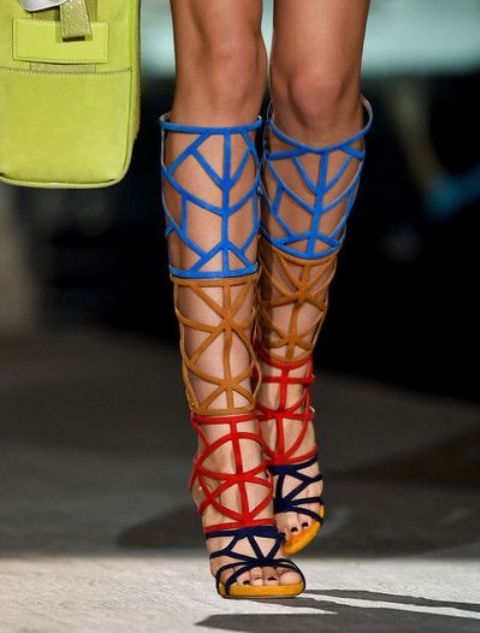 Image source: Pinterest
Sported by models at the Dsquared² at Milan Spring 2015, this colorful take on the conventional, old-school style gladiator shoes was one of the highlights of the show.
7. Green velvet festive shoes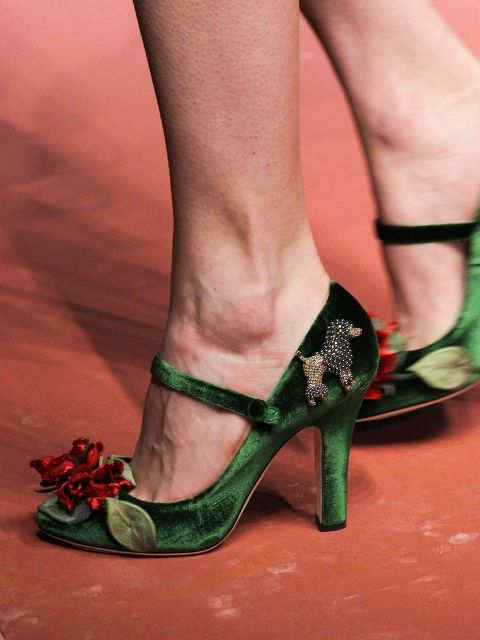 Image source: Pinterest
These strappy green pumps with a distinctive festive, Christmassy feel were seen in the Dolce and Gabbana Fall 2015 Ready-To-Wear Collection.
8. Circus-inspired ready-to-wear masterpiece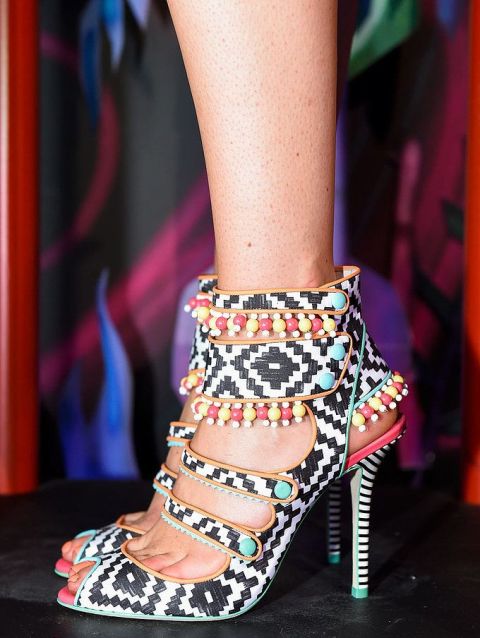 Image source: Pinterest
This is another memorable piece seen on the runway as part of the Summer/Spring 2015 Collection, from the house of Sophia Webster.
9. Futuristic metal/floral platforms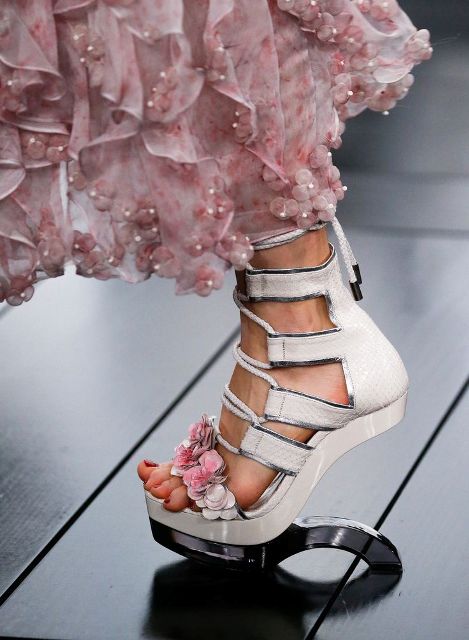 Image source: Pinterest
Runway shows from Alexander McQueen have always been a revelation when it comes to never-seen-before shoe designs, and they did not disappoint in this year's Spring 2015 show either, with this floral-metallic shoe design.
10. Redefining high boot heels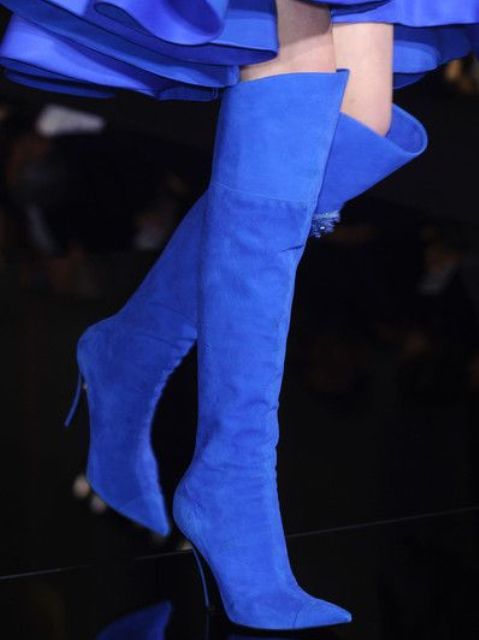 Image source: Pinterest
The Couture Spring Collection 2015 from Versace was a spectacle to behold, and so were the shoes on display during the show, especially this tranquil blue high suede boots.
11. Balanced black strappy Chanel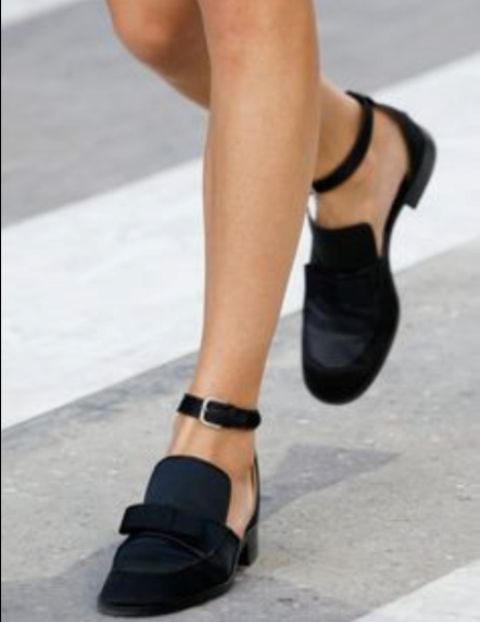 Image source: Pinterest
This gorgeous pair of Chanel shoes was spotted on the Paris runway in 2015, and is unique and comfortable because of the balance of the heavy, covered front, and the light, naked, strappy back portion.
12. Sequined broad heels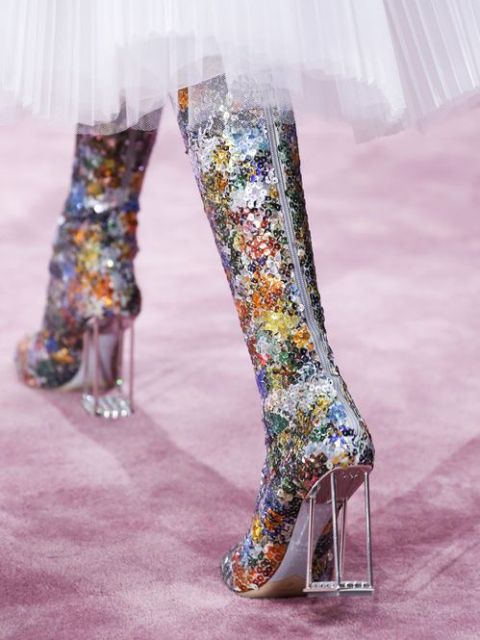 Image source: Pinterest
This is another eye-catching pair of long shoes from the Paris Fashion Week, this time from the house of Dior. It was a perfect blend of 60s sequined fashion, and the futuristic translucent broad heel.
13. Egyptian-inspired platform heels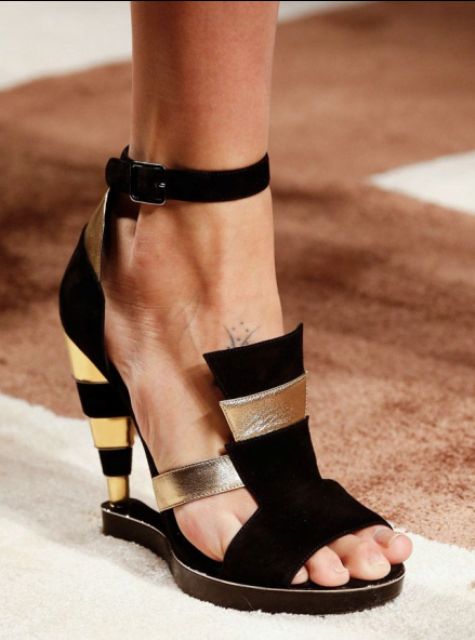 Image source: Pinterest
These were some of the most exciting pair of shoes from the 2015 Fall Runway shows, as Fendi managed to recreate a King Tut style sandal while retaining the essence of the clothing line.
14. White fur wrapped pumps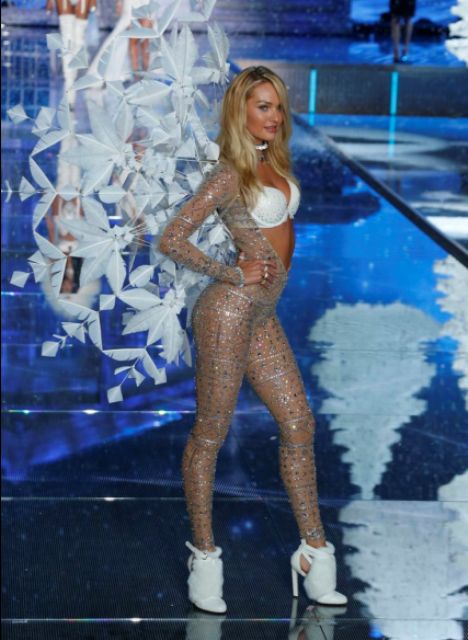 Image source: Pinterest
The Victoria's Secret Fashion Show was one of the most talked about fashion shows of the year, and along with some outstanding lingerie and some of the top names in the industry, we also saw some of the most attractive shoes, like these classic white pumps made exciting with a fur coat.
15. Animal print fabric sequined party shoes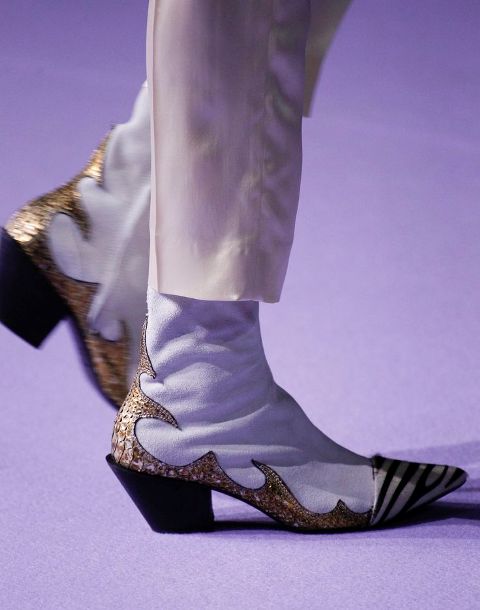 Image source: Pinterest
These beauties were seen in the Haider Ackermann Spring 2016 Collection, and are unique because of the slanted heel, along with the eye-catching animal print pointed toe.
---
Suggested read: Top 10 sizzling Hollywood red carpet looks of 2015
---
16. Furry heels in haute couture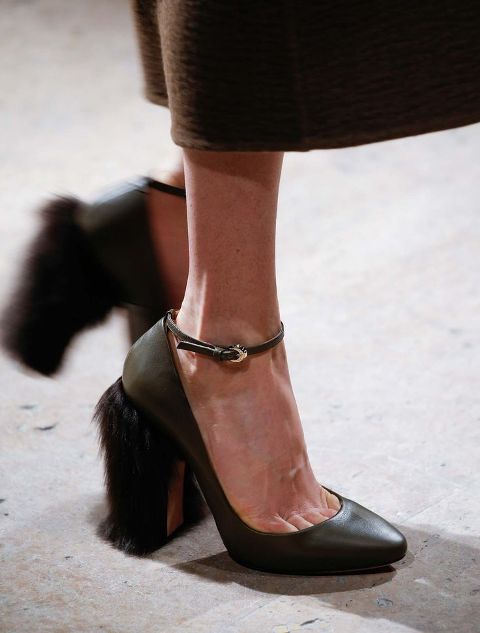 Image source: Pinterest
People have been experimenting with heels for a long time, and 2015 was no different with big labels like Oscar de la Renta and Valentino showing off unconventional heels. However, this furry pair from Rochas Fall Collection takes the cake because of its sheer uniqueness.
Summary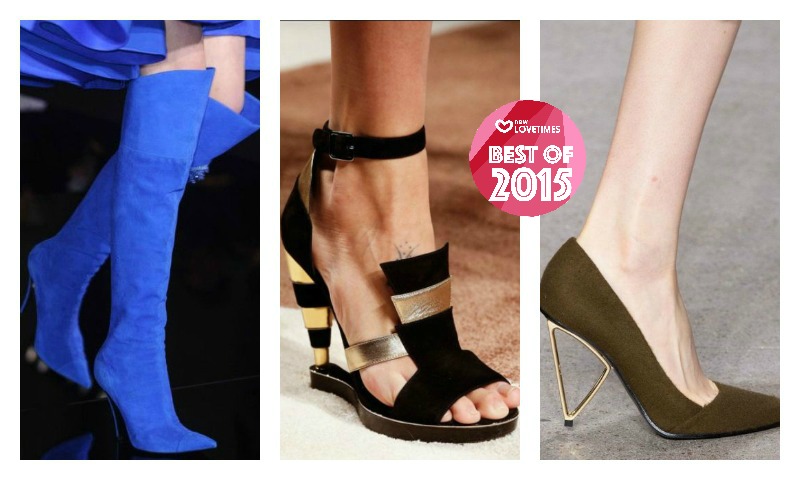 Article Name
#BestOf2015 Top 16 Shoes Spotted On The Runway In 2015
Author
Description
It weren't just the clothes that wowed us on the runway in 2015, but shoes and accessories too...