According to Goodreads:
In The Unbearable Lightness of Being, Milan Kundera tells the story of a young woman in love with a man torn between his love for her and his incorrigible womanizing and one of his mistresses and her humbly faithful lover. This magnificent novel juxtaposes geographically distant places, brilliant and playful reflections, and a variety of styles, to take its place as perhaps the major achievement of one of the world's truly great writers.
---
Suggested read: Keaton Henson Is The God of Turning Suffering Into Art
---
Best quotes from The Unbearable Lightness Of Being 
Here are some of my favorites from Milan Kundera's, The Unbearable Lightness of Being:
Questions with no answers
"Indeed, the only truly serious questions are ones that even a child can formulate. Only the most naive of questions are truly serious. They are the questions with no answers. A question with no answer is a barrier that cannot be breached. In other words, it is questions with no answers that set the limit of human possibilities, describe the boundaries of human existence."
Einmal ist keinmal
"Einmal ist keinmal, says Tomas to himself. What happens but once, says the German adage, might as well not have happened at all. If we have only one life to live, we might as well not have lived at all."
Life is the first rehearsal for life
"Human life occurs only once, and the reason we cannot determine which of our decisions are good and which bad is that in a given situation we can make only one decision; we are not granted a second, third, or fourth life in which to compare various decisions."
Love is a battle
"Love is a battle," said Marie-Claude, still smiling. "And I plan to go on fighting. To the end."
Love is a battle?" said Franz. "Well, I don't feel at all like fighting." And he left."
How do you treat those who are at your mercy?
"True human goodness, in all its purity and freedom, can come to the fore only when its recipient has no power. Mankind's true moral test, its fundamental test (which is deeply buried from view), consists of its attitude towards those who are at its mercy: animals."
Man invented god
"The very beginning of Genesis tells us that God created man in order to give him dominion over fish and fowl and all creatures. Of course, Genesis was written by a man, not a horse. There is no certainty that God actually did grant man dominion over other creatures. What seems more likely, in fact, is that man invented God to sanctify the dominion that he had usurped for himself over the cow and the horse."
Living in lies
"For Sabina, living in truth, lying neither to ourselves nor to others, was possible only away from the public: the moment someone keeps an eye on what we do, we involuntarily make allowances for that eye, and nothing we do is truthful. Having a public, keeping a public in mind, means living in lies."
Es muss sein
"We all reject out of hand the idea that the love of our life may be something light or weightless; we presume our love is what must be, that without it our life would no longer be the same; we feel that Beethoven himself, gloomy and awe-inspiring, is playing the "Es muss sein!" to our own great love."
The moment love is born
"Tereza knew what happens during the moment love is born: the woman cannot resist the voice calling forth her terrified soul; the man cannot resist the woman whose soul thus responds to his voice."
What is compassion
"All languages that derive from Latin form the word "compassion" by combining the prefix meaning "with" (com-) and the root meaning "suffering" (Late Latin, passio). In other languages, Czech, Polish, German, and Swedish, for instance – this word is translated by a noun formed of an equivalent prefix combined with the word that means "feeling".
In languages that derive from Latin, "compassion" means: we cannot look on coolly as others suffer; or, we sympathize with those who suffer. Another word with approximately the same meaning, "pity", connotes a certain condescension towards the sufferer. "To take pity on a woman" means that we are better off than she, that we stoop to her level, lower ourselves.
That is why the word "compassion" generally inspires suspicion; it designates what is considered an inferior, second-rate sentiment that has little to do with love. To love someone out of compassion means not really to love."
---
Suggested read: 'Because I Could Not Stop For Death', And Other Poems By Emily Dickinson
---
Happiness fills the space of sadness
"She was experiencing the same odd happiness and odd sadness as then. The sadness meant: We are at the last station. The happiness meant: We are together. The sadness was form, the happiness content. Happiness filled the space of sadness."
The intoxication of the weak
"We might also call vertigo the intoxication of the weak. Aware of his weakness, a man decides to give in rather than stand up to it. He is drunk with weakness, wishes to grow even weaker, wishes to fall down in the middle of the main square in front of everybody, wishes to be down, lower than down."
What shall we choose – Lightness or weight?
"But is heaviness truly deplorable and lightness splendid? The heaviest of burdens crushes us, we sink beneath it, it pins us to the ground. But in the love poetry of every age, the woman longs to be weighed down by the man's body. The heaviest of burdens is therefore simultaneously the image of life's most intense fulfillment. The heavier the burden, the closer our lives come to the earth, the more real and truthful they become. Conversely, the absolute absence of a burden causes man to be lighter than air, to soar into heights, take leave of the earth and his earthly being, and become only half real, his movements as free as they are insignificant. What then shall we choose? Weight or lightness?"
Selfless love
"It is completely selfless love: Tereza did not want anything of Karenin; She did not ever ask him to love her back. Nor has she ever asked herself the questions that plague human couples: Does he love me? Does he love anybody more than me? Does he love me more than I love him? Perhaps all the questions we ask of love, to measure, test, probe, and save it, have the additional effect of cutting it short. Perhaps the reason we are unable to love is that we yearn to be loved, that is, we demand something (love) from our partner instead of delivering ourselves to him demand-free and asking for nothing but his company."
If a mother was Sacrifice, then a daughter was Guilt
"Tereza's mother never stopped reminding her that being a mother meant sacrificing everything. Her words had the ring of truth, backed as they were by the experience of a woman who had lost everything because of her child. Tereza would listen and believe that being a mother was the highest value in life and that being a mother was a great sacrifice. If a mother was Sacrifice personified, then a daughter was Guilt, with no possibility of redress."
Only if we had two lives
"If I had two lives, in one life I could invite her to stay at my place, and in the second life I could kick her out. Then I could compare and see which had been the best thing to do. But we only live once. Life's so light. Like an outline we can't ever fill in or correct… make any better. It's frightening"."
Sparkle with a sudden wondrous poetry
"Beauty in the European sense has always had a premeditated quality to it. We've always had an aesthetic intention and a long-range plan. That's what enabled western man to spend decades building a Gothic cathedral or a Renaissance piazza. The beauty of New York rests on a completely different base. It's unintentional. It arose independent of human design, like a stalagmitic cavern. Forms which in themselves quite ugly turn up fortuitously, without design, in such incredible surroundings that they sparkle with a sudden wondrous poetry…Sabina was very much attracted by the alien quality of New York's beauty. Fran found it intriguing but frightening; it made him feel homesick for Europe."
Music was anti-word
"Noise has one advantage. It drowns out words. And suddenly he realized that all his life he had done nothing but talk, write, lecture, concoct sentences, search for formulations and amend them, so in the end no words were precise, their meanings were obliterated, their content lost, they turned into trash, chaff dust, sand; prowling through his brain, tearing at his head. they were his insomnia, his illness. And what he yearned for at that moment, vaguely, but with all his might, was unbounded music, absolute sound, a pleasant and happy all-encompassing, over-powering, window-rattling din to engulf, once and for all, the pain, the futility, the vanity of words. Music was the negation of sentences; music was the anti-word!"
---
Suggested read: The Ministry Of Utmost Happiness: Telling A Shattered Story By Becoming Everything
---
This is all we have on today's post. This is, however, not an exhaustive list, and if we have missed out on some of your favorites, then please feel free to add them in the comment section below.
Until next time!
Featured image source: Instagram 
Summary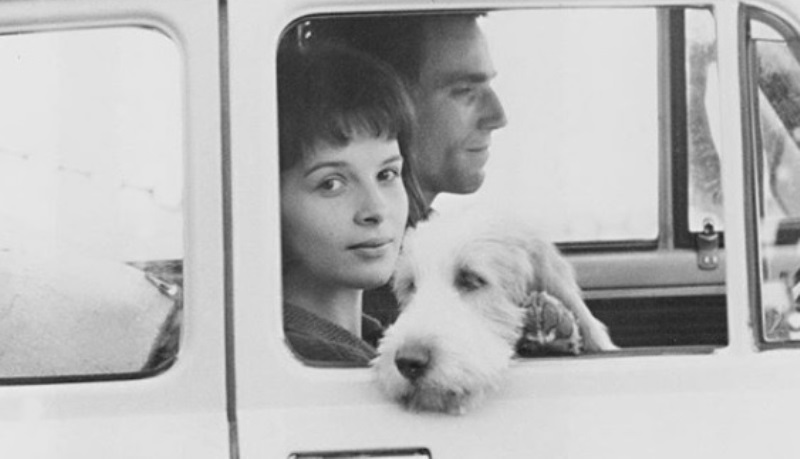 Article Name
The Unbearable Lightness Of Being Is A Masterpiece Everyone SHOULD Read
Author
Description
A book I was introduced to by a friend, this year, 'The Unbearable Lightness Of Being' is the book everyone must read to understand themselves a little better.