There comes a time in every girl's life when all hairdos seem to be leading unto one stinking hair rut. The sameness is stuffy and boring and doesn't dress your tresses to impress, anymore. In fact, even the styles that had maximum appeal and went straight into your 'timeless' books seem to be losing their edge. After all, there's only a certain 'top' you can take the top knot to before you start to plateau, eh? So, what's a girl to do when there seem to be no fresh hairstyles to be tressed to impress? Split her favorite hairdo into two and take to the double bun hairstyles.
That's right. Your favorite 90s hairstyle is back and this time, the double bun hairstyles are a lot more than simple buns sitting atop your head. From tightly braided buns to gravity-defying shapes and cool hair accessorization options to adding a bit of bling, double bun hairstyles are back with a bang- and have options galore to keep your tresses happy (and far from bored) for a long, long while. Check our favorites here:
---
Suggested read: 4 braided hairstyles we are lovin'
---
1. The wavy sprawl buns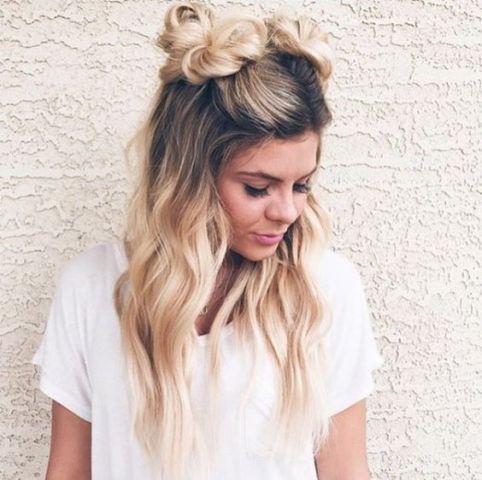 Image source: Pinterest
If you are looking for fun and romanticism rolled in one, opt for these subtle and defined flower sprawl buns with a half-up, half-down wavy hairstyle that combines the understated elegance of curls and flowery vibes with the flirtatious energy of double buns. There is nothing more beautiful on the list, really!
2. The knotty-twisty buns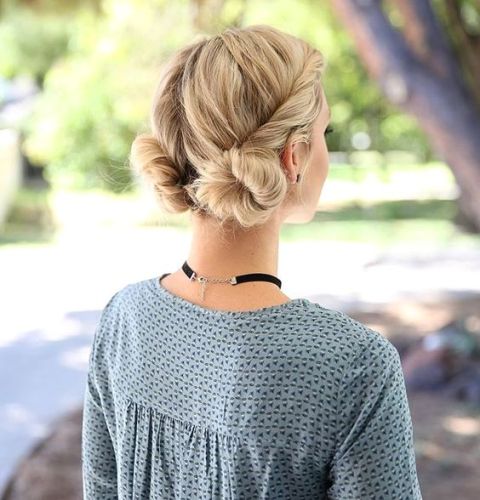 Image source: Pinterest
If you are looking for loud and proud, go for French braids but not quite and twist them on the side, leading unto these pumped up buns at the base of your head. The tousled vibe will only add to the undone finish and make for a ruffled addition in an otherwise refined look.
3. Straight double buns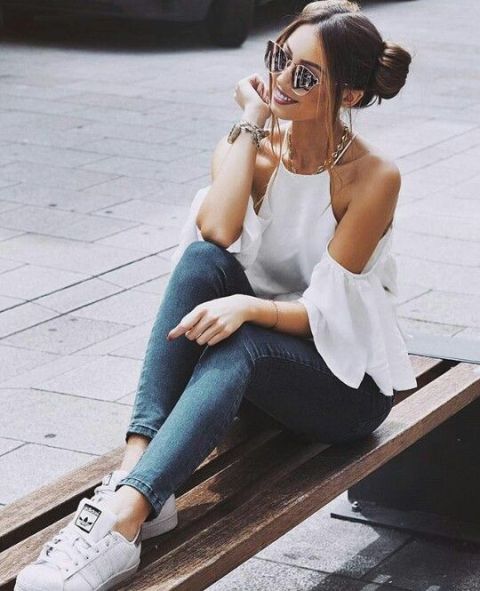 Image source: Pinterest
If Princess Leia can do it, so can you! Make your man yours' with this simple, yet seductive hairstyle that flirts with unabashed energy and acts coy with some subtle reserve, all in the same breath. Whoever said double buns are repetitive, huh?
4. The rolled buns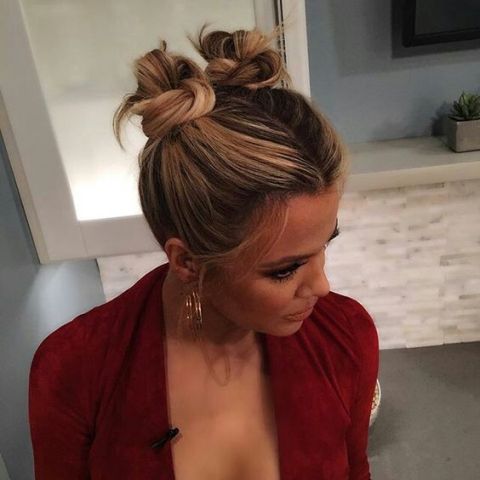 Image source: Pinterest
Just roll'em up and rock the double buns. Neat parting and a rolled coiffure like bun atop each partition. If that isn't elegance, then what is?
5. Half up, half down, twists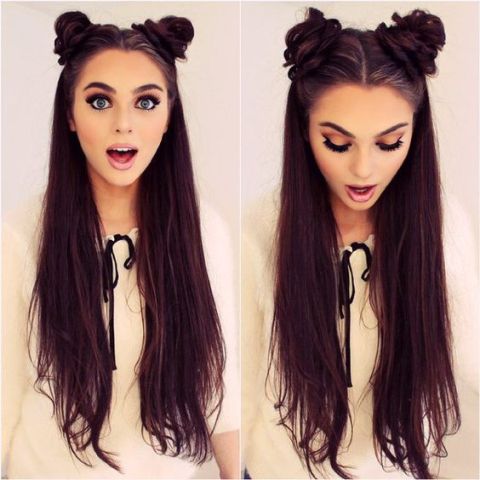 Image source: Pinterest
These Khloe Kardashian inspired half updo with twisty buns add a fun twist to devilish-horns or Hello Kitty buns or even the more edgy, Harajuku buns. Eitherwhich way, the look is an out-and-out winner in our lookbooks.
6. Plain doubles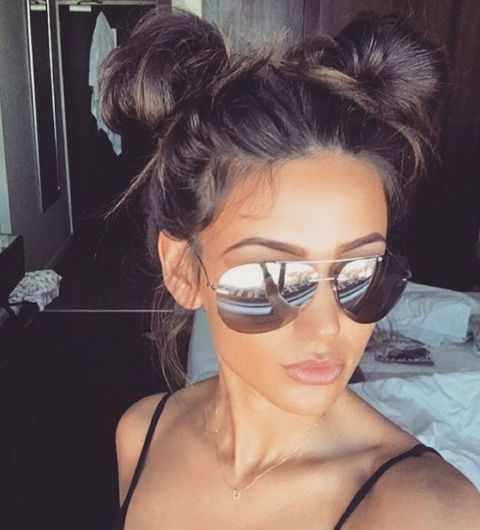 Image source: Pinterest
If Cara Delevingne does it, it's hip. These soft double buns are just classic. Frame your face with soft tendrils coming loose and all eyes will be hankering for more of YOU!
7. Braided buns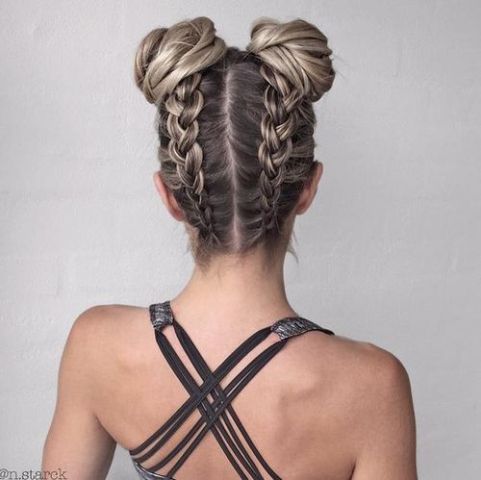 Image source: Pinterest
So, you divided your bun sections and are all ready. How about adding a whole new dimension to your hairdo by braiding your way into the buns. What's more, you need not keep the buns separate- you can twist the style into a new one by connecting the braided elements on the top to create a bun-bridge with braids. Fun, eh?
8. Messy doubles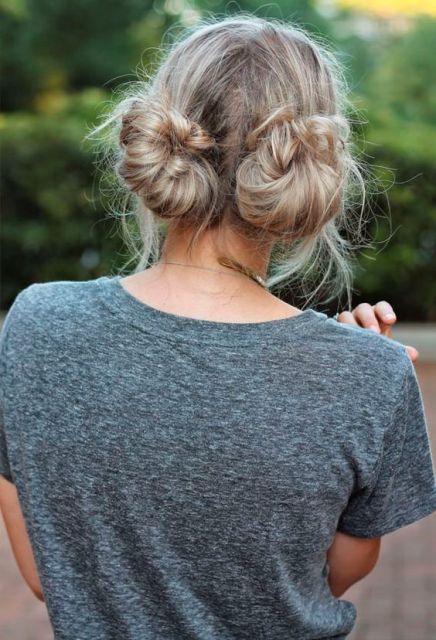 Image source: Pinterest
Divvy your hair into two high pigtails and then comb out and tease each one, twisting the sections until you create two gravity-defying upward closing buns on the lower end of your scalp. Secure with bobby pins but do not worry about loose strands. They are part of the 'messy' look.
9. Spiral buns
Image source: Pinterest
Twist your space buns like you'd your top knot and coil them into cutesie li'l shapes that you just cannot have enough of. You don't need to be Rapunzel to enjoy the double bun hairstyles- you just need to be FUN!
10. The half-up half-down mini buns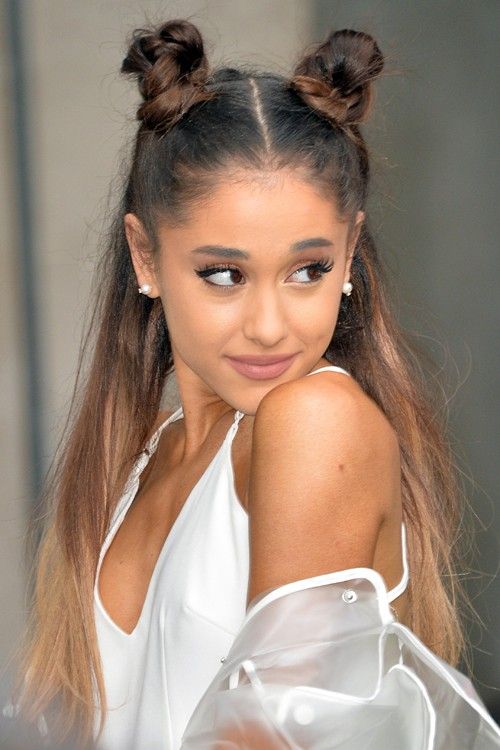 Image source: Pinterest
Ariana Grande shows you to do the mini-buns in style. Just do the half-up half-down hairdo in style and we'd suggest throwing in some bold hair accessories like rosegold rings for each bun. After all, they'd elevate your updo to a different plane of elegant charm.
11. The up and down buns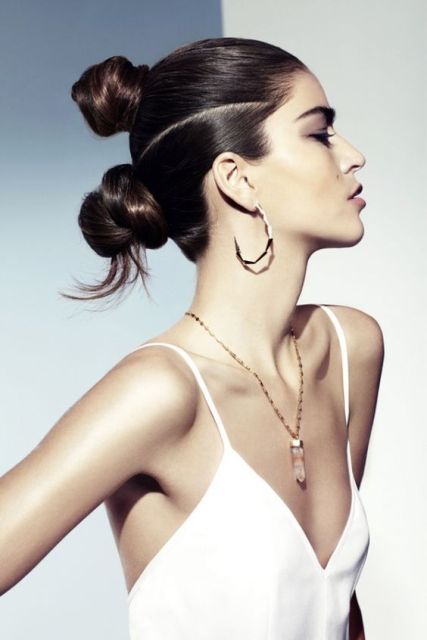 Image source: Pinterest
If your scalp is sighing from all the weight, divvy the bu(rde)n by going up and low with this experimental vertical double bun look. Feel free to play around and add your own unique style to the look. We, personally, can't stop raving about the sleek parting of hair, the neat and firm buns and just a hint of a loose strand, so everyone knows you could use a break!
12. Space buns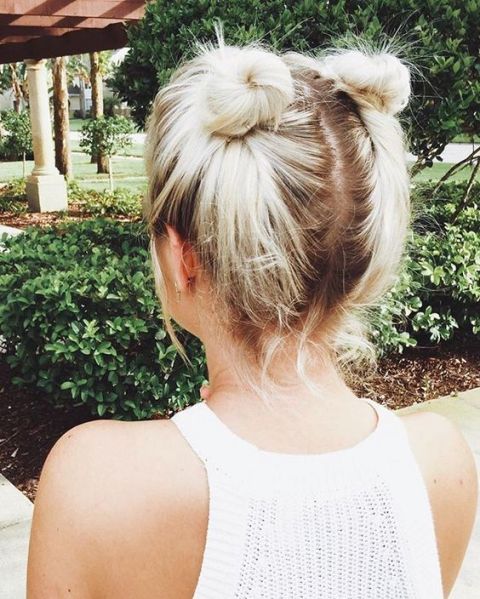 Image source: Pinterest
You can call them anywhich thing you want- but their cuteness overload will make you as besotted with'em as you were with crop tops last season. Oh wait, you still are- and we are nodding in approval. Fall's just about bidding adieu and Gigi Hadid's shown us how to rock crop tops, even when the temperature's playing games! So, don that crop top with a long, layered skirt and boots and throw on these space buns on top. Come back and tell us if you didn't feel you were on top of the world!
---
Suggested read: 20 trendy short hairstyles for round faces you can try this summer
---
13. Knotty buns
Image source: Pinterest
If you were looking for a chic option in double bun hairstyles, you are now looking at a great one. High rounded, knotted and cool, these'd make for some naughty-knotty verves floating about.
How many of you are thinking of doubling the fun and drama today?
Featured image source: Youtube
Summary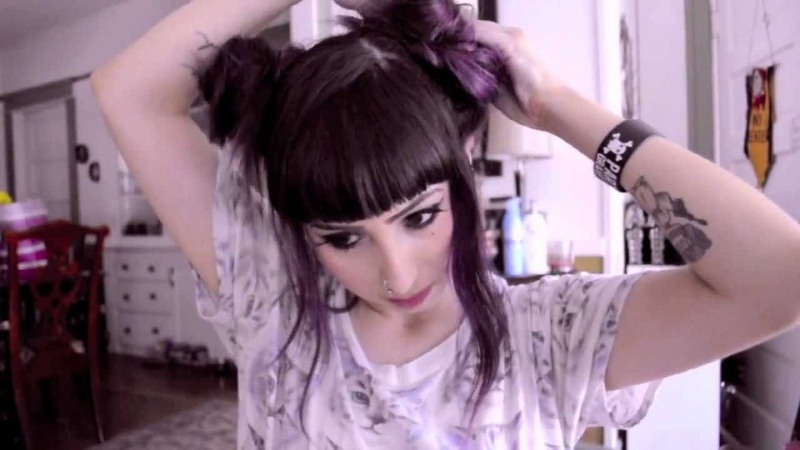 Article Name
These Double Bun Hairstyles Prove 'Two Is (GOOOOD) Company'
Author
Description
Split her favorite go-to hairdo into two and take to the double bun hairstyles- in style.