This has been a weird year, and so, one could very well expect bizarre fashion trends doing the rounds. Fashion, however, responded in two different ways: While a sect upheld distinctive flamboyance, the other believed in overall comfort. Both the sects produced some weird styles, and we took up the task of picking the 10 oddest ones, for your pleasure.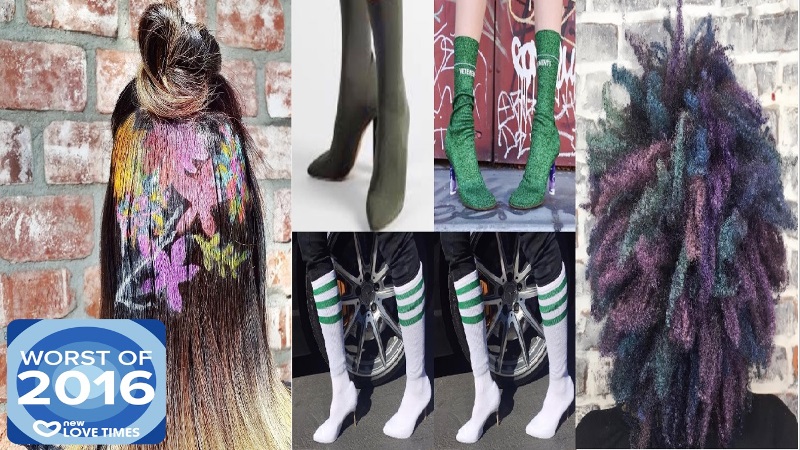 Here they are:
1.Cannot put my jacket on all the way
This is more like louche sadness, isn't it? We have seen Kim K do it and Kendall Jenner do it, and we have done it ourselves. But it is strange AF. Especially for an OCD like me, I just want to pull that jacket up all the way and stop cringing!
---
Suggested read: #WorstOf2016 The worst songs of 2016 that made our ears bleed!
---
2. Stencil hair
Hot stencils were the hottest hair trend of 2016, on Instagram, I agree. But tell me honestly, wasn't it something that looked for like your hair had metamorphosed into a wallpaper?!
In fact, if you still want to try your hands on it, here is the beatdown, as reported by Cosmopolitan,
"This trend, brought to life by artist and hairstylist, Janine Ker of Salon Aguayo, requires is a stencil and hair dye of your choice to color a specific design onto your hair.

To get the look, Ker starts by sketching a design on paper, and then recreating her vision into real works of art on her hair. As you can see, all of her designs are so different, which proves the possibilities are endless with this trend."
So you can do hearts, stars, landscapes basically everything!
3. Thrasher
If you could talk about fashion in 2016, in terms of music genres, it was death metal, all the way! Almost every 20,-, 30-, 40- something was wearing a 'Thrasher'! Thrasher t-shirts and hoodies, were all over the streets, bars, college campuses etc. etc. until they grew into an eyesore!
4. Sock boots
Now what the hell is this?! It looks like the person wearing it wanted to just laze around at home looking like sh*t, but also wanted to go out!
5. Oversized sweatshirts and no pants
In plain non-fancy words, home clothes! You could team them sweatshirts with sock boots!
If you think you can pull this off, here is some advice from Teen Vogue:
"If you don't want to look like you left the house in the same size XL Hanes you slept in, then don't wear something made from the same thin, revealing material. A heftier knit — like Binx has gone for here — offers more coverage, and drapes in an almost dress-like way."
6. Cutting your hair with weird stuff
Haircuts went kind of crazy in 2016, from eccentric leg-razor hack to people cutting their hair with fire and swords! I sincerely hope, in 2017 we will return to the normal "safe" hair cutting methods!
7. Curling your hair with weird stuff
So, it was not just about cutting the hair like a daredevil, but the strangeness extended to the curling techniques too! From Cheetos and balloons to tampons and pencils, people used anything and everything they could lay their hands on, to curl their hair!
8. Big, nay, HUGE sleeves
This was the year of puffs and swaths. We saw extra fabric jut out from our shoulders and arms, for no good reason! I guess it was more about all the "space" we have been demanding from everyone in our life: the parents, ze partner, ze obsessive stalker etc. etc. So, we have created some space for yourselves, in our clothes! Also, this really promotes manspreading, the only aspect of the trend that I benefited from!
9. Huge earrings
And to top the fun, we had big-ass earrings in 2016! I think all the designer had in mind while creating these mammoth pieces was earlobe strength cardio! Are the oblong holes worth the insanely detailed designs? That only time will tell!
---
Suggested read: #WorstOf2016 Not a flying eff for a flying Jatt: The worst movies of 2016
---
10. Funfetti sair
I don't have any words for this trend, and so I will borrow Rihanna's: "CAKE CAKE CAKE CAKE CAKE CAKE!"
Special mention: 
Patent leather, or the nasty woman's choice fabric
Though they looked sexy, initially, people, soon, went bizarre with the designs!
According to Marie Claire,
"The main thing to remember is better to keep the rest of your look safe than sorry, meaning boyish, high-cut basics that balance the leather's overtness. Think a shrunken hoodie, a crew-neck T-shirt, or one layered over the other for a skater-ish effect that's pleasing against a glossy mini. (Flats, please.) Texture-wise, play off the lacquered coating with its opposites from the wooly/furry/nubby category."
That is all we have on bizarre fashion trends of 2016. For the best and the worst of this year, stay tuned and keep your eyes on this section! See you soon!
Summary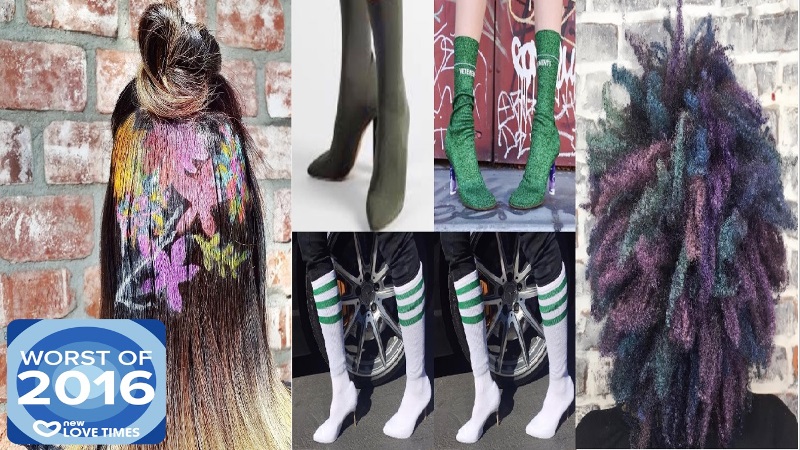 Article Name
#WorstOf2016 Top 10 Bizarre Fashion Trends Of 2016
Author
Description
This has been a weird year, and so, one could very well expect bizarre fashion trends doing the rounds. Here are 10 of the weirdest, according to us.