Not everybody has the same face shape. Some of the most broadly specified face shapes are – square, heart, oval, and round. The most defining feature of a round face is the absence of sharp edges on the face. If you do not have a sharp jawline, sharp cheekbones, a pointy chin, or a long face, then chances are, you have a round face. Don't be afraid! That doesn't mean that your face is fat or unattractive. In fact, a round face is soft and very feminine.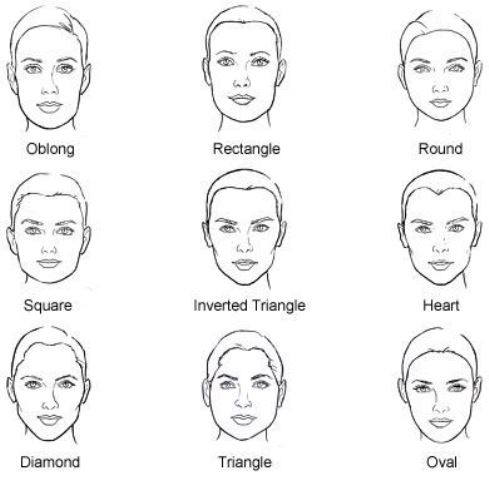 Image source: Pinterest
So if you were worried that you'd have to stick with bothersome long hair in the summer while others sport trendy short hairstyles, we've got your back! Contrary to popular opinion, there are a number of short hairstyles that a round-faced fashionista can rock.
---
Suggested read: 16 stunning and easy Game of Thrones hairstyles you can try NOW
---
Here are 25 trendy short hairstyles for round faces that will make you look like the high-fashion diva that you truly are!
1. The symmetric bob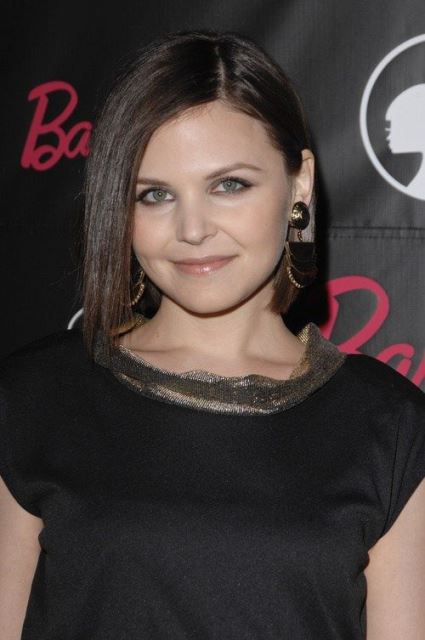 Image source: Pinterest
Try a sharp haircut like this symmetric bob, with razor-sharp edges, to cut through the soft round features of your face. This will add a high fashion edge to your face and your overall look.
2. Straight bob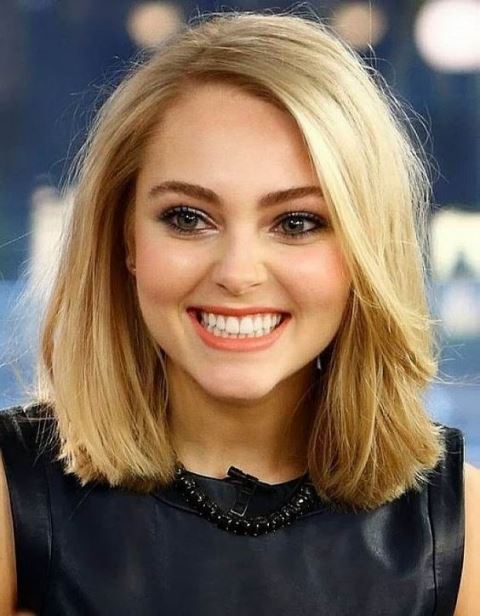 Image source: Pinterest
We love this straight-edged bob with side-swept bangs that our very own Violet Beauregarde (AnnaSophia Robb) is sporting here. The straight symmetric bob frames her round face beautifully while the side-swept bangs add some structure to her soft, feminine face.
3. Boyish pixie cut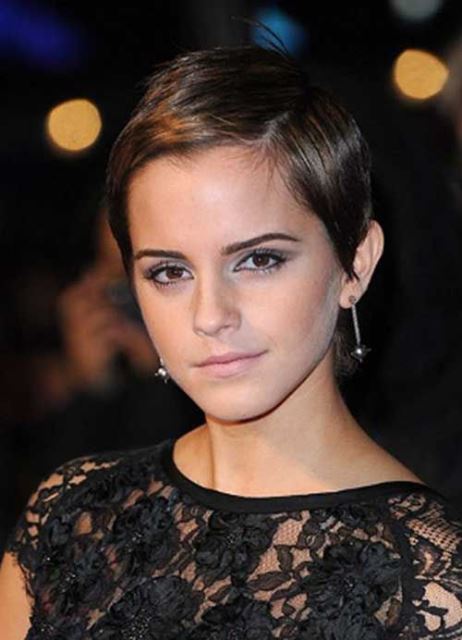 Image source: Pinterest
As far as bold fashion statements go, you can't really do much better than Emma Watson, who has broken boundaries and stereotypes in fashion, just as fast as she has done the same in society in general. Channel your inner high-fashion ninja with this bold and very edgy pixie-cut. Since the hair is cut so short in this style, your face will be the centre of attention, and you may flaunt your beautiful soft features and the glorious work of art that is your face.
4. Wavy bob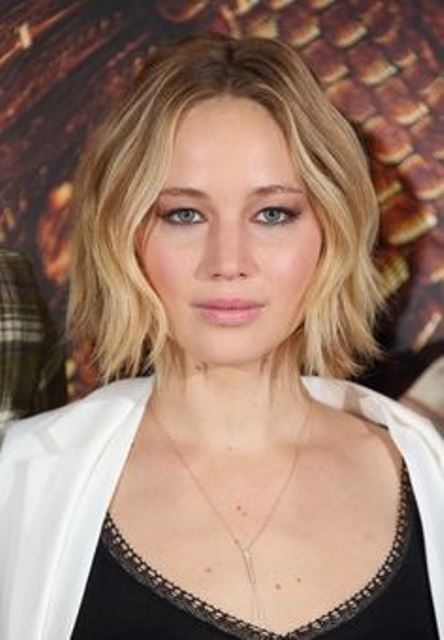 Image source: Pinterest
Who doesn't want to look like America's sweetheart Jennifer Lawrence? Let your inner badass politically incorrect diva flaunt herself in all her glory, in this trendy wavy bob. The waves cut into your face, thus making your face look narrower and heart-shaped. Also, the short length adds to the length of your neck, making it look more swan-like.
5. Pixie with side-swept bangs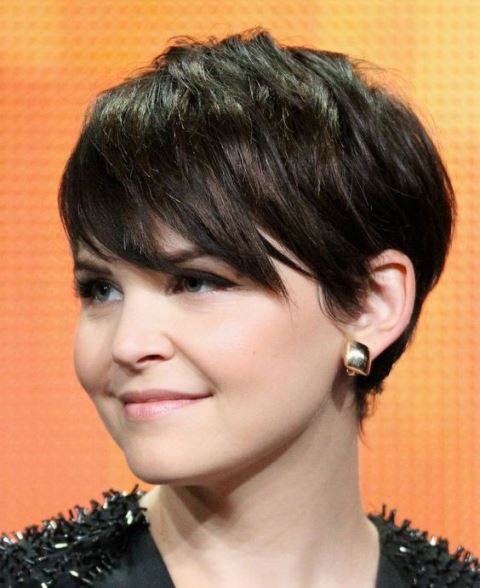 Image source: Pinterest
Go for a less drastic pixie cut with this fringed pixie with side-swept bangs. The short pixie style is cute and very pretty, while the brow-length side-swept bangs add some circa 2011 Justin Bieber drama to the overall look. We totally dig it!
6. The Tinkerbell pixie cut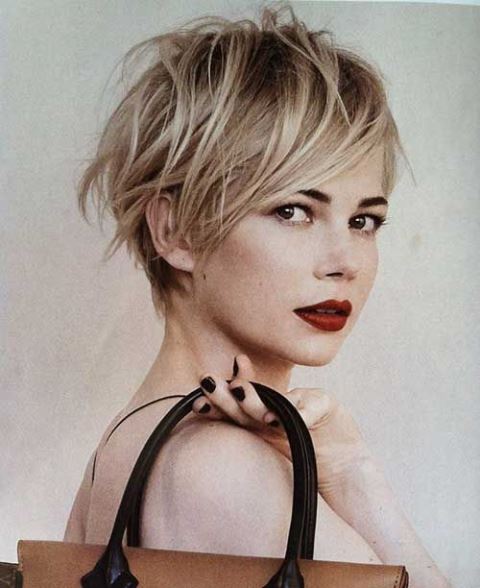 Image source: Pinterest
Channel your inner Tinkerbell, only in a much more high-fashion way, in this edgy pixie cut. We can't get over the asymmetric cut of the pixie and how the elongated side-swept bangs frame Michelle Williams' petite and soft facial features. Go for this haircut if you want to look like a trendy and incredibly badass fairy!
7. Curly and colorful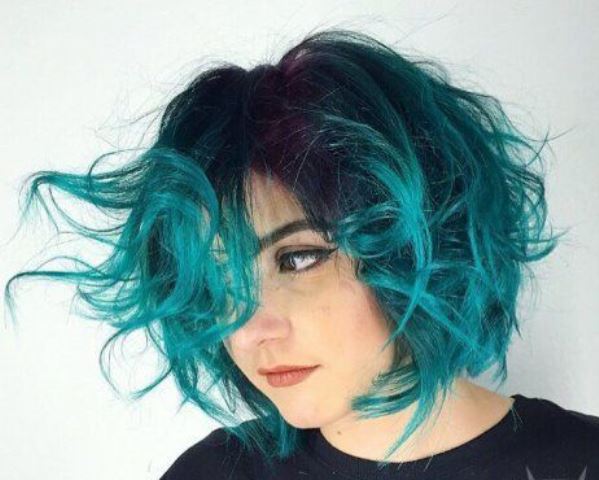 Image source: Pinterest
One good thing about short hair is that it's very low maintenance. So you can go nuts with colors and textures! Why not go for a gorgeous turquoise ombré bob with a few teased curls to add some volume to your hair? This will be a semi-permanent summer-vibin' accessory that you can pair with any summer dress or just plain shorts and a tee, and instantly turn your outfit into something very edgy!
8. Blunt bob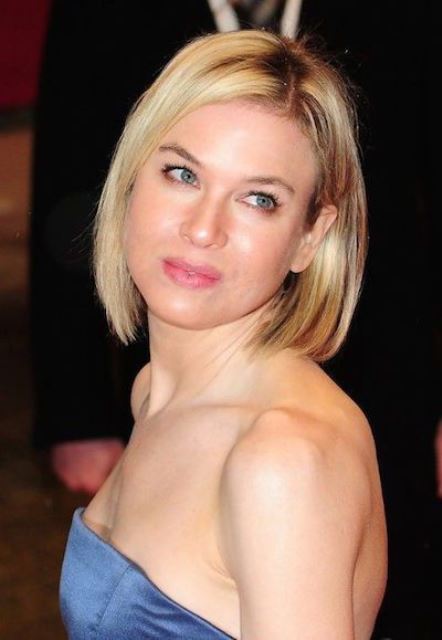 Image source: Pinterest
All you need, to bring this super sexy blunt bob hairstyle into the late 2010s, is to swap the dishwasher blonde with the dirty roots for a chic platinum blonde. So take your mushy little Bridget Jones-loving self and give it a trendy rocker chic makeover, with a platinum blonde blunt bob (say that 5 times fast)!
9. The slick back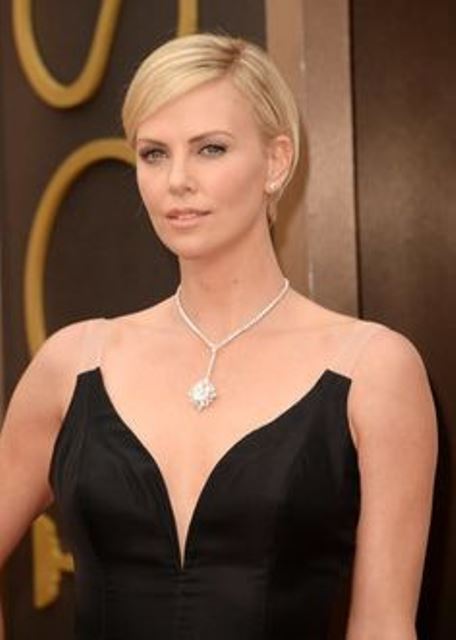 Image source: Pinterest
Sure, you can go for a feathered fringed razor cut bibbity bobbity cut to look edgy for an entire month and a half. OR, you can follow the QUEEN, Charlize Theron, into the haircut hall of fame with this slicked back pixie. It isn't exactly slicked back per se, but it is gelled up and verrryy slick. Put a 2016 twist on this classic look by switching out the side-swept bangs for a chic slicked back look that exposes your facial features in all their glory.
---
Suggested read: 15 hairstyles that will make you want to get bangs instantly
---
10. The sleek lob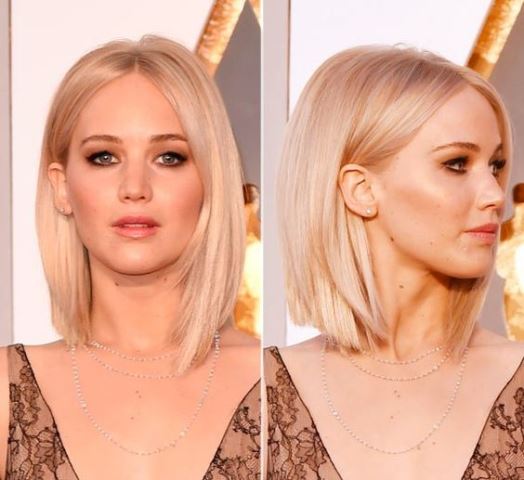 Image source: Pinterest
Step up your hairstyle game with this incredibly high fashion sleek blonde lob (long bob). The center part adds symmetry to the face while the impeccably cut bangs frame the face beautifully, elongating it and making it look slimmer and sharper!
11. The faux high-and-tight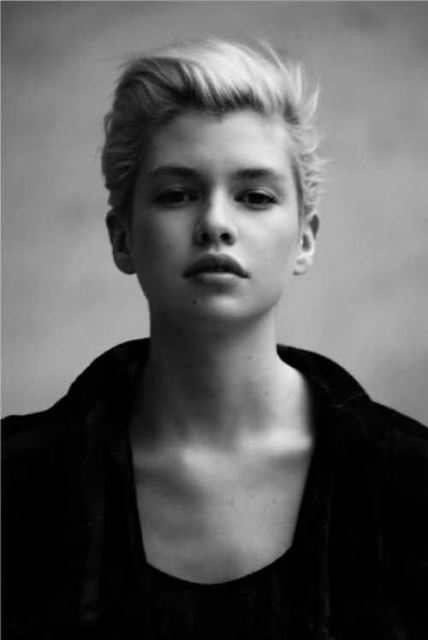 Image source: Pinterest
Ditch the girly bangs and bobs for this faux high-and-tight look that exudes style and confidence. This look is a lot more androgynous and a lot less subtle in its badassery. This hairstyle draws in the sides of your face and adds length and structure too, to make it look thinner and sharper.  All you need, to nail this look, is a baot-load of hair gel for the sides, a narrow-toothed comb to tease the top (for height and volume), and major self-confidence.
12. Colored bob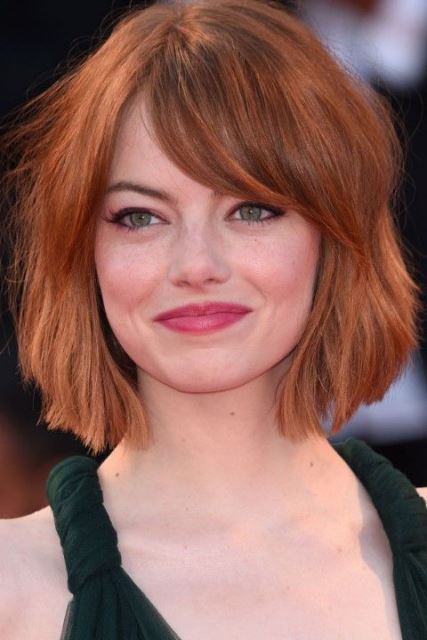 Image source: Pinterest
Who said blondes have all the fun? This summer, go for a chic and very cool auburn hair color like style icon Emma Stone. Also, we love the sultry and sexy fringe ending right above her eye and the asymmetric wavy bob that perfectly accentuates her jawline, making it look sharper than it is.
13. The choppy bob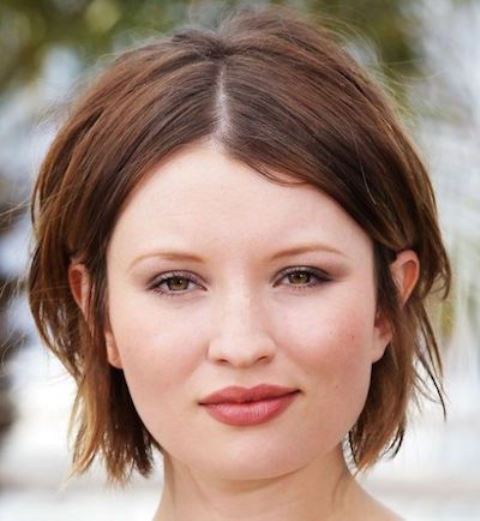 Image source: Pinterest
Go for this hipster version of the bob, if sleek and simple is not your style. We love the choppy cut, which adds volume and shape to the face, while maintaining a very contemporary summer charm to it. The middle part, while tricky to pull off, adds symmetry to the face, making it look almost square.
14. Asymmetrical bob with long fringes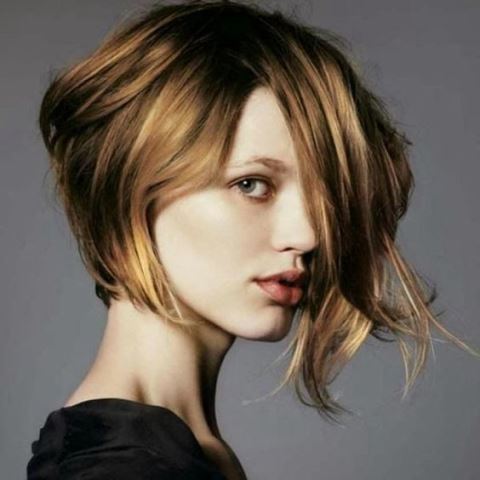 Image source: Pinterest
Want something a lot more dramatic and badass? Why not try this jaw-dropping haircut that is sure to turn heads? Not only is the asymmetric bob incredibly sexy on its own, the elongated fringe that ends well below the chin simply exudes high-fashion and immense self-confidence.
15. The feathered bob
Image source: Pinterest
We love this biker-chic hybrid between a bob and a pixie. The feathered layers make it look like a choppy bob from the back, while the asymmetric feathered fringes make it look like a very sexy but fresh-looking pixie from the front. So it's all party in the front and well… more party in the back! What else do you really need in the summer?
16. Soft waves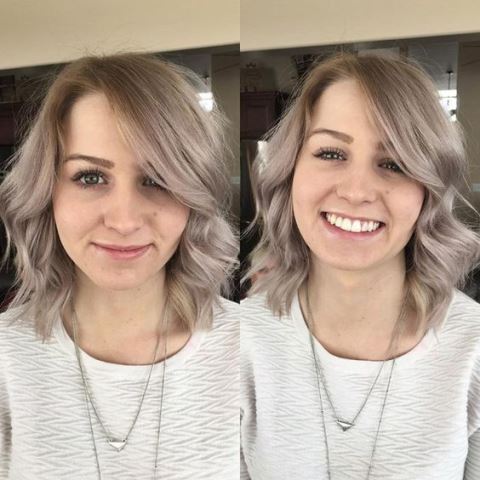 Image source: Pinterest
Ditch the edgy feather cuts for this cute and girly soft glam bob. We love the super feminine soft curls that frame the face beautifully. Also, the color is absolutely breath-taking. Grey hair with slightly pink undertones during the summer gives us major #hairgoals. You could also swap the grey for soft pastel shades like mauve or pink or even a gorgeous baby blue!
17. Short wavy bob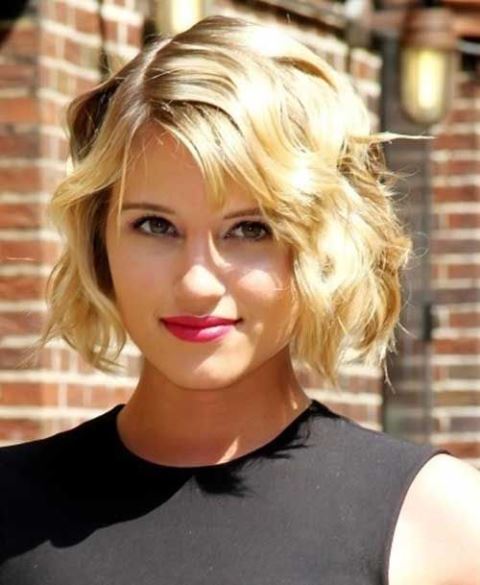 Image source: Pinterest
We love how unbelievably cute this hairstyle is. It is wavy and short and blonde and like your average trendy bob. Only, then comes the double whammy – the short wavy bangs! And don't even get us started on that flawless honey blonde color! The honey blonde hair color, paired with the edgy wavy bangs, makes for an unconventional high-fashion Barbie look, and we can't get enough of it!
18. The messy pixie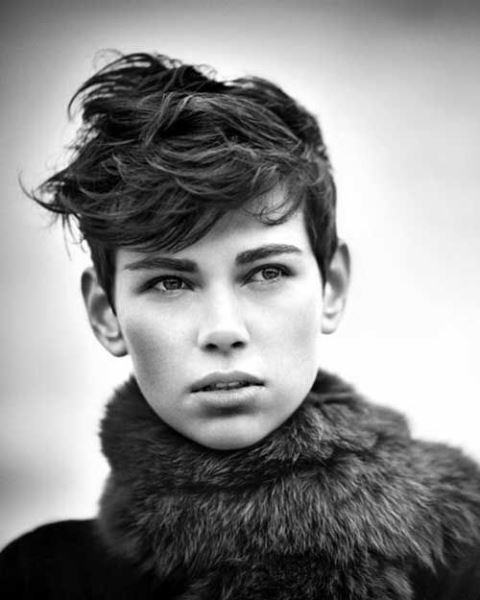 Image source: Pinterest
We are obsessed with the gender-neutral vibes this gorgeous hairstyle is giving us. Ditch the frills and the waves for this messy pixie hairstyle. This is what we imagine Edward Cullen would look like, if he were a woman and she was a lot less pasty and angst-y and a lot sexier and just breathtakingly gorgeous. You'll need lots of mousse, a blow-dryer, and a lot of attitude to perfect this look.
19. Grown out pixie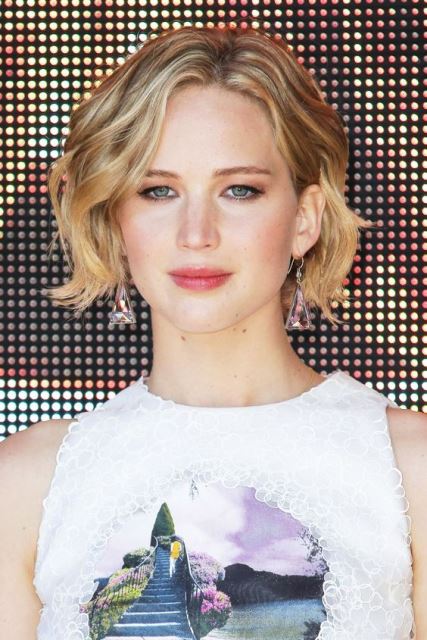 Image source: Pinterest
Jennifer Lawrence nails it again with this baby bob. It's hard transitioning from a short hairstyle to a medium long one, thanks to the awkwardly grown out bangs and asymmetric edges that make you look like you haven't combed your hair in weeks. So take a cue from JLaw in her flawlessly executed attempt to grow out her pixie. One handy tip – when in doubt, get soft waves. Not only will they add volume to your hair, they'll also camouflage the awkward asymmetric growth that would otherwise make your hair look strange and out of shape.
---
Suggested read: 15 life-changing tips to add volume and thickness to your thin hair
---
20. The top knot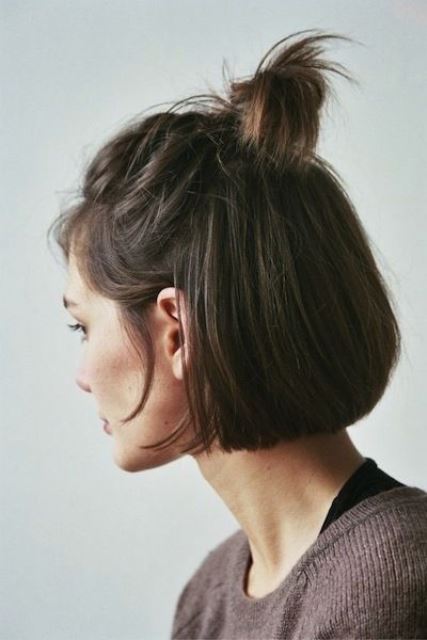 Image source: Pinterest
Needless to say, the top knot has made its way into every fashionista's heart this past year or so. So we had to pay homage to it in our short hair version of the trendy top knot. Best paired with a bob or lob, a top knot will help keep your forehead stress-free (which would otherwise be sweaty and gross, thanks to the pestering outgrown bangs), and tighten your skin making you look wrinkle-free. Plus, it'll make your face look more tapered towards the forehead, thus highlighting your cheekbones! This is possibly one of our favorite short hairstyles for round faces, not only because it is trendy, but also it is perfect for the awkward period when your hair is growing out of shape and you're not sure what to do with it anymore.
There are so many short hairstyles for round faces. All you need are a will to experiment, the guts to just go for the chop, and the confidence to pull off any style like an absolute diva.
Summary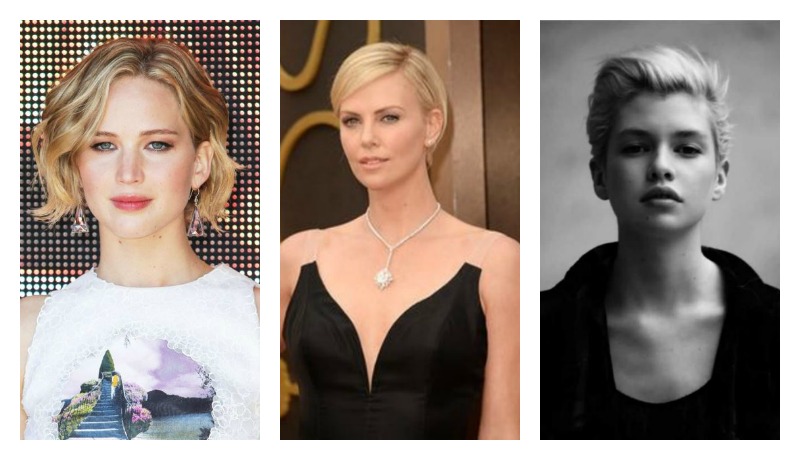 Article Name
20 Short Hairstyles For Round Faces You Need To Try NOW!
Author
Description
Check out these short hairstyles for round faces that will make you look like the high-fashion diva that you truly are!