6. Masaba Gupta
Unless you've been living in a parallel universe where the fashion industry does not exist, chances are, you have heard of Masaba Gupta. The daughter of West Indian cricketer Viv Richards and actress Neena Gupta, Masaba created her own place in the fashion industry with her bold, quirky and innovative designs. Masaba Gupta's pieces use materials and techniques we've all seen and heard of before (like denim, silk, and block printing and embroidery) but in a way we couldn't possibly have imagined (eg. The Denim Sari)
Here are some of our favorite bridal pieces from The House of Masaba.
Yes I would like to wear a flipping CLOAK to my wedding thank you very much.
3 words. Fuchsia. Cactus-print. Lehenga.
This parrot green corset sari is giving me life.
7. Siddharta Tytler
If you're looking for a wedding dress that will petrify regressive old Aunties and provoke some incredibly jealous stares from your hipster friends, then Siddharta Tytker is your guy. He creates bridal-wear that boasts of luxury and glamour, without conforming to the rules of "what a wedding dress should look like". Siddharta Tytler opts for jaw-dropping shades of white, blush, gold, blue and BLACK for his inimitable bridal wear designs. Here are some of our (many) favorites.
8. Jade by Monica and Karishma
Jade is a bridal-wear line created by designers Monica and Karishma, which redefines bridal couture. While they stick to traditional silhouettes and weaving techniques, their color combinations are something hipster dreams are made of. Forget the bright reds and magentas. Opt for gorgeous, rich colors like oxblood, royal blue and stormy grays. Here are some of our absolute favorite pieces from Jade by Monica and Karishma.
9. Mayyur Girotra
Mayyur Girotra is a Delhi-based designer who has redefined the traditional standards of bridal couture. While his pieces are not as contemporary or edgy as some of the others we have stated before, they are young, innovative and hella beautiful. Mayyur Girotra beautifully balances minimalism and luxurious bridal-wear classics like embroidery and zari, to create pieces that will soothe your aching hipster heart.
For when you want to look like the actual sun at your wedding.
---
Suggested read: Amazon Indian Fashion Week 2016: 20 Amazing Looks We Are Going Gaga Over
---
10. Gaurang Shah
Gaurang Shah is the man who is going to make all your hipster wedding dreams come to life. Ditching the traditional, heavy embellishments that we've all come to associate with bridal couture, Gaurang Shah opts for busy prints on sober materials like linen and cotton and blings them up with metallic borders that look like they were created with stardust. His choice of color palette is something you wouldn't normally associate with weddings (which is why he is the hipster wedding dress designer of your fantasies). Here are some of our top picks from his beautiful bridal couture line.
So these were some of our favorite alternative Indian fashion designers who have excellent bridal couture (and who are not Sabyasachi or Manish Malhotra). While our picks should act as a guide that will help you find the most perfect outfit for YOUR day, your choice is the only one that matters at the end of the day.
Whether you want to wear something that is embellished with a million Swarovski crystals or wear a plain cotton sari, or even a pant-suit, rest assured that you will be the most beautiful person in the room. Contrary to popular belief, you do not have to dress a certain way to look like a bride. It is far more important for you to marry someone who will think you look beautiful in even a potato sack.
 So you go out there and buy absolutely any outfit you want and you wear it on your wedding day, because it is yours and your partner's day and you will look like a million bucks no matter what.
Featured image source: Instagram
Summary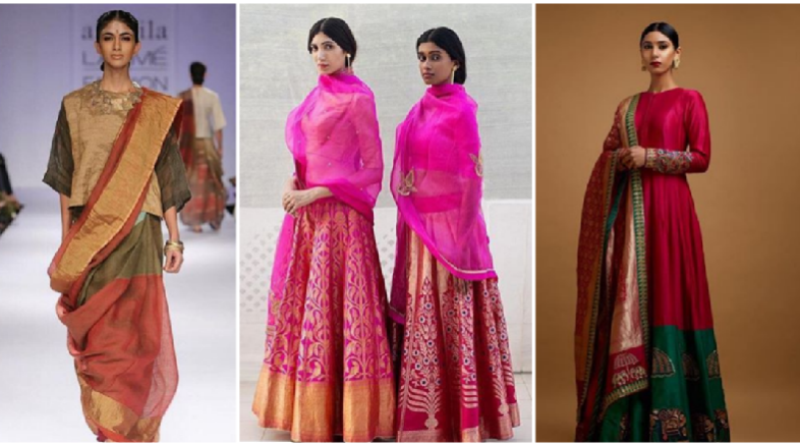 Article Name
10 Amazing Indian Fashion Designers For The Hipster Bride
Author
Description
If you are a hipster bride, looking for unconventional wedding wear, check out these alternative Indian fashion designers, who will make you swoon.