"Marriage is a mosaic you build with your spouse. Millions of tiny moments that create your love story." – Jennifer Smith
And yes, even if you never thought what you wear as a bride will not contribute to this love story, you could not be more wrong.
Wedding fashion has gone from traditional to sassy. Brides today are no more classified as completely classical in terms of fashion nor completely non-conformist. Let us salute the cosmopolitan brides of today. In case you are getting married sometime soon, why not try these top cosmopolitan bride looks that could floor onlookers and your soon-to-be better half too?
---
Suggested read: How to style brides with glasses
---
1. Diamonds and dazzlers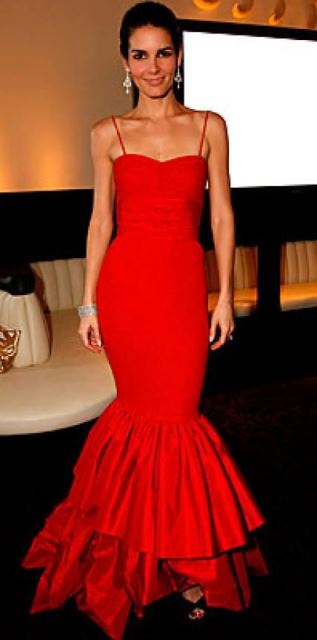 Image source: Pinterest
A net-sleeved boat neck gown in red could be the perfect cosmo chic pick for your wedding. Try this on your reception day. The jewelry aspect needs to be toned down. You could opt for diamond teardrops if the budget allows, or in case your budget doesn't allow it, zircon or cubic zirconia is a better alternative. In addition to teaming up such earrings with a flowy gown, you need to give up the typical jewelry cramming. Choose a simple bracelet to go with the earrings.
2. Tiara to top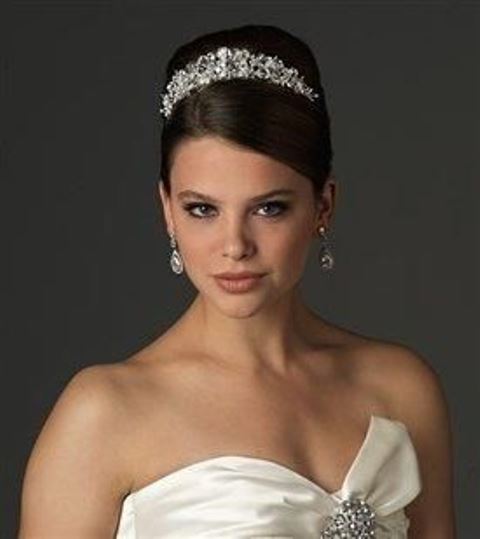 Image source: Pinterest
Why not introduce a rhinestone tiara with a flowy gown again? The cosmopolitan bride looks we cover will focus on accessorizing right with the traditional love for jewels and the modernist inclination for neater fashion. Choose a rhinestone tiara with a pop stone that can have the same color as your main dress.
3. Pant it up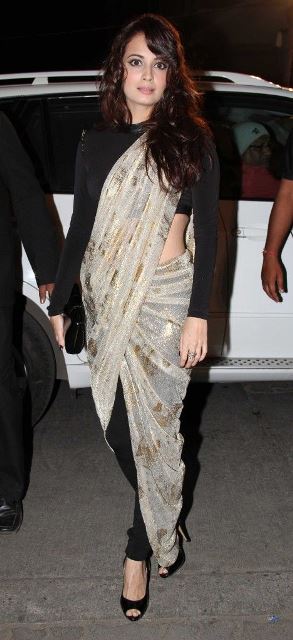 Image source: Pinterest
How about wearing a pant drape sari? Wearing the traditional weave with sleep pants is a very fashionista-inspired look. Choose a traditional loom and pair up with sassy girl pants. Accessorize your hair right and let your look do the talking. Daring, yes, and definitely cosmo-chic bridal in terms of impact.
4. Belt up some sass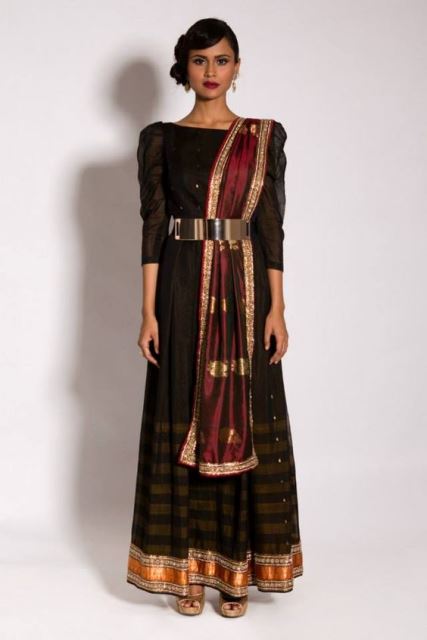 Image source: Pinterest
How about wearing a kaalidaar dress for your wedding and belting it up? Try rhinestone or metal as the choice pick in terms of belt material. You can also make sure that you wear statement jewelry that complements the belt.  The color palette needs to be a contrast between the main dress and the accessories.
5. Shorten the length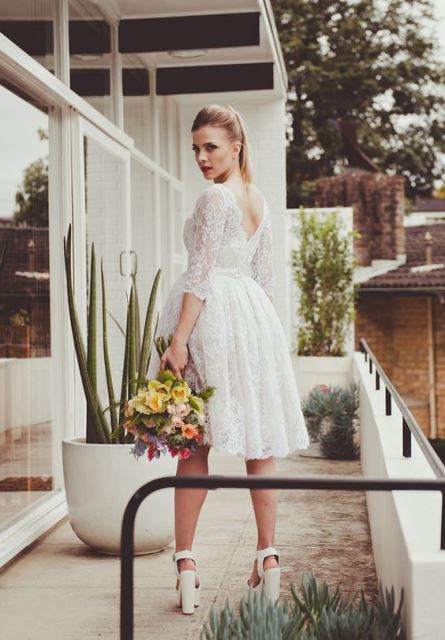 Image source: Pinterest
Got toned legs? Are you a ballsy bride? Then, how about going all out and wearing a snipped wedding dress that stops at your shins? You also have an under-layering of floral net pattern. This is a daring move that will make you less typical and more cosmopolitan. The look needs some confidence as an extra dose to carry off well.
6. Chiffon for some sass
Image source: Pinterest
Get a chiffon skirt and use it as bottom-wear at one of your wedding functions. You may also use it multiple times for later too. In addition, you need to remember that wearing such skirts and bottom-wear will pep up your cosmo factor. You take the world by surprise, you cosmopolitan bride!
7. Florals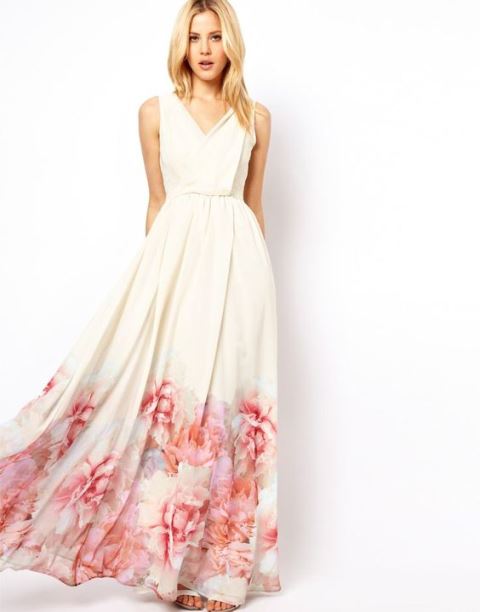 Image source: Pinterest
Floral imprints and motifs look awesome, and when you are a cosmopolitan bride of today, you sure can rock it like never before. The best floral looks can come with one part florally done up while the other part can be left plain.
8. Vintage is for vows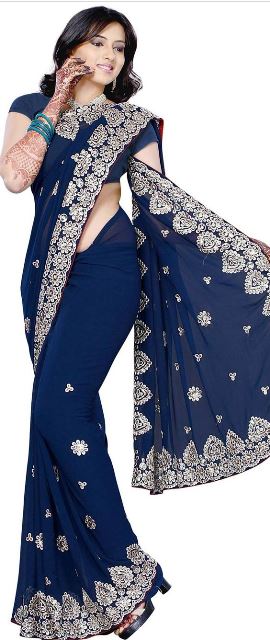 Image source: Pinterest
Take those vows in a vintage avatar with the best lacework added dress. You can even choose motifs that are old school yet trendy. Chiffon or silk are regal fabrics that look awesome no matter in what style you wear them.
9. A-lines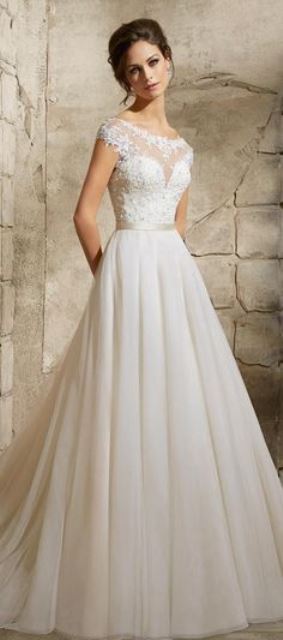 Image source: Pinterest
A-lines are flattering, and as a bride you can simply flaunt your figure in A-lines. This is a very cosmo vibe based fashion. More so, you can always team smart fashion with some real sass. You can even wear a skirt blazer style wedding dress inspired by the Downton Abbey times. With plain studs and single strand pearls, this look is evergreen and can be worn at any season and at any time.
---
Suggested read: 10 honeymoon clothes hacks to make you look the blushing bride
---
10. Pleats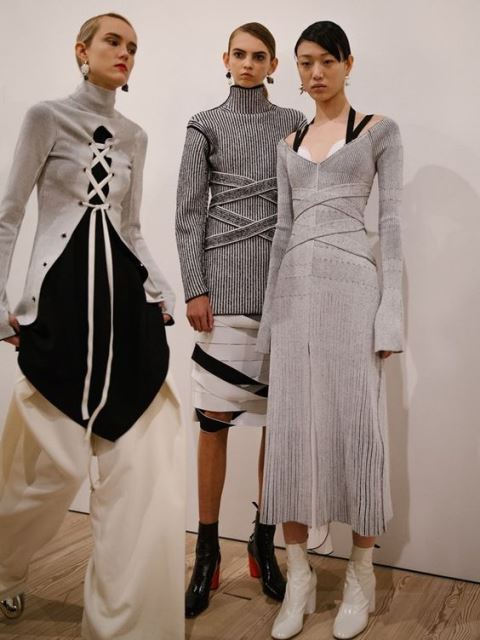 Image source: Pinterest
Be it broad pleats or pencil pleats, there is a wide variety of pleats to pick from if you are a cosmopolitan bride of today. Get the right look by teaming it with perfect makeup, great styling, and some clever confidence.
Cosmo fashion for your bridal picks is all about flaunting the right dose of sass with tradition. You need to keep the necklines traditional while the backs can be modern. Use color but to the point that it does not overpower the cuts and the silhouettes. You need to keep in mind that cosmo fashion means being smart and shy at the same time.
When a girl feels that she's perfectly groomed and dressed she can forget that part of her. That's charm. – F. Scott Fitzgerald
That is one charm a cosmo bride has for her wedding day as well as forever. She lives up to fashion and makes it work for sure on her. She wears the right stuff in the right way. That deserves a salute no doubt!
Summary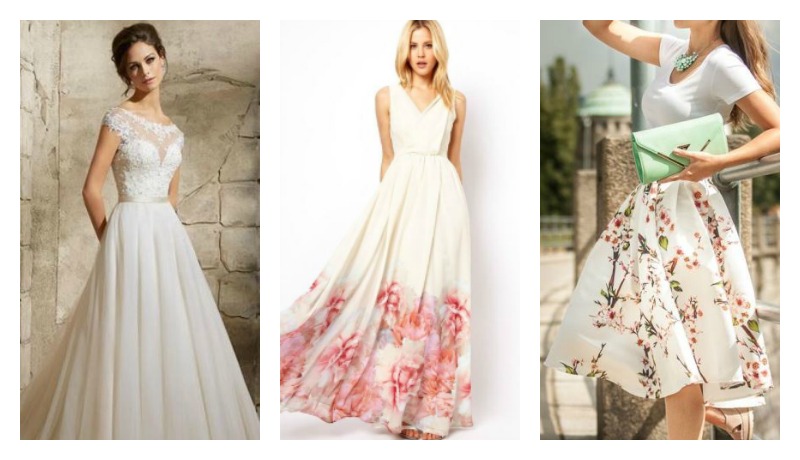 Article Name
10 Wedding Looks For The Cosmopolitan Bride Of Today
Author
Description
The cosmopolitan bride of today has a variety of wedding looks that she can opt for. Here are some of them.