When you're in a new relationship, it's natural to want to spend an evening (or two) with your beloved at fancy restaurants. This is one of the ways you woo your beloved. As your relationship matures, you'd want to try new restaurants to keep things exciting and new. Also, if you're both foodies, then this is another plus. No matter why and how you want to enjoy a dinner date, you need to understand the pre-requisites that make a dinner date perfect.
It's not all about going to the swankiest place or gorging on the most scrumptious food, but about love, the intimacy that a dinner date creates between the two of you. It's about really, truly enjoying each other's company and deepening the bond you already share. Whether the dinner date you plan is fun, innovative, exotic, cheap or the most expensive, all that matters is the connection you both forge and strengthen. And how much fun you had as a couple. If you succeed in accomplishing this and making it a night to remember, then you can mark it in the history books of your relationship!
---
Suggested read: 12 cool and fun summer date ideas that will make even the Sun envious!
---
In order to help you plan the most perfect dinner date for your honey, we have for you the most fun yet romantic date ideas. Let's take a look:
1. Karaoke bar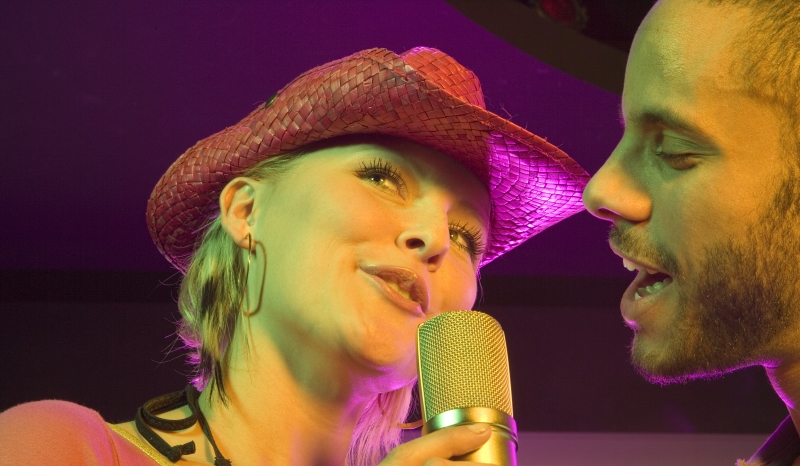 Image source: Shutterstock
This is one of the perfectly fun yet romantic date ideas that you can plan for your significant other. Plan a date at a karaoke bar, enjoy making fun of bad singers who take the mic before you, and then be a sport when it's your turn to be made fun of! Whether you choose to tackle the mic on a solo or a duet with your partner beside you, it's one for the memory books. Ham it up by choosing the cheesiest songs of all time. Trust me, it'll be one of those memorable nights that you're going to look back on with fondness.
2. Live music
Many restaurants and hotels host live music by various local artists. Read the reviews first and pick a place where the band is good, where their music can be the perfect background score for the perfect candlelit dinner you share with your partner. Some places specialize in particular genres of music like blues or jazz, which will just add that much more to your romantic dinner date. The combination of soulful music, sumptuous food, and good wine is bound to make you both mellow and put you in a romantic mood, no?
3. Pack a pizza and plan an impromptu picnic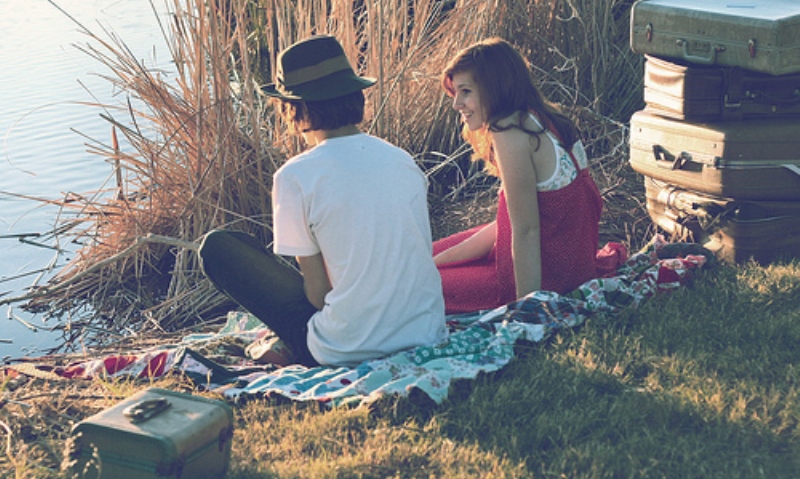 Image source: Pinterest
Grab a couple of pizzas, some flavored pop, chicken wings, and some fries for a perfect picnic under the starry skies. Dress in the most comfortable casual wear you own, and head towards a cliff or a place with a spectacular view, and enjoy the romance created by the combination of darkness, starry skies, and of course, the moonlight. What's not to love about this!
4. Restaurant hopping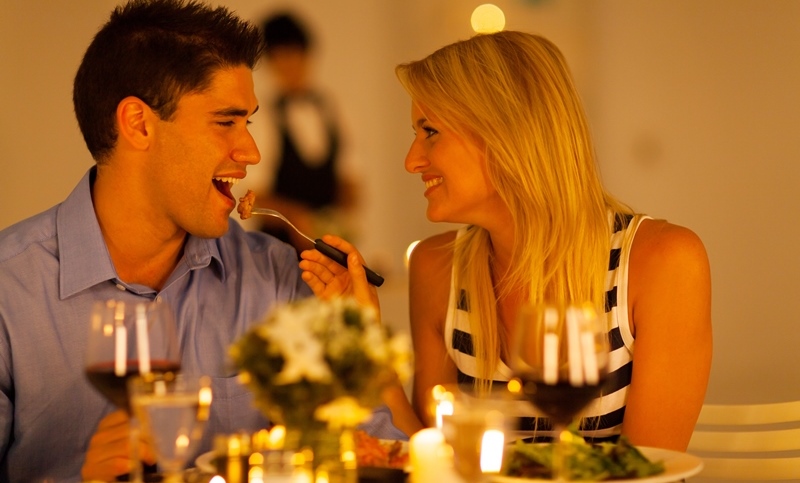 Image source: Shutterstock
If you're feeling a bit adventurous, then this might just be perfect for you. Dress in your fancy best and pick four swanky places in advance – the first one would be a happening bar/club where you imbibe a few drinks, eat an appetizer or two, and even dance for a bit. Then, hop in a cab and head to the second place, the swanky restaurant where you eat your main course. Done with that, head to the dessert place which offers a million and one decadent sugary delights. The last place would be a quiet café nearer to your home, where you end the dinner date with a cup of strong coffee. You get to try four different places at once, indulge all of your senses, and have one heck of a memorable date with your partner. Amazing, right?
Tip: If the places are nearby, this would be feasible. Else, you'd spend an inordinate amount of time in the back of a cab. Hey, you could take advantage of that too, if you don't mind an audience! *wink*
---
Suggested read: 12 cool double date ideas that will redefine fun
---
5. Unconventional dinner
Pick the street that has a lot of food trucks/stalls. Stroll down the street and eat anything and everything that catches your fancy. This is your chance to try many different kinds of cuisines at one go. Go from burgers and fries to pancakes for dinner to tacos to noodles to funnel cake to delicious scoops of ice cream. You won't have this much fun anywhere else, I bet!
6. Try something new and exotic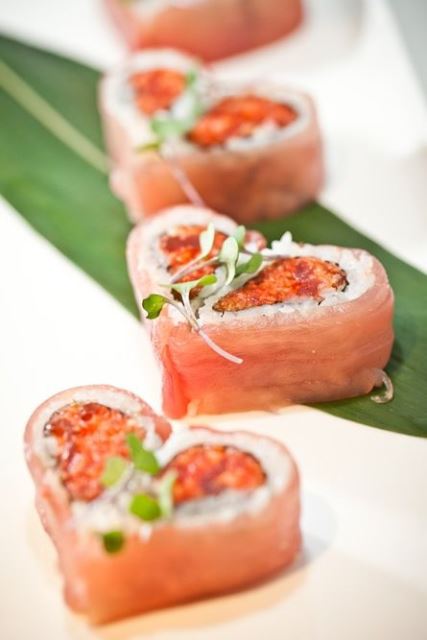 Image source: Pinterest
The more exotic the cuisine is, the better the experience. Whether it's trying sushi with some wasabi, or trying Indian naan with chicken curry, or cracking open a crab with a mallet and knife, try something exotic. It's a different matter whether the cuisine appeals to your palate or not. The point is trying new things that will get you both talking about newer experiences.
7. Cook your own meal restaurants
Many restaurants have the option where you can cook part of your food on your own. You get to cook each other one dish. When you add in a pinch of affection, a splash of warmth, and a generous bowlful of love, the dish is bound to taste amazing, no? You don't even have to be a wizard in the kitchen to experience this. The chefs are usually pretty helpful in guiding you. So just enjoy yourself and cook your heart out. Oh, and don't forget to have loads of laughs while preparing the food.
8. Standup comedy night and dinner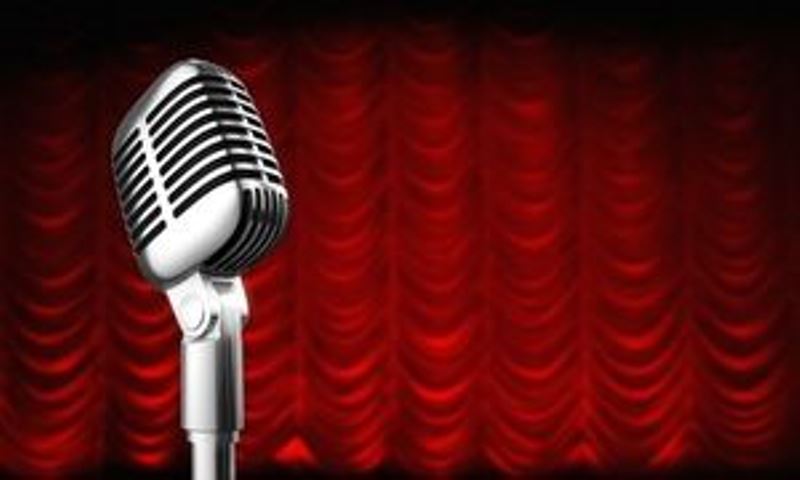 Image source: Pinterest
If you're both fans of standup comedy, then this is one of the best date ideas ever. It gives you both an opportunity to laugh to your heart's content and generally have a good time. You can eat while you laugh – a perfect date! Wrap up the night by going to a quiet dessert place where you relive some of the best jokes you laughed your rear off before.
9. Romantic candlelight dinner in your backyard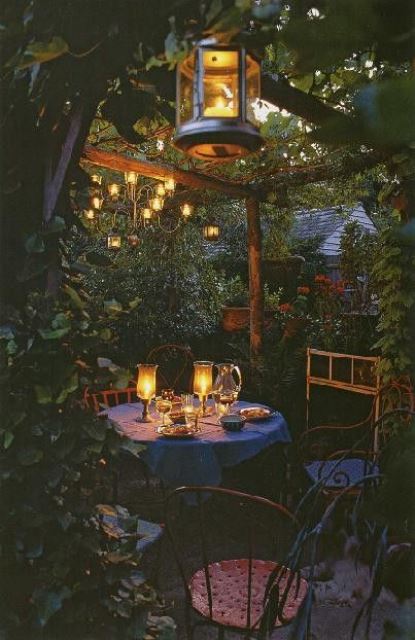 Image source: Pinterest
You don't have to prepare the food yourself. Instead, have food delivered from one of your favorite restaurants, string up some lights in the backyard that softly illuminate the laden table in the middle, light some candles on it, and get ready to have a cozy, romantic, and intimate dinner date with your significant other. Whether you dress up or not, is up to you. The focus should be on you both enjoying the night as much as you enjoy the food and drink. Another option is to go out for dinner and have dessert in the lit backyard.
---
Suggested read: 15 romantic vacation ideas to surprise your wife on your 5th anniversary
---
10. A home-cooked meal                                                            
Nothing beats the taste and intimacy of a home-cooked meal. Plan ahead and cook a two- or three-course meal for your significant other and impress them with your culinary skills. It takes the pressure off you from making small talk because there are plenty of topics to talk about when you're cooking a meal for your beloved. Just go with the flow and enjoy the night. If you don't have any hand-me-down recipes on hand, you can always follow a cookbook or the trusty internet – going for recipes from noted chefs is a good bet. Although this might not seem like much when it comes to romantic date ideas, the cozy, intimate nature of the dinner is sure to make it one memorable date!
The way to having a romantic dinner date with your significant other is to create the right ambiance of romance, intimacy, and warmth. The rest will take care of itself if you're confident of the plan working. Even if there are a few glitches, it's the thought and the effort you put into planning it that counts in the end. Just go with the flow – don't stress too much if not everything goes according to plan. Just in case, keep your fingers crossed!
Featured image source: Shutterstock
Summary
Article Name
10 Of The Most Intimate Romantic Date Ideas EVER!
Author
Description
Whether you spend money or make do with what you have on hand, it's the thought that counts. Take a leaf out of these romantic date ideas to plan yours.