Finally, it's hip to be square. Geometric jewelry is all the rage this season and it's raining shapes for jewelry lovers! Dainty triangular rings, modish rectangular pendants, bold octagonal cuffs or even happy hexagonal earrings are making their way to (or to be more accurate, off) kiosks and putting a smile-ish curve on all faces!! If you'd like to get in on the reigning trend and stack some geometric jewelry in your trinket box, we've got some cool ideas. Show off your best angle with our favorite geometric jewelry picks of the season:
---
Suggested read: The quintessential festival makeup trends that you CANNOT miss out on!
---
1. Gold prism diamond danglers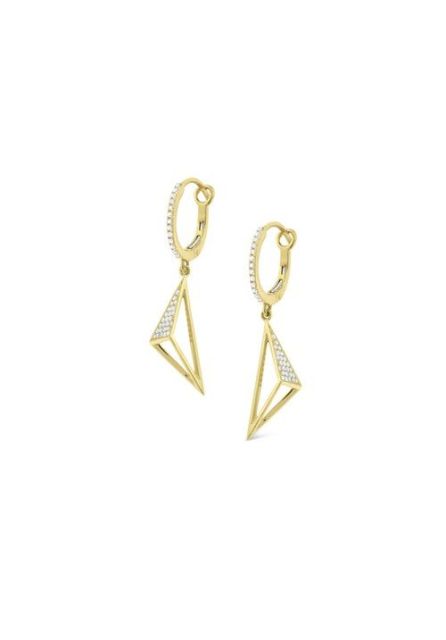 Image source: Pinterest/SusanBlakeJewelry
If you are partial to clean lines and cannot help but demand your 'fair' share of sophisticated elegance from your bling collection, these gold and diamond prism dangling hoops are the best present you can give yourself, this festive season! Dazzle in these danglers and watch the jaws of all onlookers drop to the floor! The collective thud may just beat the sound of surrounding firecrackers- we are just keeping you forewarned! 😉
2. Contemporary rhomboid pearl ring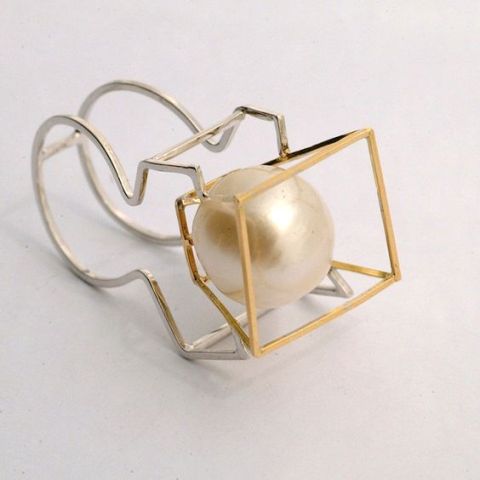 Image source: Pinterest/SteniaGioielli
If you've always liked your bling-things to be one of a kind, this statement geometric jewelry piece by Stenia Gioeilli is made for you. Crafted in a maze of myriad geometrical shapes holding a pearl in space, this contemporary ring lends a dash of chic distinction to your appearance. Wear it to a cocktail party or simply, point toward the soaring profit graphs in the conference room, with the finesse on your finger- and watch the waves of awestruck charm wash over one and all!
3. Handcrafted rec-stasy necklace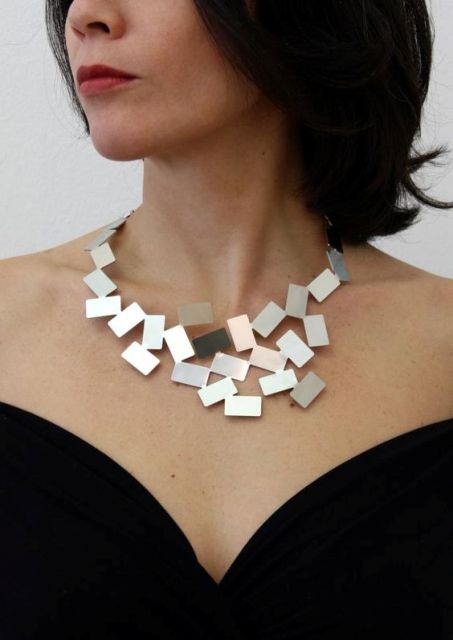 Image source: Pinterest/Facebook
When ingenuity and inventiveness get together in a neat get-to, you can expect some magic to come alive! If panache and poise are your signature style (coz you wear eroticism and tenderness at once), this unusually asymmetrical necklace with symmetrical rectangles is sure to send ripples of ecstasy rocking through your body. Aptly christened rec-stasy, this arresting piece is for all those women who love to throw things off balance with a singularly striking accessory. Just this one will do it!
4. Fathom&Form faux 3D bangle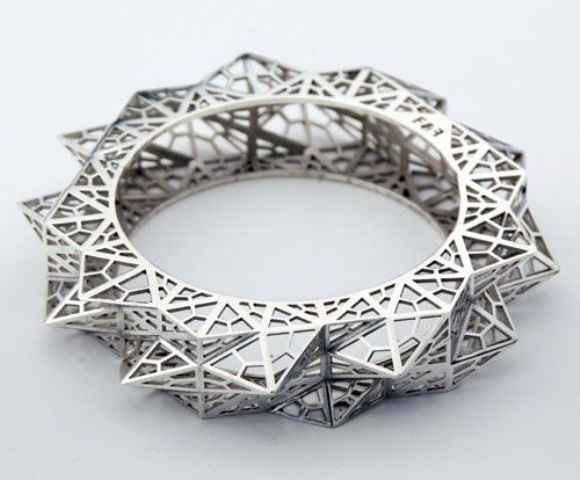 Image source: Pinterest/DesignMilk
When a traditionally striking lattice pattern from the annals of history gets transposed to your wrist, you are sure to shake things up. This easily-wearable faux 3D design from Fathom&Form reimagines an ancient Chinese lattice pattern to create a visually arresting cuff that can chain most who, as much as look once, in your direction!
5. Harness Sapphire Ring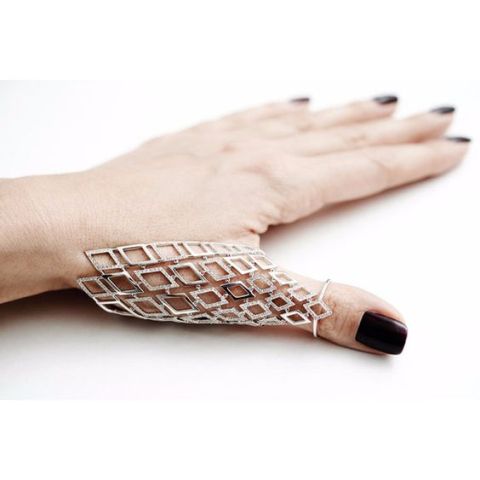 Image source: Pinterest/polyvore
Stunning in its intricate interlocking pattern reminiscent of Euclidean geometries and inspired from Egyptian, Mayan and Sumerian architecture, this one of its kind contemporary fine jewelry can be effortlessly paired with everyday styles to elevate your appearance to a different plane of elegance altogether. Don it and dazzle!
6. Framed minimal bracelet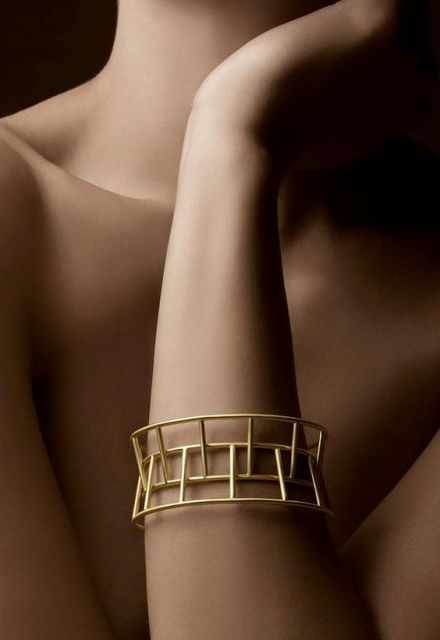 Image source: Pinterest
This unusually minimal yet high impact bracelet with pierced rectangular frames riffs on the theme of punk pyramids and is meant to be fastened around your delicate wrist, for pretty much any occasion, or none whatsoever!
7. Make A Wish earring and ring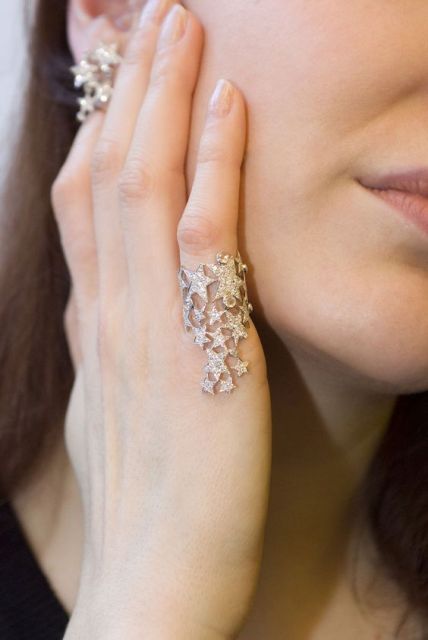 Image source: Pinterest/Katerina Perez
Make the universe dance on your fingertips and have it whisper sweet 'yes-es' in surrender with this stunning limited edition Katerina Perez collection of 'Make A Wish' earrings and ring in white gold and diamonds. Designed in a dreamy star-burst pattern, the collection, Perez notes, was inspired from Greek mythology to capture the moment Morpheus carried mankind to the world of dreams. Perez avers that if she could, with dreamy mists splattered on stones and gems, seize that fragment of dream and allow for people to wear it, she would consider her collection successful. And we bet it is- we are already dreaming!
8. Cloud City collection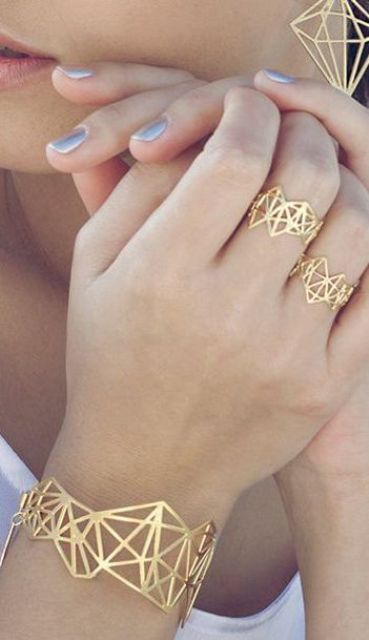 Image source: Pinterest/Lovely Clusters
Inspired by the Cloud City exhibit at the Metropolitan Museum, this 2D imitation in jewelry is a humble attempt to fuse the 'art' in architecture that uses space to beget innovation to spark off some creativity that can make 'space' in your closet. Worn apiece or in a cluster, this minimal set of simple yet striking beauty is like a ziggurat lassoed around your wrist, fingers and ears. Easy to wear, layer and fun to flaunt, this ticks off all boxes for a bold basic.
9. Dreamy gold anklet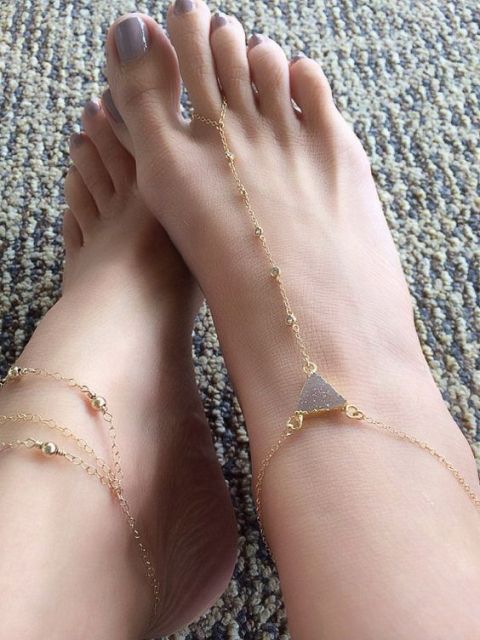 Image source: Pinterest/Etsy
Make a chic summer statement with these dainty gold anklets, with a centered triangular dewdrop, as if creating a sinuous rivulet of grace to follow wherever you step foot! We love the idea of matching the nail paint to the glitter dust inset in the triangle. Makes for happy feet!
10. Triangular touch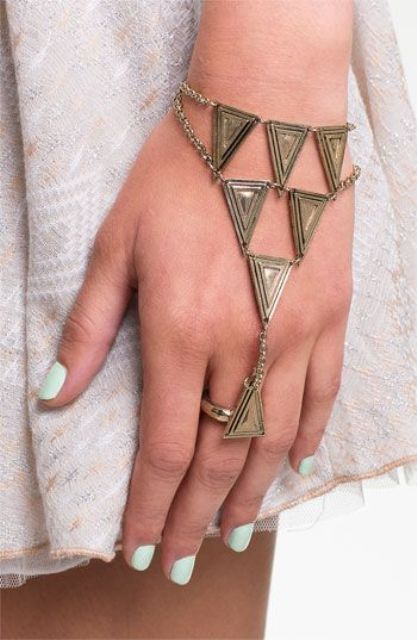 Image source: Pinterest/Nordstrom
Triangles have always added a wild edge to an otherwise dainty ornament. This exotic bracelet with its lobster clasp closure and stretch-to-fit ring takes delicate hand chains to a whole new level. The chain can be paired with any outfit to add an elevated dimension, without going over the top.
11. Minimalissimo right line collection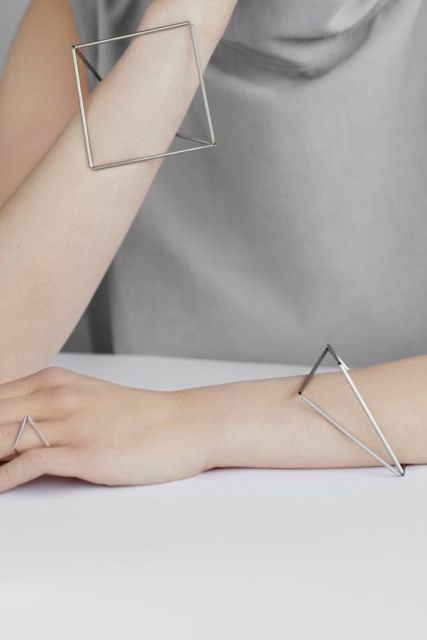 Image source: Pinterest/minimalissimo
Shape and form combine in this minimalistic design to present math within nature and beauty within bling with effortless ease. Wear your best angle to work or on a date, with these angles worked to perfection.
---
Suggested read: Top trends in fashion jewelry you canot miss out on!
---
12. Prism-ing perfecto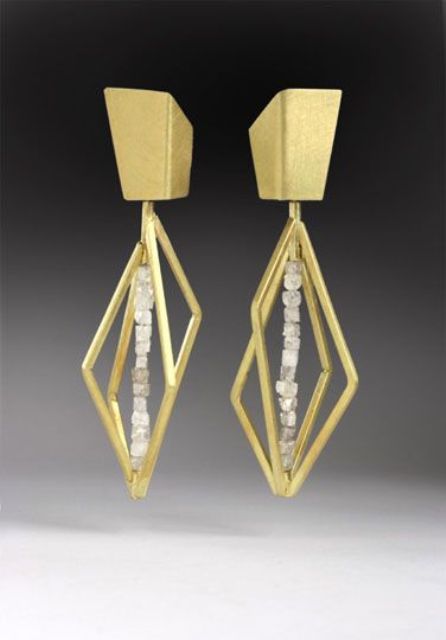 Image source: Pinterest/cosmima
These elegant, stylized rhomboid drop earrings with dual prisms interlocked in asymmetric perfection have a delicate chain of diamonds running right through the middle. These airy statement danglers combine elegance of shape with timeless style to create razor-sharp pizzazz.
How many of these geometric jewelry pieces are you taking home today?
Featured image source: Pinterest
Summary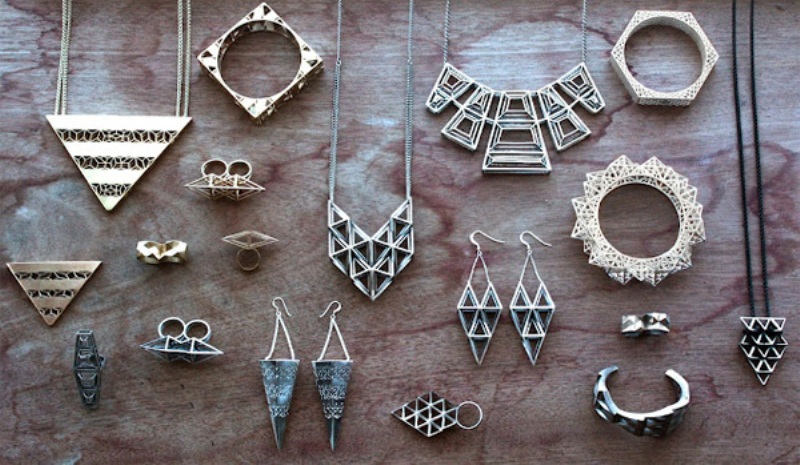 Article Name
12 Pieces Of Geometric Jewelry We Are Lovin'
Author
Description
Show off your best angle with our favorite geometric jewelry picks of the season...