Accessories are the perfect way to breathe life into any outfit. And nothing brings an outfit alive like a striking piece of statement accessory. Statement pieces are designed to- you guessed it right- make a statement, and more often than not, one big, bold, eye-catching piece does the trick. However, working one's way with a coordinated mix of elements isn't unlikely either and calls for just a tad bit of careful planning in order to ensure that you aren't making the err… wrong statement!
Either way, whether you are picking a bib necklace, a cuff bracelet, a cocktail ring or a minimal arm cuff, statement accessories are sure to dial up your diva mode and have even Midas' head turn. And because WE know just how powerful allies these accessories make in changing the A-game, we bring to you the ultimate collection of statement accessories for your wish list so you don't have to look anywhere else:
---
Suggested read: Top 10 lip colors perfect for the boardroom diva in you
---
1. The starfish bracelet
Image source: Pinterest
Sure to glam up a night out in town as well as brighten up a laidback beach-y retreat, this gold rhinestone Cara bracelet is a part of a sizzling 'Under The Sea' collection that guarantees that you remain 'see-worthy,' all the friggin' time! We say whoever said 'all that glitters isn't gold' was high on some effin' sh*t!
2. The minimal squiggle bangle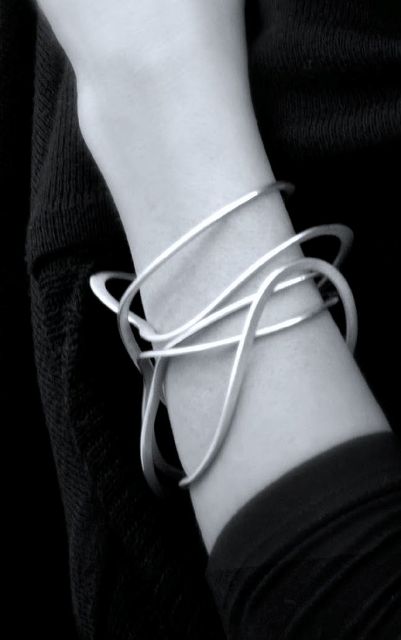 Image source: Pinterest
Simple, chic and elegant, this minimalistic squiggle design from Liliana Guerriro can be perfectly paired with your old college tee and boyfriend jeans, thrown in on a maxi skirt and crop top combo, delightfully teamed with a fit n'flare casual dress or slid on when sporting a semi-formal look. With versatility as a major plus factor to boot, we recommend this piece because splurging on this 'statement' piece shall mean one 'timeless' addition to your jewelry box.
3. Multi-storey chain anklet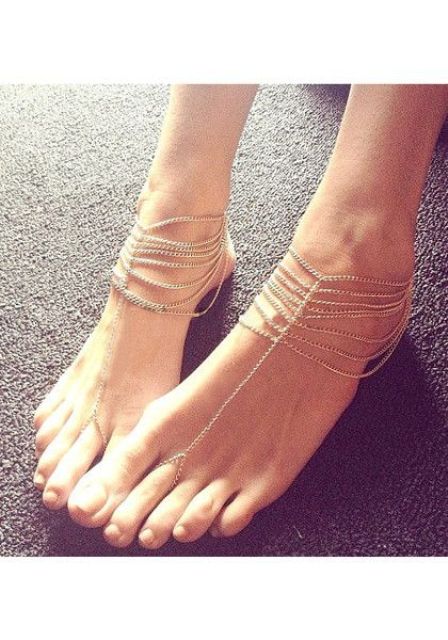 Image source: Pinterest
This layered gypsy anklet is just what you need to glam up a classic pair of nude pumps or simply let your carefully done feet forge their way forward in the sun, sand and surf! Best suited for a boho look, this chic anklet can, however, be paired with semi-formal attire too- except we recommend you give one leg a miss! After all, your feet deserve some lovin' too, right? 😉
4. Metallic thigh chain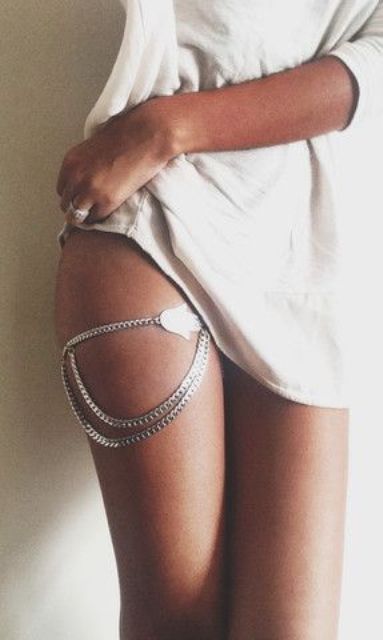 Image source: Pinterest
One of my favorite pieces on the list, this sexy thing is a surefire way to sizzle like the leggy lass you are! Whether teamed up with a bathing suit in the hot summers or teamed with your boyfriend's tee whilst you know a ravishing romp is fast coming, paired with a high slit dress or skirt or let loose and peeking from under a short or mini, this one is a HOT, HOT piece from Boho Child. Go, get your hands on this oh-so-hot piece and be sure you are wearing mitts! 😉
5. Spike and chain shackle bracelet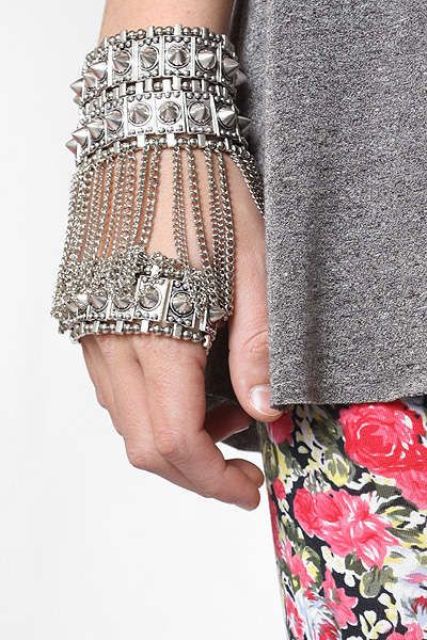 Image source: Pinterest
If you aren't quite the 'girl-y' girl and get your edge from giving life a rough edge or two, you can pack a powerful punch with this Bieudame spike and chain shackle bracelet that is designed for the tough chicka in you. Throw it on when your biker girl avatar is out on the loose or simply slide it on when winter is bidding adieu and you are sure to get all eyes hooked to your wrist.
6. Body harness body chains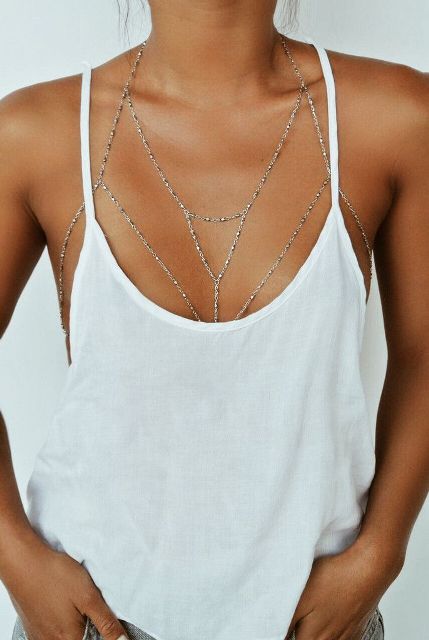 Image source: Pinterest
Whether teamed with a bikini, a tank top or a side-wide slip dress, a body chain is a sexy addition for all the times you are in the 'I've got it, am gonna flaunt it' mood. One can pick the best fit from a wide assortment of designs- like draped falling chain design for a plain LBD/LWD, a back cascade design for an open back dress, a one-shoulder harness for an off-shoulder or single sleeve piece, a bar drop harness for a plunging neckline along with options of choosing from metal, rhinestone, pearl and a number of other elements. Don't be dazzled, just don it and dazzle!
7. Pinnate leaf gold necklace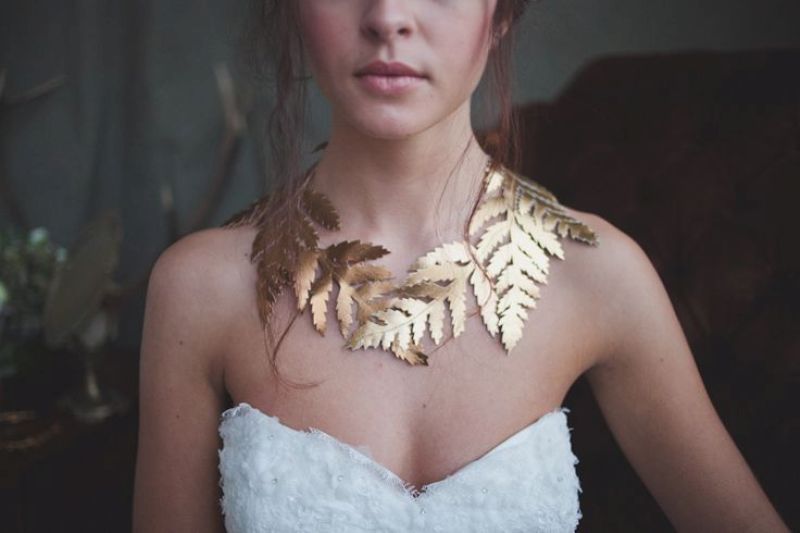 Image source: Pinterest
Designed to take the oomph quotient of any outfit from level zero to a million, this pinnate leaf necklace from The Reign Collection is available in sterling silver and gold and can be teamed up with a plain-Jane corset lace gown or dress. Not for the weaklings in the fashion realm, this one is a choice for those fashion-forward divas who aren't afraid of experimenting with trends, pushing boundaries and donning whatever gets their heartbeats to rev their rhythm! Think it'll rock your boat? Go, get it- we are giving you a big thumbs up! J
I'll let you in on a secret- this stunning piece got one of our NLT members an awe-ful lot of attention at our New Year's bash! She teamed it up with a crepe pecan maxi dress and some to-die-for makeup!  😀
8. White gold and diamonds double ring
Image source: Pinterest
This remarkable double ring from Elise Dray is an exquisite creation that can add a dash of elegant to a prom outfit, an office party ensemble, a date night, a wedding attire or even a girls' night out. Delicate and delightful, this double treat is a tasteful splash of elegance, grace and charm on your fingers! Think you can get people to do as you bid with a flick of your hand- with this on, no question! 😉
9. Spiral brass leaf earrings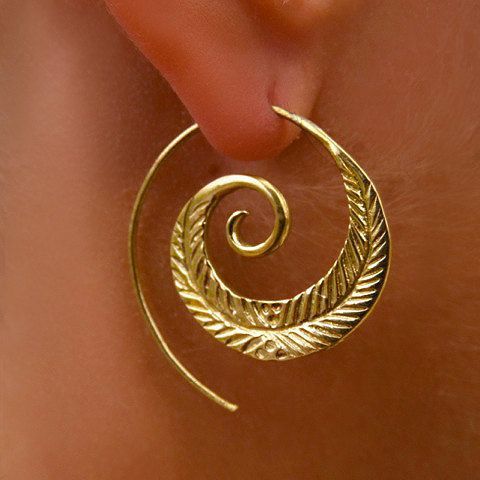 Image source: Pinterest
These chic earrings are sure to upgrade any casual outfit from 'casual' to 'stunning.' Whether donned as a singular piece or in a pair, these spiral brass beauties from EarCharms are sure to glam up your bohemian look or add a li'l bit of glitz and glam to your vacation diaries! Think of the sun being a tad bit jealous of how you shine in these! True story! 😉
10. Cascading coral necklace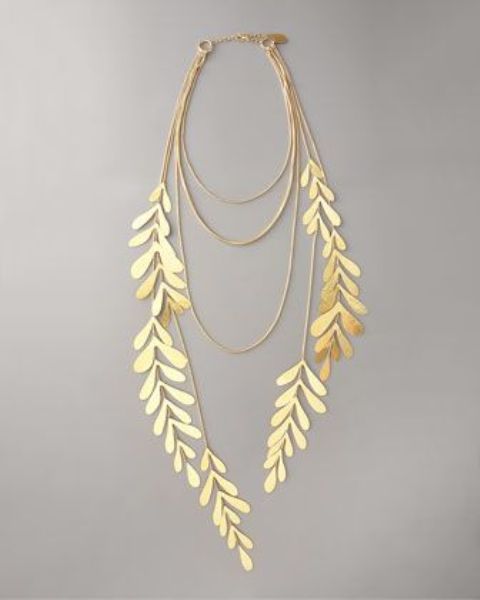 Image source: Pinterest
This beauty is a piece you MUST absolutely stack on for teaming up with your wardrobe whites. A dazzler in all aspects, this one makes for a beautiful love story with your white outfits. And it isn't just us- the makers of this cascading coral necklace at Herve Van Der Straeten agree!
---
Suggested read: Stunning sapphire rings to pop the big question
---
11. Holding you arm cuff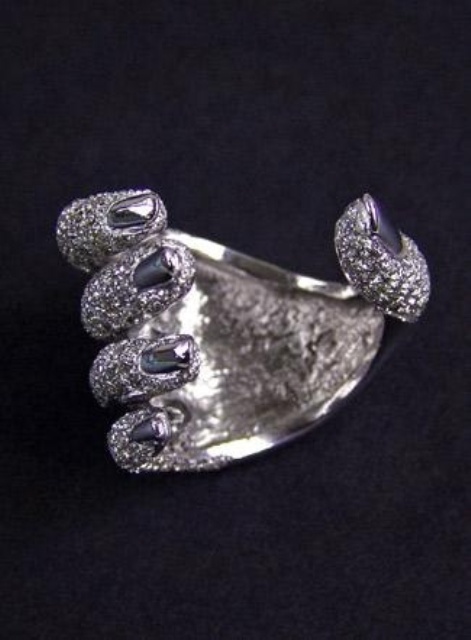 Image source: Pinterest
After the Delfina Delettrez thunderbird and Rapunzel cuffs were runaway successes on the runway for consecutive years, 2016 dawned with these new 'hold me' arm cuffs from the talented designer. And just as we set eyes on these, we knew we had to bring it to you. Teamed with any sleeveless outfit, this one takes the glam quotient of your ensemble shooting through the roof.  Go on, hold it- you know you want to! 😉
12. Pearl star-burst earring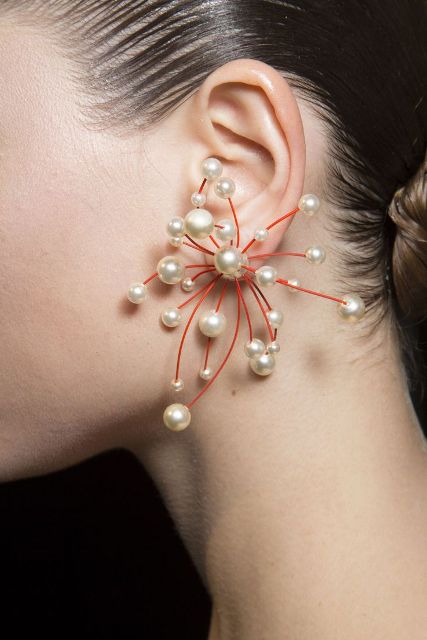 Image source: Pinterest
When Christian Dior brings you a trend, you know you can't go wrong with it! So what's there to question, really? Get your hands on these pearl star-burst earrings and make sure you don't forget to paint your lips in the bright hue that the pearl strands boast! After all, a little pop of color during a star burst always pleases the eye, right? 😉
13. Frog ear-wrap cuff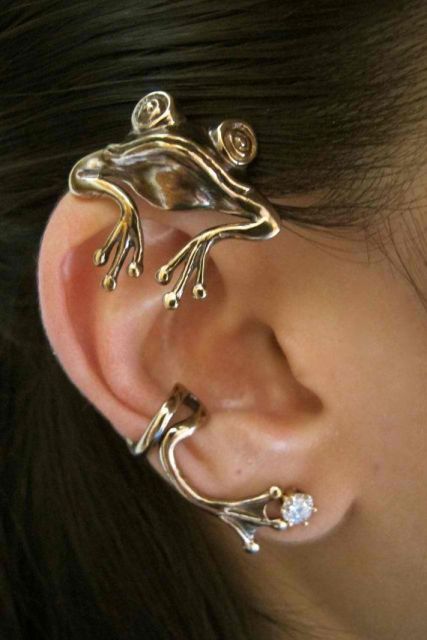 Image source: Pinterest
Because we, girls, take our fairytales quite seriously! We may not kiss every frog we find but we sure do not mind listening to what they have to say. 😉 Any which way, this curious ear frog wrap is a perfect complement to a casual outfit and can add oodles of glamour to any run-of-the-mill mundane ripped jeans and ripped tank top look? You gotta try it to believe it! Go, get your frog- maybe this one will help you catch the eye of a prince! 😉
14. Ancient Egyptian metal bib necklace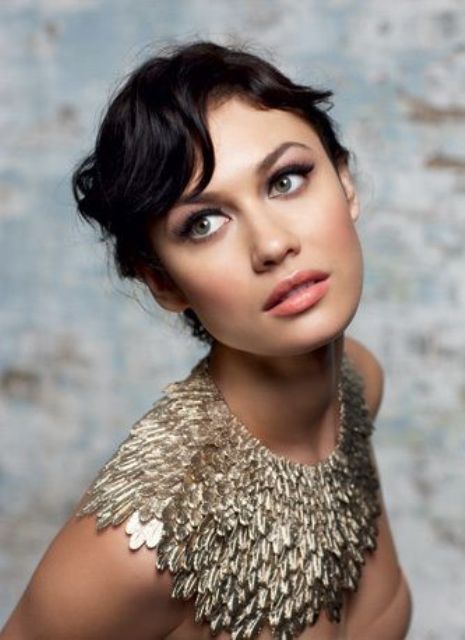 Image source: Pinterest
If this stunning picture of Olga Kurylenko hasn't convinced you already, here we go. This showstopper bib necklace by CMM will notch up your glam quotient by leaps and bounds. And of you need inspiration, just don it like Olga here with a blush gown and nude lips, a hint of blush on your cheeks and the au-naturel makeup! Tell me if men do not stoop to kiss the ground you walk on.. 😉
15. Ornate shoulder chain
Image source: Pinterest
After the body chains and thigh chains set your heart soaring, this shoulder chain was sure overdue, no? This MDC shoulder piece will channel the princess in you and bring the stars from above right down to wrap your graceful form. Pair the piece with an off-shoulder gown and dazzle any white tie or black tie event like royalty!
16. Cat ring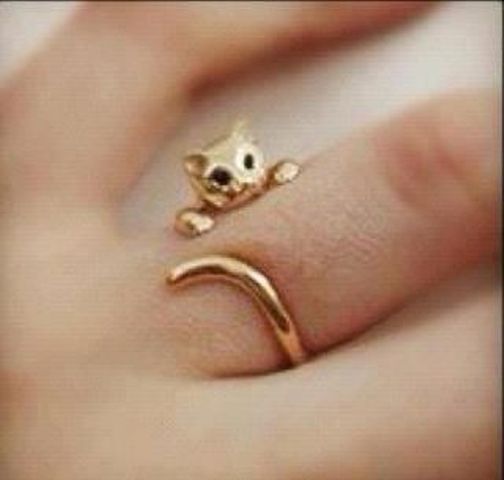 Image source: Pinterest
A cute li'l piece for everyday wear, this ring from Costwe is available in the dolphin, elephant and pup avatars. Think of donning these in two adjacent fingers, facing each other and you'll have one furry tale of love sitting right there, on your fingertips! Aww…right? <melt>
17. Coachella dangler earrings
Image source: Pinterest
If there is one pair of bad boys I'd recommend to every girl in town, it is this! You won't just have heads turning with these danglers making a bold statement but you'll also have ALL boys vying for your attention too! The best part- these go with almost anything. Read carefully- we said- almost! Go all in and have fun! 😉
18. Disc-stacked dandelion necklace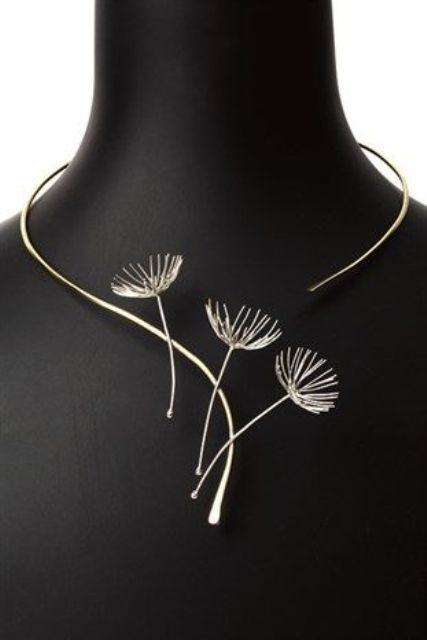 Image source: Pinterest
Another stunning unique piece, this Tansy Wilson creation from the Make A Wish collection is a game-changer. Sure to make any ensemble stand out, this dandelion embellished work of art is a gorgeous addition to any outfit with a ballet, scoop, strapless or V neckline! Versatile, right? Then, what are you waiting for?
19. Variant line necklace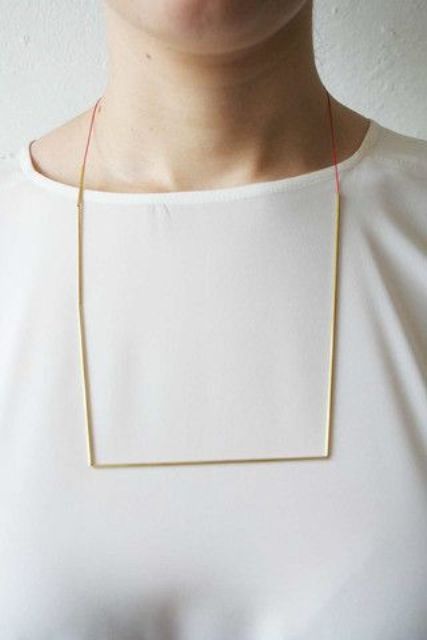 Image source: Pinterest
Another minimalist chic piece, this one is a simple, elegant and classy accessory that can take any formal, semi-formal or casual outfit from the level of plain-Jane to stunning! Just team this with a bottle neck dress, top and high-waist skirt, throw in a pair of to-die-for pumps and add a contrasting handbag to the assortment. Dressed to impress! I'd say! 😉
---
Suggested read: 10 must-have shoes in every girl's closet
---
20. Princess crown ring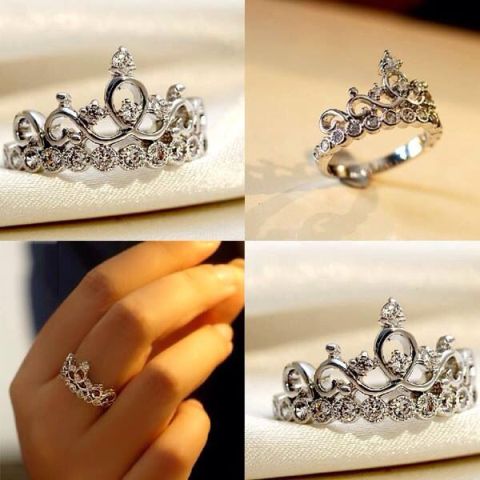 Image source: Pinterest
And I want to end this list with this rather staple piece for every girl's jewelry box- coz 'tis high time we let the world know we are princesses, just that walking with a crown on every day is kinda tedious! So tadaa, an easy, breezy option to let the world know who we are! 😉
Now go, get'em! Coz you are worth it!
Featured image source: Pinterest
Summary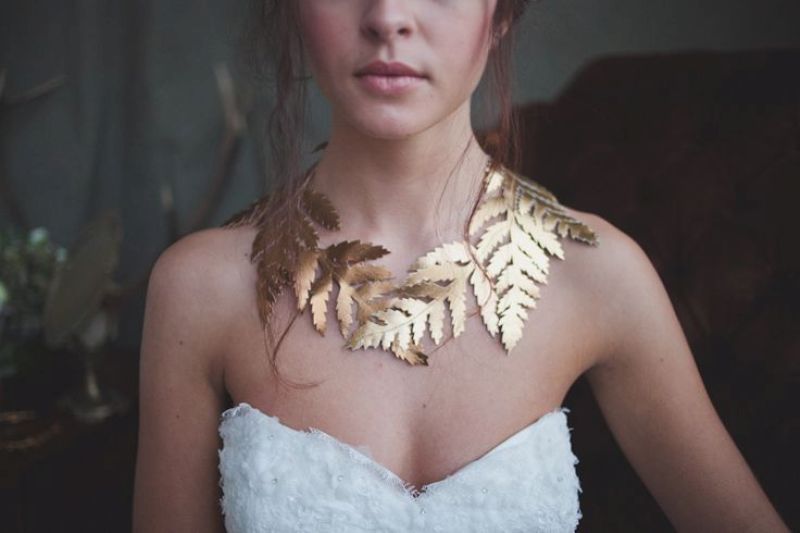 Article Name
20 Pieces Of Unique Statement Accessories To Dial Up Your Diva Mode For The Year
Author
Description
Because you can count on statement accessories to... umm... make a statement! ;)