The black eyeliner surely is a classic but swapping it for an aqua blue liner can usher in some new fashion horizons in your life! Featuring all over the runways, this is definitely the 'Dernier Cri' of 2016! More than just a nifty way to play with hues, this cheeky liner has become a major tool of transformation!
Wear the aqua blue liner on top or the lower lash alone, or may be both; daub a shimmer shadow over it; mingle some more pop for a dramatic look; lap up all the flairs this style provides you with! Here are 12!
1. Smokey eyes

Image source: Pinterest
Just barter your black one with your friend's aqua blue, and then follow this:
2. Pick cobalt!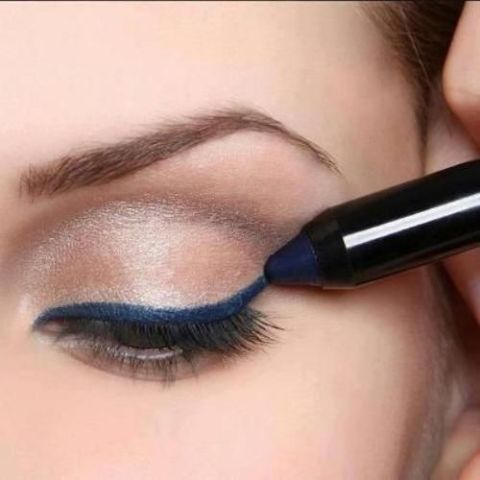 Image source: Pinterest
Your aqua blue liner is meant to be seen, not dwarfed! Avoid: Super neon lip color, OTT eye shadow, and tormented hair, of course! Tacky isn't what we are aspiring for here! Nude makeup with soft pinks or peaches can perform wonders! You can even ditch the mascara to keep it rad!
3. A double mouser
Image source: Pinterest
Your liquid formula will help you create a visual pop art! Use the black liner for a wing and then layer it with the aqua blue! Lucero applied the Stila Stay All Day Liquid Liner for Periwinkle, but you can follow the tutorial below and work it with any blue liner!
4. Take a chance on graphic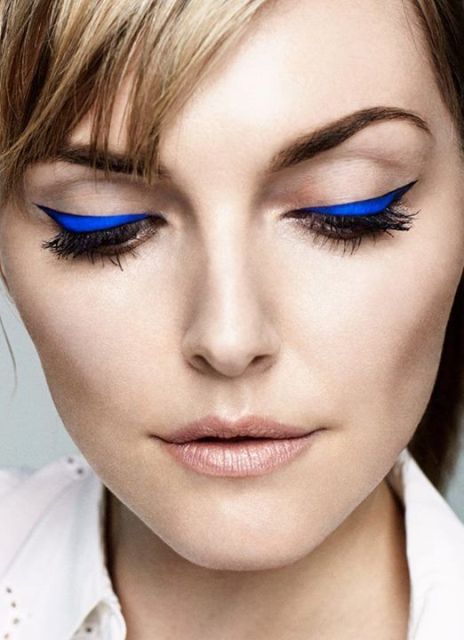 Image source: Pinterest
Graphic lines are what we absolutely love! No winging out here. Just tick it up at the edges, that's all! For something braver, trace your aqua blue liner to the crease of your eyes!
5. Attempt enigma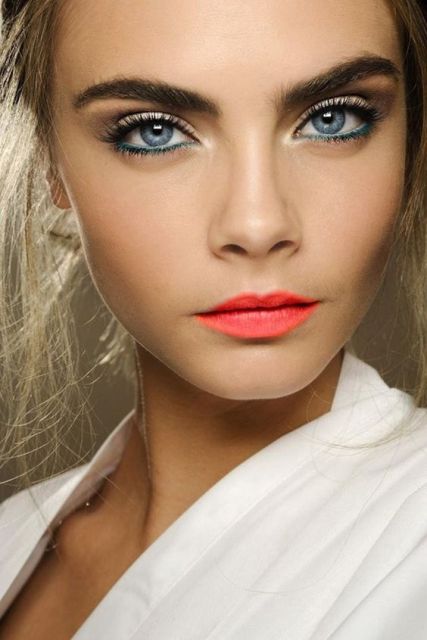 Image source: Pinterest
Pert yet not too stagy? This is your best bet! Smudge the tones lightly to get a profounder, plusher shade. We don't want the colors to scream out.
6. A little burst of hues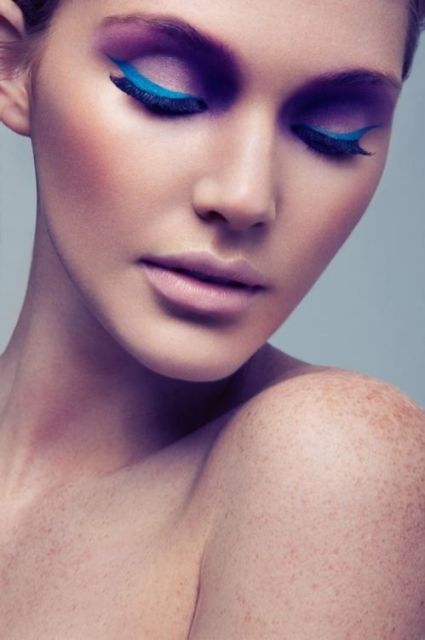 Image source: Pinterest
This will offer your eyes a flawless definition and silhouette. Let the pop stand out alone. The strokes should be small and the touch ups should employ an angled eyeliner brush.
---
Suggested read: 10 eyeliner mistakes you are making, and how to avoid them
---
7. A French twist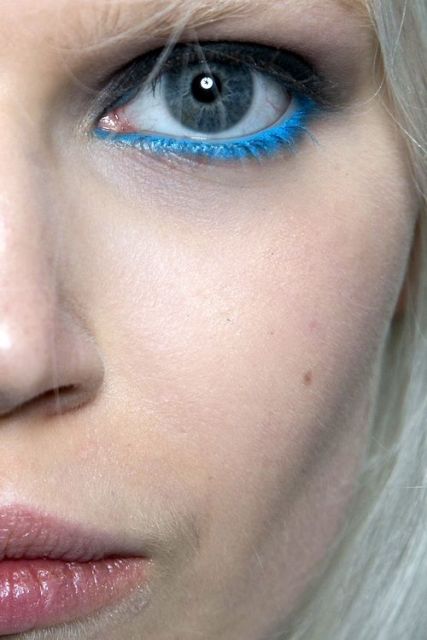 Image source: Pinterest
A bluish teal, which won't lose its pigment once it's smudged. However, keep the concentration high near the lash roots. To amp it up some more, you can waterline the lower rim or even give a glossy cream liner in Teal Tease a whirl.
8. Shimmer it up!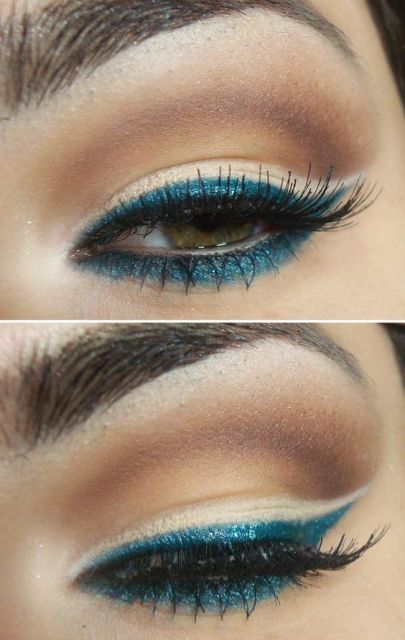 Image source: Pinterest
Subtle, anyway! Applying some shimmer to the inner eye corners is the greatest trick the fashion sorcerer ever pulled out! We are not straying from this, but trying something different out doesn't hurt anybody. This season enrich the lower lash line with some gleam instead!
Here's how:
9. Harmonize it with your eye color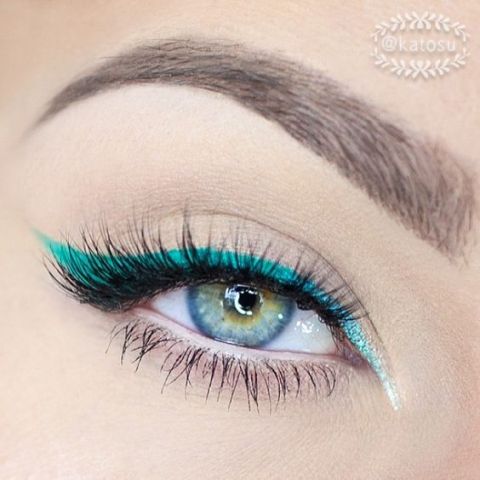 Image source: Pinterest
Enhance those azure irises' with an aqua blue eyeliner. You can even blur the liner on the lower lash for a rather subtle look.
Here's what you should be watching:
10. Trace with thick lines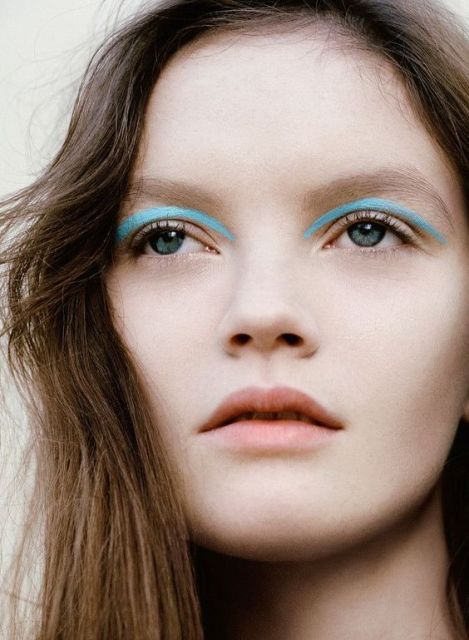 Image source: Pinterest
Thick lines around the upper lid. Flatter the pop of the color and dress in white! Cue: Bare makeup!
11. Blue + Gold twang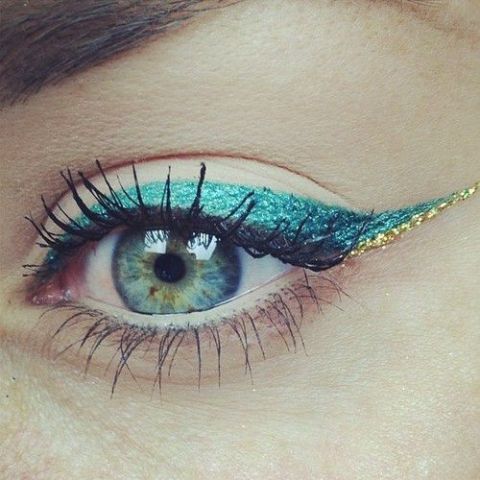 Image source: Pinterest
This look is fiery, queenly and surprising (the cherry on top!).
12. Blend in some plum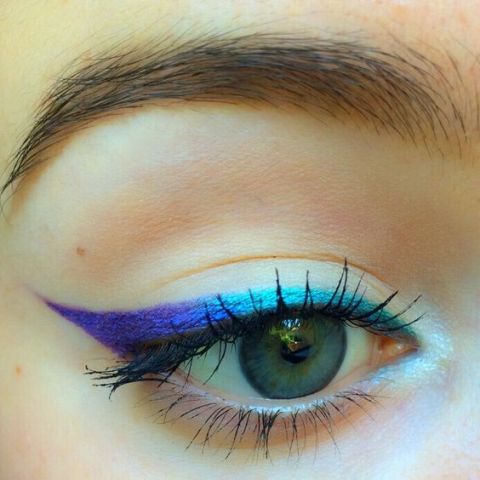 Image source: Pinterest
An artist doesn't need a canvas, does she? Let your eyes serve as that for you! A kaleidoscope is what I like to call this look! Remember to sweep up the liner, that's your hint!
Here's how:
It's very easy for the colored eyeliner look to take the route of a 13-year old who walked into Sephora and didn't know what to do with them colored pens (liners, of course!). Avoid that by simply following what I have been blabbering about throughout the article! Have fun! ☺
Featured image source: Pinterest
Summary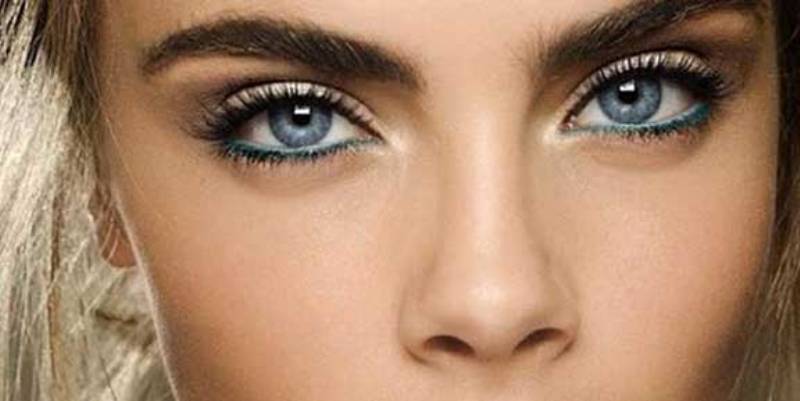 Article Name
12 Stunning Ways To Wear The Aqua Blue Liner
Author
Description
Because an aqua blue liner is our favorite thing to play with! ;)