If a stunning eye shadow palette fills you with dread and liquid liner is always off-limits for you, we've got good news. No longer do you need to scour through countless makeup tricks and hacks to figure just how you can make your eyes stand out! The secret to perfect eye makeup lies in knowing your eye shape. Every eye shape can be turned into bigger, brighter, more alert peepers if only you know the how-to. And with NLT, you don't have to look too far, you know!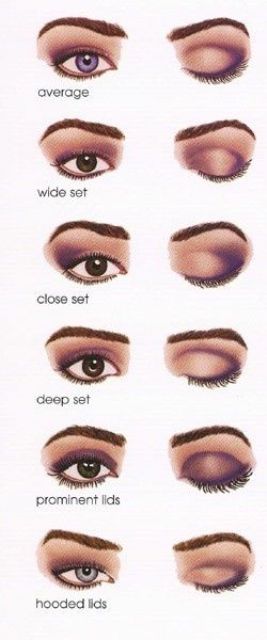 Image source: Pinterest/listotic
Whether you wish to make hooded eyes appear bigger and brighter or wide-set ones appear closer, we've got you covered. From highlighting and shading to lining and curling- we've got the most useful tips for that perfect eye makeup that will no longer have you wishing you had a different set of eyes- coz you know what they say about beauty, right? It lies in the eyes of the beholder, and you are truly be-YOU-tiful, you just gotta see it for yourself!
---
Suggested read: The best fall makeup looks, and how to get them
---
Here's how you can get there, just use these tips for nailing the perfect eye makeup for your eye shape:
Deep set eyes
Large and typically set back farther into the skull, deep set eyes give the illusion of a prominent brow bone. You may want to use a beige or pink shadow (depending on your undertone) to brighten or diffuse the shadow created by your brow bone and apply a highlighting shade under the arch of your brow bone to make the eyes pop out. If you are using a darker shade, you may want to go easy because you want to accentuate the highlighted bits only so much as to give the illusion of roundness and not overpower the makeup.
Wide set eyes
Eyes more than one eyeball width apart are wide set and make you look younger. To use makeup to make your eyes seem closer to each other, you need to use a dark liner to line the upper and lower lash lines as close to the inner ends as possible. It is advisable that you do not use a heavy line but start thin, closer to the tear duct and pull out toward the outer end, creating a thicker vein as you go outward. Coating your baby lashes on the inner eye will work wonders. Two coats is the bare minimum!
Close set eyes
Eyes set closer to each other, these need a medium base shade with a darker shade, used from the outer end and top of the crease for greater contrast. A shimmery shade or frosty whites, pinks and nudes for lining the eye's inner corner can give the appearance of bigger, wide-set eyes. Multiple coats of mascara on outer lashes and a slight dab on the baby lashes are the last swoop for finishing the look.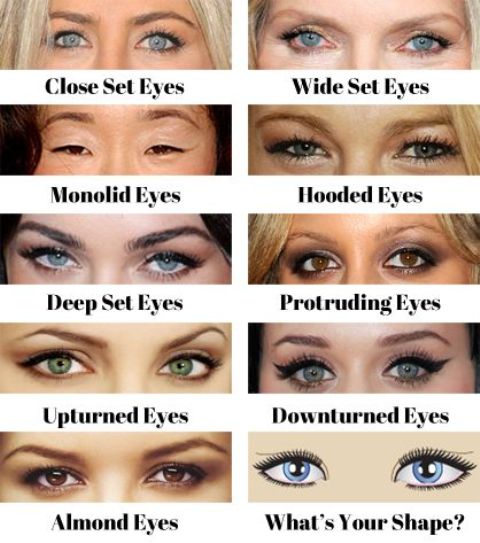 Image source: Pinterest/theblondeshell
Almond eyes
Almond eyes are the most symmetrical and hence, posit the least challenge for makeup. A fun playground to experiment with all techniques, the almond peepers are fair game for any kind of eye makeup. Considered a standard for beauty, your eyes allow for going as bold with your liner as you please. Following the natural contours of your eyes is the best way forward. You can go for matte taupe colors during the day and use a deeper shade on the outer corner and blend to create a rich contrast. Your eyes are the ideal shape and hence, you need not do much to make them stand out. Try to bring out your eyes and not draw out the makeup. To make your peepers pop, just throw in a champagne shimmer pencil for your inner eye and tear duct.
Hooded eyes
When you can't see much of your lids, you can be sure you have hooded eyes. Contrary to popular opinion, bold eye makeup was meant for you lassies! You can use a smoky shadow look along the lash line, over the lid and up the crease. Skip lighter shadow and add more definition by using a darker shade to create more contrast along the lash line and blending it into the other color. Lighter shades will draw attention to your hooded lids and should be avoided. Do not over highlight the brow bone and add to the size of your eyes by lining your lash lines with white pencil on the outer ends.
Downward slanting eyes
These are eyes that droop toward the bottom- so lining and lashing on the top and steering clear of the same on the lower lash line is key. Dark, smoky looks can draw out the droop further and hence, needs to be kept at bay. The idea is to lift the eyes and hence, black should be kept away from the lower lash line. Using brown mascara on the lower lashes to widen the eyes and give them a larger, more alert look should work well. Using the highlighter well on the brow bone can pull attention upward. Don't be afraid to draw out a cat eye or a winged liner. You were born for it!
Upward sloping eyes
With upward sloping eyes, the lower lid seems larger and hence, you must use shadow to make both seem more proportionate. A thin line of shadow and a dark liner on the lower line should do the trick. Go easy with the shades on top and try to bring out a blending effect with lighter shades. Go easy with mascara coats as well and just add a thin line of liner that starts out in the middle and ends right beside the outer corner, sloping a little downward.
---
Suggested read: 10 quick makeup ideas for the workaholic woman
---
Prominent eyes
Large, round eyes that stand out provide ample space on the lids to play with. Blend medium and darker shades on your lid and start out with thin liner on the inner end of your eye, thickening toward the outer lid and outer end. This should reduce the space on the projected lid and give the illusion of less protruding eyes. Light shades will draw out your eyes even more, so kick them to the curb and make sure you go for sharp, edgy brows sloping downward that can bring some droop. Go for dark, smokey, mysterious looks- they are meant for you!
Use these tips to apply makeup on your peepers and don't forget to tell us how many were slain with just a look! We are all ears, erm eyes! 😉
Featured image source: Youtube
Summary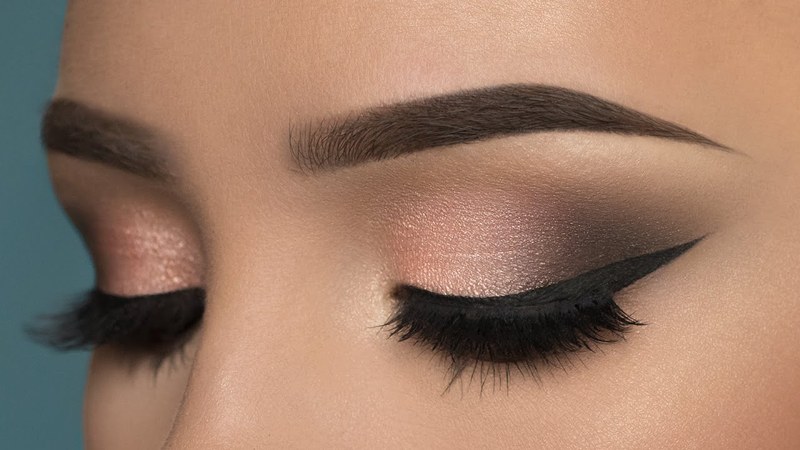 Article Name
All About The Perfect Eye Makeup For Your Eye Shape
Author
Description
The perfect eye makeup ain't far with our tips!