Today is the day we tell you about the best eyeshadow palette brand. Eyeshadows are probably the scariest part of wearing makeup. If your eyeshadow isn't on point, then your entire look pretty much goes up in flames. It's also super difficult to find good eyeshadow that gives you a bang for your buck (in case you hadn't noticed, makeup is expensiiiive). Bad eyeshadow can be chalky, powdery (way too much fallout), lacking in pigment, not long lasting, un-blendable, etc. So we get how looking for good eyeshadow can be a task.
A good eyeshadow palette isn't just a box containing some eyeshadow that was randomly thrown in together. A good eyeshadow palette not only contains high quality product, but is also built beautifully, with the colors selected and set up in a way that simplifies the process of creating a look. Ideally, a good eyeshadow palette contains at least 3 shades that complement each other, a matte transition shade (for that fleecy blend), a foil/shimmer/glitter (for the pa-pow effect), a highlighting shade (for that inner corner highlight that will make your eyes look bright and awake), and at least one rich, dark shade to add depth to your look.
---
Suggested read: Top 12 2018 Hair Color Trends That You Cannot Miss Out On
---
So, we did lots of research, read lots of reviews and created a list of some of the best eyeshadow palettes so that you can pick the best eyeshadow palette brand for yourself.
Huda Beauty Desert Dusk Palette
If you've been even a teensy bit interested in YouTube makeup videos, you've probably heard of Huda Kattan aka Huda Beauty. She recently launched her very own beauty line, starting with the most incredible line of lashes and liquid lipsticks. But that has expanded to eyeshadows, foundation, highlighters and so much more! While almost all her products are absolutely incredible (as is expected from a brilliant makeup reviewer), her Desert Dusk palette just takes the cake.
With a giant selection of 18 beautiful shades (1 glitter, 8 creamy mattes, 6 shimmering pearls and 3 duo chrome), this palette is probably the most gorgeous palette you'll ever lay eyes on. The shadows are incredibly pigmented and blendable, and they last al frikking day (when you use it with an eyeshadow primer).
Price – $65
Theme – rich and super extra
Rating – 9/10
Anastasia Beverly Hills Modern Renaissance Palette
The ABH Modern Renaissance Palette is among the best selling eyeshadow palettes ever. With an excellent selection of highly pigmented shadows, this eyeshadow palette is a must-buy for any makeup lover.
The palette contains 14 shades in a variety of finishes, ranging from velvety mattes to high shine, metallic shimmers.
Price – $42
Theme – berry/neutral
Rating – 8/10
Urban Decay Naked Heat Palette
Urban Decay is the badass, hardcore makeup brand of our dreams. It is one of the best eyeshadow palette brands ever, with almost all their palettes ranking among the eyeshadow palettes in the world. It does not believe in the whole "no-makeup-makeup" look and insists that their makeup really stands out. Even their "Naked" palettes are pretty va-va-voom! The Naked Heat Palette is one of their newer launches, and it boasts of just the most intense, amber-hued shades that will BLOW YOUR MIND.
With a selection of 12 rich colors ranging from fiery, burnt oranges to rich siennas, in a variety of blendable finishes.
Price – $54
Theme – amber
Rating – 7/10
Morphe Jaclyn Hill Palette
Morphe, as a makeup brand has consistently churned out brilliant eyeshadows and makeup brushes that don't break the bank. This palette is no different. Morphe collaborated with famous YouTuber, Jaclyn Hill, to create an insanely beautiful eyeshadow palette with 35 incredible eyeshadows.
This palette is a one-stop-solution for all your eyeshadow needs. It has cool shades, neutral shades, funky colors, sober colors, rich browns, and pretty much any kind of finish you need to create some stunning eye-makeup looks.
Price – $38
Theme – cool to neutral
Rating – 8/10
---
Suggested read: Makeup Brushes Are The Secret Ingredient: Here's Why You Need To Own A Collection
---
Kat Von D Shade + Light Eye Contour Palette
Trust Kat Von D to come up with an eye contour palette. Kat Von D is a beauty guru turned entrepreneur with the most fun line of cosmetics that cater to those who take pride in wearing makeup and consider makeup to be a form of art. It's almost like the Hot Topic of makeup.
Her goth-chic makeup line contains some of the best liquid lipsticks ever, and this eyeshadow palette is just another best-selling feather in Kat's cap. This palette contains 3 sets of low-key neutral-themed quads (one warm, one cool and one neutral) that will help you contour your eyes and make them look bright and stunning.
It is great for those of you who enjoy subtle, understated makeup. It is almost pretty great for just contouring your eyes before you go in with any colorful eyeshadow, ad make your eye-makeup really pop!
Price – $48
Theme – subtle, neutral
Rating – 8/10 (extra points for versatility)
Pat McGrath Labs Mothership Palettes
In case you didn't know, Pat McGrath is the celebrity makeup artist of the century. She has done the makeup for high profile fashion shows, celebrities, and everything in between. Having launched her eccentric yet GORGEOUS line of makeup with a line of the most incredible lip-kits, her brand has now expanded to include some of the most STUNNING eyeshadow palettes we have ever seen.
The Mothership series is actually a collection of 6 palettes, all unique, and all jaw-droppingly beautiful. The colors are rich, pigmented, and unlike anything you have ever used before. Don't believe us? Go check out their Instagram page and see just how inssaaaaaaane these palettes are!
Price – $125
Theme – extravagance and excess
Rating – 9/10 (we deducted a point for that crazy price)
NYX Warm Neutral Ultimate Shadow Palette
While most eyeshadow palettes tend to cost a pretty penny, this one is the budget-friendly palette of our dreams. The NYX Warm Neutral Ultimate Shadow palette contains 16 beautifully curated shades in a variety of textures that will make you reach for this palette every single day. Whether you want a classic nude eye, or a soft smokey eye or you want a cute pop of color, this palette has got your back.
Price – $17.99 (what)
Theme – warm neutral
Rating 7/10
Marc Jacobs Eye-conic Multi-finish Eyeshadow Palette
Marc Jacobs Beauty has recently made a dent in the beauty industry, being the first of its kind – a luxury makeup brand that is not afraid of making bold, in-your-face makeup.
The Eye-conic Multi-finish Eyeshadow series is a collection of 6 eyeshadow palettes, each with a different color-scheme. Each eyeshadow palette contains 7 beautifully coordinated eyeshadows ranging from pale satins to dark, rich, saturated lames. You can choose a palette depending on your favorite color-scheme, be it warm pink (Scandalicous), cool pink (Provocouture), purple (Frivoluxe) or something super edgy like Edgitorial (our personal favorite).
Price – $49
Theme – bright, and editorial
Rating – 8/10
Violet Voss (Limited Edition) Ride or Die PRO Eyeshadow Palette
This Limited Edition Violet Voss eyeshadow palette is an absolute dream-come-true for anyone who either has no idea about makeup, but wants to start somewhere, or who does a LOT of makeup and needs lots of options.
With FORTY-TWO spectacular shades of different textures ranging from comfortable mattes to foils and pressed pearls, this eyeshadow palette is guaranteed to help you create an infinite number of beautiful looks!
Price – $75
Theme – cool/neutral
Rating 8/10
---
Suggested read: #AstroSpeak Eye Makeup For Fall, Based On Your Zodiac Sign
---
Huda Beauty Electric Obsessions Palette
Eyeshadow palettes tend to be pretty big and bulky, and difficult to travel with. So, Huda Kattan, being the visionary she is, released a line of 4 mini palettes, each containing 9 saturated shadows that will help you create Insta-worthy looks even when you're on the go.
Our favorite of the Obsessions palette collection is the Electric Obsessions Palette. It contains 9 stunning, vibrant eyeshadows in matte, satin and foiled finishes that will CHANGE YOUR LIFE. If you've had enough of the boring nudes and the done-to-death smokey eyes, and you're not afraid of some color, then go for this gorgeous eyeshadow palette that will make you and your stunning eye-makeup become the talk of the town!
Price – $27
Theme – bold and bright
Rating – 9/10
When it comes to the best eyeshadow palette brand, we couldn't leave you with only a couple of options now, could we? These were our top picks. We know eyeshadow palettes are a bit expensive, but it costs money to create quality products and these palettes really do give you a bang for your buck.
Whether you're a makeup lover or a complete newbie, you are bound to find at least one palette on this list that will make you fall in love with it. Alternatively, are any of your favorite palettes on this list? If so, then let us know which one, in the comments below! If there's a palette we missed out on, then let us know that as well! Until then, spread kindness, love yourselves and be super super happy!
Featured image source: Instagram 
Summary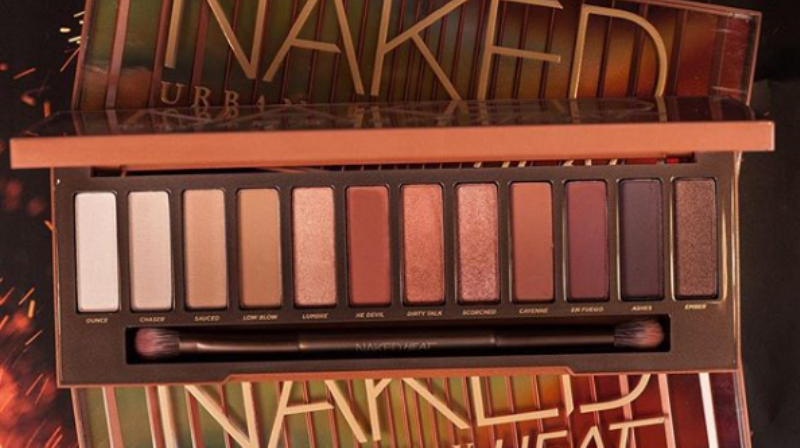 Article Name
How To Choose The Best Eyeshadow Palette Brand For You
Author
Description
The right eyeshadow can take your look from drab to FAB. Check out the best eyeshadow palette brand to get that flawleless look, every time.