We've all been there – those lazy days when we just don't want to worry about the mechanics of putting our makeup on, especially eye makeup. It usually takes a bit of time, which is what makes it so difficult to ignore. But, there are ways to crack that code and look great without spending too much time in front of the mirror. All you lazy girls need are quick little eye makeup hacks that will work wonders for you.
1. Choose the right eye shadow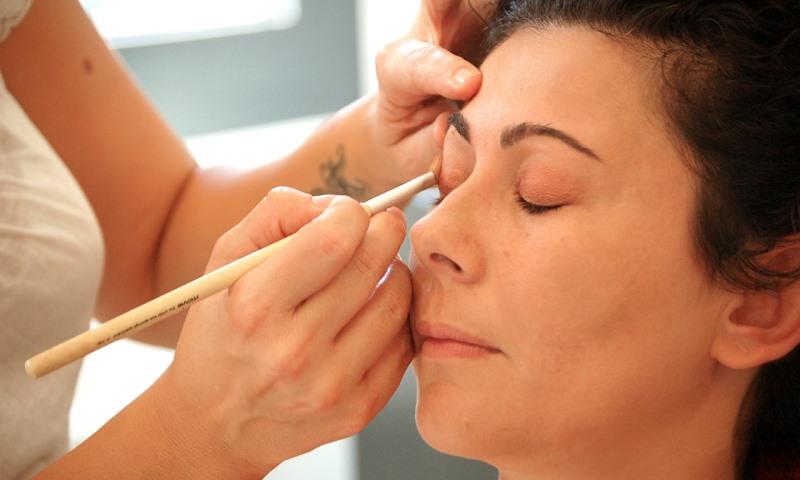 Image source: Pixabay, under Creative Commons License
This is as simple as it gets – you just have to apply a lightly toned shadow. Pick from shades like beige, stone, or taupe. If you even use these shades across your full eyelid, you will look smashing hot. They are subtle and will not make your eyes look melodramatic.
---
Suggested read: 10 quick makeup ideas for the workaholic woman
---
2. Winged liner at its best
Image source: Youtube
So you've tried wearing that winged eyeliner, but have failed time and again. How do you make it work without much effort? Let's make this easy for you. You just have to draw the flick toward your eye. When you try to turn it backward, the end of the wing is easy to determine. Simple, right?
3. Smoky eyes made easy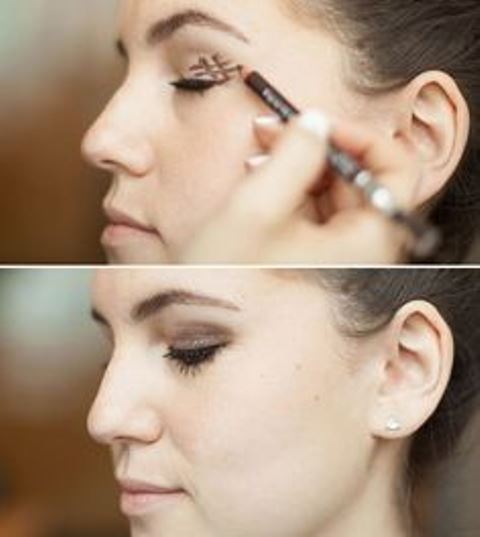 Image source: Pinterest
Whoever said it takes a long time to get those smoky eyes, lied! You can now get the perfect smoky eyes by just drawing a hash tag on your lids at the outer corner of each eye. Make it a slightly slanted hash tag. You can then blend it with the rest of your eye makeup. It's superbly easy to get this to look perfect without much work.
4. Quick curls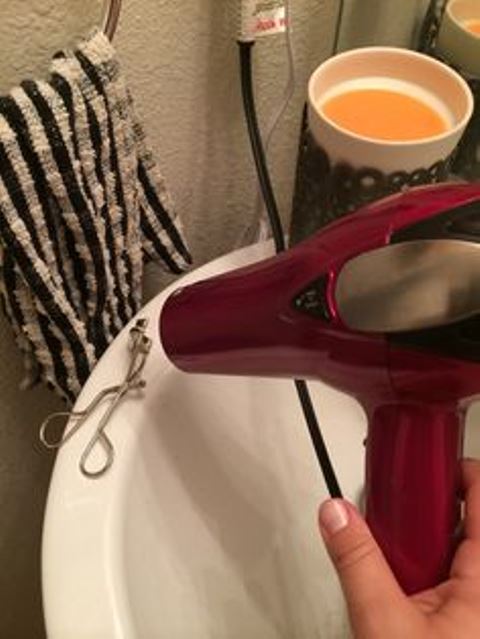 Image source: Pinterest
This is probably the easiest way to make those lash curls last longer. Start by blow-drying your eye lash curler, let it heat up a bit, and then use it. These curls will last longer too and can be achieved in just minutes.
5. Get that mascara line right
Simply pick up a business card or note card and use it on top of the eyelids and below them as you apply your mascara. You don't even have to worry about the mascara getting all messy on your lids or the under-eye area. You just have to use it precisely in the upward and downward direction and let the extra mascara spill a bit on the card. You no longer have to worry about getting your face messy and go through the trouble of cleaning that extra mascara with a cleanser.
6. Use mascara as kajal
Image source: Google, copyright-free image under Creative Commons License
Too lazy to dress your eyes up? How about using one product to double up for two purposes? Here are some ground rules before using this one. You need to have a dense mascara that gives you a darker look. This is a technique that is simple to follow and fun to use. You apply a quick layer of mascara on the bottom lashes and now swipe them with your fingers as you shut your eyes, and then do the same to the top lashes. You won't have the most precise eyeliner look, but it is definitely workable.
7. Concealing under-eye area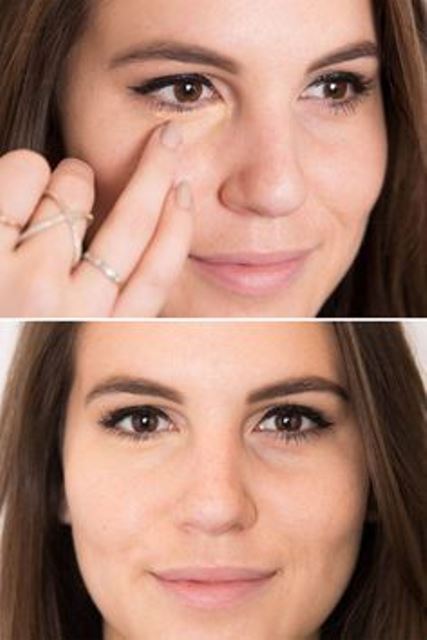 Image source: Pinterest
The rules are simple. You do not necessarily need to cover the entire eye area during the day. If you don't want to spend a ton of time concealing, the trick is to leave the bottom under-eye bags. Just cover the dark area carefully. This way, you will successfully hide the dark circles and make it look natural. And the best part—not much time is spent on your eye makeup.
8. A spoon is a great fix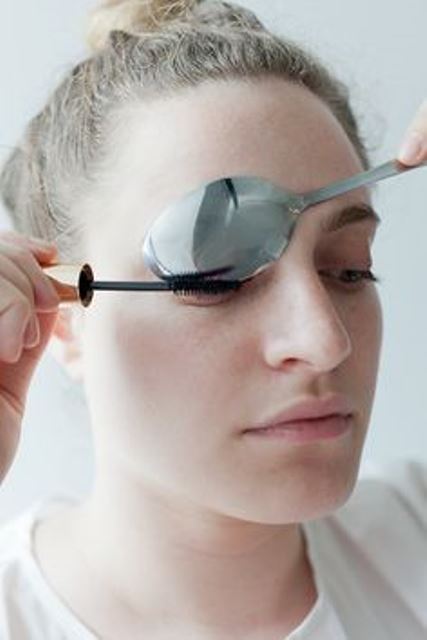 Image source: Pinterest
Don't let that mascara spill on your skin. You can't spend another few minutes figuring out the contouring again. So how do you make this work? Simply use a spoon under the lids and let the mascara brush fall on it, while brushing your eyelashes just right at the same time. This is the safest option and works great when you need to be careful about the makeup bit. The lazy girls love it.
9. The brows
Have you found yourself becoming too lazy to pay attention to your brows? Maybe you did not have your brow pencil or didn't want to spend even a minute in figuring them out. This is why this trick is handy. You just have to brush your eyebrows up and towards the temple with your mascara brush. This is great when you do not want an over-the-top look.
---
Suggested read: Why you need to get rid of your old makeup – NOW!
---
10. Bigger lashes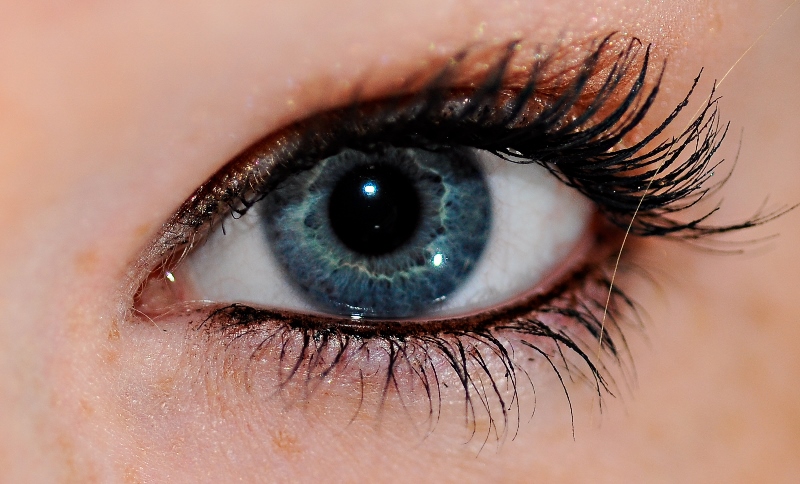 Image source: Google, copyright-free image under Creative Commons License
Yes, there's a hack for this too. You do not have to stand in front of the mirror wondering what to do with that mascara. If you don't want to wait for the mascara to dry to apply another coat, simply use this trick— sweep your mascara towards your nose instead of upwards. This makes them look a lot fuller. This is an ideal look if you are not going for exaggerated lashes. And guess what? You have perfect lashes within seconds.
These are some of the best eye makeup hacks that you can try. Why bother with all of those elaborate makeup techniques when you have kickass tips to get through a party with perfect eye makeup? There's no need to get off that couch and start dressing up so early anymore. These simple and easy to do eye makeup hacks are here to help you. After all, why put so much effort into something that can be done within seconds, with precision and without disrupting your rest time!
Featured image source: Youtube
Summary
Article Name
10 Eye Makeup Hacks For The Truly Lazy Girls
Author
Description
Too lazy to put on your eye makeup? Worry not, for we have here 10 eye makeup hacks for the truly lazy girls, with which you can get stunning eyes.