Summer is one of the best seasons for the fashionista in you as you get so many chances to flaunt your style. The bright colors, the free flowing outfits, and the frivolous styles make summer one of the best seasons of the year.
Take a look at 12 amazing summer trends you must absolutely check out this season.
---
Suggested read: 16 ways to rock the crop top this season
---
1. The girl in dungarees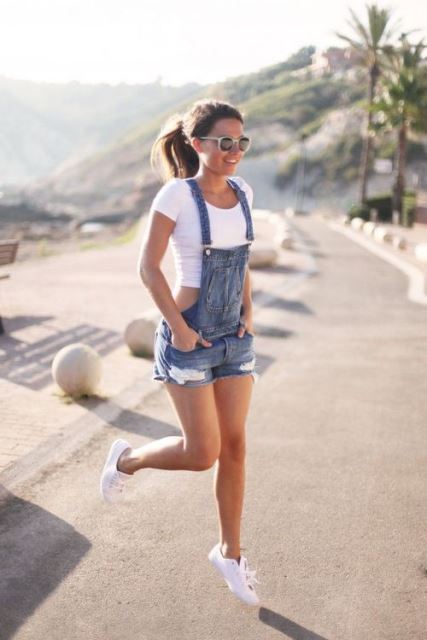 Image source: Pinterest
A pair of dungarees is an absolute must if you are all set to shine this summer. They can never go out of style, and would make you look cute as a button. Try out your dungarees with T-shirts, flowy blouses, tank tops, crop tops or even spaghettis, and you will fall in love with them. Match your dungarees accordingly with canvas shoes, sandals or slippers and hats or scarves.
2. The beauty in paisley print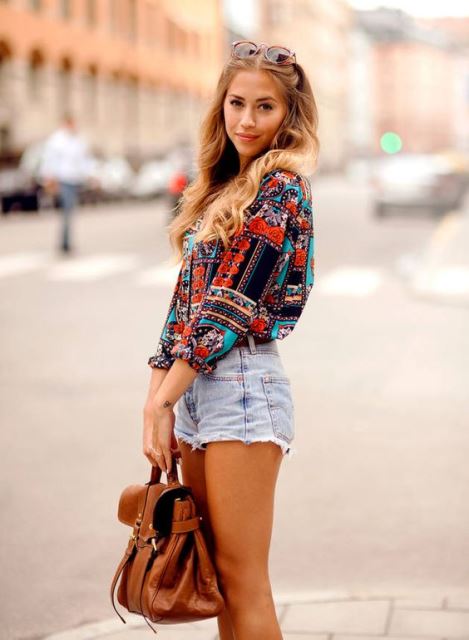 Image source: Pinterest
Want to look effortlessly chic this summer? Then make sure that you get onboard with the paisley print summer trend. Try out dresses, blouses, and tops in paisley print and accessorize accordingly. Look how casually gorgeous this teen is in a full-sleeve paisley printed blouse, cut-off jeans, and an oversized handbag. Top off your outfit with flat footwear or matching shoes, and you are good to go!
3. The stunner in khaki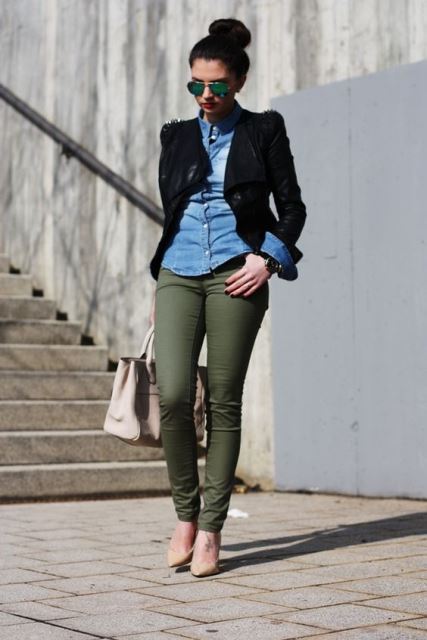 Image source: Pinterest
Khakis are another summer trend that one cannot do without. Every girl should own at least one piece of khaki trousers as it just screams 'summer fashion'. The possibilities of flaunting your khaki trousers are endless. You can try out this particular look with a plain pair of olive khaki trousers, a full-sleeve denim shirt, and a black jacket. Complete your summer look with a messy bun, an oversized handbag, and matching heels.
4. The signature denim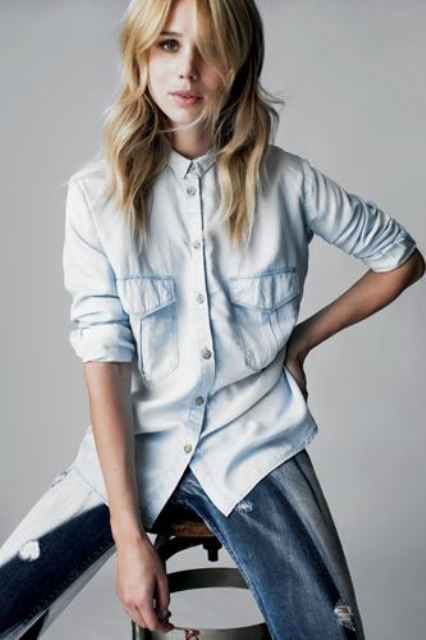 Image source: Pinterest
Your summer look would be incomplete if not for a perfect fitting pair of denims. Why not try out this simple summer trend with a sleeveless powder blue button down shirt and a pair of dark blue jeans, folded up a bit to get that perfect summery feel? Complete the look with a contrasting, animal print clutch and beige heels.
5. The cute little romper suit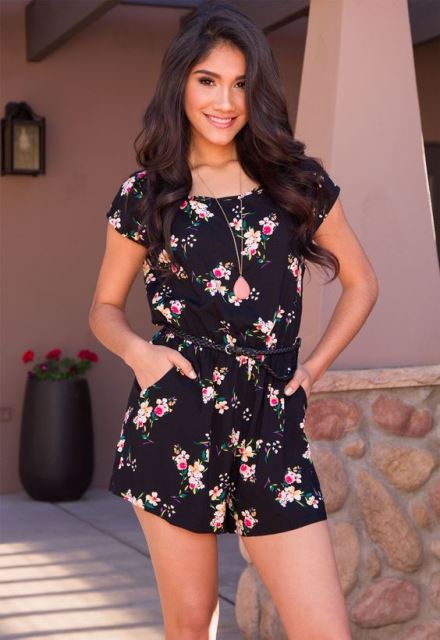 Image source: Pinterest
Who said only babies look adorable in romper suits? They look cute on women too, as proven by this amazingly pretty black romper suit with floral print. Summer is one of the best seasons to flaunt your love for floral designs. The simple, long necklace and the braided belt compliment the look beautifully. You can choose to wear flats or heels as both go well with romper suits.
6. The sexy jumpsuits

Image source: Pinterest
It is true that you avoid black during summer season. But you can choose to ignore that if black makes you look stunning. This halter neck jumpsuit with lace on the yoke is definitely a keeper. Ideal for causal and formal occasions, you are guaranteed to steal the show if you make an appearance in this gorgeous summer outfit.
7. Happiness through flowers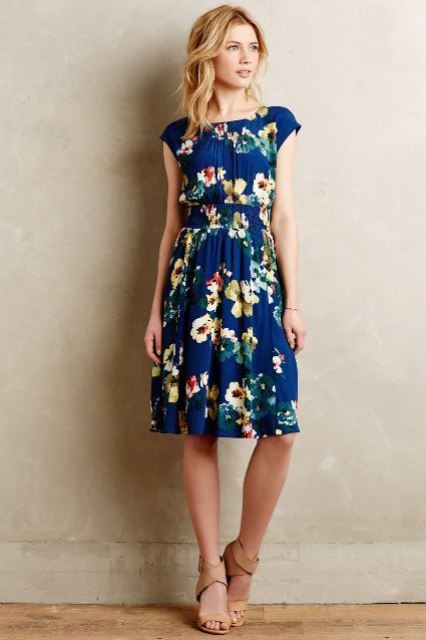 Image source: Pinterest
The floral print is inevitable when discussing summer trends. The best part about the floral print is how they suit everyone. The bright colors and the pretty flowers are always a sight for sore eyes. This Evaline dress looks perfect for a fun day at the park or a night out with your friends. The flowers and frills always make a woman look as pretty as a picture.
8. Pretty in polka dots

Image source: Pinterest
Who doesn't love polka dots, especially when they come on a gorgeous dress as this one? This little 'almost' black dress will make you look like a star. The high-neck knot and above-the-knee hemline are the features that make this dress stunning. With a pair of white or black heels and simple jewelry, you will surely grab a lot of attention and praise.
9. The off-shoulder number

Image source: Pinterest
Why not show off some of that gorgeously tanned skin with the help of an off-shoulder crop top compete with lace finishing? Pair it up with some denim shorts and sandals. Can't find your belt? Why bother? Just take a scarf and tie it around your waist, and voila, you have a belt! If you are fond of chunky jewelry, then accessorize your summer outfit accordingly. Top it off with a pair of oversized shades and you will be all set to rock the summer season.
10. Sweeping beauty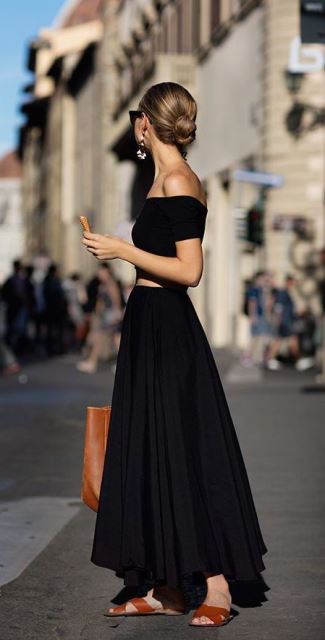 Image source: Pinterest
Sweep everyone off their feet with this beautiful summer outfit. The black off-shoulder blouse and the matching maxi skirt make the perfect trendsetter for this summer season. As the blouse and skirt are of the same color, it is best if you used fewer colors while accessorizing. The tan handbag and the tan sandals stunningly complete the outfit. Try putting your hair in a chignon and air it up with chunky earrings.
11. The trendy hippie
Image source: Pinterest
If you are a lover of all the colors in the world and have an affinity towards Aztec and African prints, then this rambler dress will look great in your summer collection. The figure-hugging cut of the bodice and the bright colors are perfect for a summer day. Match it up with a pair of flat footwear and a handbag. Leave your hair down or put it up in a wispy bun. If you want to take it up a notch higher, then try out some chunky bracelets and earrings.
---
Suggested read: How to match your crop top with your shape
---
12. The perfect pair of palazzos

Image source: Pinterest
Your summer wardrobe will be starkly incomplete if you do not own a pair of wide legged palazzo pants. The flowy cut of the pants and their baggy nature make them a perfect outfit for the hot and sweaty summer. Make sure that if the blouse you are wearing has a loud print, then your pants should be subtle, and vice versa. Crop tops, short blouses, and long tops go well with palazzos – you just have to find out which combination flatters your figure the best. Complete the look with a pair of heels and sunglasses!
Always keep in mind that summer is a season for frills, airy dresses, messy buns, boho jewelry, sandals, sunglasses and lots of sun. All you have to do is experiment with these summer trends to find your signature style. Have a great summer ahead, all you beautiful ladies!
Summary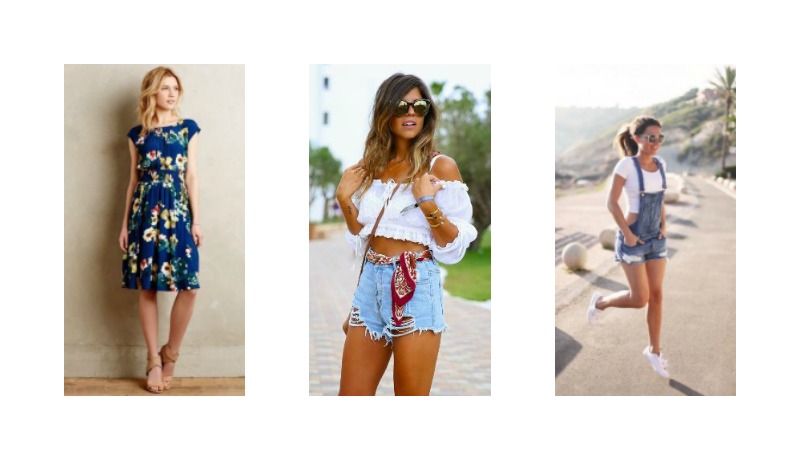 Article Name
12 Summer Trends You MUST Try This Season
Author
Description
Summer is the season you indulge in flowy, airy, off-shoulder outfits to beat the heat. Here are 12 hot summer trends you can't afford to miss!