Just yesterday, it was sweltering outside and today, you can feel the nippy weather giving you goose bumps. If you can feel the transition from the season of ice popsicles and bright sunny skies to one of pumpkin spice lattes and cool breezes on your skin, your clothes may be demanding a makeover too. But wait, don't pack away your summer pieces just yet and do not go shopping either. The tricky transition from summer to fall looks doesn't have to be mind-boggling or expensive. The autumnal equinox doesn't make the temperatures dip so much that you need to pick everything that the changing store windows start to display! If you have some smart summer basics in your wardrobe, chances are that a few simple styling tricks can help you get from summer to fall, pretty easy breezy-ily! And we mean the emphasis, quite literally!
---
Suggested read: The NLT List of Makeup Tricks that will color you like your mood
---
If you are on a frugal shopping budget but do not wish to walk about in summer staples and look like a fashion dud, you can reinvent a key summer piece or style your summer favorites differently to get a trendy fall look. Here's all you need to know to make your summer to fall F-game as fashionable as possible: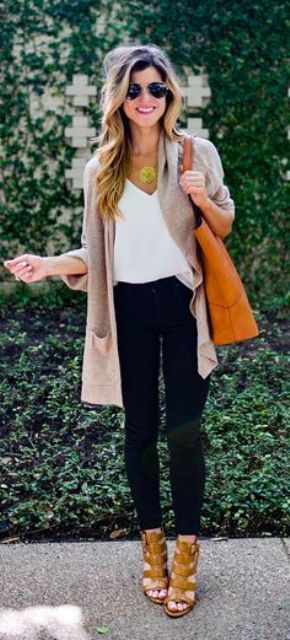 Image source: Pinterest/brightentheday
1. The start is as simple as possible. Just move beyond sleeveless dresses or blouses and pair your long-sleeved items with your favorite summer trousers or denims. You can also move beyond the bare-your-arms style to a clever cover-up by opting for tweed jackets or a military wrap. A worn-out sweater or a sequined long jacket will provide you with just the right dash of layering you need to suit the fall temperatures. Inject some color by going for rich contrasts and avoid wearing prints or embroidery unless you are going for print accessories.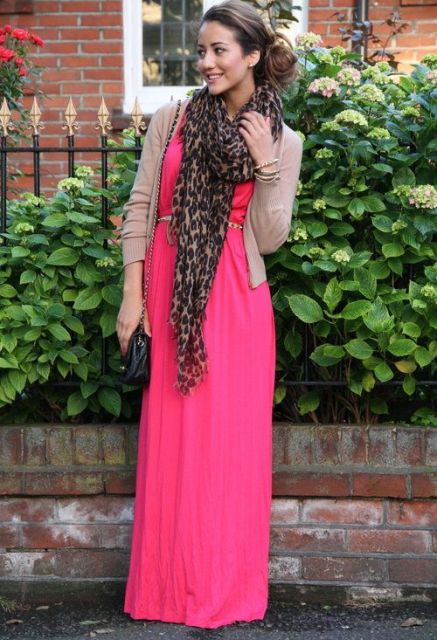 Image source: Pinterest/style-galleries
2. Do not ditch your summer dress or maxi. Make them fall-ready by pairing them with a with a leather jacket, a belted blazer, a chunky-knit sweater or even a knotted chambray shirt. Add definition to your waist for the semblance of structure and keep the layers on. The mixing of colors in this case should be one that matches the shift in the seasonal moods. The changing colors of leaves should reflect in a marsala or tan cardigan over a light-hued floral dress. Transition with a pair of suede boots or simply, keep your strappy sandals on.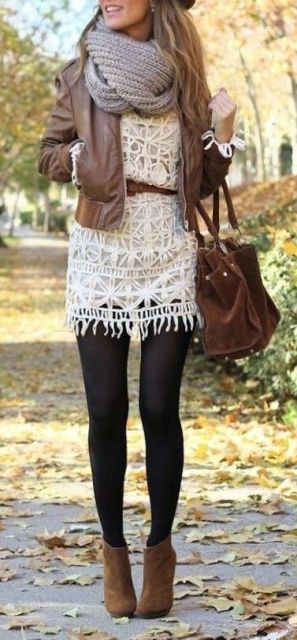 Image source: Pinterest/Wachabuy
3. You can even make a pair of shorts season-ready by teaming it up with a pair of opaque tights. Any warmth-adding hosiery shall work like magic in converting a summer favorite into a fall beauty. Do not be afraid to experiment with pattern, color and texture for variation. Stocking up on tights (available in a variety of textures) can be a great way to breathe new life into your summer skirts and dresses.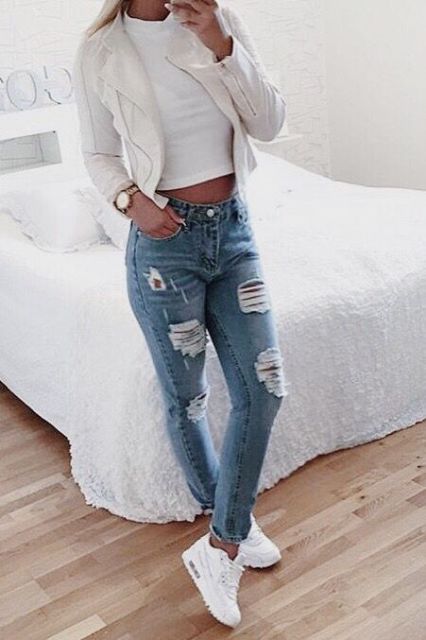 Image source: Pinterest/ShopStyle
4. Invest in statement jackets. Blazers, toppers, shrugs and other items in the family are a great way to turn your summer ensembles fall-appropriate. Statement pieces are versatile and can help stretch your summer wardrobe by making a tonne of fall combinations possible, so you always look put-together as well as fashion-forward. For instance, that white shirt and denims are never fading from the fashion scene. Bring out a khaki jacket or invest in a neutral gorge cropped jacket and you will have about a dozen different outfit combinations ready, besides this classic one! You could also try a military style cargo jacket with a cinched waist, for skinny jeans and flat boots or opt for a leather jacket for your summer dresses and maxis. Maybe toss in well-cut blazers over your summer tops for some refined effect or simply, work in a classic trench coat in a darker neutral over your summer clothing.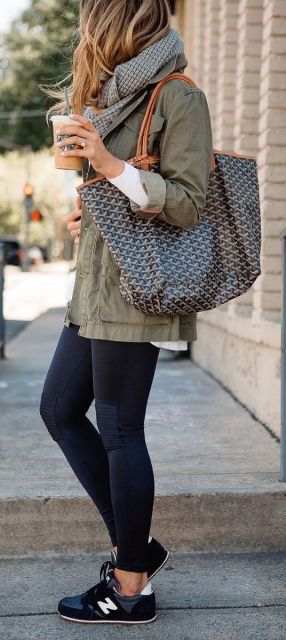 Image source: Pinterest/theswagfashion
You can tweak your chic from summer to fall by trading your traditional light-hued summer palette for a darker one. Throw in blacks and other richer, deeper and darker earth tones. Even a summer lace blouse can look completely fall-appropriate with a dark colored shrug, sexy Goth styling and heavier textures and accessorization. If your summer wardrobe isn't stacked with too many darker hues, do not put the brighter shades away. Add to their fall-life by adding heavier and deeper color tones. Add texture, spruce up the accessorization and suddenly, a summer shade like lavender or plum would turn more cohesive and fall-ready. Dabble in fall's signature hues and watch the changing leaves envy you!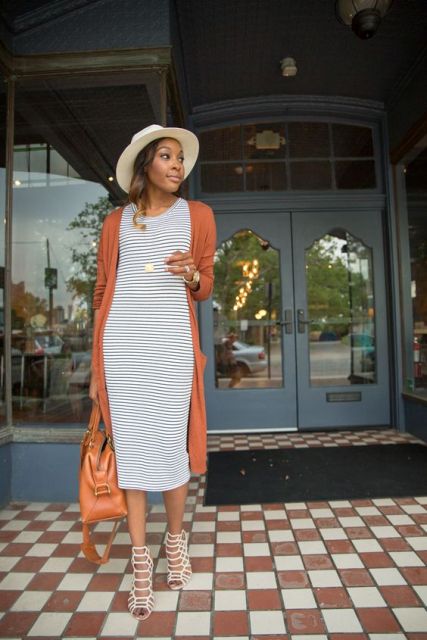 Image source: Pinterest/liveloveanddread
6. Throw away the old rules about fashion transitions. There's nothing that can oust white after Labour day or deny pairing anything other than black with navy. Ignore the rulebook and watch your fall wardrobe expand and delight. You can definitely keep the start of fall flirty by letting your toes peep out and say hello, but throw the rest of the binding dictums to the wind. Wear white and add a chic yellow-toned shrug on top. Pair black and white with neons- and watch a summer hue turn fall-fine. Carry that neutral beach bag and pair that classic button-down with a 50s inspired full skirt or masculine trousers.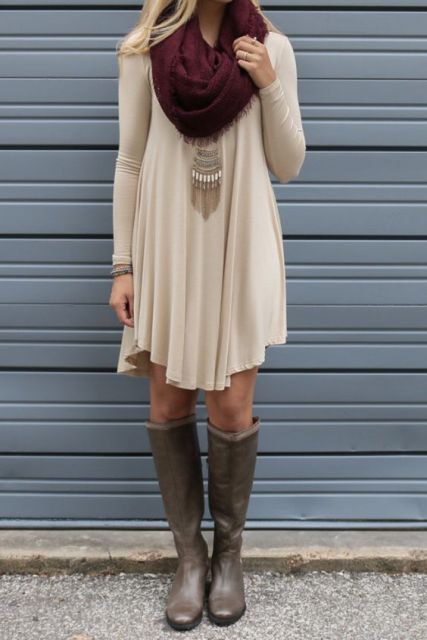 Image source: Pinterest/Stitch Fix
7. Play it up with accessories- a fun scarf, a pretty knit-cap or even a dramatic belt are all fair game- just do not bring them all out at once. Go slow, mix n match and wait for things to 'fall in place' rather than fall apart, all at once. You have a million different ways of playing around with scarves or jewelry.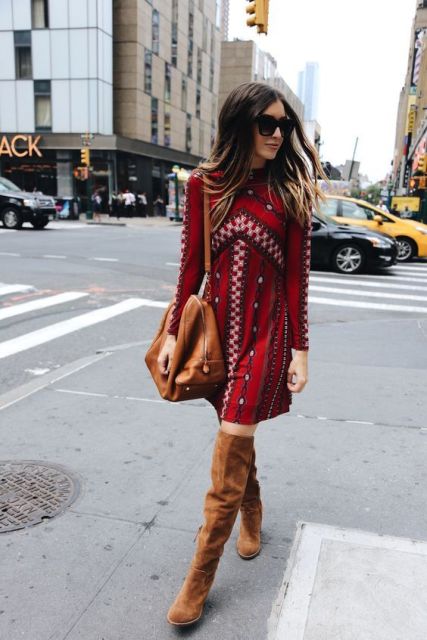 Image source: Pinterest/DailyChic
---
Suggested read: The best fall makeup looks, and how to get themb
---
8. Get extra mileage out of your summer outfits by keeping ready-to-transition items handy. Snag those rain-boots, keep your statement necklace or rust-hued skinnies or just a knit scarf at your desk. Keep the summer to fall transition as fall casual as possible- and derive the maximum out of your summer staples.
Save money for functional winter clothes and come, thank us in the comments. You are ALWAYS welcome!
Featured image source: Pinterest/Molly: Stilettos And Diapers
Summary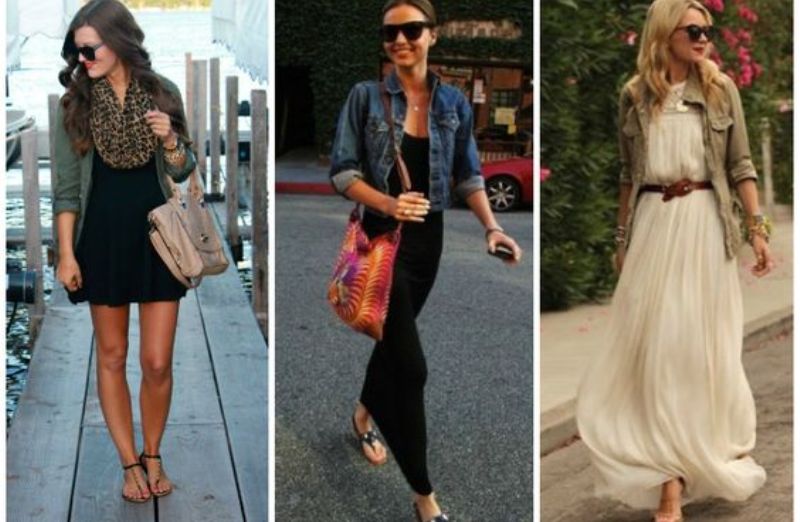 Article Name
From Summer To Fall: Switch Your Look This Season By Reinventing Your Summer Pieces
Author
Description
The tricky transition from summer to fall looks doesn't have to be mind-boggling or expensive.