If the much-awaited invitation to the summer wedding you'd been waiting for all season has come in, then, the only next logical step is to pick a cute-sie dress to wear to the ceremony? Or should it be a glammed-up gown? No, jumpsuits work so well for summer? But you can't forgo the pink suit that fetched you compliments galore at Anna's wedding, can you? But maxis are always a hot favorite for the hot season? So what are you going to pick? There's no one-and-right answer to what to wear to a summer wedding, is there?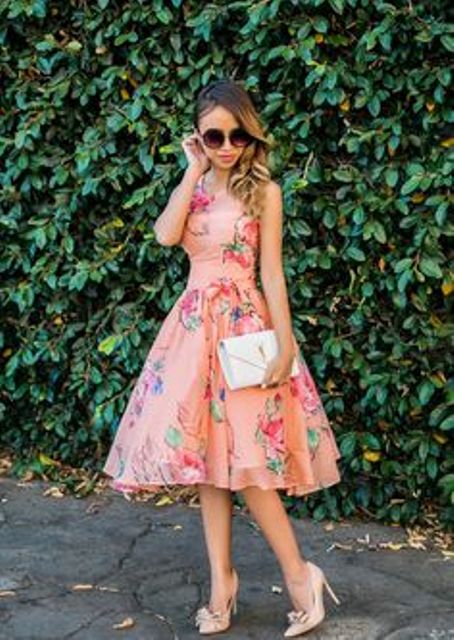 Image source: Pinterest
Certainly not.
But there are a few tips that come in handy when picking summer wedding dresses. You see, dresses to wear to a summer wedding follow three cardinal rules of fabric, color, and accessorization. One, fabrics for the hot, sunny season are meant to be on the lighter end of the spectrum. Your options include linen, chiffon, organza, cotton blends or even lace. They are all light, comfy fabrics that will allow your day to be an easy, breezy one whilst not going lax on the luxe levels. You may go for silk too, if the wedding is at a luxe resort!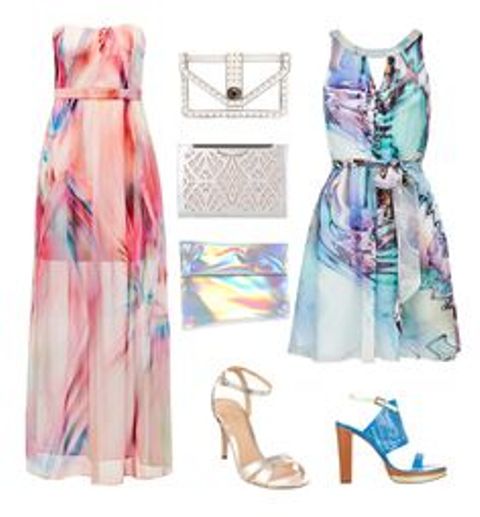 Image source: Pinterest
Second, colors for the hot season can be bright, cheery tones or light pastels. You could even opt for cool, icy shades, tropical tones or even out-of-the-box eyecatchers as long as you are steering clear of the neons! Ivories and creams are better kept off the list lest you incur the wrath of the 'betrayed' bride but sea green, aqua blue, tangerine, fuchsia, ballerina pink, corals, crimson, firebrick, lavender, lime green, plum and more on the color scheme are fair game – depending on the venue and formality of the nuptials. You may want to skip black if the wedding is outdoors for fear of being cooked in the heat! But in case, it's the sophisticated soiree, go all in and don the ravishing black strapless with gold beading.
---
Suggested read: Black dresses BEST suited for WEDDINGS
---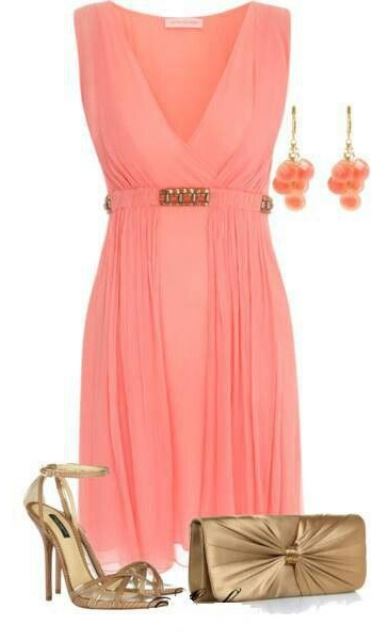 Image source: Pinterest
Last, accessorization for a summer wedding is dependent on the formality and nature of the nuptials too. For instance, an evening party may call for a strap bag so that you can forgo the clutch that keeps you away from eating the canapés as they whizz past whilst you hold a champagne flute in the other hand! Similarly, a formal ballroom ceremony demand that you pull out your finest jewelry and that beloved minaudiere. So dress up or down with those accessories as per the nature of the nuptials. Also, if there are chances that the party will stretch into the dark hours, say, at a marquee, then, ensure you have something to keep yourself warm. A cardigan might spoil you look but a kimono or a stylish shawl might be good options.
And now for the BIG answer.
We already told you that there isn't any one-and-right answer to what to wear to a summer wedding, but there exists a range of choices for dresses to wear to a summer wedding, depending on the type of ceremony you are attending. And because we know that wedding attire almost always is a head-scratcher, we bring to you a comprehensive guide on the several options available. No longer will summer wedding guest dresses be a puzzle to piece together. Take a look at our heart-picked array of dresses that settle the what to wear to a summer wedding debate, once and for all.
1. The classic fit and flare dress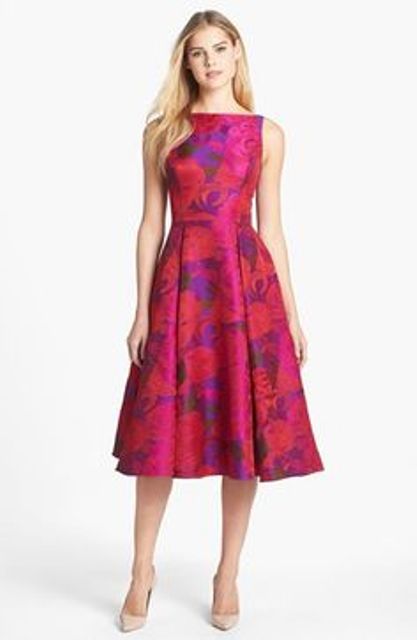 Image source: Pinterest
Apt for formal wedding ceremonies, a classic fit and flare is a light and lively creation that never goes out of style This bright fuchsia number not only combines the tea-length style with an abstract cheery pattern but also embodies the zippy zappy zest of summer weddings! Its timeless appeal is the ideal fusion of class, elegance, and grace.
2. The high-street evening gown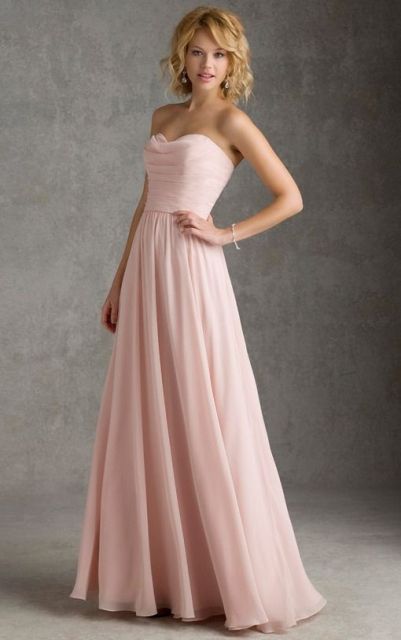 Image source: Pinterest
Black tie weddings can be quite the head-scratcher, especially so when the sophisticated soiree demands that you do not make any fashion faux pas. Perfect for such a wedding ceremony, this romantic long flowing number, with a corset bodice, in a lovely pastel hue is sure to win hearts!
3. The pretty-in-pastel suit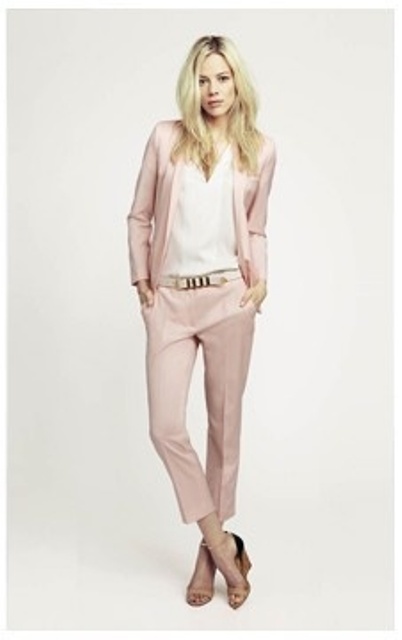 Image source: Pinterest
For a casual summer wedding, cocktail dresses and maxis are the usual pick. Opt for not being one of the crowd by wearing an elegantly tailored pantsuit, in a cheerful pastel – pink or otherwise – and teaming it up with a silk top, chic heels, and statement earrings. You cannot go wrong with this one. You could alternatively opt for the skirt instead of pants and even experiment with peplum!
4. The eyelet maxi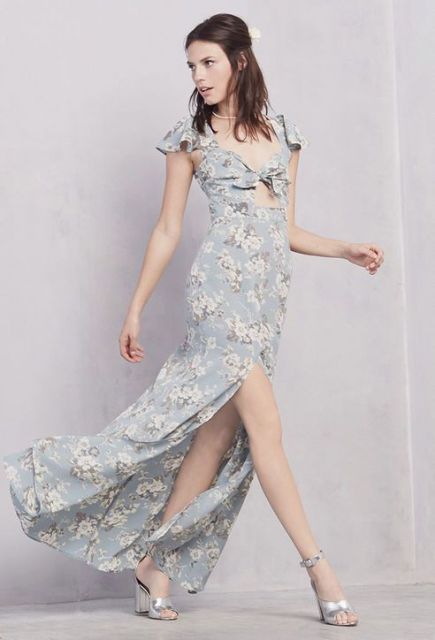 Image source: Pinterest
A gorgeous cap-sleeve and subtly peek-a-boo maxi in an adorable peppy print is just perfect for summer weddings. Ideal for outdoor summer weddings, so you can stash off the heat, the eyelet maxi provides you with comfort, styles and sass!
---
Suggested read: What to wear to a beach wedding
---
5. A vintage-inspired pick
Image source: Pinterest
This one is a winsome number. Combining the retro groovy frock with modish elements, this three quarter sleeved number in a lovely toned brick shade and a sweetheart neckline is designed to win the day. Ideal for a peppy summer wedding, this one is perfect for both sophisticated soirees as well as semi-formal nuptials.
6. A bustier maxi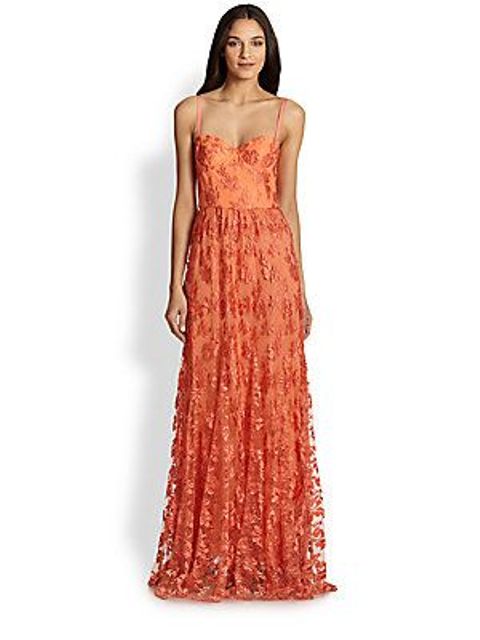 Image source: Pinterest
When you have more than two weddings on the docket, then you need a versatile number that you can dress up or down depending on the nature of the ceremony. This gorgeous peach bustier maxi has you covered. More formal? Accessorize it with statement earrings, strappy heels, and a boxy clutch. Garden ceremony? Flat sandals, and done. Yep, play for the playful summer!
7. A simple lace shift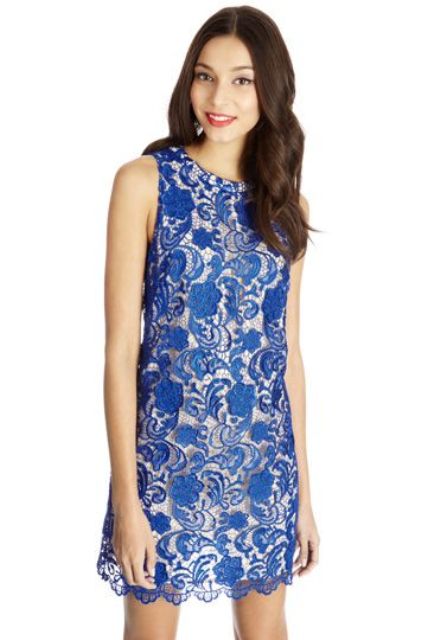 Image source: Pinterest
Lace is the hottest trend this season but you cannot take away from the bride! So satisfy your lace fetish with this beautiful blue lace shift number that will give you the luxe feel of lace while not stealing away from the one special person at the ceremony! This one is ideal for day-to-night ceremonies and can be paired with clutches, statement heels or even a dazzling bracelet as the call be.
8. Jumpy jumpsuits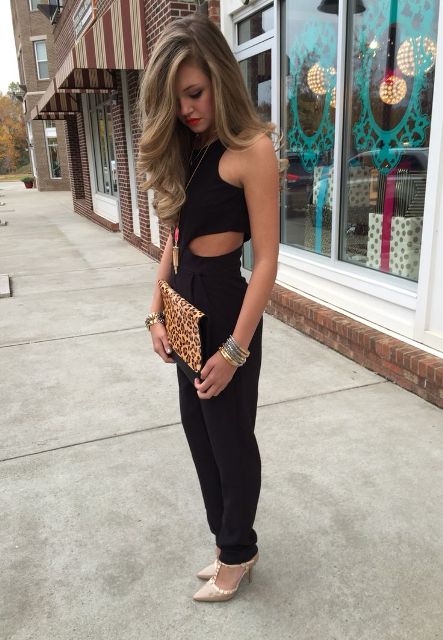 Image source: Pinterest
For a fashion-forward formal event, you could pull off the red-carpet-inspired chic jumpsuit. Keep it sophisticated – as with this in-silk black jumpsuit with a racer-back and a midriff-side-arch cut, and glam it up with silver stilettos and the right clutch. And you are set!
9. A shimmery stunner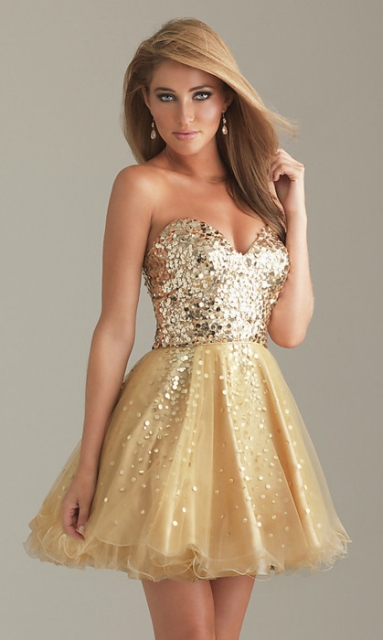 Image source: Pinterest
For a wedding that is hosting an evening reception that could very well double up as THE party of the season, you need to match the DJ blaring groovy music with a number that sets the stage on fire. And for such a reception, no shimmer is too much shimmer. Opt for a lovely shimmer stunner dress – any style is fair game as long as you don't overstep the basic rules.
10. A bonded pencil dress
Image source: Pinterest
A pencil dress is perfect for a formal or semi-formal ceremony and is well-suited for the evening reception too. Team it up with the right jewelry, a fine pair of strappy sandals, and wear the right shade and smile on your lips! And there's no stopping you, girl!
11. Lace-y love pick
Image source: Pinterest
Since lace is a hot trend this season, we decided to evince our love for the luxe lace-y dresses a li'l bit more. A lace fit and flare number in a bright turquoise shade and an illusion neckline can add just the right dash of cheer and fun to a garden/beach wedding!
12. A faux-wrap dress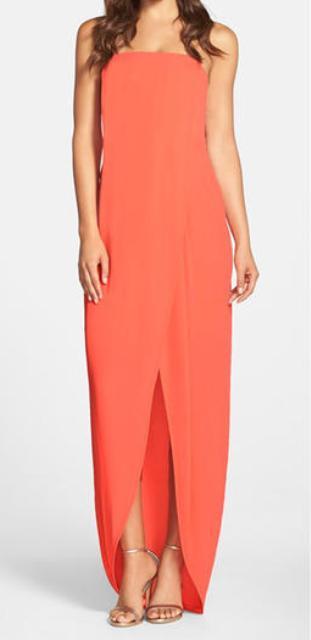 Image source: Pinterest
Beach and summer nuptials go hand-in-hand. To look wedding appropriate while still feeling comfortable in the sand, surf, and sun, opt for breathable fabrics and longer hemlines. Bolder floral prints and bright hues make perfect sense. As do solid colors like in this faux wrap dress in a peachy pastel.
---
Suggested read: 7 essential things to know before hiring a wedding planner
---
13. A ruffled midi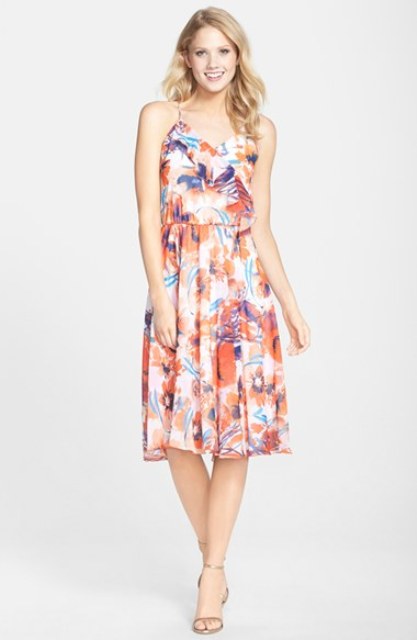 A printed ruffle midi is not just perfect to shoot up the temperature several notches but is also apt for spreading warm rays of cheer through the wedding crowd. An experimentation with asymmetric forms will only bolster the style quotient. So go all in!
14. The flowery two piece
Image source: Pinterest
Nothing says 'smile' better than flowers. Instead of going for the usual floral print dress, opt for a floral two piece number, and lose count of how many compliments keep blooming your way!
15. The brocade mini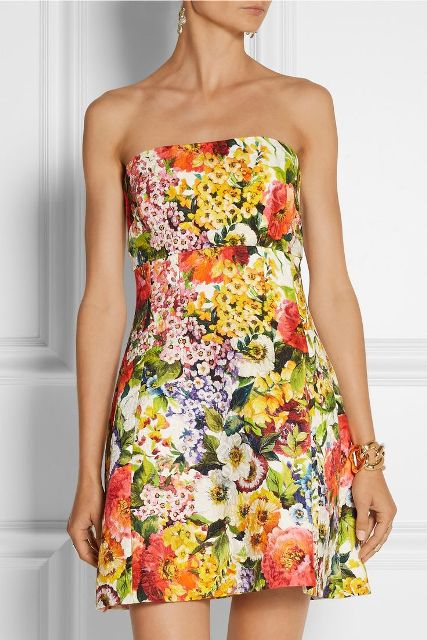 Image source: Pinterest
The brocade mini is a HOT favorite this wedding season. Not only does it add oodles of oomph to your style but is perfect for a cocktail reception, a ballroom wedding or even the outdoor wedding. It is the style, print, and color that determine if your brocade pick goes with the nature of the ceremony. Our pick is ideal for an outdoor ceremony!
Made your choice? You are welcome!
Featured image source: Pinterest
Summary
Article Name
What To Wear To A Summer Wedding As A Guest
Author
Description
Stop scratching your head to force some answers to what to wear to a summer wedding, coz we have got you covered. And how! Take a look.