Let's be honest here- Kylie Jenner is one of the THE most fashionable people strutting around today, and one look at any damn tabloid about fashion and entertainment will confirm that. Despite being just 18, the youngest of the Kardashian brood has her own clothing line, her cosmetic line (which sold out in seconds after its release, fyi), several contracts with big-shot labels, and a wardrobe to die for. Here are 12 of Kylie Jenner's best looks, which are bound to give you some major #FashionGoals
1. Pretty in pink
Although she is known to favour her neutral shades, Kylie pulls off colours like a pro, as demonstrated by this pink skater dress in velvet, paired with simple nude strappy heels.
---
Suggested read: 10 times Taylor Swift gave everyone major outfit goals in 2015
---
2. Pastels, neutrals, greys, and blacks
Here is Kylie's incredible ability to pull off a dress, a trench coat in the same exact shade and pattern and a pair of sneakers and signature back-braided hair. Could we ever be as perfect? I think not.
3. Large structured dress in bright gold
Yes, that is Kylie Jenner with pink hair and the most OTT dress you have ever seen, and yes that dress was made by Vera Wang, a.k.a. The Queen of Everything, and no she doesn't look ridiculous. In fact, with her knee high boots, she looks like the future of fashion, tbh.
4. Fiery red and black outfit
Here is Kylie, giving you brand new and innovative ways to wear your leather trench coat and your body-con jumpsuit, although hers is a custom made cutout outfit, and we mere mortals can only hope to replicate it one day.
5. White bodycon fur dress
People who have a boring fashion sense would be okay with a classy white bodycon dress. Not Kylie, because she realized why settle for plain white when you can oomph it up with a fur waistline and make it look like a million bucks (probably is, though). Ironically, Khloe is the one who pales in comparison.
6. Red hot bodycon in leather
If you had a body like that, you would want to show it off in primarily bodycon numbers, such as this one, which is just DROP DEAD GORGEOUS in all red leather and a sneaky black leather belt.
7. Perfect in pastel
Here is Kylie looking like a princess/goddess (not sure which) in a sparkly pastel dress studded with diamonds and crystals (possibly real ones) and a super casual top knot.
8. Kylie on Christmas
An all green, shimmery metal, jacket dress? You would think a whole lot of NOPE if I gave you that description, but Kylie here looks like a sexier, human, female form of a gorgeous decorated Christmas tree (and that's not a bad thing).
9. White on white wonder
Kylie is known to make one shade outfits looks rad AF, and here is ample proof, how she can turn a simple turtleneck and a wrap-around mini skirt look like the go-to clothing for superstars.
10. Black and black magic
After all white, we can safely move on to an all black look that Kylie sported, consisting of a suit-like jumpsuit, with exciting additions in the form of tassels emerging from her belt, and somehow, she managed to pull something like that off as well.
---
Suggested read: How to copy Kylie Jenner's beauty routine using all drugstore products
---
11. When ochre became the new color of royalty
Literally no one would have been able to pull off such a drastic yellow dress, but with that perfectly styled hair and the dark makeup and the attitude to top it off, she looks like an Egyptian princess, frankly.
12. Shiny Kylie is the best
No, honestly, this is a treat for the eyes. In a full-sequinned dress like this, and bold makeup and spot-on hair, she looks like she emerged out of a Gatsby party. LOOK AT THAT DRESS!
Basically, Kylie Jenner is #FashionGoals
Featured image source: mirror
Summary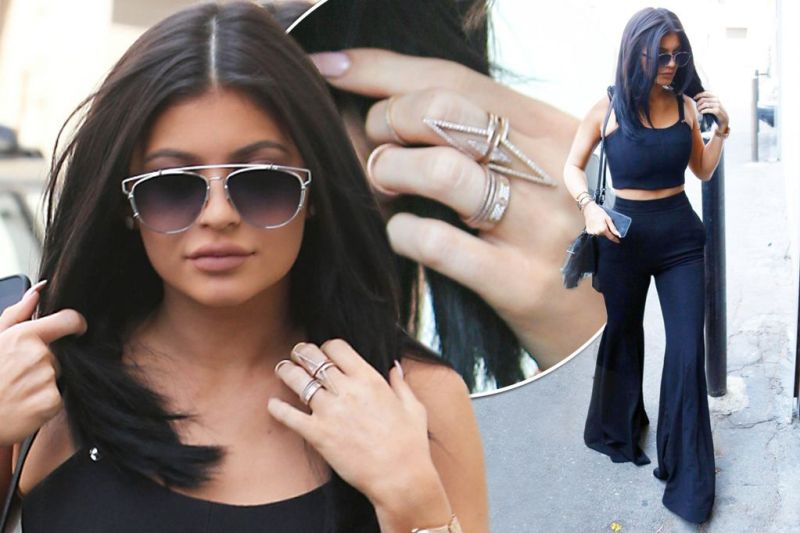 Article Name
12 Times Kylie Jenner Gave Us Major Fashion Goals
Author
Description
Because Kylie Jenner is #FashionGoals