It's impossible to emphasize the importance of dressing well for a job interview. You have to impress your potential employers not just with your loaded resume and your eloquence, but also with your appearance. If you dress shabbily, you automatically lose out on an immediate favorable first impression. And you only get one chance!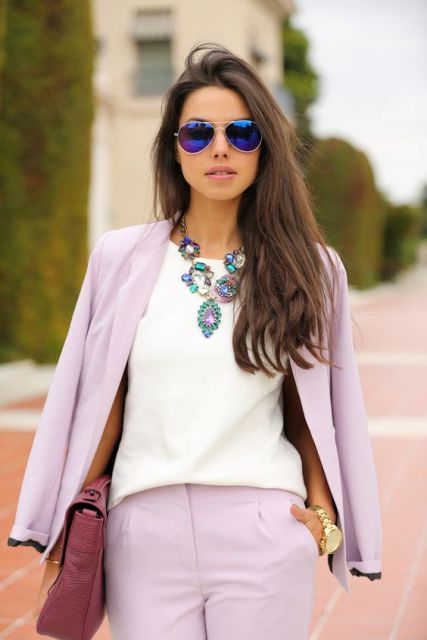 Image source: Pinterest
A great, fashionable, yet professional looking outfit is something which is not only going to help you score that job, but also make you look and feel fabulous – thereby, making you feel  confident. Here are 12 outfit ideas that are bound to make dressing for your next interview easy as pie.
1. Tailored pants and burgundy jacket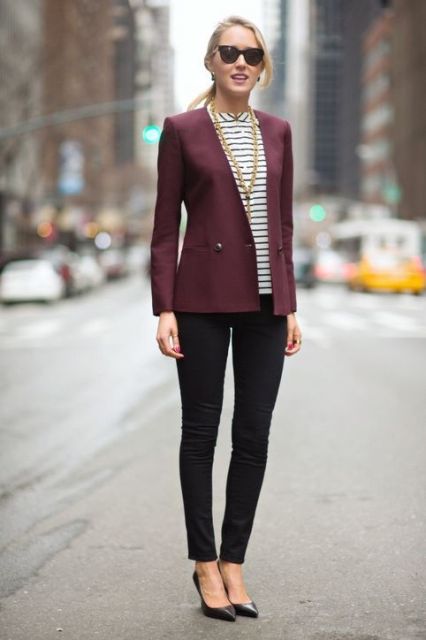 Image source: Pinterest
Traditionally, funky colored clothing is a big no-no for something as serious as a job interview. However, new age fashion rules are basically all about the old ones being broken. Pair your chic tailored pants with a smooth burgundy jacket and go all out with your chunky gold jewelry. It helps if you have big nerdy glasses. If not, smoky eye makeup will do just fine!
2. Work those layers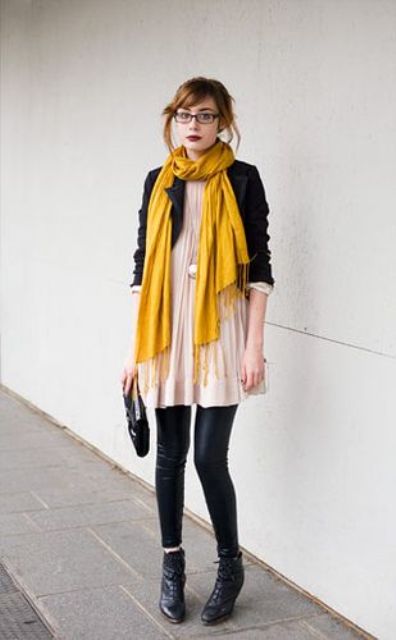 Image source: Pinterest
If I say things like leather pants, linen suits, mustard colored infinity scarves, you might think that I am describing a grunge look suitable for a teenager, but one look at this outfit, and you know this dress is meant to impress. A pair of stiletto heels and a messy top bun will ensure that you look ready for the job, even before the interview.
---
Suggested read: The hair accessories I have fallen in love with
---
3. Blue prints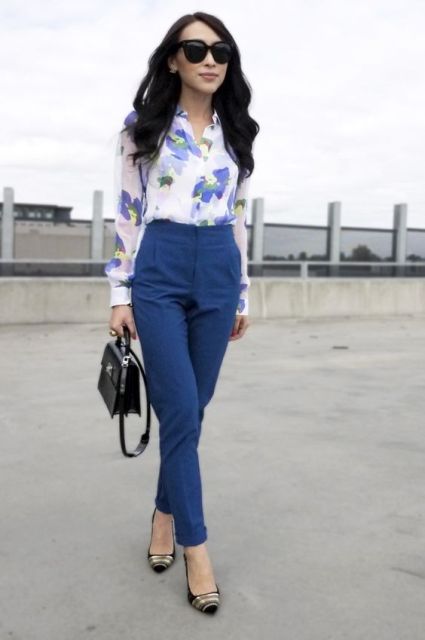 Image source: Pinterest
Somehow people have always managed to avoid colors when dressing for an interview. This blue and white ensemble proves that you can look cute and professional at the same time, without sacrificing on your colorful side. Blue prints perfectly complement the tailored blue high waist pants, which can be accessorized with black or white, and flowing tresses and a pair of killer sandals.
4. Coral and printed casual ensemble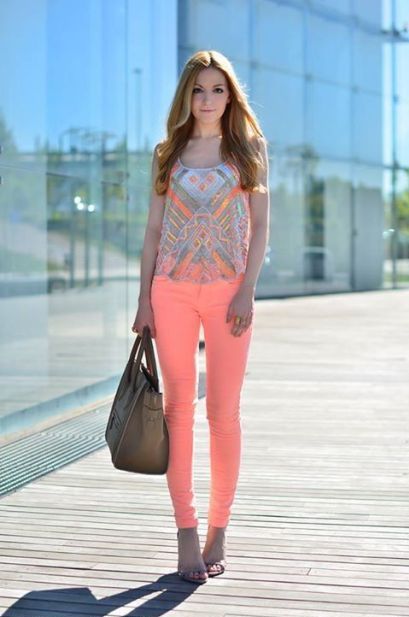 Image source: Pinterest
Whoever thought that casual clothing was blasphemous for an interview has to think again because this easy breezy coral outfit is perfect. The flowy tank top lets you breathe while the matching tailored slim fit pants give you all the formality that you need.
5. Neutral colors with a twist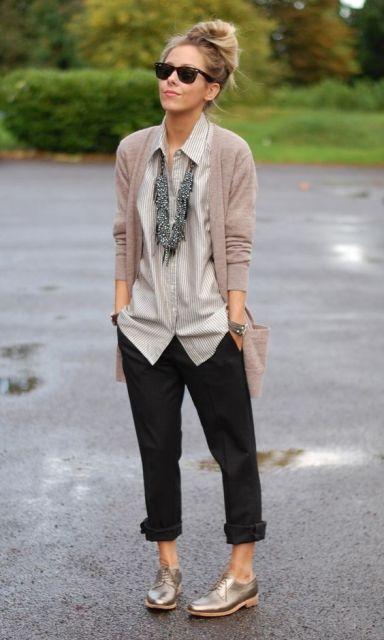 Image source: Pinterest
A shirt, trousers and cardigan is classic interview outfit combination. You can make yours look remarkable by leaving your shirt untucked, rolling up your pants and the sleeves of your cardigan and adding that extra spunk with chunky accessories.
6. Two piece suit for women

Image source: Pinterest
So the world wants formal, embrace the formal in the coolest way possible by reversing gender roles and dressing in a dapper men's style suit in cool colors like spun gray cotton. A pair of stunning heels is everything you need to complete your look.
7. High waist pants and layers for the edgy employee

Image source: Pinterest
For those looking to create an immediate impression, check out outfits like these which make black on black one look deep and flawless. Combine your jumpsuit style pants with a stole like overcoat in a slightly lighter shade and sharp strappy shoes and makeup.
8. Denim and linen retro formal chic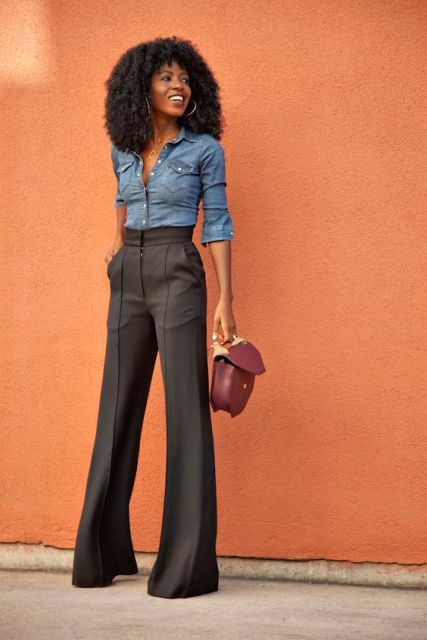 Image source: Pinterest
You can have fun when dressing even when it comes to choosing your outfit for an interview, as demonstrated by this retro chic number, with flared pants and a simple working girl fitted denim shirt. You don't even need accessorizing for outfits like these.
9. Simple, intriguing bohemian outfit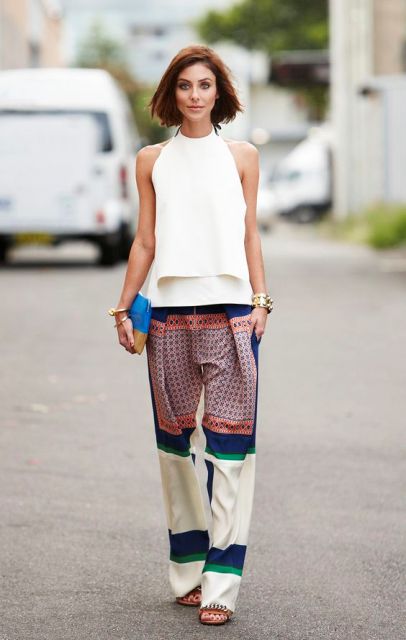 Image source: Pinterest
Earlier, dressing like this for a job interview was thought to be an abomination. However, check out the vibes that a dress like this gives off- simple, structured but also edgy and creative. Everything needed to reflect well on your personality and choices. Printed pants paired with a layered crop top can be an unexpectedly great outfit.
10. Classic shirt and pencil skirt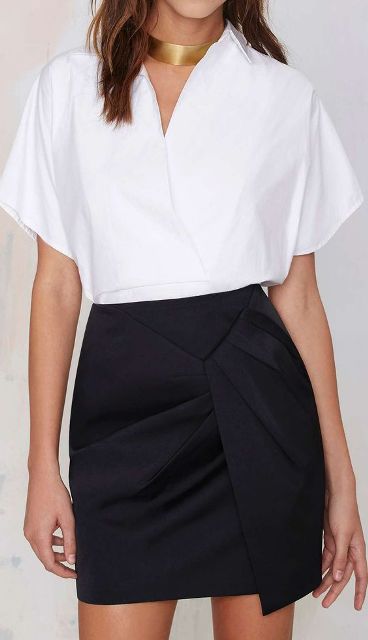 Image source: Pinterest
If you have to go for the classic monochrome pencil skirt and short formal combo, might as well make it unique with cuts and stitches and fabric in exciting places, and a statement gold neckband which brings your otherwise noir outfit a refreshing touch of class and color.
---
Suggested read: How to accessorize right for formal events
---
11. Casual chic and formals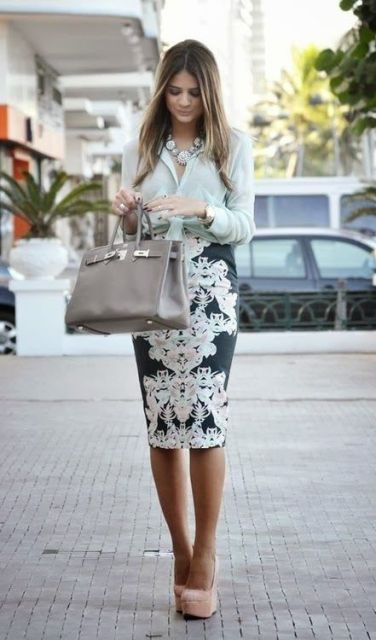 Image source: Pinterest
This revolutionary combination is all about being casual chic and adequately formal at the same time, with a simple cotton t-shirt tucked into a refreshing blue midi pencil skirt, which can be accessorized with a chunky neckpiece, and a pair of tasteful pumps.
12. Dress it up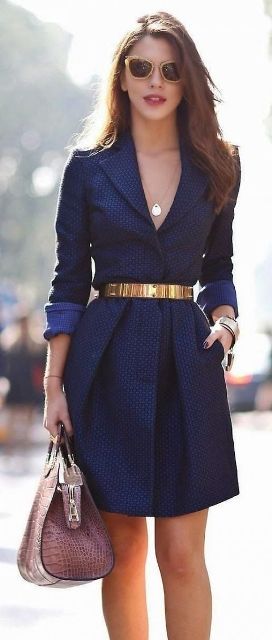 Image source: Pinterest
Who could have thought a dress could be made to look perfect for a job interview? Cut the cuteness of your dress with a large metallic belt, which can be offset my matching heels, soft makeup and loosely done up hair for the perfect look!
Now go get ready!
Summary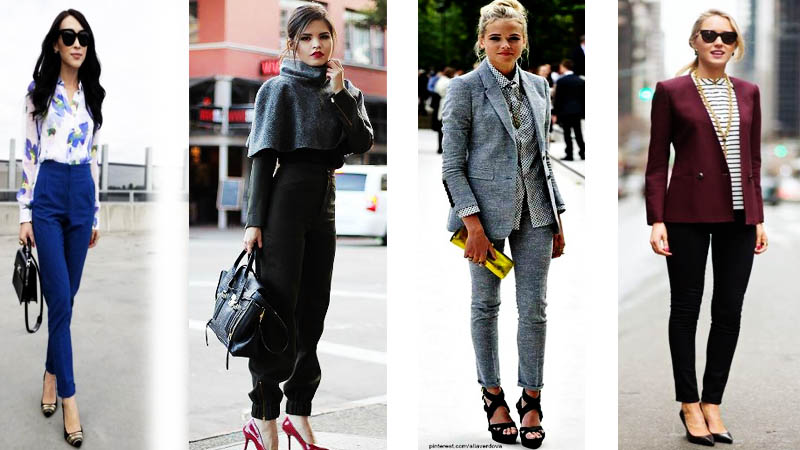 Article Name
12 Trendy Outfits To Wear To Your Next Job Interview
Author
Description
Looking for something impressive to don for your job interview? Look no more!