In the last few years, the fashion industry has started paying attention to two things they previously disregarded, or even made fun of: Body image and embracing diversity. Unconventional models are defying fashion stereotypes, and displaying their real self, to the world. We are seeing famous brands come up with feel-good campaigns, and promoting models with unconventional looks to fire start a necessary conversation about diversity in beauty, since in essence, beauty has no fixed 'models', right?
---
Suggested read: Harper's Bazaar India is covered by transgender models for the first time
---
As the new It girls are making the fashion industry rethink its 'yardsticks', the ladies are becoming much more than a face on the ramp or the face of a brand; they are, today, an inspiration to many, who up to that time, thought they weren't "pretty enough or tall enough or skinny enough or woman enough" to be a model!
Let's celebrate 12 such models, who have taken the fashion industry by a storm, not only coz of their looks, but also their powerful and unique voices!
1. Chantelle Winnie Harlow
"I am happy with my skin, and I'm proud of my skin, which is why I wear it so boldly. But if a job wanted me to, say, try a smoky eye and cover the vitiligo around my eye, I wouldn't have a problem with that. I'm not my skin."

– Chantelle Harlow to Complex
Harlow is a 22-year-old, Canadian model, who was first discovered on social media. She went on to participate in the 21st season of America's Next Top Model. Harlow has vitiligo, which is a rare skin disorder that results in discoloring of the skin causing blotches. But does this stop her from making a splash on the runways? Absolutely, not! She wasn't only the face of Desigual, last year, but also walked the runway at New York Fashion Week for the brand!
2. Molly Bair
"Beauty is loving and having confidence in who you are and what you look like."

– Molly Bair
Born in Philadelphia in 1997, Molly Bair, was scorned all through her childhood for her features that weren't "normal". She was excessively thin, 6 feet tall and had a face that was "strange". Bair admitted to CNN in an interview,
"I would never think that a girl who spent most of her childhood with a unibrow, glasses and a Yoda shirt would be in Vogue Italia."
But the girl made it, didn't she?
3. Khoudia Diop
Dubbing herself the "Melanin Goddess", Khoudia Diop rose to fame on social media, impressing almost everybody with her self-appreciating and bold attitude towards the color of her skin. Diop made heads turn on Instagram, where she posts most of her pictures.
Diop is a Senegalese model who featured in The Colored Girl Campaign that lauds women of color. The campaign is making an effort to bust the stereotype that works against dark colored women, pitting them as less attractive than light-skinned women.
Diop received a lot of scorn while growing up because of the color of her skin, and yet, she refused to bleach herself to fit into a paradigm that the majority deem as beautiful. Diop's confidence in herself, and an optimistic outlook comes as a fresh breeze in the fashion world where beauty is, otherwise, defined very narrowly.
4. Carmen Dell'Orefice
The "oldest working model", Carmen Dell'Orefice, started her career as a face on Vogue's cover, when she was 15 years old. Today, at 85, she is again running the show, with a graceful silvery gray mane.
"I've always considered myself a silent actress. The story line is what a photograph is all about."

– Carmen Dell'Orifice to Vogue
With a modelling career that has spanned 70 years, Carmen is breaking some labels while donning others! 😉
---
Suggested read: Dark and lovely: My experience of growing up as a dark-skinned Indian girl
---
5. Jillian Mercado
 "I didn't think it was a possibility; Not because I didn't think I was worthy of it, but because I didn't see anyone else like me out there. It was just not a thing."
Julian Mercado, a Dominican American, was bullied in middle-school for her appearance. But when the 28-year-old in a wheel chair, appeared on prime-time TV, posing with Beyoncé's fashion crew, she shut up those haunting voices for good.
When asked about how she made it this big, she says,
"I turned my weakness into my strength, and I feel like very few people have been given that opportunity. It feels like me looking at my younger self and telling her, 'everything's going to be okay.' I'm an example that you can do what you want, because … Just because! That's it. You just can."
6. Melanie Gaydos
Melanie Gaydos is one of the unconventional models, who is throwing down the gauntlet at the fashion industry, and in doing so, transforming it for the better!
Gaydos has ectodermal dysplasia, a condition she was born into. The disorder has made her skin pores, teeth, nails and small bones develop abnormally. Gaydos' eyelashes grew abnormally too, when she was a child, and scratched at her eyes, making her partially blind. She also has alopecia areata that has resulted in spot baldness.
All her life, Gaydos was made to feel abnormal and sick. People around her behaved as if her disorder was contagious. At 26, after three dental implants and with a set of dentures, she appeared on The Doctors, a reality TV show.  Almost a year after the show, she took off her dentures, and has refused to put them on since.
Speaking about the challenges she has faced, and how she has taken each one of them, head on, he told the Independent,
"I found I was more comfortable with myself how I am, without any enhancements. Maybe other people think I am incomplete, but that is only because they have teeth or know what that is like and cannot understand or picture what it's like without any. I don't miss having teeth because I never really had them to begin with.

I have definitely become more confident with who I am and myself. I stopped wearing wigs and started modeling. In a way, I was forcing myself to learn more about who I was and to become more comfortable with who I am at my core and natural state of being. This whole process has helped me become more confident, stronger and happier in my existence."
7. Diandra Forrest
Albino fashion model, Diandra Forrest, is a black woman with white skin, green eyes and blonde hair.
Forrest's starling looks, her positive attitude and poise, are pushing her to the fore as an exemplar to other aspiring albino models. In 2015, we saw Forrest on Ebony mag's cover for a special edition on black models. She was also picked for Mimi Plange's (Ghanaian designer based in NYC) fall collection earlier last year.
With such feathers on her cap, Forrest surely, has a long way to go!
8. Andreja Pejic
"There are just more categories now. It's good. We're finally figuring out that gender and sexuality are more complicated." 
Isn't she gorgeous?
Andreja is a trans woman, who was born as Andrej Pejic in 1991. Pejic, until 2014, was portrayed as an androgynous male model, who described himself as living "between genders."
Looking at how she is going from strength to strength in the fashion world, I am reminded of a quote by Lazaro Hernandez of Proenza Schouler, who said, recently,
"The distinction between man and woman is disappearing, aesthetically at least. This is a big facet of our culture right now."
9. Madeline Stuart
Madeline Stuart is an 18-year-old with Down syndrome. Her first big moment was when she released a set of photos exhibiting her modelling skills. The beautiful pictures were widely applauded, and helped Stuart make waves in the fashion world.
Stuart says that the goal behind this photo shoot was to show everyone that even people with genetic conditions can be sexy and beautiful, when they are allowed to feel comfortable in their own skin.
Madeline is now two fashion campaigns old, and also has a bag named after her. In 2015, Madeline received the Mélange Model of the Year award, which was definitely a break out moment for her.
10. Tess Holliday
The first size-22 model who was signed by a major modelling agency, had to make it to our list, right? Holliday is a body-positive activist and the face of a number of feel-good campaigns that are going viral, like the #EffYourBeautyStandards and #SimplyBekini.
In an interview to the Huffington Post, Holliday said,
"Our relationships with ourselves and our bodies are the most important ones we will ever have."
According to her, fashion needs to embrace diversity, and that women should not shame themselves or others, by seeing them only in terms of their weight.
Today, Tess Holliday is a naturally-recognized plus-size model, who has earned a number of campaigns, and has over 1 million followers on Instagram and Facebook.
11. Brunette Moffy
Brunette Moffy has a condition called the strabismus, or cross-eye. But, despite her distinctive looks, she is painting the fashion town red! Moffy's debut shoot was for Pop mag, for which she wore an England Football jersey and went nude on makeup. Awe-struck by her images, the photographer and Pop's editorial team decided to put her picture on the cover!
12. Dayna Christison
Dayna Christison walked the ramp while being treated for Hodgkin's lymphoma. The 25-year-old stunned everyone when a friend of hers took her pictures after her chemo, and sent it over to an agency.
In an interview to The Today's Show, Dayna said,
"I thought that would be a great opportunity to show people that it's OK to look this way and keep going and feel strong. I really wanted to do that for others."
Though she has stage IV cancer, Dayna walked the New York Fashion Week for Eckhaus Latta!
---
Suggested read: Fit shaming is the new fat shaming, and here's why it needs to STOP right now!
---
These models are ushering in a much-needed change into the fashion world. They are lashing out at some conventions of beauty, which seem to have become rules of entry, in the long run. We are seeing androgynous models, plus-size models, albino models and other unconventional models, compelling the fashion industry to create more inclusionary policies that don't discriminate!
Way to go girls. NLT salutes you!
For more on new trends in fashion and the fashion world, sign up for our daily newsletter today! Bye, until next time!
Featured image source: Pinterest
Summary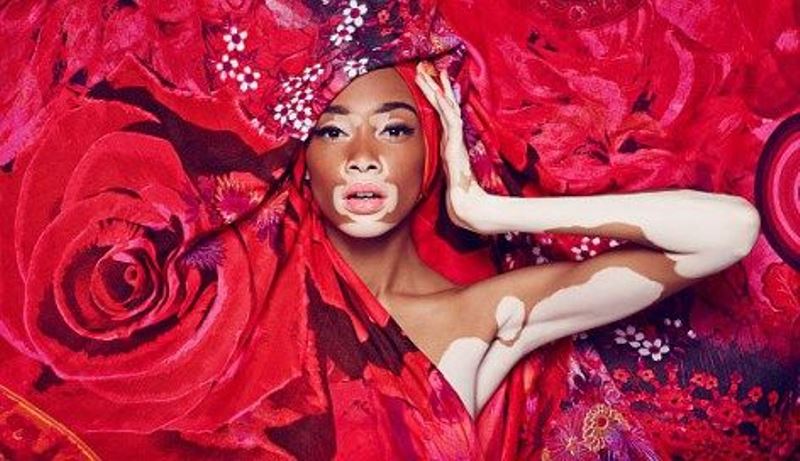 Article Name
12 Unconventional Models Who Are Breaking Stereotypes In The Fashion World
Author
Description
12 unconventional models are lashing out the stereotypical definition of beauty in the fashion world. Here's everything you need to know about these divas.