Harper's Bazaar India has teamed up with Christopher Sollinger, an American art director, to produce an Instagram photo series titled, "Nine Wonders of The World". The series presents some popular transgender models in the fashion industry, and breaks beauty stereotypes. Here is everything you need to know, in detail.
---
Suggested read: India gets its first transgender principal in Manabi Bandyopadhyay
---
The Instagram series features diverse women from the beauty and fashion industry, with just their faces showing, while donning unique headpieces. The head gears were created by Isaac Aden, an American artist.
In the series, we see popular trans models like Tracey Africa Norman and Geena Rocero, who have also graced the cover picture of the sequence, and in doing so, have made history. The series also includes Tyra Banks.
Created with a conviction to fight the idea of what is considered beautiful and what is not, in the fashion world, Norman says,
"This cover means the world to me and for me to represent my community, it is such a humbling experience for me."
Nonita Kalra, the editor of Harper's bazaar India says,
 "Diversity has always been the DNA of Harper's Bazaar. The Indian edition is delighted to follow in such illustrious footsteps with this Instagram-only initiative."
Sollinger in an interview to People mag said,
"Showcasing white woman after white woman on covers does not work anymore, we need to show the women of the world that is of now. The world is changing and with this story we want to be a part of that global revolution."
This month, we saw nine diverse models posing for 8 distinctive, out of the ordinary covers of Harper's Bazaar India. Tracey, who is 64, and Geena, 33, are the first transgender models to appear on the cover picture of any publication of Harper's Bazaar. The Brand's art director, Christopher Sollinger, was so moved by Tracey's story that he dreamed up this shoot. More than 3 decades ago, Norman saw her up-and-coming modelling career come to an end when the fashion industry found out that she was transgender.
That was a long time ago. Times have, certainly changed, since then, as more and more people from the transgender community are entering the spotlight. Today we are seeing a number of transgender models hitting the runways at some major fashion shows. If not, how would you explain Tracey, who is 64 now, making a comeback into modelling, and also grabbing her first mag cover?
We also saw, Tyra, Pyper America and Daisy Clementine Smith (who are sisters), Hind Sahli (a Muslim model), and Soo Joo Paark (a Korean model) pose for the Instagram sequence, celebrating diversity.
Speaking of India's relation with its transgender people, Sollinger said,
"India is actually very inclusive of transgender people."
The shoot was Christopher's baby, who, after reading Tracey's profile in 2015, came to know about her struggles, and her transition from being an upcoming star of the fashion industry (in 1970, Tracey had modeled for Clairol, and also had a hair dye created after her own natural hair color) to being a nobody when some people came to know her secret.
All the 8 models in the photo series not only look very different but also come from different walks of life. The attires for the shoot were provided by Chanel and Roberto Cavalli, while the headpieces were created by Isaac Aden.
---
Suggested read: 5 ridiculous myths about bisexuality busted
---
According to Christopher, though Tyra is undoubtedly the most popular of the bunch, she was elated to be a part of the collaborative after she heard Tracey's story.
Christopher said,
'Tyra flew to New York at her own expense. She doesn't need to do a nine-model multi-cover series, nor do the other models, but she felt moved and wanted to do what she could to make it happen."
Here's congratulating Christopher Sollinger, Harper's Bazaar and the models for their efforts in breaking stereotypes about beauty and fashion. We hope to see more in the future! Cheers!
Featured image source: Pinterest 
Summary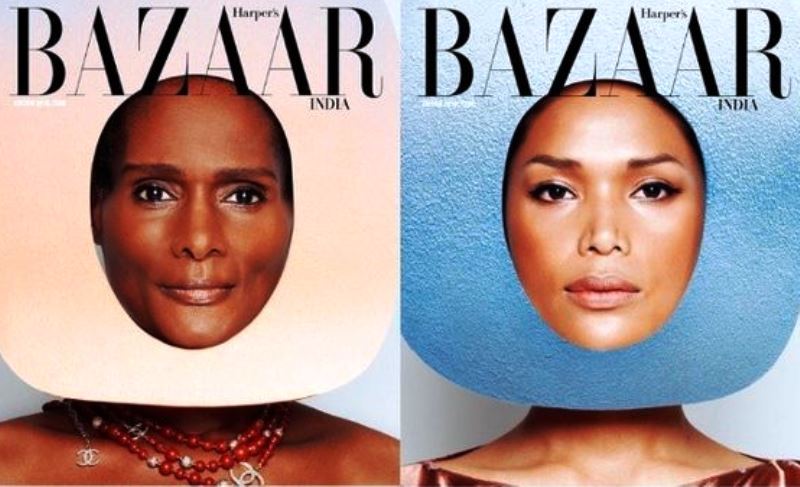 Article Name
Harper's Bazaar India Is Covered By Transgender Models For The First Time
Author
Description
Harper's Bazaar India's Instagram photo series, "Nine Wonders of The World," breaks beauty stereotypes with transgender models on its cover. Read for more.