Medium length hairstyles are perfect for lazy people with commitment issues. If you're too lazy to grow your hair out till your knees, but are way too scared to commit to a short hairstyle, then medium length hair is your thing. But it is very easy for medium length hair to become boring. It doesn't have the high-fashion va-va-voom of short hair. At the same, time it lacks the "omg you're a unicorn/mermaid hi-breed" factor of super long hair.
But don't you worry; we've found 14 amazing medium length hairstyles for you round-faced beauties. When you have a round face, medium length hair is the way to go.
---
Suggested read: 20 trendy short hairstyles for round faces you can try this summer
---
Here are 14 of the most flattering medium length hairstyles for round faces.
1. Feathered fringes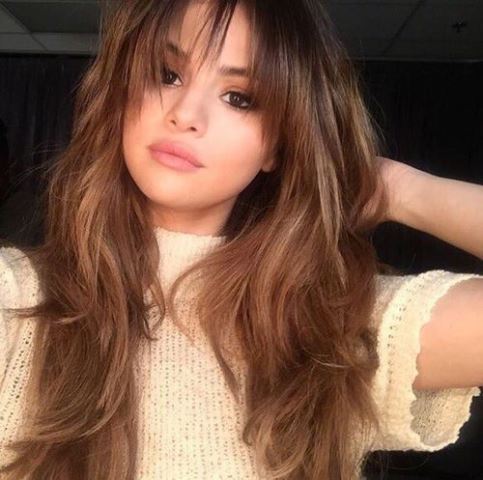 Image source: Pinterest
We know this is a bit on the longer side, but this hairstyle is just so sexy we couldn't resist. Take a cue from our bae Selena Gomez and go for feathered fringes. We love how the fringe isn't in a straight line and instead is a bit asymmetrical. The shorter bits in the centre and the cheekbone length fringe at the sides, frame the face perfectly, making it look more sleek and sharp. This hairstyle is actually exceptionally chic. We can't get enough of the choppy layers that have added soooo much volume to her hair. This hairstyle is a pretty fail-proof option for those who aren't big risk-takers.
2. Centre-part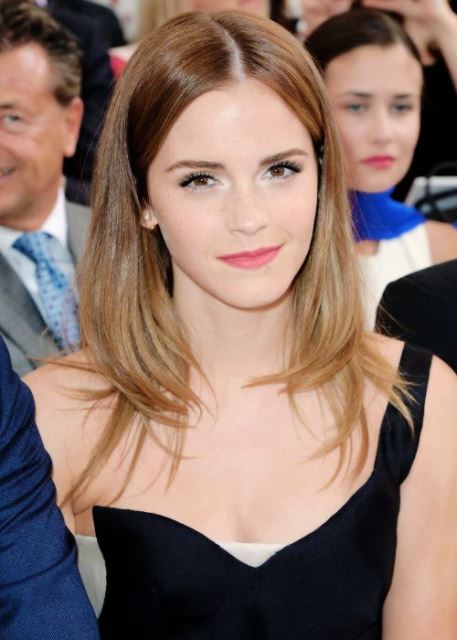 Image source: Pinterest
We know. A centre-part is a ginormous no-no for people with round faces. But if Emma Watson can pull off this sleek and incredibly flattering centre-part, then why can't you? There is actually a slight trick to pulling off this look. You need a layered haircut. That way, when you go for a sleek centre-parted behind-the-ears look, the layers in your hair will help frame your face and make it look slimmer. So shed your inhibitions and go for a chic centre-part and slay everybody's world, you rule-breaking, butt-kicking diva!
3. Messy/Tousled waves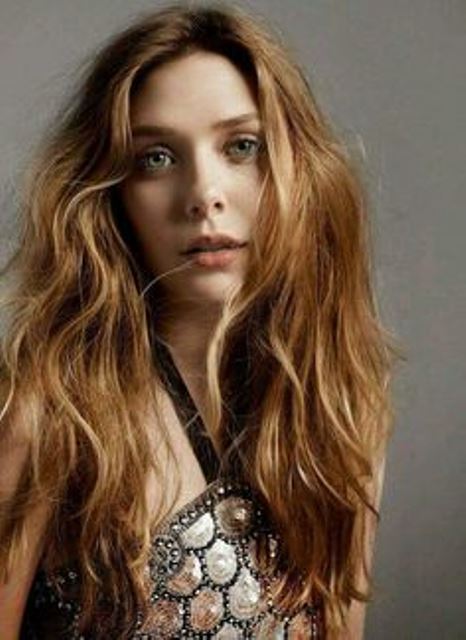 Image source: Pinterest
Wavy hair is a major trend right now. And we totally get why. It's easy, chic, and incredibly sexy. We love the tousled waves on Avengers star Elizabeth Olsen. This look is deceptively easy to acquire. All you need are a straightener (1.5-2 inches wide), some sea-salt spray, and a liiiittle bit of practice! Use the straightener to make waves and then finger-comb the waves to separate them and make them look softer and more casual. Finally, spray some sea-salt spray to add that extra sexiness to the hair and scrunch your hair to give it this sultry tousled look!
4. Curls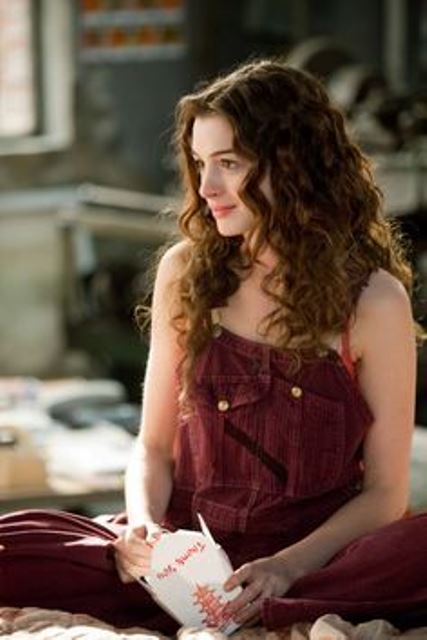 Image source: Pinterest
We have never really quite gotten over the beautiful curls on Anne Hathaway's beautiful head in the movie Love and Other Drugs. This look just makes us want to cry uncontrollably over how beautiful this woman is. Curls are fresh and youthful, and we absolutely love them. Instead of getting a perm, use a curling iron to get tight curls and then gently finger-comb the curls to separate and soften them. Make sure you use a little bit of curl cream or mousse to set the curls well or you'll end up with poofy poodle-looking hair instead of angelic curls like Anne Hathaway's!
5. Straight and sleek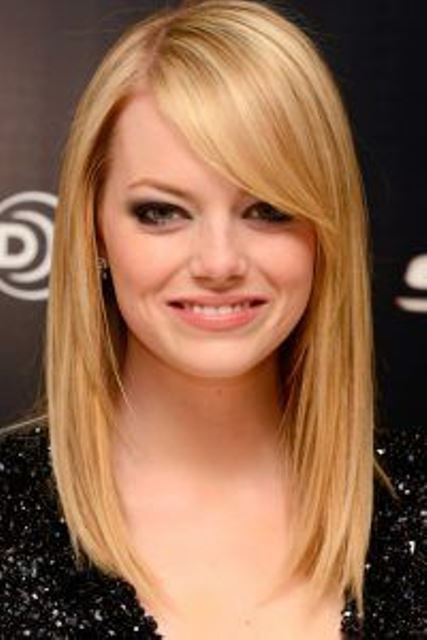 Image source: Pinterest
If curls aren't your cup of tea or if your hair is too stubborn for you to get nice curls, then don't you worry, love, we've got your back. Embrace your straight hair instead and go for a sleek extended lob like Emma Stone's! This is a classic look that is super low-maintenance (if you have naturally straight hair). The side swept bangs make this hairstyle a bit more modern and sophisticated.
6. Blow-dried waves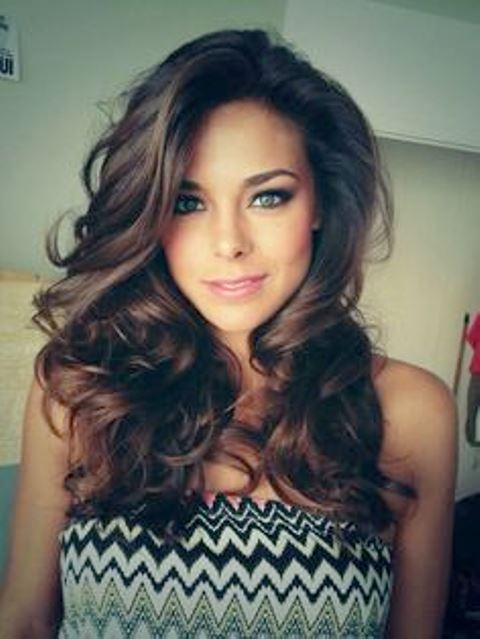 Image source: Pinterest
This is excellent if you're in between haircuts but have somewhere you need to be (but don't have enough time to get a haircut). Blow-dried waves are different from straightener waves in the sense that they're bigger and more like loose curls, than waves. We love how big and voluminous this hairstyle is. While most medium length hairstyles for round faces tend to have bangs or fringes (to frame the face), this hairstyle is a bit different in the sense that the bangs are long and don't actually frame the face. We like that it defies the "laws" of hairstyling. The soft loose curls are feminine and badass and they're awesome enough to draw attention away from the roundness of your face and to the magnificence that is those curls!
---
Suggested read: 19 most flattering short hairstyles for oval faces you MUST try
---
7. Hair contouring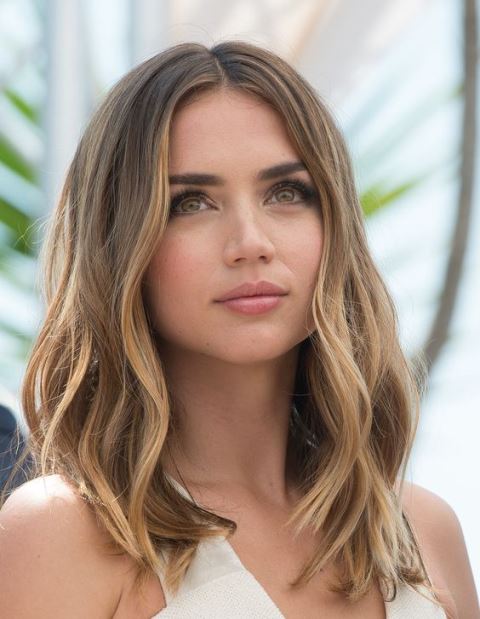 Image source: Pinterest
You don't always need to cut your hair to make it look interesting. Go for the basic hairstyle that you're comfortable with (or go for this sexy wavy extended lob) and add the va-va-voom with your hair color instead! We love these soft honey blond highlights that add a contouring element to the look. Hair contouring is a very real thing, where you color your hair in a way so as to camouflage features you don't like, and highlight the features of your face you want to show off. The soft honey-blonde highlights frame the face flawlessly, making it look slim and drawing attention to the cheekbones and the forehead!
8. Beachy waves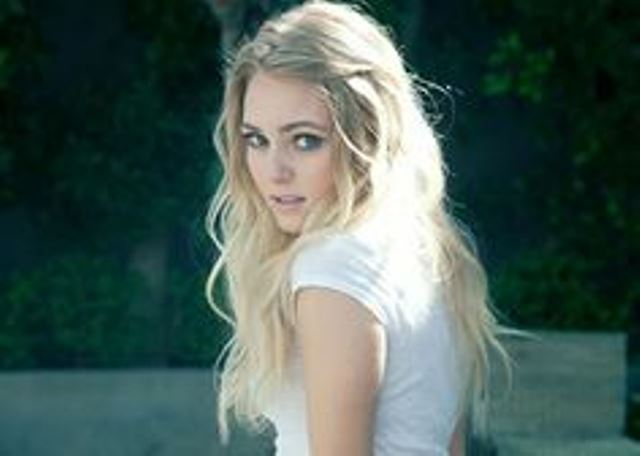 Image source: Pinterest
This is probably the most popular hair trend in the past decade or so. We know you know what beachy waves are. There are at least a million videos on YouTube, showing you how to perfect the gorgeous beachy waves that everybody is obsessing over. We're human too. So, obviously, we're obsessing over it as well. We LOVE the boho-chic vibes from AnnaSophia Robb with her perfect beachy waves. The little twist in the front is an added bonus that we simply have to mention. We'll tell you why it's so amazing. If your bangs are in that awkward half-grown out phase and you just don't know what to do with them, a simple twist-and-clip is the perfect way to deal with them. Go for soft beachy waves and clip up your stubborn bangs in a casual twist-crown! This look is youthful, fun, and soooo chic!
9. Over-the-top volume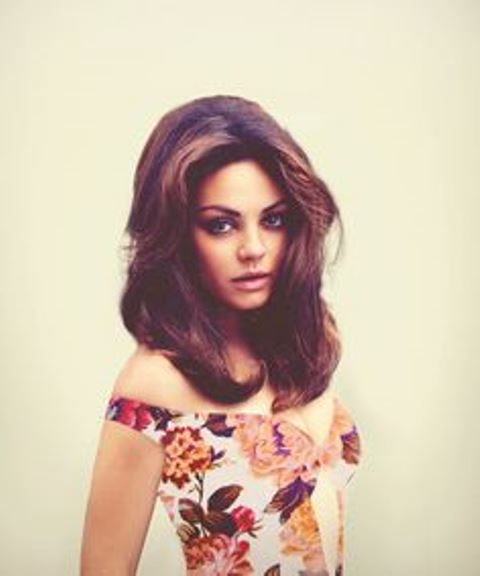 Image source: Pinterest
We cannot stop obsessing over the gorgeous Mila Kunis and her gorgeous hair! We love the blunt haircut and the cheek-length bangs. But most of all, we love the over-the-top volume! We know there was a lot of hairspray, a few hundred round brushes, and a looott of back-brushing involved in perfecting this look, but hey, nobody said achieving perfection was easy. We love how big the hair is and how it still manages to draw in her face, making it look more pointy and chiselled. This look would be an excellent choice for a fancy party or the red carpet (in case you have a couple of invitations lying around :P).
10. A drastic hair color change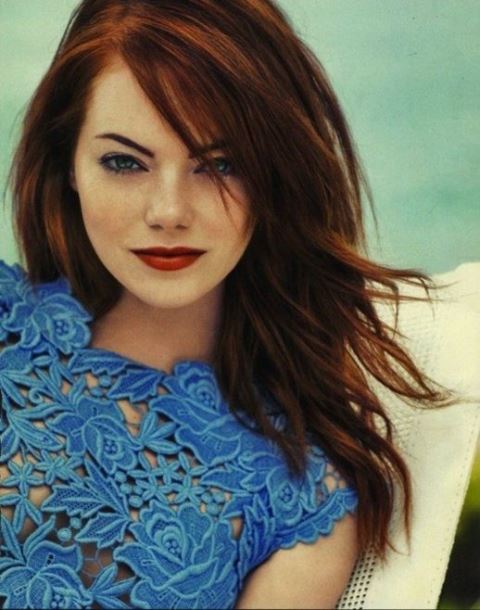 Image source: Pinterest
Take cues from the perpetually badass Emma Stone, and go for a drastic hair color change! If you're a natural blonde, ditch the honey for a head full of gorgeous dark hair. Try this beautiful deep red color that Emma Stone is sporting (especially if you have light-colored eyes). Alternatively, if you've had dark hair all your life, take the leap into the wonderful world of blonde hair (and let us know if blondes do actually have more fun). A hair color change is a badass and unexpected makeover technique that many people overlook. Sure, the subtle highlights and ombré are all beautiful. But nothing is quite as amazing as changing your hair color completely. Simply make sure you talk to your hairstylist beforehand and know exactly what color you're committing to. Not only will a drastic hair color change make you feel like a total badass, it will also make you feel new and give you a major boost of confidence and energy!
11. Retro waves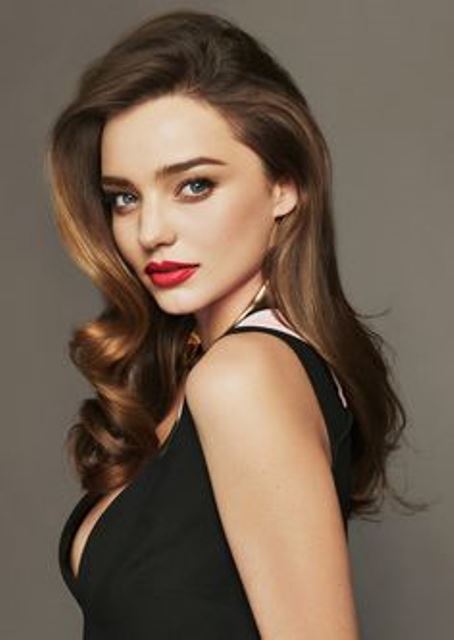 Image source: Pinterest
Our love for retro hair is endless. Take a page from supermodel Miranda Kerr's book and go for these stunning retro waves. We love how feminine and ultra-chic this look is. The fact that the waves aren't very rigid and are pretty loose and soft is what brings this look into the 21st century. We love how one half of the hair is left simple with a basic wavy texture. You can wear this look to a super swanky party where you want to look chic and sophisticated. You can also wear this look to an office party or to dinner at a nice restaurant. That's the beauty of a relaxed retro look like this one. It's perfect for almost every occasion!
12. Extreme side-sweep
Image source: Pinterest
Before we talk about her perfect hair, let's take a moment to marvel at the work of art that is Emma Watson.  Okay, done. Ditch the face-blocking bangs and the simple off-centre parts for a bold extreme side-sweep like Emma has done with her hair. This breaks the symmetry of the face, making it look less round and it also adds some height and volume to the hair. You need to do a little bit of back-brushing to make the side-sweep look that voluminous if you have fine hair. If you have thick hair, then good news; all you need to do is occasionally run your fingers through your hair and adjust the side sweep to keep it from falling flat!
13. Mermaid hair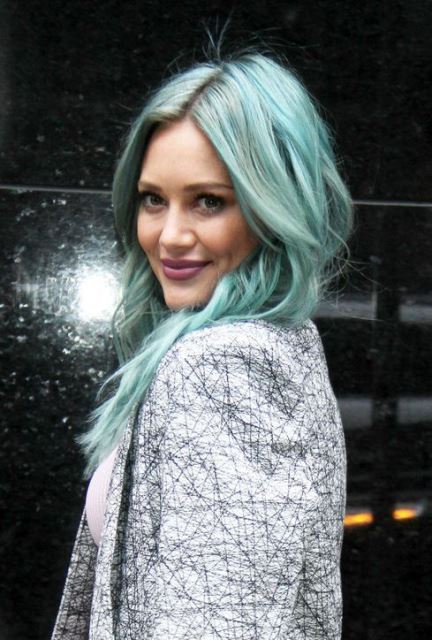 Image source: Pinterest
This is further proof that Hillary Duff is actually a Disney Princess. We love her mermaid hair, and we know you do too! Ditch the browns and the blacks and the blondes and instead go for a bright blue hue like this one! The look is young, fresh, and so much fun! You could go a bit darker too if this light shade of teal is not your thing. The best thing about mermaid hair is that it allows you to go for absolutely any shade of blue, green or even a combination of the two! So experiment away and take that extra step towards transforming into an actual mermaid!
---
Suggested read: 20 most flattering short hairstyles for square faces
---
14. Pastel colored hair
Image source: Pinterest
Pastel colored hair essentially gives you a few more options than mermaid hair. If blues and greens aren't your cup of tea, why not try a gorgeous lavender color, a soft pink or a badass grey? The sky is the limit! Pastel colored hair is fun and flirty, and is perfect if you want to do something different with your hair, but love your hairstyle the way it is!
So these were our favorite medium length hairstyles for round faces. The only addition we'd like to make to this is that you should always do your research before taking the plunge. Talk to your stylist and figure out what will look best on you (because everybody is different and gorgeous in their own ways). Finally, be confident because the only way to look like an absolute badass fairy princess ninja is by believing that you're a badass fairy princess ninja! As long as you're confident, you can pull off any look under the sun!
Summary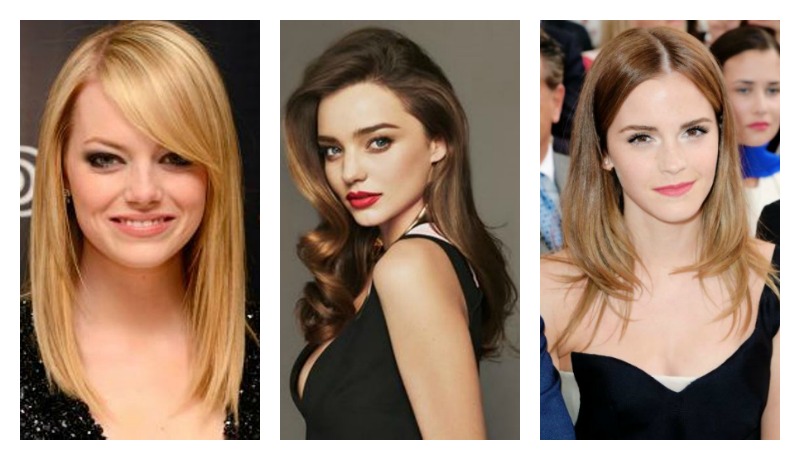 Article Name
14 Flattering Medium Length Hairstyles For Round Faces You Need To Try
Author
Description
Check out these medium length hairstyles for round faces that will help you look like the badass warrior princess ninja that you truly are!