There was a time when bangs were the coolest hairstyle to have, but sometime in the mid-2000s, they went out of fashion. However, they have returned in 2015, well, with a bang! Not only do they make your face look youthful, but bangs are something that everyone can rock, no matter what hairstyle they had before. In addition to that, bangs make your face look structured, romantic, and add several dimensions to your face. Celebs in Hollywood have started sporting bang hairstyles, and they are clearly the trendy hairstyle this season.
Image source: Pinterest
Here are 15 examples which are sure to convince you to chop off those locks.
---
Suggested read: 25 graceful bridesmaids hairstyles for long hair
---
1. Soft, middle parted layered bangs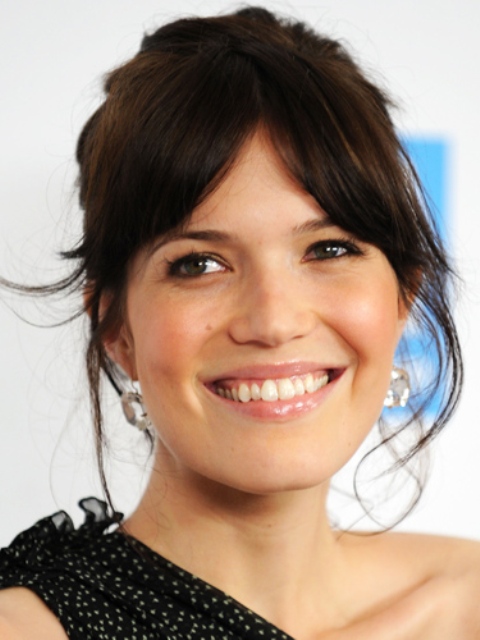 Image source: Pinterest
If you want to wear bangs without looking too childish or compromising your hair's length in the front, then you can opt this style that Mandy Moore certainly knows how to rock. In fact, this style has an epic 70s vibe when you leave your tresses down, and as demonstrated by Mandy Moore, it certainly suits more low key events and occasions as well. These bangs automatically highlight your cheekbones and eyes because they just reach the tip of your cheekbones near your ears. This style is ideal for people with round or oval-shaped faces. Brownie points for easy maintenance!
2. Romantic wavy bangs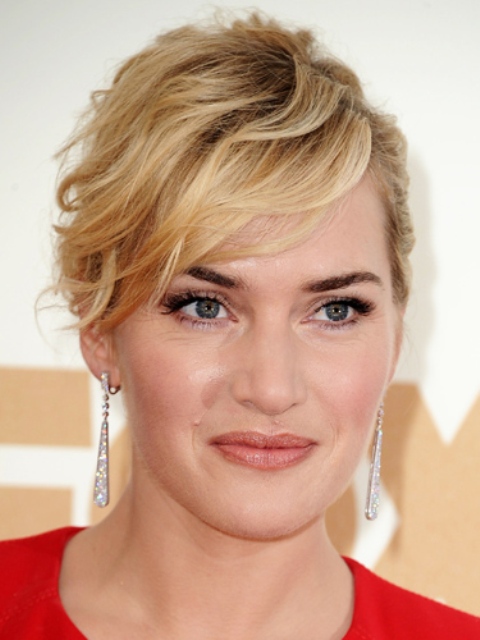 Image source: Pinterest
This is a layered bangs hairstyle that will make you look elegant and fetching at the same time. This is a more subtle look, and is unique because the bangs make use of those hidden highlights in your hair, giving your face greater depth and your hair a more interesting texture. Whether you want them falling in romantic cascading waves around your face, or you want an extreme parting for your bangs with a classy chignon (like Kate Winslet here), you can go ahead and get the look! The great part about getting layered, highlighted, and textured bangs is that they go with any facial structure.
3. Choppy imperfect bangs
Image source: Pinterest
The name of this hairstyle might be misleading, considering that it is called imperfect and all, but one look at Felicity Jones here and you will not be able to wait until you get a similar hairstyle. The special thing about this hairstyle is that it is intentionally left imperfect, which adds to its appeal. The chunky manner in which the bangs are cut as well as the almost accidental gap in the middle are quirky, rebellious, and oh-so-much fun. All you have to do is grab a pair of scissors and evenly chop off your locks from the front half of your scalp, keeping it level with your eyebrows. A blow dry from the inside and a comb-through with your fingers is enough to get the most fetching hairstyle. As long as you don't mind the gorgeous mess, this can suit any face type.
4. Vintage-style waves
Image source: Pinterest
Who knew you could add some vintage chic to your bangs, huh? This vintage-style side-sweep is something that will catch your fancy, no matter how much you love your long, flowing tresses. In fact, it is unconventional because of the length and also the carefully pleated manner in which it frames the face. Hairstyles like this one are easier to pin up or roll into other hairstyles, so that your short front hair is not a problem when you are planning a super chic look that involves a lot of hair spray and bobby pins. It is advised that people with  long, structured faces (such as Sophia Vergara) experiment with hairstyles such as this, though it could also work well on heart-shaped faces and small faces as well.
5. Smooth swoop bangs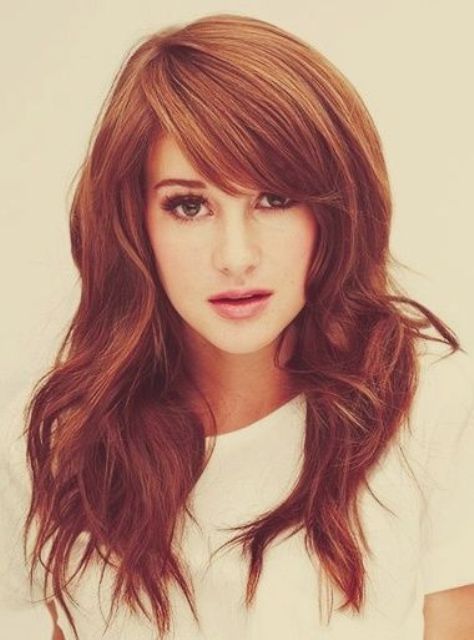 Image source: Pinterest
The sweeping look created by this hairstyle creates a fluid motion and adds immense class and elegance to the shape of your face, no matter what it is, although it especially suits oval face shapes. Bangs like these not only make you look gorgeous, but they add tons of volume to your hair without making your hair look too short. In fact, another unique feature is that these work with any length of hair, whether you have flowing tresses, or a short, chic bob. You can pair these with extreme partings, braids, ponytails, or any other kind of hairstyle you may want, making it one of the more versatile additions to the list. Maintenance is a little tough with this style, and it has to be carefully blow-dried so that the shape is not ruined after you wash your hair.
6. Evenly arranged long bangs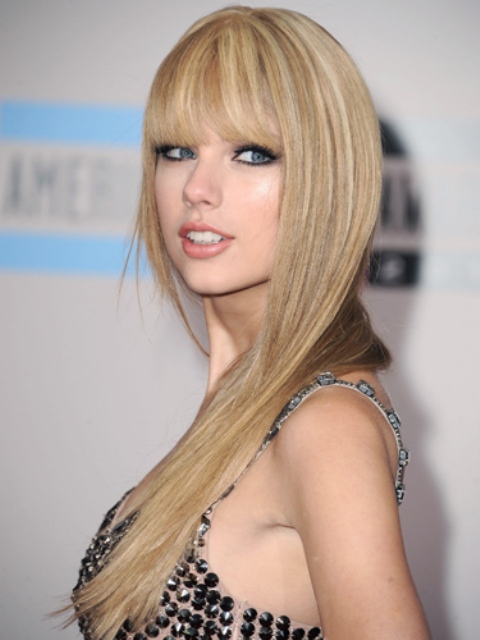 Image source: Pinterest
This is probably what comes to mind when you think of hairstyles with bangs, and it is true – Taylor Swift sports one of the most classic forms that bangs have ever adopted – the long, even look. Even bangs that fall on your eyes just below your eyebrows make you look trendy, edgy, and youthful, all at the same time (as demonstrated by the pop icon of the century). Also, because of their strategic placement, they add a lot more definition and focus to your eyes. Thin, pointed faces are ideal for this hairstyle, and the best part is, you can style them any way you want!
7. Deep, long bangs
Image source: Pinterest
Hairstyles with fringes like these are trendy, fetching, and stand out in a crowd. What makes this hairstyle unique is the deep, heavy nature and texture of the bangs that fall right up to your eyes. The coolest part about styling hair like this is when you are feeling extra fashionable, you can leave them open, or if you want them pinned back, they are long enough to braid or twist into place. This hairstyle suits those with a longer facial structure, or those who have a large or round face, making it look proportionate and sharp.
---
Suggested read: 20 chic bridesmaid hairstyles for medium length hair
---
8. Asymmetrical, layered bangs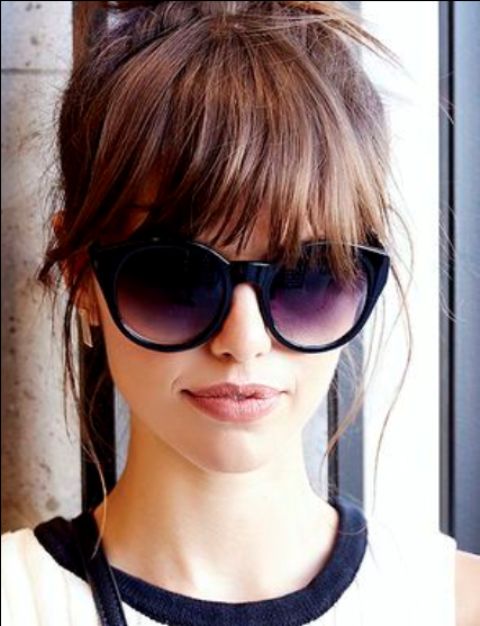 Image source: Pinterest
Asymmetrical is the new in-thing, whether for clothing or hairstyles. Bangs may sometimes become overwhelming and in-your-face (literally and figuratively). The best way to get some super stylish bangs, without making them the most obvious feature of your face, is with asymmetrical bangs, which are messy, natural-looking, and super stylish. These bangs require minimal maintenance and suit all face types because there will be locks framing your face, giving it dimension.
9. Blunt fringe bangs
Image source: Pinterest
Krysten Ritter shows you that blunt can be super bold and sexy. This blunt cut is inspired by 70s pin-up fashion, and definitely gives you one of the most sought after and envied looks of recent times. This look is super easy to maintain, and because of its imperfect nature, you can chop up those locks yourself. It is best to avoid these if you have a wide face, and if you do, you could probably get them cut a little longer than Ritter. This highlights the shape of your face and looks cute whether you tie your hair up or leave it down.
10. Light fringes with extensions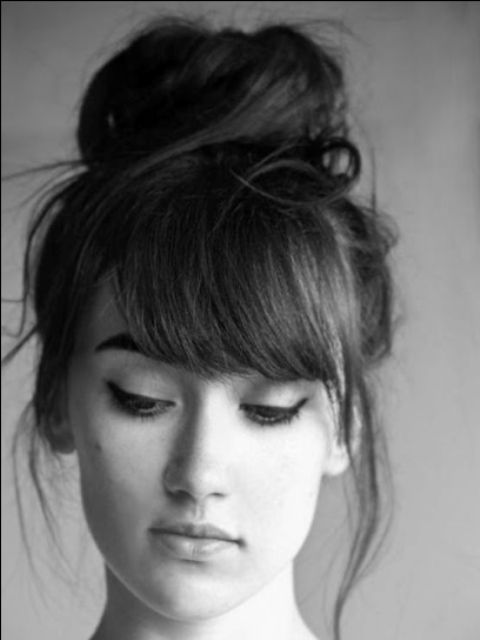 Image source: Pinterest
Reminiscent of a ballerina, this is one of those hairstyles that immediately takes years off your face without you spending several dollars on expensive anti-aging makeup and treatments. The best part about this style is that it adds a lot of volume to your hair, and makes you look youthful and elegant (in a messy sort of way) whether you put it up or leave it down. These light, simple front bangs are offset by the extensions framing your face, which highlights your features, especially the nose. People with square or long faces should definitely check this style out.
11. Semi-rolled bangs
Image source: Pinterest
If there is anyone who can show you how to sport bangs with grace despite your age, it is Angelina Jolie. People are under the impression that bang hairstyles are reserved for the young, but this goddess dismisses all such notions by showing you how amazing slightly textured and styled bangs can look no matter your age. All you need to do is curl your bangs inward, and push them towards the side so that they look textured and voluminous. This style can suit any facial structure.
12. Super short bangs
Image source: Pinterest
Bang hairstyles like this one make you look different from everyone else, and this is certainly the trend to look out for in 2016. Super short bangs are soon to be the new "in" thing because of their visually pleasing cut, and the fact that they are low maintenance and look so stylish no matter what hairstyle you have. This is perfect for people with round faces, and even those with heart-shaped faces.
13. Wide umbrella bangs
Image source: Pinterest
Someone give Rooney Mara an award for being the most badass celebrity to sport bangs ever. These wide umbrella bangs (along with an unbelievable crew cut) are actually very close to the super short bangs hairstyle. The only difference is that this style is wider, and more in your face than most other hairstyles out there. You should comb through them every time you step out to keep it looking nice. Because they are so wide, it will perfectly suit faces which are oval, angular, or long.
14. Grunge bangs
Image source: Pinterest
Here is a hairstyle that is going to bring out the inner rock star in you. These bangs are roughly cut, yet carefully asymmetrical, and the best part is that they can be kept unkempt on purpose, adding to their charm. You can keep your grunge look fresh with ponytails, elegant buns, leaving your hair down, or anything else you want, and they add edge and personality to any face type.
---
Suggested read: 10 creative floral hairstyles for a spring bride
---
15. Super long, voluminous bangs                                                           
Image source: Pinterest
If you are allowed to have super short bangs, then super long bangs are a given. If you like to play it safe with your hair, but still desire to look elegant, sophisticated, and most importantly, unique, then opt for some nicely styled long bangs. These will fall evenly with your hair, adding to the rest of the volume beautifully. This hairstyle highlights the chin, making it look slim and shapely, and also falls elegantly around the forehead area. This is perfect for those who do not have naturally sharp features!
Featured image source: Pinterest
Summary
Article Name
15 Bang Hairstyles That Will Convince You To Chop Off Your Locks
Author
Description
Bangs are in this season, and you should chop off those locks of yours when you try out one of these awesome bang hairstyles we have collated here.