Just like everything else in the fashion industry, wedding dresses too go in and out of fashion. Some time ago, the older, vintage wedding dress styles went out of fashion and women started wearing shorter, more unconventional wedding dresses. In fact, the crazier, the better. Now, long-sleeved wedding dresses are making a fabulous come back along with classic styles and vintage-inspired looks. People had been suffering from a misconception that if you wore a long-sleeved wedding dress, then it was because you were prudish and conservative. However, when Kate Middleton chose to step out in her Alexander McQueen wedding dress, people understood how stunning a long-sleeved wedding dress could be. Whether you are dressing for an open-air wedding, a beach wedding, a church wedding, or a backyard wedding, you will be able to find the perfect long-sleeved wedding dress to suit the occasion.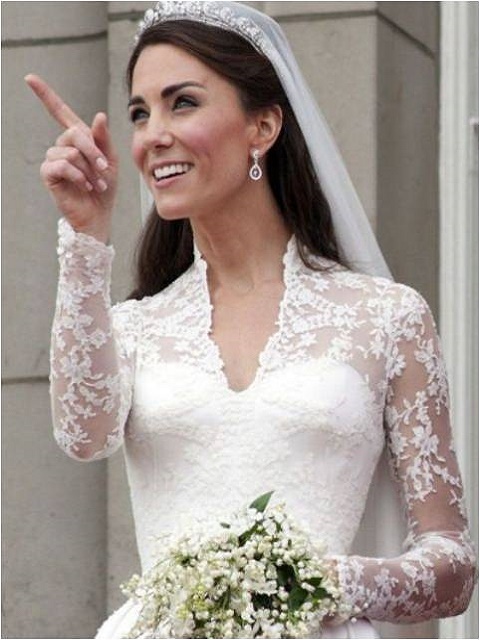 Image source: Pinterest
Also, we welcomed the first day of fall a few days back. If you are planning a picturesque autumn wedding, then this is the perfect time to check out some of the most beautiful wedding dresses with long-sleeves which will not only make you look like a perfect goddess on your wedding, but also keep you nice and warm when you are walking down the aisle towards your husband-to-be.
---
Suggested read: 25 rustic wedding dresses that urban brides would love
---
Here are some of the most beautiful and eye-catching long-sleeved wedding dresses that you can wear for your wedding, this fall.
1. Amelia Sposa embroidered wedding dress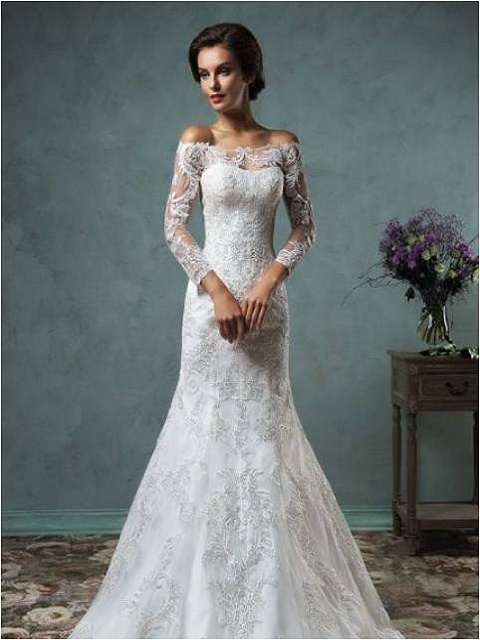 Image source: Pinterest
This one is a wedding dress that is bound to take your breath away should you choose to walk down the aisle in it. It is a concept fit and flare dress, which has a fully embroidered bodice, along with the trendy off-shoulder cut, which is unusual for wedding dresses with long sleeves. This dress is a part of Amelia Sposa's 2016 collection and combines elements of both an A-line dress as well as a mermaid dress. The sweetheart neckline is revealed to the perfect extent through the embroidered lace cover, which extends to the sleeves. It is perfectly suited for barn weddings, and even church weddings.
2. Puffed sleeves on Bohemian style wedding gown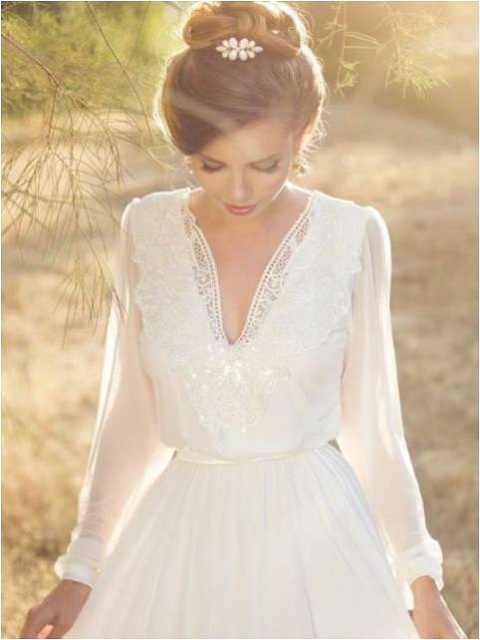 Image source: Pinterest
When you have an outdoor wedding in autumn planned, you need a dress that suits your personality, the ceremony, and of course the season. This wedding dress has some of the most comfortable and gorgeous looking sleeves ever, made of chiffon and satin. The low-cut neckline has a subtle hint of lace, and the dress is divided at the waist with a simple ribbon which leads to the skirt. With a sprig of autumnal flowers in your wedding bouquet and the right hair and makeup, this is going to become an unforgettable wedding dress.
3. Vintage inspired long sleeves for church weddings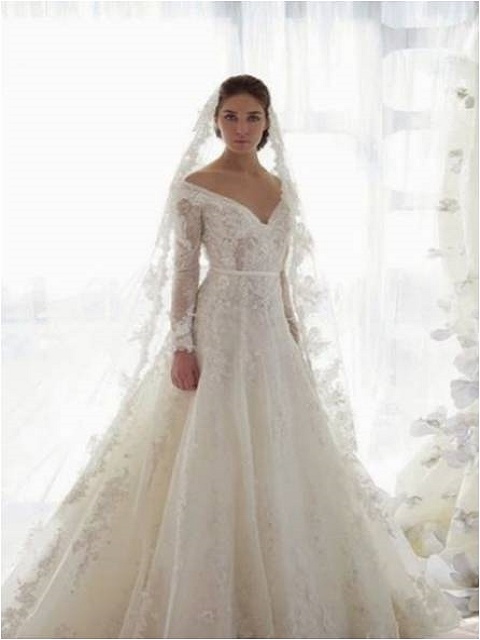 Image source: Pinterest
If you have planned a proper, traditional church wedding, this is the quintessential long-sleeved wedding dress for you. Not only is the A-line bodice of the skirt absolutely gorgeous, but the slightly off-shoulder low-cut neckline which gives way to the dense lace sleeves is absolutely stunning. The lace work on the body and the veil is reminiscent of the 1950's wedding dress style, which is designed to take your breath away and is perfect for the traditional church wedding.
4. Vintage shawl sleeves on fitted wedding dress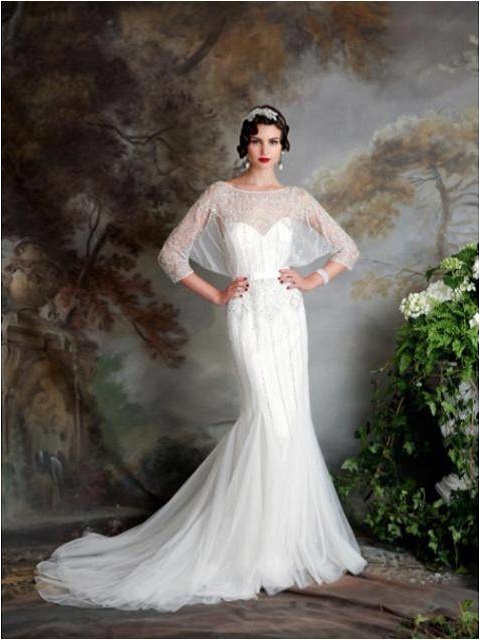 Image source: Pinterest
If you want a wedding dress that fuses a stunning look reminiscent of the Great Gatsby, the more modern fishtail silhouette, and a sheer, lacy shawl sleeves, then you have the perfect wedding dress right here. If you want to go all out with the vintage aspects of the dress, you can do your hair up in the traditional fashion, with bold lips. If you are planning a more subtle autumnal wedding, then light makeup with open hair lightly pinned up is all you need to make the dress shine.
5. Simple, structured ivory silk gown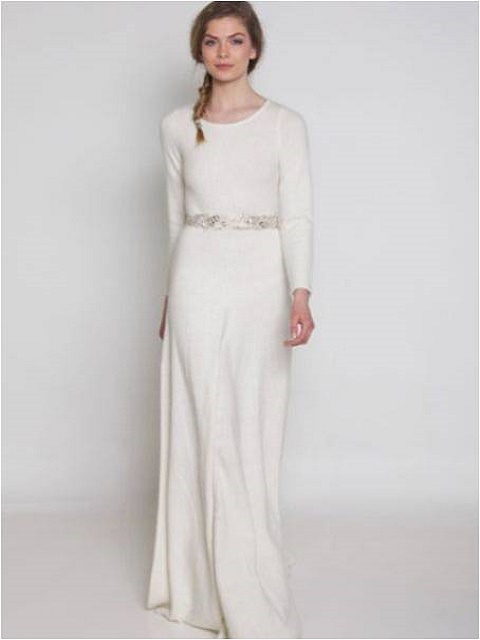 Image source: Pinterest
Whether you are planning a black tie wedding or casual beach wedding, you should consider this simple, fitted, and structured Ivy & Aster long-sleeved wedding dress. You might think that having a round neck on a wedding dress is unconventional, but if you are suffering from doubts, just check out this number, which is complemented by a statement, bejeweled belt, and casual long sleeves. Classic.
6. Three quarter sleeves princess wedding dress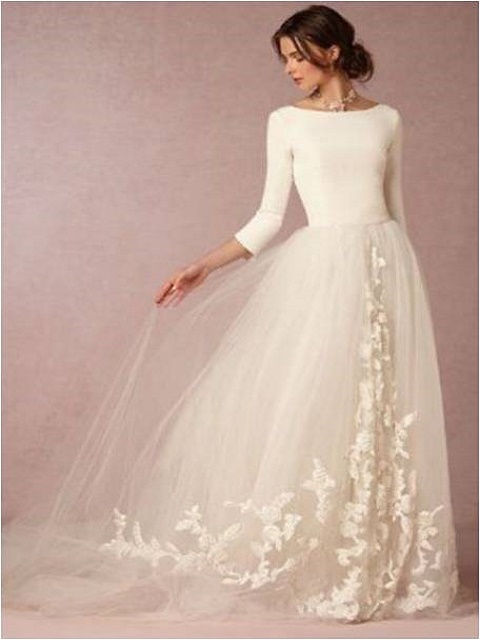 Image source: Pinterest
Usually, wedding dresses with princess skirts also come with sweetheart necklines. If you are an autumnal bride looking for something more unconventional, yet still elegant, then you can check out this BHLDN number. This is an ideal dress for the modern bride, where the boat-line neck and the satin torso and sleeves give way to a flowing, puffed up tulle and lace skirt, separated by a seamless waistline.
7. Cap sleeved fitted wedding gown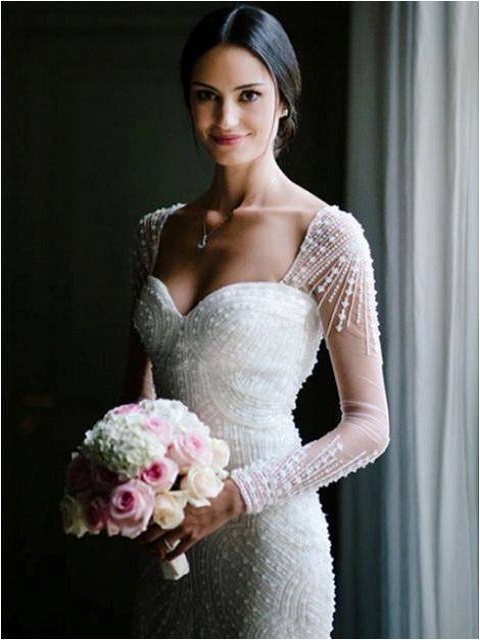 Image source: Pinterest
If you do not want the long sleeves to be very obvious, then this Pronovias number is the perfect piece for you. With the fitted bodice and sweetheart neckline, you can see how the dress gives way to a beaded and sequined body right till the end. The textured sleeves have detailing on the shoulders, which makes it look like cap sleeves, and also near the wrists. It is perfect for the demure, yet fashionable bride.
---
Suggested read: 15 chic vintage wedding dresses for the modern bride
---
8. Backless sheer sleeves wedding dress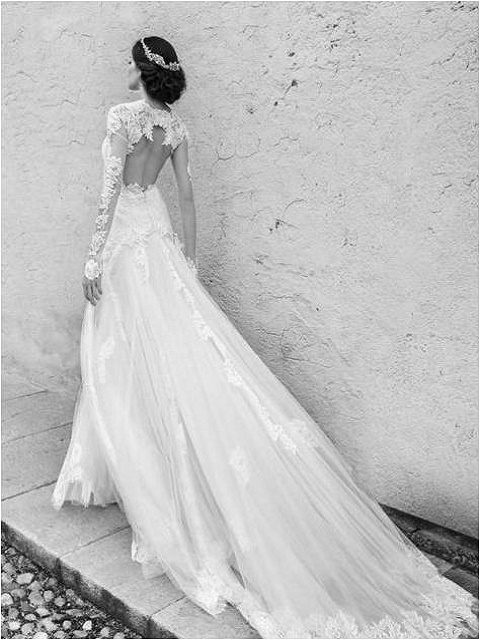 Image source: Pinterest
Most modern brides look for something unconventional and unique in their wedding dress, with the common idea being that long-sleeves limits their options and freedom to experiment. This is the dress that is going to prove you otherwise, because it has a long train of embroidered tulle after the A-line skirt, and as for the top half off the dress, the lace work on the sleeves and the shoulders do all the talking, leaving the entire back open. Whether you are planning a black-tie event or a white tie event, with the right accessories, this dress is an amazing choice.
9. Urban chic bohemian lace sleeves wedding dress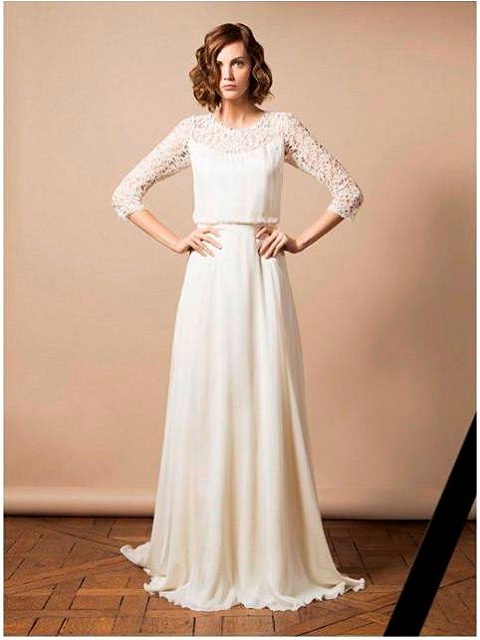 Image source: Pinterest
The perfect long sleeved wedding dress for the urban bride, this Delphine Manivet number is reminiscent of a lot of things including chic Parisian fashion, the freedom that comes with Bohemian style, and the urban edge that is required to set one dress apart from the rest. This wedding dress consists of an unstructured top with a beautiful round neckline and dense lace work on the sleeves which gives way to the ivory silk skirt that falls in subtle pleats. This dress is perfect for country weddings during the fall. Imagine the colors you could wear with this one!
10. Embroidered wedding dress for the laid back and elegant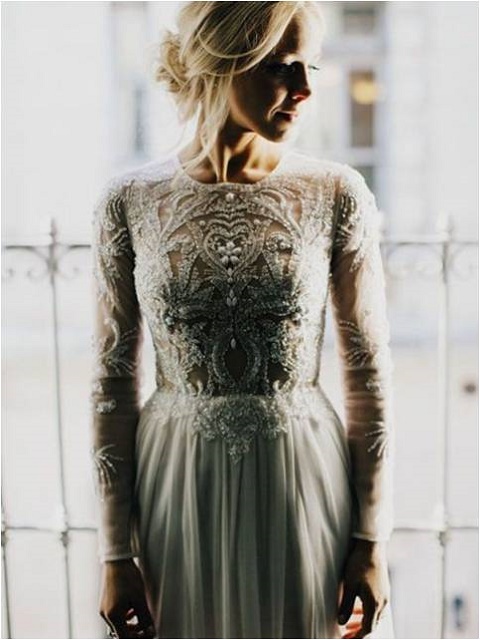 Image source: Pinterest
Not many people are fond of overly glamorous and decked out weddings. However, it is absolutely essential that you look stunning on your wedding day. This embroidered wedding dress is one of a kind, and is the right amount of chic and laid back. The entire top half is embroidered with sequins, pearls and beads on sheer material, and the bottom half is a simple A-line ivory silk skirt with even more embroidery.
11. The urban silhouette full embroidered wedding dress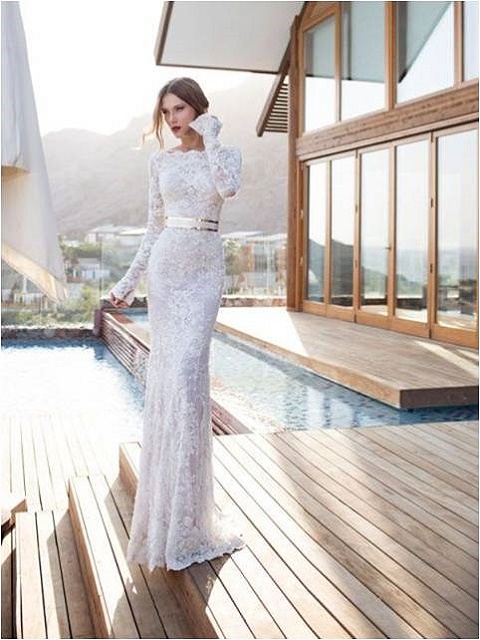 Image source: Pinterest
Long sleeves and modern fashion can go perfectly hand-in-hand in wedding dresses like these, where the long sleeves are coupled with the most gorgeous body-con silhouette. This Julie Vino wedding dress has everything working for it, starting from the full-body lace work, the perfectly tailored long sleeves, and the metallic belt separating the torso from the elegant skirt with further lace lining. This is the look that calls for heavy makeup, sleek hairdos, and a romantic, indoor or outdoor wedding.
12. Gorgeous patterned sleeves mermaid dress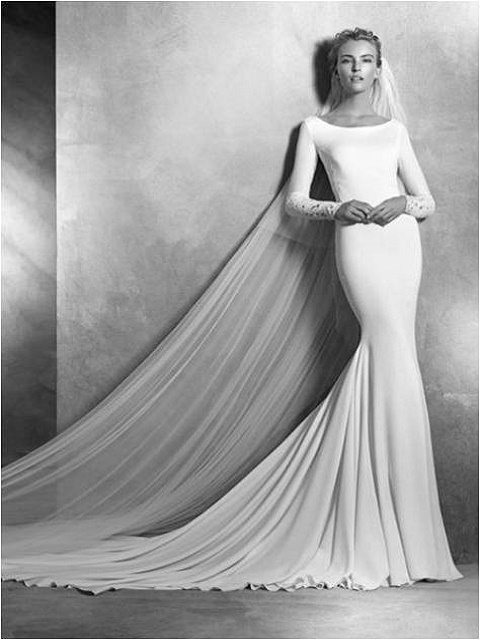 Image source: Pinterest
Whoever said that mermaid dresses cannot be anything but off-shoulder and sleeveless was wrong because this is probably one of the most gorgeous wedding dresses you will set eyes on. The simple neckline gives way to smooth sleeves with slight lace work near the wrists in this silk and tulle and crepe number. Without a break in the dress, it gives way to a pleated mermaid skirt with a long train. This is the perfect wedding dress for an outdoor wedding, whether it is on the beach on in a backyard.
13. Breathtaking lace and tulle number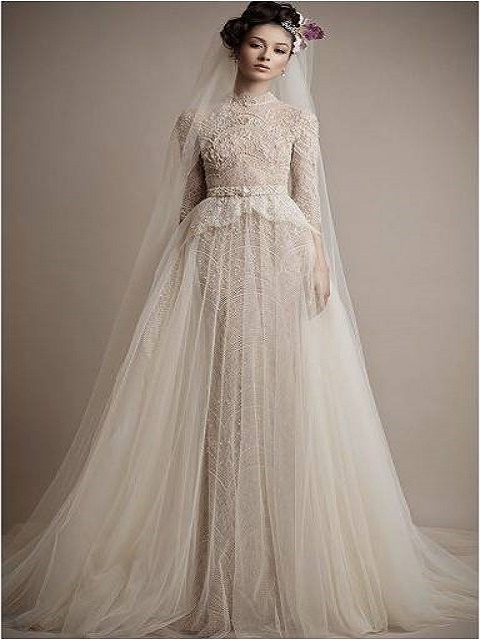 Image source: Pinterest
There are some wedding dresses that are so elegant that they immediately take your breath away, and this is definitely one of them. With the most delicate kind of lace and sequin work on the bodice, a lace belt separates the top from the intricate lacy and silhouetted bottom half of the dress. But that is not all. The bottom sheathed in tulle to create the flowing skirt effect and the closed neck seals the deal. It doesn't matter what kind of wedding you wear this dress to, you are going to look like a goddess.
14. Classic vintage button up wedding dress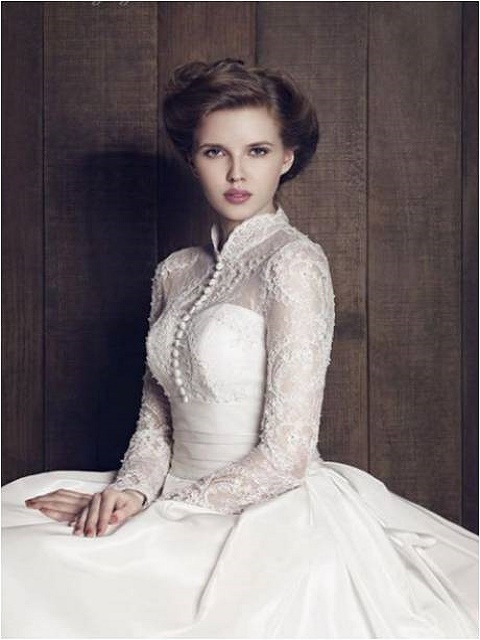 Image source: Pinterest
For the brides who really want to bring out the classic vintage style of long-sleeved wedding dresses, they have the option of going for this super chic and super elegant style. And of course, it highlights the long sleeves on your dress in the most beautiful way possible. The sweetheart neckline is nicely covered up with a button-up lace piece with a collar. This is the dress perfect for traditional and formal weddings.
---
Suggested read: How to find the perfect wedding dress to suit your body type
---
15. Two-piece boho chic wedding gown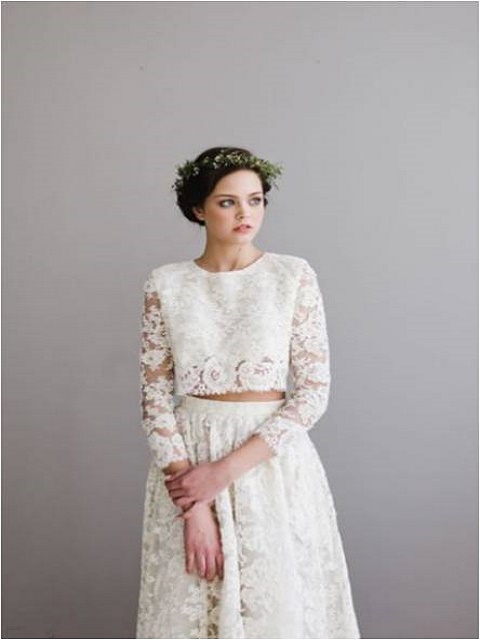 Image source: Pinterest
There is nothing more exciting than a high fashion wedding dress. The top half of this stunning dress is made of French lace and the lace-on-sheer work on the sleeves are simply breathtaking. The high waist skirt is also made of the same material and ends at the ankles, giving it a maxi dress-like A-line structure. The hint of midriff is all the excitement you need for your wedding dress to become absolutely remarkable. It is perfect for the Bohemian, fashionable bride this fall.
If you are under the impression that incorporating long sleeves in your wedding dress is a ticket to compromising on it style and fashion, then I hope the above examples have managed to prove you otherwise. There is nothing more chic than long-sleeves this wedding season, and you will look like the perfect bride with any of the above styles.
Featured image source: Pinterest
Summary
Article Name
15 Stunning Long-sleeved Wedding Dresses That Make A Statement
Author
Description
Getting married? Consider these 15 impossibly pretty long-sleeved wedding dresses for an alternative take on a winter dress.