There is no worse crime than one-upping a bride on her wedding day. Wearing the same color or a prettier ensemble and looking even more breathtaking than the woman walking down the aisle deserves capital punishment. But in the case of these brides, I'd say, you can save yourself the trouble. The outlandish wedding dresses worn by these brides ensure that nobody, I repeat (for these weird wedding dresses really deserve greater EMPHASIS), nobody even inches close to stealing the limelight. With their choice of an eye-catching bridal ensemble from a range of what I'd think were the most bizarre, weird wedding dresses of all times, these brides have not only secured their position as the 'woman of the hour' but also put us in a weird fix … for we cannot decide who to bestow the award for the best weird wedding dress on … no seriously!
Can you help?
---
Suggested read: Best celebrity wedding dresses of 2014
---
Take a look at the most weird wedding dresses of all times:
1. The tampon bride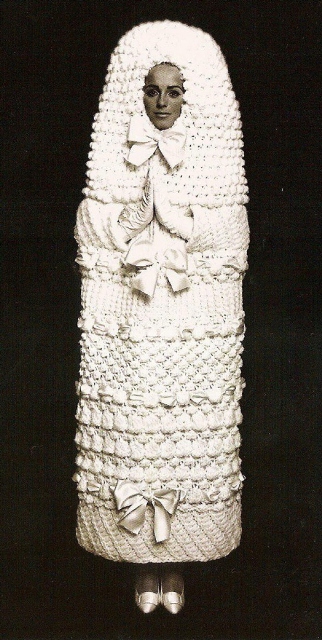 This dress, designed by Yves St Laurent in 1965, bears a too-bad-to-be-true resemblance to a tampon. Do you hear the marriage officiator saying, 'do you take this tampon for your lawfully wedded wife?' And do not say, 'I do!' That's some REAL danger there! 😛
2. The octo-bride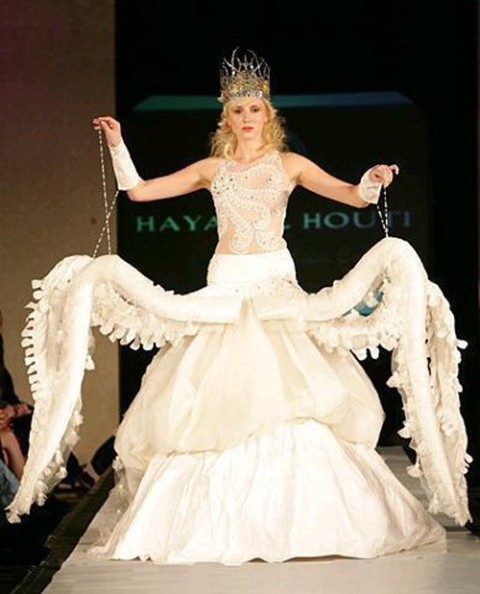 Image source: Pinterest
Okay, I am sorry but what was the logic here again? That's right – you got nothin'. Now, could you please let go of the hideousness – that is the octo-dress! It is your wedding, not a fancy dress competition!
3. The balloon bride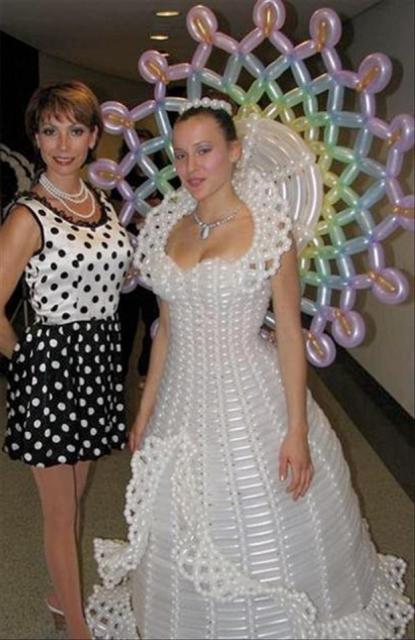 "'I want to look like a balloon,' said no bride ever," held true for me until I saw this bride! Hello, hello, mike testing … 1,2,3 … This is an important announcement … all guests are requested to keep forks and other types of pointy objects away from the bride! The adults are requested to ensure that your kids get the message too. Thank you.
4. The bottle-cap bride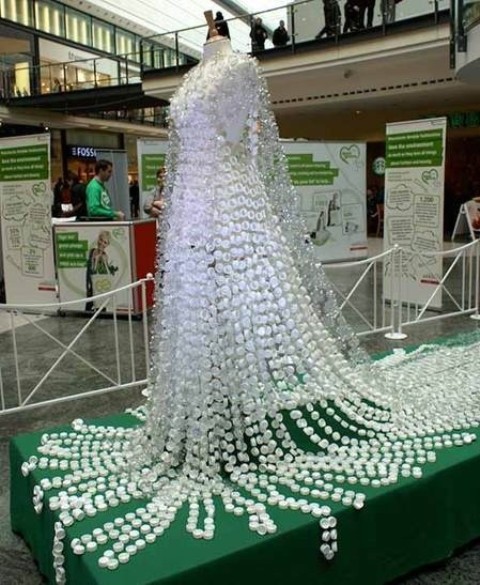 Now this bride has un-capped a thousand bottles, and perhaps more, to make this bridal (?) dress. All we hope is that she has recycled the bottles … coz that eco-friendly gesture would be a redemptive token for this eyesore! Sorry, couldn't hold it in any longer!
5. The Styrofoam bride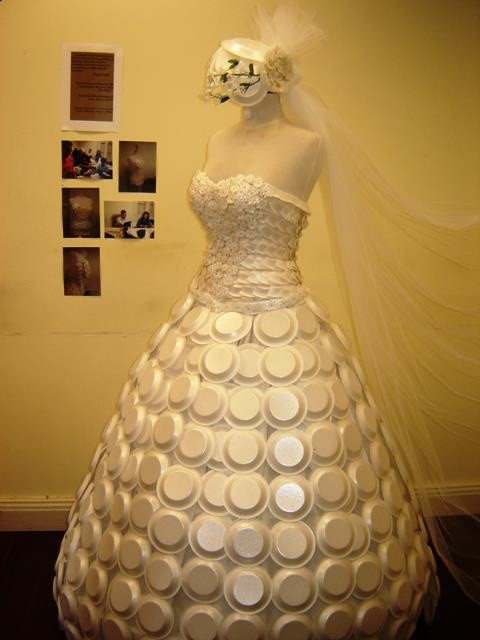 Now, now, I know your groom-to-be may have whispered that you are the only dish he wishes to have, whilst you were both finalizing the wedding menu – but to take it literally, really?!?!
6. The cream puff bride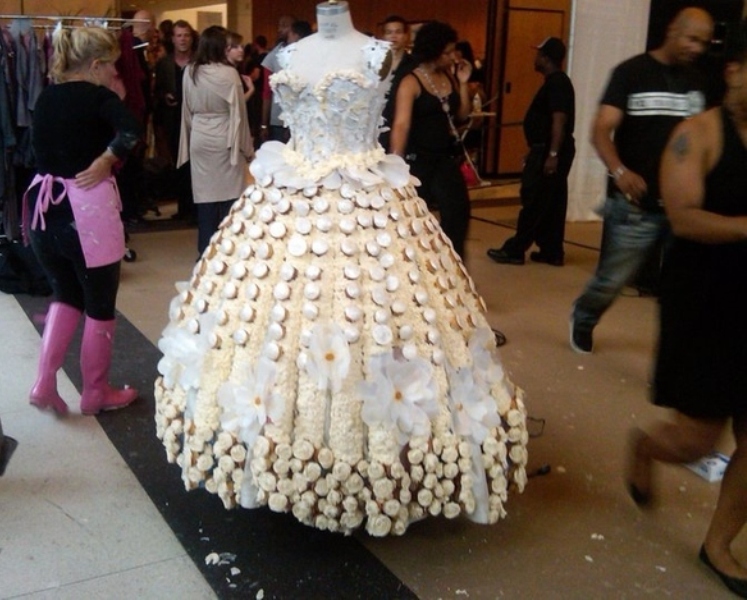 Baker Valentyn Shtefano and his bride Viktoriya made this wedding dress out of 1500 cream puffs! Now, now – weddings are expensive, alright – but to carry food on yourself?
7. The cake-y bride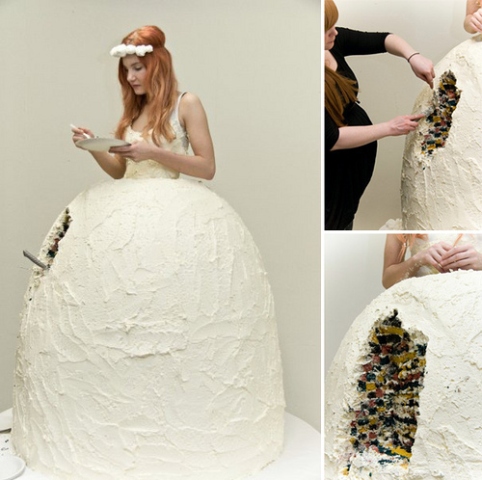 Another cost-cutting solution to the wedding extravaganza! Merge the bride and the cake into one. And this time, make no mistake – if you are hungry, you can actually dig into the bride and scoop out a piece! <eew, oops … whatever> Really, that's the idea!
8. The Goth bride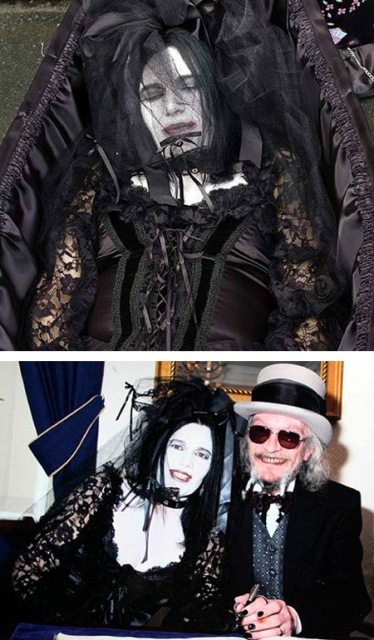 Goth-style is alright but I just think Julie Williams and Dylon Holoroyd took it to the extreme. Don't you think?
9. The 'light-ing up your life' bride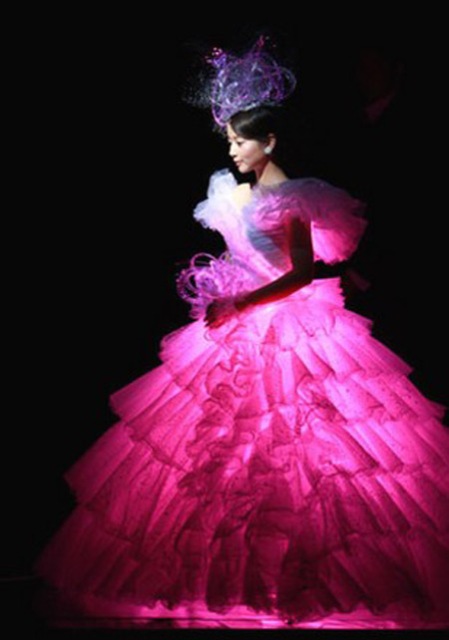 Another bride who took her husband-to-be's words on their literal value. He must have said, she lights up his life and guess what – she actually BECAME the light of his life!! Tadaa …
10. The condom bride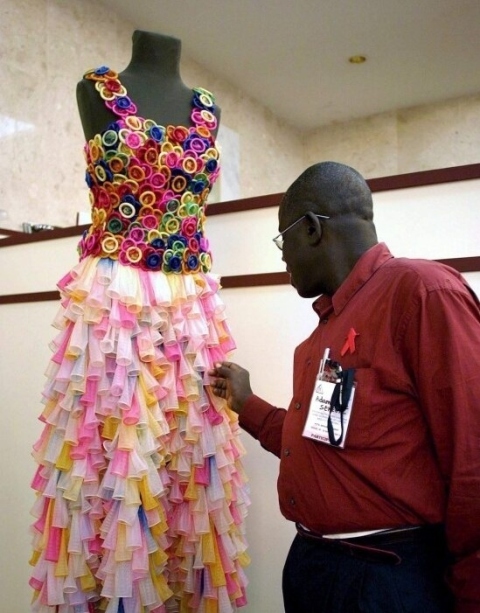 This bride believes in 'safety.' And we are glad. But dear Ms. Bride, if you wanted to supply him a never-ending stock for the wedding night and the nights that follow, you should have known – worn condoms cannot be used again! 😉 😛
11. The too-modest bridesssss
Actually, this one is a long list. Check out these modest (and chaste?) brides who will leave you a-wondering if they kind of swapped the wedding dress and the wedding night lingerie! Take a look.
12. The too-out-there bride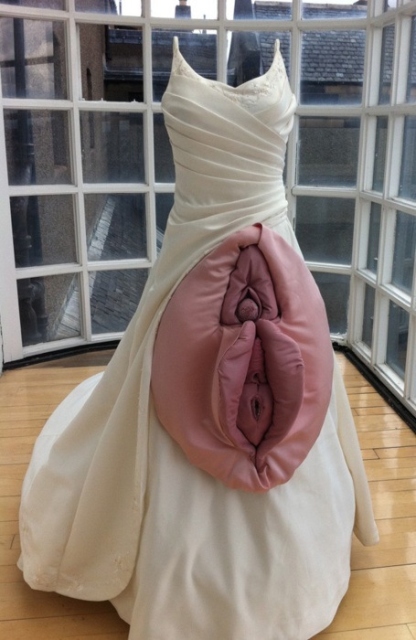 Now, I really do not know what to say about this one. Is that one of the celebratory moves for womanhood? Or is it an invitation you might have done well to extend in private? Coz lady, that really is a private part you have on there!
13. The pregnant bride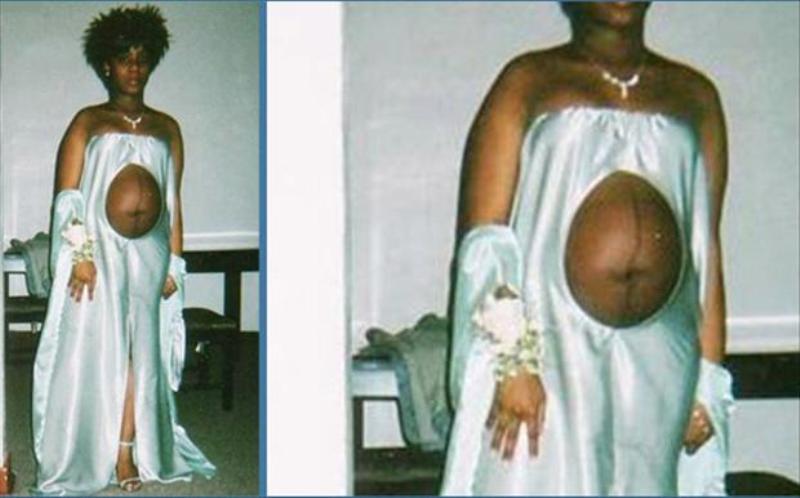 Make no mistake, she wants the world to know!
14. The spoon bride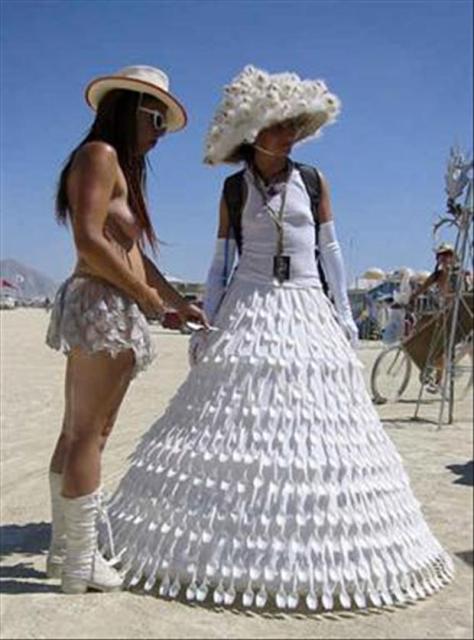 Maybe this is a cue-dress. The groom – I hope you are taking notes – spooning might be the only thing you might be getting  on your wedding night!
15. And finally, the bride who has nothing to hide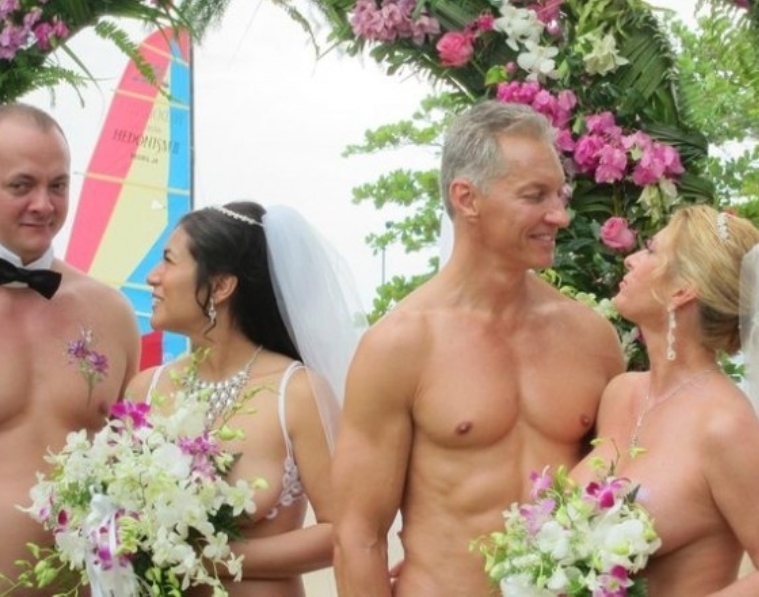 Coz what can beat a dress (a wedding dress) than no-dress! Yep, that's the safest bet, no?
---
Suggested read: Pick your bridal gown as per your Zodiac sign
---
Do we have a clear winner yet? Could you decide who'd steal the show if this were a fashion show and the models (brides) were sporting the most odd wedding dresses? Can you put a finger on which one among these weird wedding dresses is THE ONE? Let us know in the comments below.
Summary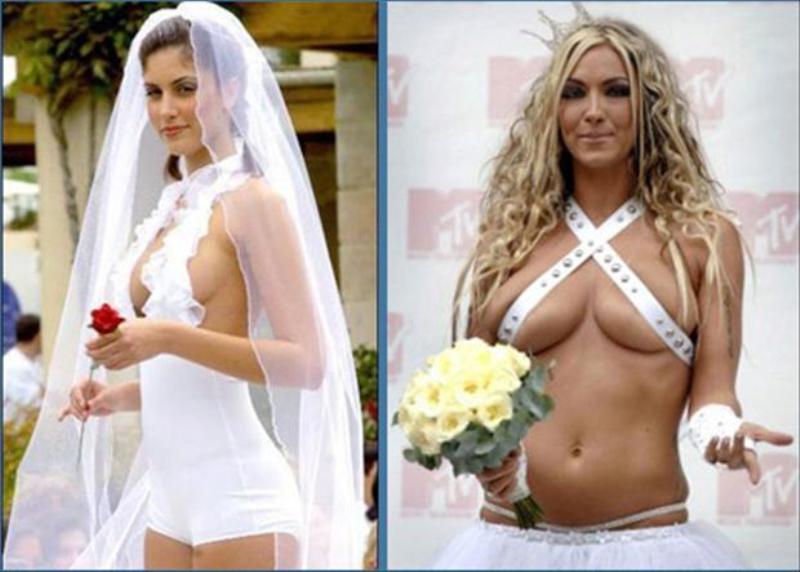 Article Name
15 Weird Wedding Dresses That Had Us Scratching Our Heads
Author
Description
A bride is the woman on whom all eyes are riveted. But we think these brides just made double sure! Check out the weird wedding dresses they chose.