Every girl dreams about having the perfect wedding, and pictures herself posing in the perfect wedding dress surrounded by family and friends. However, when it comes to actually picking out the wedding dress, most people end up feeling disappointed, frustrated and hopeless, because they are unable to find "the one."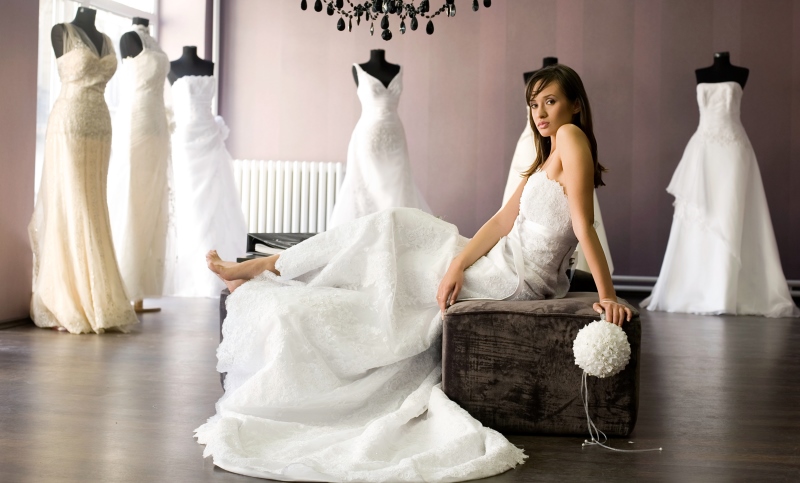 Image source: Shutterstock
There are several different kinds of wedding dresses, all of which are stunning in their own way. Certain shapes and silhouettes look good on certain body types, so you have to understand your body type in order to make your shopping experience more rewarding. Broadly speaking, the main body types are petite, curvy, hourglass, lean and straight, and busty, and here are the dress types that look most flattering on each:
---
Suggested read: What does your wedding dress say about you?
---
1. Petite
Image source: Google, copyright-free image under Creative Commons License
If you have a small and petite frame, then you have to make yourself look taller, so that you can appear curvy and sexy in all the right places. Simple is the way to go in such cases, such as a modified A-line gown, or an airy toga-like dress. In order to make your body appear longer, it is best if you check out dresses whose waistline is higher than your actual waist (possibly right under your bust) so that the length of the dress is emphasized. Unbroken lines can make your body look elegant and graceful, allowing you to work that goddess-like look. Avoid flared dresses with big bodices, which will put unnecessary pressure on your small frame. Calf-length wedding dresses are also a big no-no, because it is likely that your legs will look ridiculously small.
2. Curvy
Image source: Google, copyright-free image under Creative Commons License
If you are more on the curvy side, you need not try your hardest to hide those delicious curves (which most smaller women would kill for, by the way!). You can use your wedding dress to make your body look all the more flattering. Accentuate your curves with the right kind of cuts, such as asymmetrical shapes, and even taffeta wedding dresses with classic A-line skirts. Feel free to add large, loud elements to your dress, such as bows, embellished belts, etc., Conversely, keep in mind not to put unnecessary stress on your curves with column dresses or the like.  Whatever you buy, make sure that your top and your corset are super supportive, so that you have your bust under control.
3. Hourglass
Image source: Google, copyright-free image under Creative Commons License
Most women could kill for a good slim and curvy figure, and if you have been blessed with one, then almost any kind of wedding dress would suit your frame. Possibly the most perfect wedding dress to highlight hourglass figures is the ball gown, which flares from the waist. For most other body types, this kind of wedding dress either looks too heavy for their frame, or accentuates all the wrong things. But if you have a nice bust and a narrow waist, a ball gown wedding dress is perfect for you. Other good options are dresses with an A-line bodice, or body-con dresses. You can use glitzy, embellished belts or large bows tied across your middle to show off your tiny waist, which will definitely flatter the rest of your figure.
---
Suggested read: Find the perfect wedding dress for your Zodiac sign!
---
4. Lean and straight
Image source: Google, copyright-free image under Creative Commons License
For women who are straight and lean, you can use a wedding dress to create curves. The idea is to create the illusion of volume with the material, cut, and structure of your wedding dress. One of the smartest and most subtle ways to do so is with the help of contouring seams, which draw the eyes to your waist and mid-section, even if you have a body-con dress. Meanwhile adding lots of tulle, lace, and sheathe are possible ways to make your figure look alluring; or if you create a high neckline with a full A-line skirt, which is very elegant and emphasizes your enviable height. Sweetheart necklines are a good option too, to reveal just a hint of cleavage. If you want to avoid making your legs look longer than they already are, steer clear of empire waistlines. You can go for mermaid dresses, which give just the right emphasis on your endless frame.
5. Busty
Image source: Google, copyright-free image under Creative Commons License
Most women think being busty is a problem that has to be dealt with when on a mission to find the perfect wedding dress. However, the decision boils down to essentially two choices: either you can choose to reveal your assets, or you can go for the modest, covered-up look. It all depends on the neckline, because if you do not get that right, everyone's focus will be on all the wrong places. One option you can go with is the square neckline, or a straight-across strapless gown, either of which minimizes your assets and make you look 'just right.' If you want to keep your assets in check, but want to look elegant in silky materials as well, then structured necklines or even cowls are great options. Scoops and modest closed collars (think Kim Kardashian and her wedding dress) accentuate your bust to the right degree, without making you look obscene.
There are other body types not mentioned on this quick list, and there are specially made dresses for different body types. Rest assured, you can find the perfect wedding dress for your body type. Therefore, it is important to be realistic about your body type in order to make an informed choice about what you would wear on one of the biggest days of your life. You also have to keep in mind certain things, which can make your shopping experience easier, less frustrating, and less time consuming.
---
Suggested read: A-Z guide of symbolic wedding flower meanings
---
Here are some more pointers to buy the perfect wedding dress for your body type:
Take only select people on your yay or nay team when you are choosing your wedding dress. If you have a friend who tends to have a negative opinion about everything, it is best if you leave them behind, because you would only end up getting frustrated
Do your makeup and hair while trying on your wedding dress, so you have a clearer idea of how the dress will look on your wedding day
Consider all the extra costs that you will have to bear along with your wedding dress. This includes the veil, the accessories, the headpiece, or belt, or even the alterations that will have to be made to your dress
Make sure you have the right kind of undergarments for your wedding dress before you finalize it. In fact, most bridal shops offer the right undergarments for your wedding dress so you don't have to run to multiple places for the full outfit
Image source: Google, copyright-free image under Creative Commons License
Even if you plan to lose weight before your wedding, do not attempt to look into the future and buy your dress according to your body-that-may-be – emphasis on the "may." Even if you lose ten pounds, your basic frame is not going to undergo major changes
Consider getting suggestions from a consultant who is experienced in picking out wedding dresses for brides of different body types
When you are shopping, make sure that you have the salesperson's undivided attention, and you are not hurried through your choice and selection. After all, you are shopping for one of the most important dresses you will ever buy. It is best if you go during office hours on a weekday, when the wedding boutique/dress shop would most probably have fewer customers
Finally, if you feel that the store does not have what you want, do not get discouraged. There are several hundred designers and wedding dress stores, and there is a perfect wedding dress that has been especially made for you, somewhere out there! Chin up!
Good luck shopping for your perfect wedding dress!
Featured image source: Shutterstock
Summary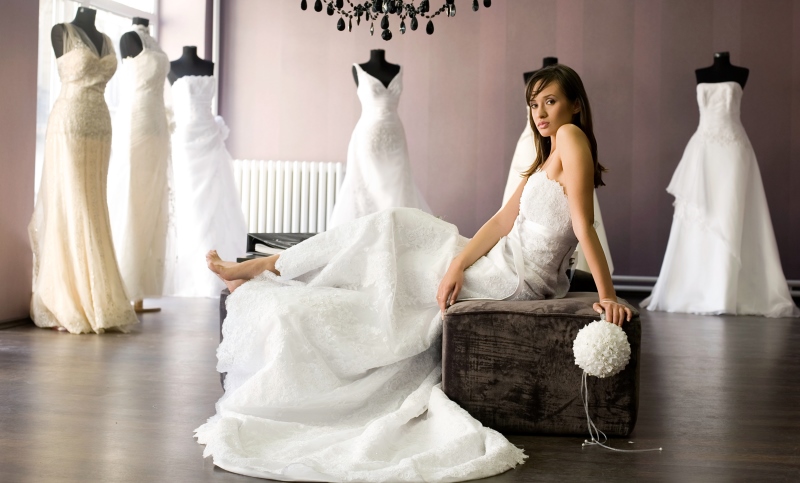 Article Name
How To Find The Perfect Wedding Dress For Your Body Type
Author
Description
Before venturing out to find that perfect wedding dress, you need to know your body type. Here's a quick guide to help you pick 'the one' for your big day!