Hi divas! Valentine's Day is just round the corner; it is that time of the year when you MUST dress in red! So we thought why don't we become your personal stylist for the 14th?! Good idea, right? We have 15 gorgeous red dresses for you to choose from for the Valentine's Day party.

Image source: Pinterest
A simple red dress coupled with a pair of black stilettos is sexy enough for a date. But why not get the oomph factor a notch higher this year? A pair of golden pumps and a small clutch with a peplum Bordeaux dress – now doesn't that sound way chicer, right? Well, you also have to keep the time of the date in mind. If your date is in the evening, it can be pretty chilly. A classic black Parka coat can keep you warm yet not take anything away from the fashion quotient! And what about the slip dress with a leather jacket? Now we are talking!
---
Suggested read: 14 creative ways to make your Valentine's Day special
---
Rocking red is the need of the season and we are more than willing to become cupid, grabbing our bow and arrow and hunting down your red dress for the Valentine's Day party. Roses are red, violets are blue. Yes, yes, we've got the right dress for you!
1. Cold shoulder dress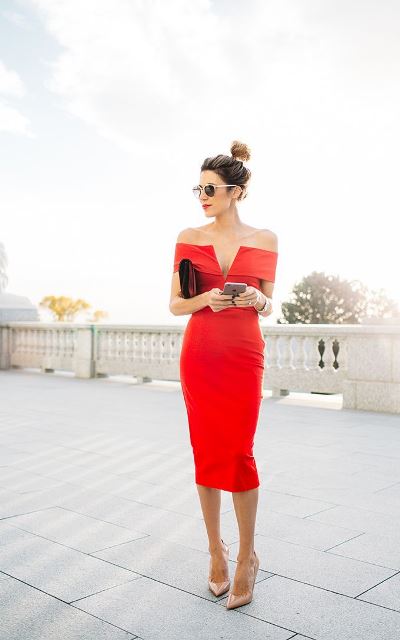 Image source: Pinterest
Turning a cold shoulder is in vogue! 😉 From evening wear to a brunch look, the cold shoulder dress is getting trendier by the day!
Add drama to your Valentine's Day party with this dress. There are diverse silhouettes that you can choose from – A-line skirts to maxi hems! Dynamic cut-outs can be very suited for the occasion we are shopping for. A printed, frilly, or a solid color option can inject fun into your outfit. A pair of white heels and a clutch to match it, and you are the glamour queen!
2. Laila dress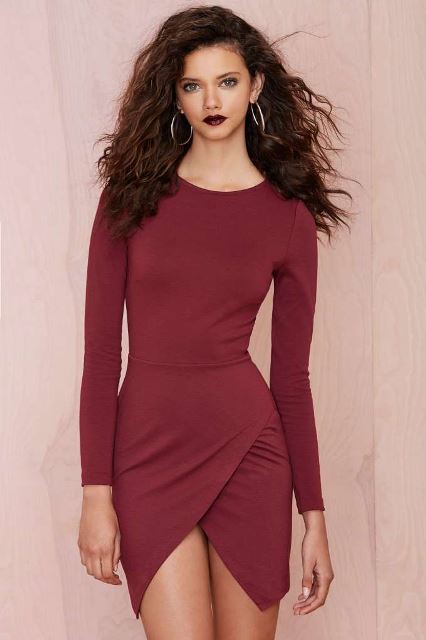 Image source: Pinterest
If you are looking for an outfit that will keep you warm and make you look classy at the same time, try a Laila dress with a spicy statement hemline! The Laila dress is flattering with a feminine silhouette while keeping with its modern, clean lines. Cut from a silky jersey fabric, it can be coupled with a pair of flats or even ankle boots. A pair of racy pantyhose can look brilliant and make you feel far more comfy.
3. Lace dress

Image source: Pinterest
The lace trend is going pretty strong this year, and we will tell you how to style it for the Valentine's Day party. You can go demure or you can carry an edgy rock look! Stray from the black and white laces, and pick the bright reds. However, make sure that your accessories are neutral. You can get a good idea about how to wear the lace when you pay closer attention to the quality of the fabric. If the lace is of a slightly lower quality, you must keep it restricted to the casual look. You can top it off with leather accessories too.
4. Fit and Flare dress 
Image source: Pinterest
So you are having a casual night out and want to go for the flirty look? Here's the fit-n-flare dress at your service, ma'am!
A knockout red forming a curvy silhouette will deliver the right look for the Valentine's Day party. Your dress can even become a jumper if you slip it over a button-down! A sparkly sweater and a pair of popping pink pumps, and we are ready to break some rules! You can even go for a calmer look with a knit navy blazer, if you may please! Layering the look with tropical-hued trench and some chestnut accessories can awaken the goddess within!
5. Bordeaux split maxi dress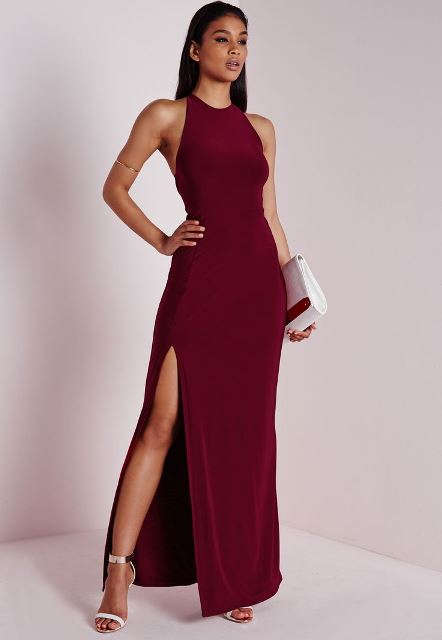 Image source: Pinterest
This Bordeaux split maxi dress is easy, though the split does add major sex appeal! A winning combo, wouldn't you agree? This is definitely worth splurging on this Valentine's Day. For the right embellishments, pay attention to the party shoes, your purse, earrings, and a gold armlet. The neckline must remain empty or else it will look overcrowded! Let you hair down for tonight to up the necessary drama!
6. Cami dress

Image source: Pinterest
So you have already bought a pair of strappy heels and want a dress that goes with it? Voila! Cami dress is what you are looking for! Flow and glow, my baby! A belt is the accessory that you need to create an illusion of a hipline in case of a straight body type. A pair of cool aviators should cut the deal for a sunny luncheon. A sling purse is a must!
7. Bodycon dress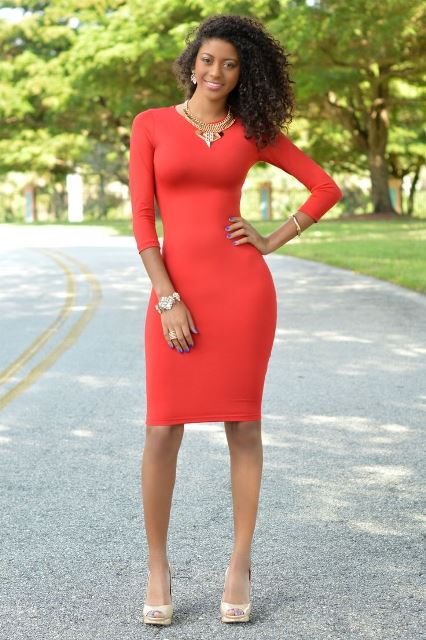 Image source: Pinterest
Are you looking for Valentine's Day party dresses that will complement your baby bump? Let the bodycon work its magic!
The bodycon dress will not show off your body completely, depending on how you style it and also the cut of your garment, you can use it to flatter your best features only. When you are donning a tight figure-hugging bodycon dress, we suggest you go for long sleeves or may be a non-revealing neckline.
---
Suggested read: 10 Valentine's Day food ideas you can whip up for your partner
---
8. Midi orchid print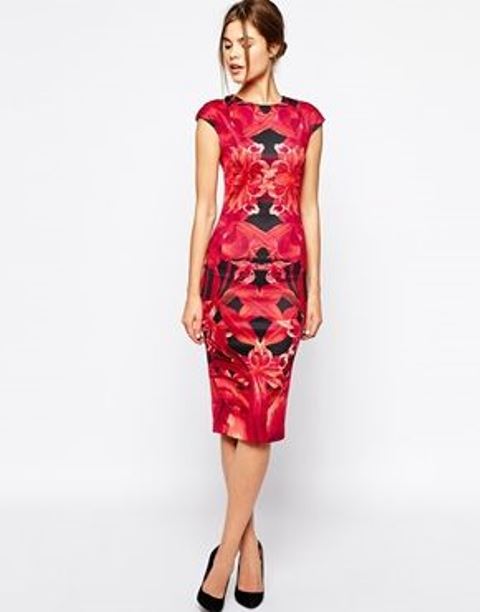 Image source: Pinterest
Standing out from the crowd is easy breezy if you pick this midi dress! Floral prints are still in, by the way! To turn on the boho spirit in you, team your midi with a sweatshirt. Midi and a sheer blouse can be chic and Kim Kardashianish! But a midi and a moto jacket is what I would have chosen. Spoilt for choices? That's what we do!
9. Slow dance dress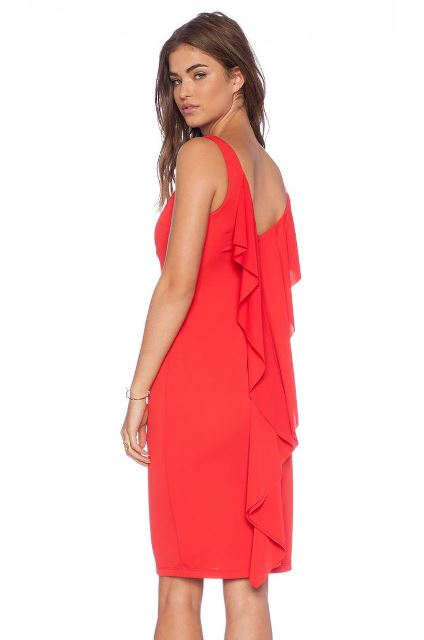 Image source: Pinterest
Some dirty dancing is surely in the cards, right? Go retro for this year's Valentine's Day party. A haircut earlier in the V-week can help you pull it off with panache. Think vintage bob or may be layers around the face. Don't forget to curl them!
10. Lisanna dress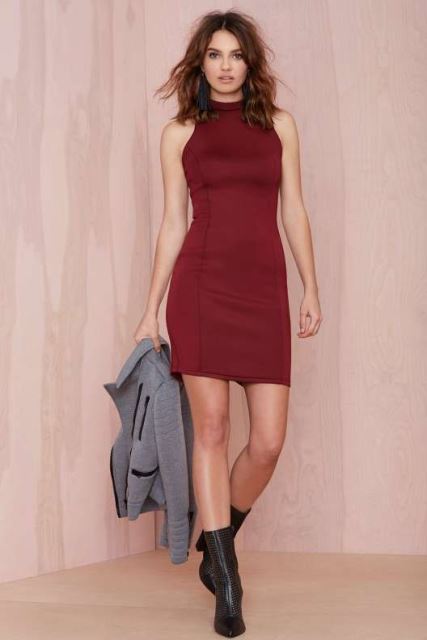 Image source: Pinterest
A burgundy Lisanna dress coupled with leather boots and a grey blazer! Ideal for that Valentine night trip to the disco! An exposed zipper at the back can speak volumes about your style and confidence. Also, when I say boots, I specifically mean, the bow wellies – black with red bows sounds textbook to me!
11. Play date dress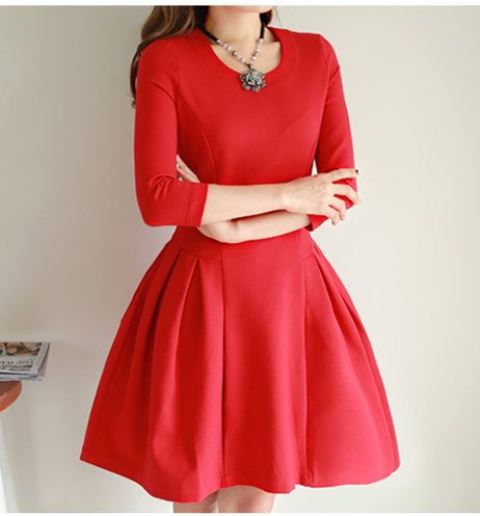 Image source: Pinterest
A hot mini dress to keep your date's eyes glued to you all night long? Grab a skater dress. A criss-cross detailing at the back is what we are looking for here. No bracelets, no earrings but a statement necklace is your best bet! Oomph-i-licious, yet not over-the-top. You can even go for a lacy detailing along the beauty bones. Peek-a-boo keeps it fun.
12. Slip dress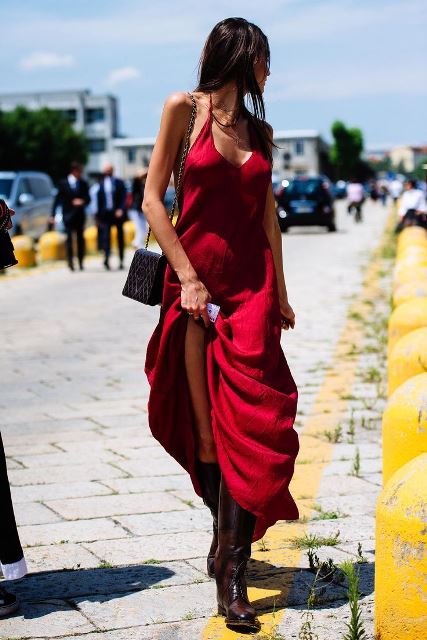 Image source: Pinterest
For a sensual but easygoing look, choose the slip dress with a subtle shade of red. You can throw a shirt on top of it or a t-shirt underneath. You can even tie your checked shirt around your waist, and team up the look with a beanie! You can go floral with a nude pair of flats or add the lace details along the hemline. A polka-dotted slip dress can also work wonders if you allow it to!
13. Wrap dress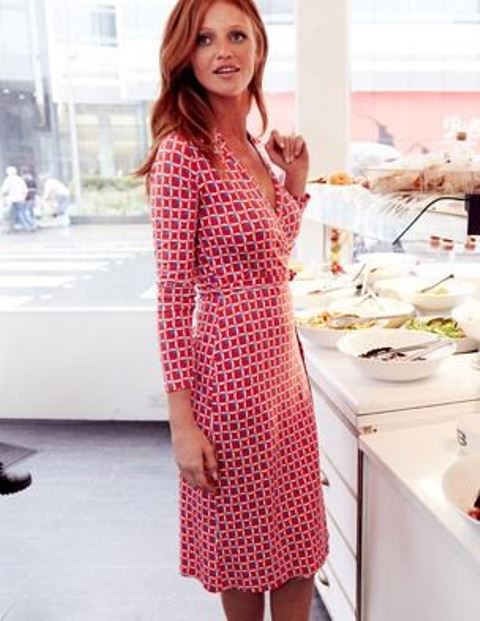 Image source: Pinterest
A tulip skirt under a wrap dress – that will easily take you from noon to midnight! With a red this vibrant, you are sure to stand out! Flaunt your curves with a classic wrap dress and accentuate that hip with a golden sash. A printed wrap is a good option if you want to keep things bouncy. An electric red can give you that bold edge. Team it up with an embellished pair of sandals.
14. Shirtdress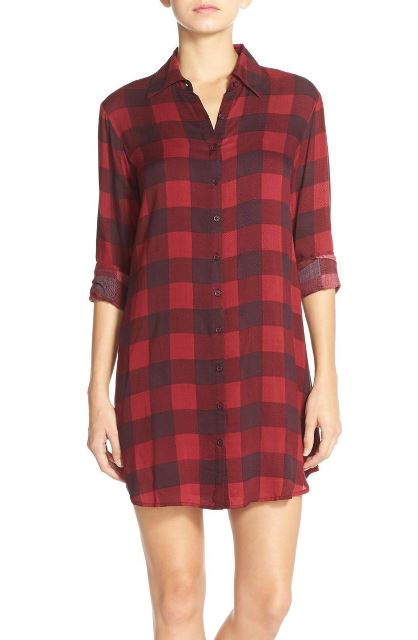 Image source: Pinterest
Your minimalist wardrobe needs to add a shirtdress to live up to its name! In case you are putting on a loose fit, and I am not hinting at baggy or over-sized, choose a relaxed cut, which will allow movement. If the shirtdress has buttons in front, a too tight fit can cause them to pop up and …ahem! That's not flattering, to say the least! You can cinch the waist with a fabric tie, if the shirtdress seems too shapeless. A shirtdress with a full skirt can help you avoid the material clinging on to your thighs, and at the same time, flatter your lower body.
---
Suggested read: 20 mushy Valentine's Day love quotes to make you go weak in the knees
---
15. Sheath dress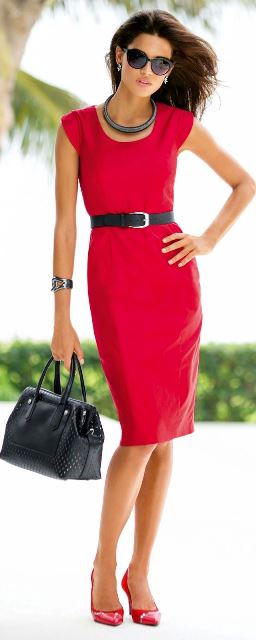 Image source: Pinterest
A classic red sheath dress! Nothing in the world can go wrong with that! If you have a lunch date between your working hours, you can slip on the sheath dress because it has a formal hint to it! Statement jewelry and a light pair of shoes can complete the look. Black pumps and a black blazer would be my choice. A pair of strappy sandals can work well if you are thinking cocktail party!
Finding the right Valentine's Day party dresses is always a bit of a conundrum! But there are a few tricks that can help you solve this puzzle in seconds! Pick the default red dress (or maybe pink or even Bourdeaux). It could be a kicky mini, a showy slip dress, or even a peplum bodycon. If you have the right accessories, you are sure to rock the look effortlessly. We hope this guide has helped you pick the one you would love to wear for your one and only!
Have fun!
Featured image source: Pinterest
Summary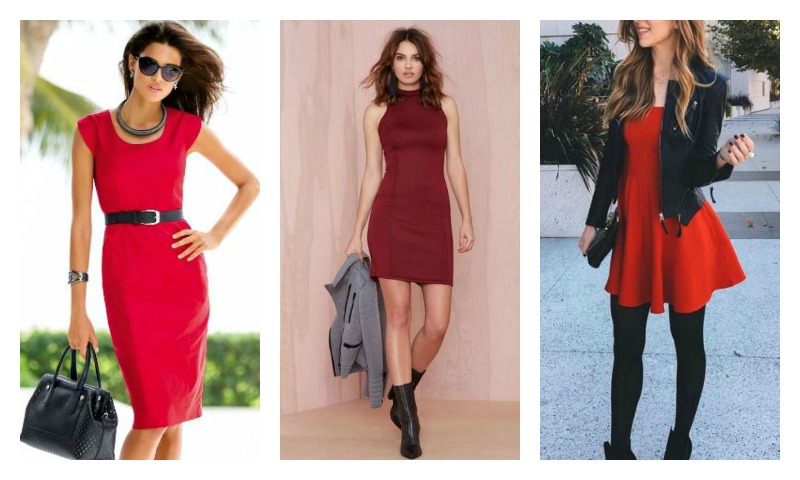 Article Name
15 Dresses You Can Wear To The Valentine's Day Party
Author
Description
This February 14th, don't fret about wearing the same LBD for that Valentine's Day party your beau is taking you to. Check out these gorgeous red numbers!