In this era when most of the fashion guides and magazines try to brainwash you about size zero being the epitome of beauty, it is necessary that you learn to love yourself. Beauty does not lie in how tiny your waist is or how skinny your arms are. True beauty comes from within, when you learn to embrace yourself, just as you are. It gets reflected when you learn to be comfortable in your own skin and when you start to smile with confidence. You are beautiful no matter what, and that's why you can flaunt your body with style at the beach even though you are not a size zero.
---
Suggested read: 20 beautiful bikinis we are dying to wear
---
Here are 14 different styles of beachwear for women that can be donned with confidence and panache!
1. Black and white illusion
Image source: Pinterest
If you are not too confident about showing off your curves, then choose a one piece bikini that would highlight your curves in all the right places. This outfit renders a smart appeal to your look, ensuring that you do not, in any way, feel compromised about not having  washboard abs.
2. Fringe 'benefits'(?)
Image source: Pinterest
Simple, trendy, and sexy – all rolled into one in this gorgeous, black plus-sized swimsuit! With the fringes placed at the neckline, this outfit gives an all-new meaning to beachwear for women who have curves. The best bit here is that it flaunts your curves without once making you feel like you have some extra flab. After all, no size should cut you out from wearing anything you fancy.
3. The magic of animal print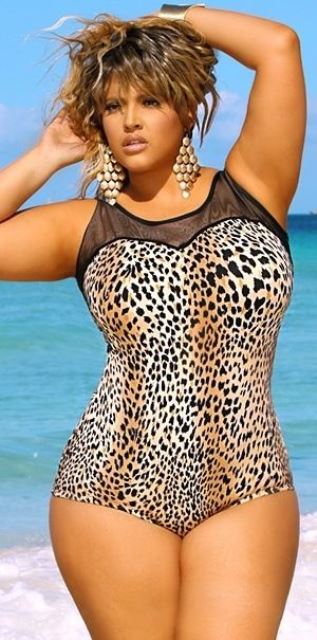 Image source: Pinterest
This animal print swimsuit would make sure that all eyes are on you. Get ready for a lot of attention, ladies! Animal prints are evergreen and the illusory effects these create make you appear slimmer and all the more toned down than you actually are. Win-win, eh?
4. Meshed perfection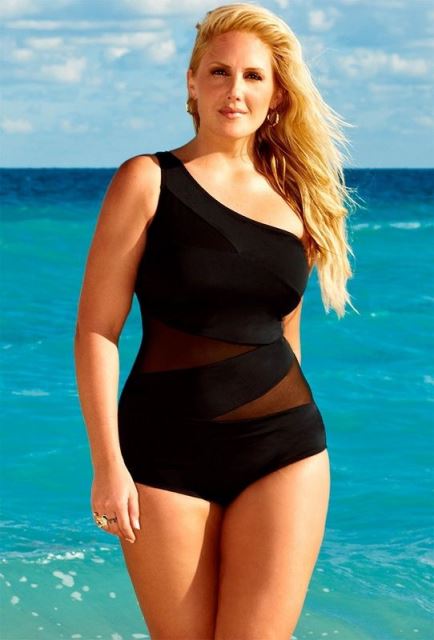 Image source: Pinterest
This one-of-a-kind one-shoulder one-piece swimsuit makes sure that everything is held in place, and at the same time allows you to show some skin! Mesh makes you look fresh while ensuring no fabric clings to your body. The one-shoulder neckline is really interesting too, because you don't see many swimsuits in this design.
5. Polka spell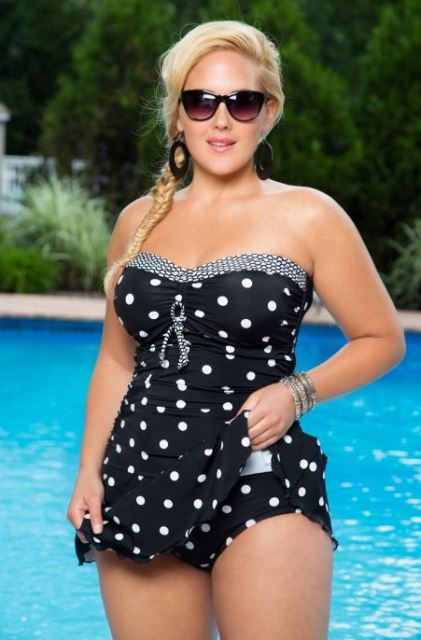 Image source: Pinterest
This piece done in polka dots will make you look shapely and covered, all at the same time, if you are not the type that likes to expose to much skin. The sweetheart neckline gives it a dress feel, while it's only a swimsuit.
6. Halter neck magic
Image source: Pinterest
This one piece swimsuit with a halter neck and ruffled edges, along with a strategic slit, will make sure that all eyes at the beach are on you! The feminine pink edges with the navy blue of the bodice make for the perfect beachwear for you to don this summer.
7. Dreamily draped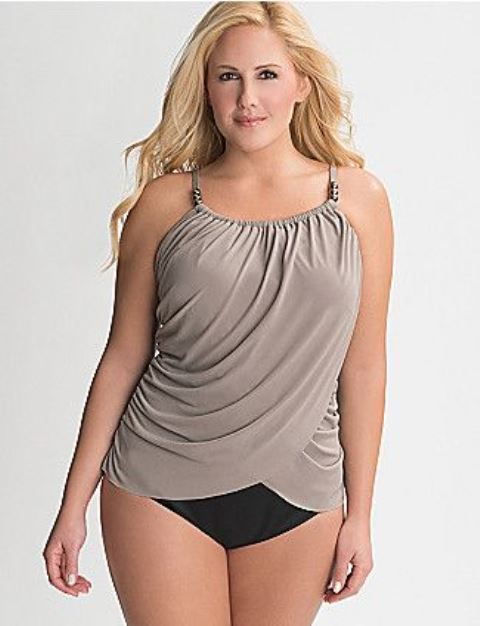 Image source: Pinterest
This swimsuit with a scooped neckline and the sheathed torso will hide all the extra layers that you want out of sight.
8. Spaghetti halter neck
Image source: Pinterest
Halter neck top on top and stylish 'v' shaped cut in the bottom will enunciate your curves beautifully. Halter neckline ensures that your shoulders are well-flaunted and the attention is drawn away from the problem areas of the body as well. In addition to this, there is also an advantage of halter necklines – they add more height to your existing stature.
9. Sizzling in red
Image source: Pinterest
Nothing can match the sex appeal that red can render you. The high waist bottom and the wide-necked top are designed to suit plus-sized bodies. High waist pieces make you look classy while ensuring that you look taller than you are. The color red, looks ravishing on most people, and therefore, you can't not look sexy in this red piece of beachwear.
10. Printed fantasy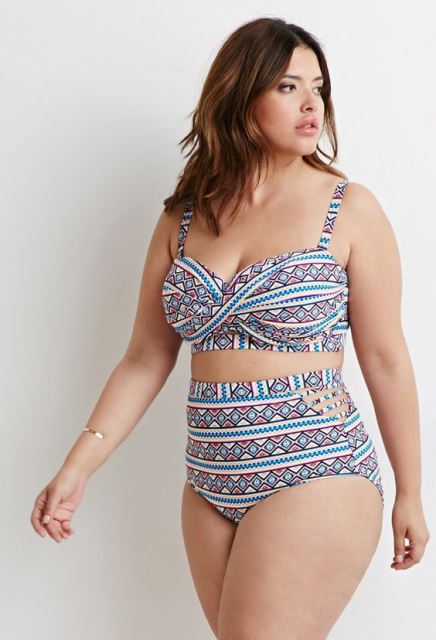 Image source: Pinterest
This printed, caged bikini with high waist bottoms would look absolutely stunning on anyone who thinks they do not have the body of a model! Prints make you look classy without being too extravagant. These prints are wild, yet classy.
11. Tribal trends
Image source: Pinterest
Go wild on the beach this season in this lovely electric blue and pink tribal print bikini that would make you look like a true diva! Tribal prints make you look edgy without being too wild. In addition to this, the trend is not to fade soon. Go ahead and bag this piece now.
12. Paneled  swim dress
Image source: Pinterest
Feel free to flaunt your curves in this cute little grey swim dress that has an open panel to cover your waist and hip area, if you're too worried about bulges there. This one piece is the piece you need to get your hands on this summer!
13. Killer kaftan
Image source: Pinterest
This lovely blue and white printed kaftan with a lace-up neck tie will sensually address the curves of your body, and will also give the hint of mystery as you saunter on the sun-kissed sands of an exotic beach. Isn't that the picture you want to project? 😉
---
Suggested read: The best bikinis you can rock for your body type
---
14. Vision in blue
Image source: Pinterest
How about hitting the beach in this chic little blue dress with a cute white, side-bow? The off-shoulder dress is perfect to set out on that beach trip you've been looking forward to. Top it off with a matching, floppy hat, and you will look like a superstar.
Now you know that one does not need a size zero body to look like a model. Beauty comes in different shapes and sizes. All you have to do is embrace it and learn to flaunt it the right way. Try out some of these pieces of beachwear for women the next time you have a pool party or go to the beach, and you will surely turn many heads! Have fun, ladies! Add oodles of confidence to your outfit, and go ahead and flaunt those curves now. Look sexy; look every bit the diva that you are!
Summary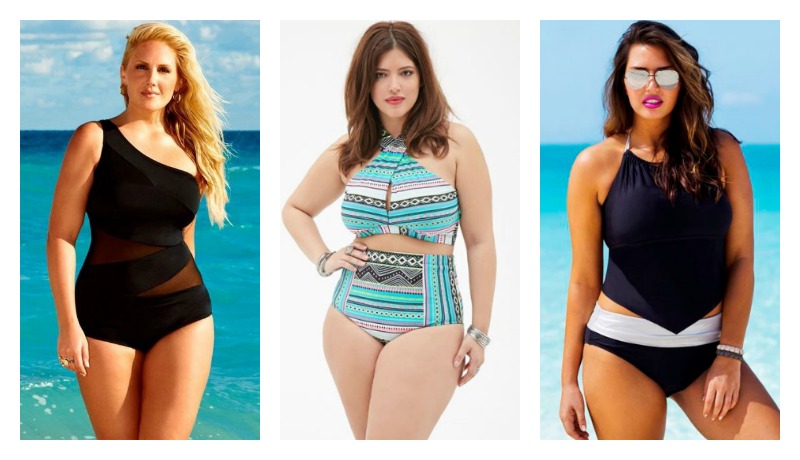 Article Name
15 Flattering Styles Of Beachwear For Women Who Are Not Size Zero
Author
Description
It doesn't matter if you're not a size zero, for these styles of beachwear for women flatter your curves in all the RIGHT places!