The Golden Globe Awards is one of the most prestigious awards in the world of Hollywood cinema and television, and are at par with the Academy Awards which follow. However, apart from its role in recognizing some of the most talented people in the industry, the Golden Globes also offer us the chance to swoon over some of the best red carpet dresses ever worn by celebrities, old and new.
Even though every year gives us a chance to see some of the most stunning dresses, there are some which stand the test of time and are talked about years afterwards. Here is a compilation of the best Golden Globe dresses of all time.
---
Suggested read: 16 most outrageous dresses worn by celebrities on Oscars red carpet
---
1. Kate Hudson (2001)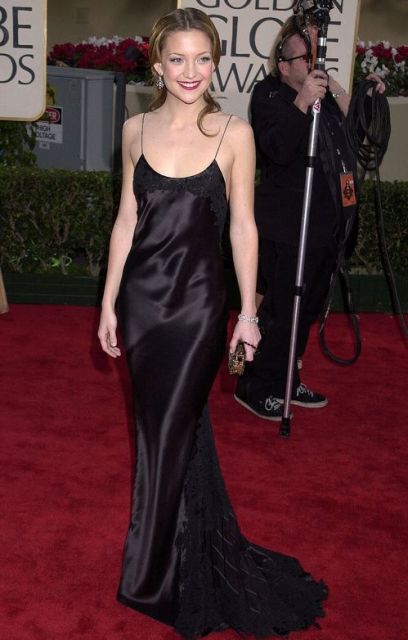 Image source: Pinterest/Vogue
In 2001, Kate Hudson turned up on the Golden Globes Red Carpet in a custom-made black silk boudoir dress, made by none other than Vera Wang herself. Not only did she become a well-known face after collecting her Best Actress award for Almost Famous, but she also gave us a dress that was bound to go down in the list of most gorgeous gowns ever worn on the red carpet.
2. Scarlet Johansson (2006)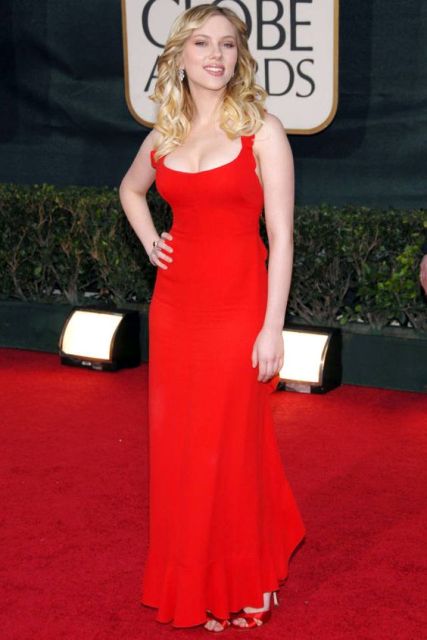 Image source: Getty Images
Scarlet Johansson decided to wear the best possible version of a red dress for the 2006 Golden Globe Awards. This Valentino creation was meant to become one of the most iconic dresses ever, and it is only fitting that it is now associated with someone as gorgeous as Johansson.
3. Gwyneth Paltrow (1999)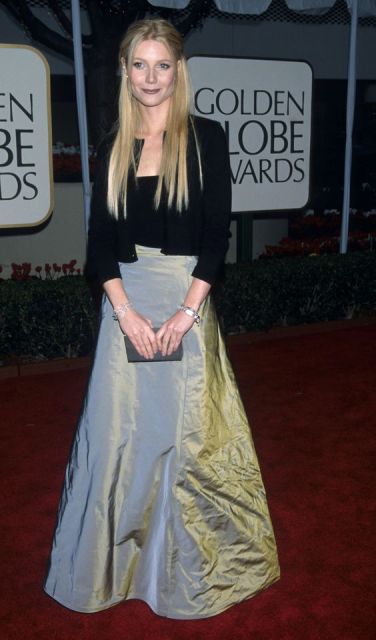 Image source: Getty Images
A very young and shiny Gwyneth Paltrow made her appearance on the Golden Globe Red Carpet in a Calvin Klein tube top which was paired with a large, taffeta skirt and accessorized with a matching shrug. With her straight hair and her awkward smile, she brought her youthful style to the red carpet, which inspired an entire generation.
4. Cate Blanchett (2005)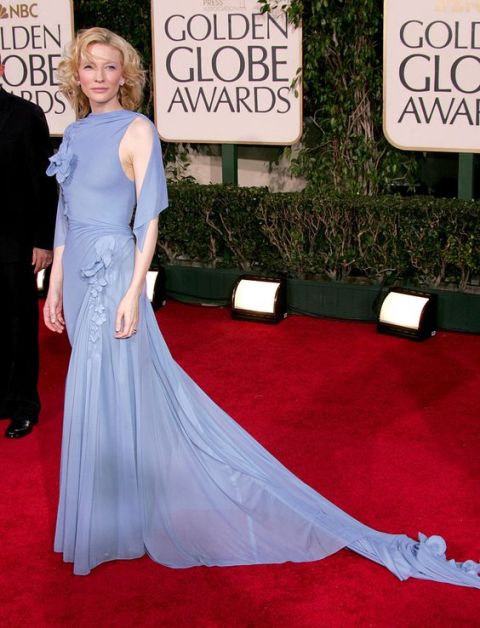 Image source: Pinterest
Cate Blanchett channeled some retro glam when she stepped out in what was to become one of the most iconic Golden Globe dresses of all time – a custom-made Jean Paul Gaultier gown in powder blue. The silk dress had a long train and flower motifs, which made it look like an absolute dream.
5. Salma Hayek (2003)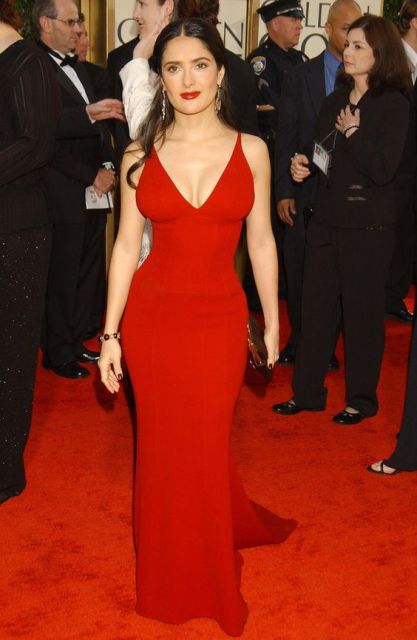 Image source: Bill Davila via Getty Images
The 2003 Golden Globes feel like a lifetime away, but the reason they are still relevant is perhaps because of this one red dress worn by this one stunning actress. Salma Hayek chose a corseted red gown for the occasion, made by Narciso Rodriguez and accessorized with dark lips, dark nails and a romantic hairdo leaving all the succeeding generations spellbound.
6. Charlize Theron (2004)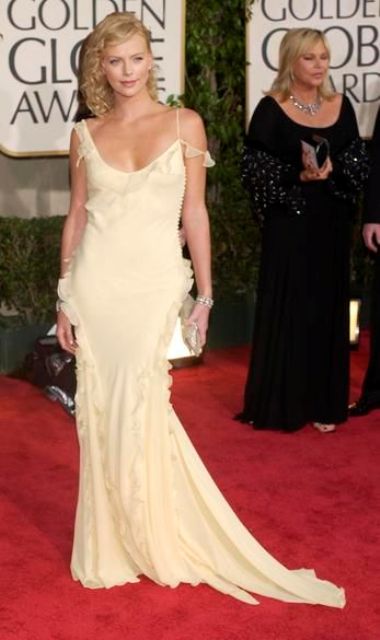 Image source: Corbis
Charlize Theron owned the awards season in 2004, and she did it in style. At the Golden Globes, she wore a beautiful feminine Christian Dior dress in yellow, with off-shoulder sleeves, delicate traps, and frilly details on the body of her dress.
7. Sienna Miller (2007)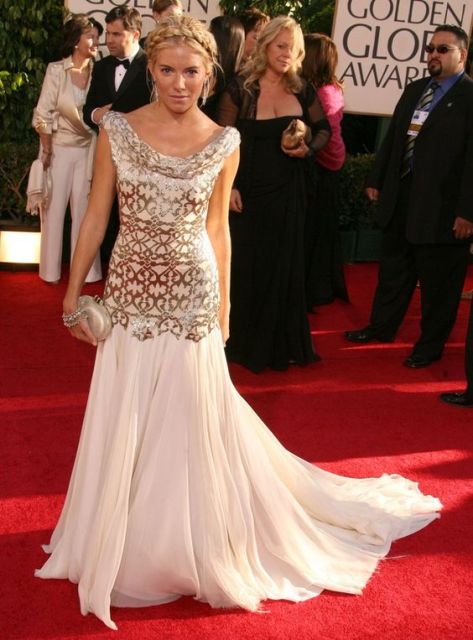 Image source: Steve Granitz via Getty Images
Sienna Miller channeled her inner Greek Goddess when she chose this incredible white and copper Marchesa piece. Not only did she initiate the then-new brand on the red carpet, but also experimented with cool hairstyles like the milkmaid braid, which made this whole outfit an instant classic.
8. Anne Hathaway (2011)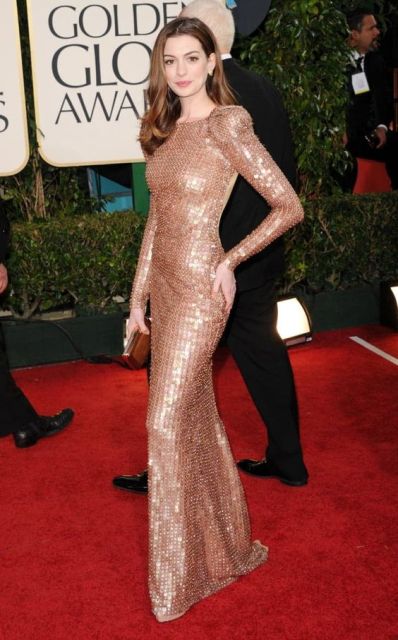 Image source: Jason Merritt via Getty Images
Anne Hathaway became an instant talking point and managed to grab all the best-dressed spotlight at the 2011 Golden Globes in this sequined blush Armani Privé number. The gown was not only reminiscent of a mermaid, but it also had a gorgeous low-cut back, which made it even more exciting.
9. Olivia Wilde (2011)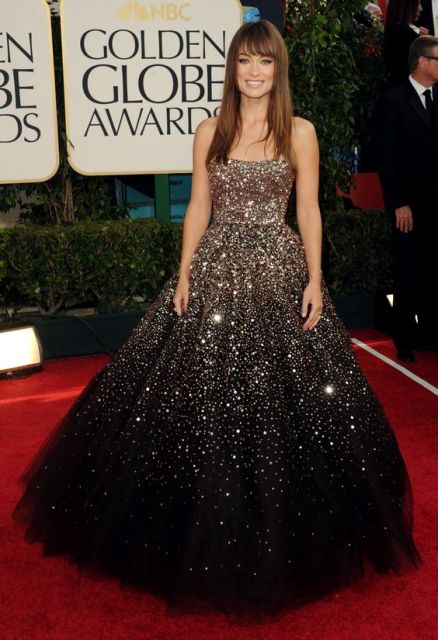 Image source: Jason Merritt via Getty Images
Olivia Wilde looked like she wore a thousand stars to the Golden Globes in 2011, and ensured that we never ever forget this miraculous Marchesa creation. The princess cut dress was embellished with a gazillion golden sequins, and honestly, no other accessory was required to make the look unforgettable.
10. Angelina Jolie (2012)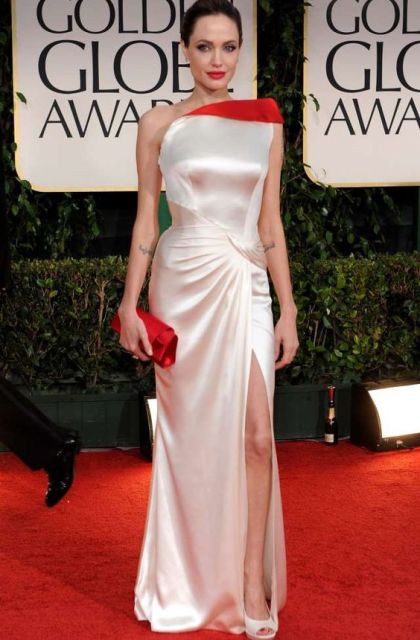 Image source: Associated Press
In the 2012 Golden Globe Awards, Angelina Jolie wore a dress that brought the world to tears collectively, because of its sheer beauty. This ivory silken Atelier Versace dress had a stunning thigh-high slit and an incredibly gorgeous red collar detail which Jolie matched with her bold red lips and red velvet clutch, making it one the best Golden Globe dresses ever.
11. Lucy Liu (2013)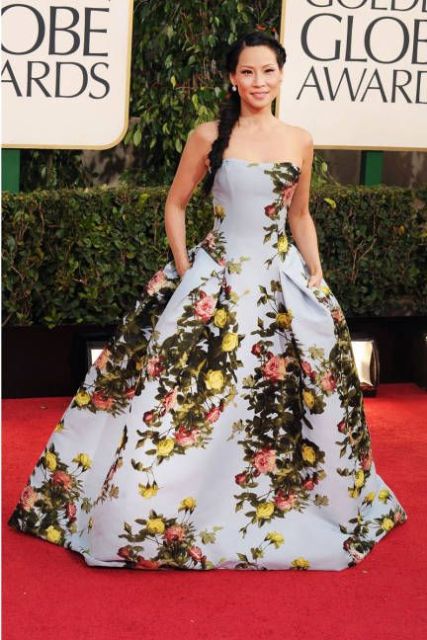 Image source: Getty Images
The Golden Globes of 2013 saw Lucy Liu go all out with her florals in this gorgeous Carolina Herrera number, with a full blown empire skirt and the side braid, giving her look a medieval appeal.
---
Suggested read: The top 10 fa-shio-ntastic red carpet looks from 2016
---
12. Emma Watson (2014)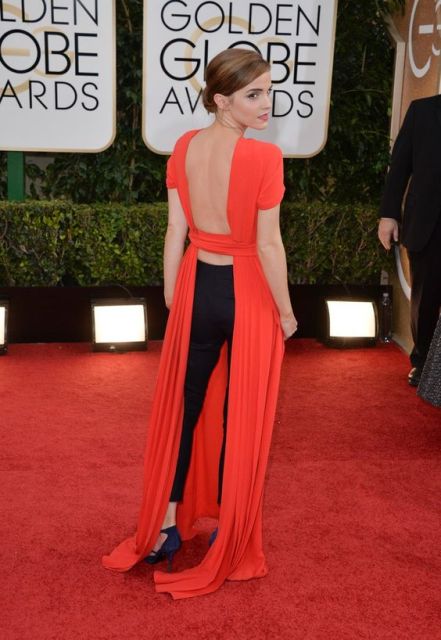 Image source: George Pimentel via Getty Images
Emma Watson wore one of the most iconic and memorable dresses ever on the 2014 Golden Globes Red Carpet. This unique and one-of-a-kind Dior dress was worn with a pair of trousers (which was a genius move), and it made the dress a permanent part of any best dresses list for the Golden Globes.
13. Lupita Nyong'o (2014)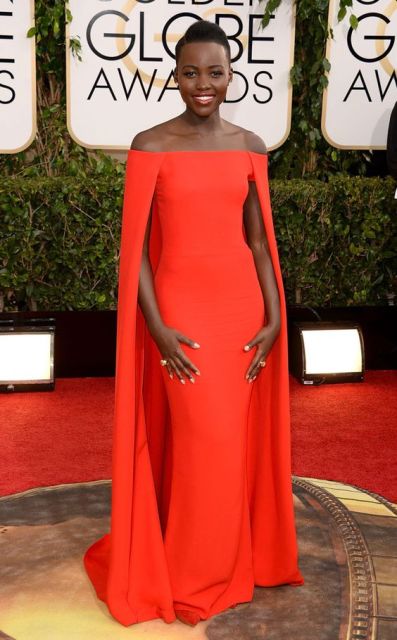 Image source: Jason Merritt via Getty Images
In 2014, Lupita Nyong'o grabbed headlines not only for her iconic role in 12 Years A Slave, but also because of her on-point red carpet game, and that year's Golden Globes was no different. She stepped out in a stunning red Ralph Lauren number that came with a cape, and accentuated her figure perfectly.
14. Sofia Vergara (2014)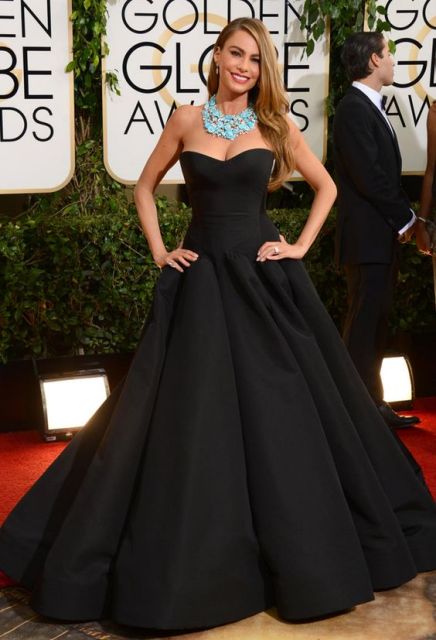 Image source: Pinterest
2014 was clearly the year of incredibly beautiful Golden Globe dresses which we just can't seem to forget. This Zac Posen dress was graced by none other than the gorgeous Sofia Vergara, who paired this pitch black velvety pleated dress with a turquoise statement neckpiece.
15. Emma Stone (2015)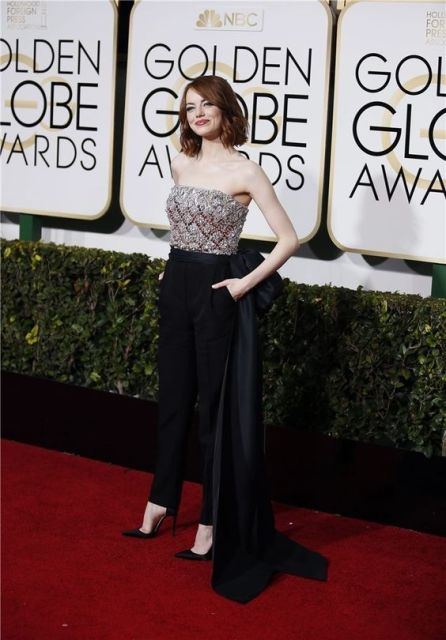 Image source: Cordon Press
Emma Stone showed how pants have a definite place on the red carpet for women, in this stunning sequined Lanvin top and trousers, with an elaborate trailing cape. The look was both edgy and feminine, making it one of the sexiest looks to have graced the red carpet ever.
16. Felicity Jones (2015)
Image source: Jason Merritt via Getty Images
Felicity Jones looked ravishing in this incredible Christian Dior teal dress, cut in traditional shapes, but contemporary enough to look absolutely at home at the 2015 Golden Globe Awards Red Carpet. The sideswept hair and the closed neckline only added to the old school charm of the dress.
17. Lily Collins (2017)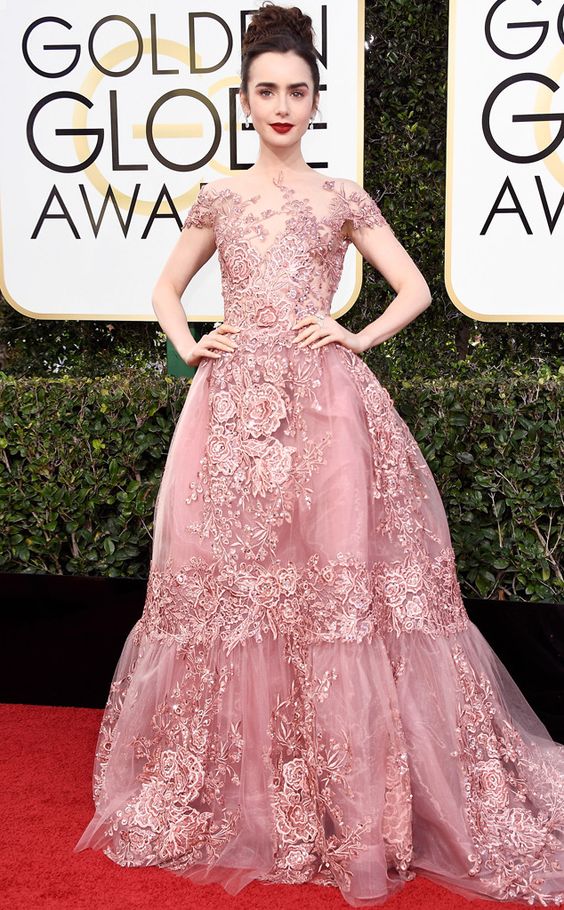 Image source: Frazer Harrison via Getty Images
This year, Lily Collins made heads turn with one of the most gorgeous pink dresses to have ever graced the red carpet. The Zuhair Murad creation was an amalgamation of masses of pink tulle, which had been embellished with pink lace details.
18. Helen Mirren (2016)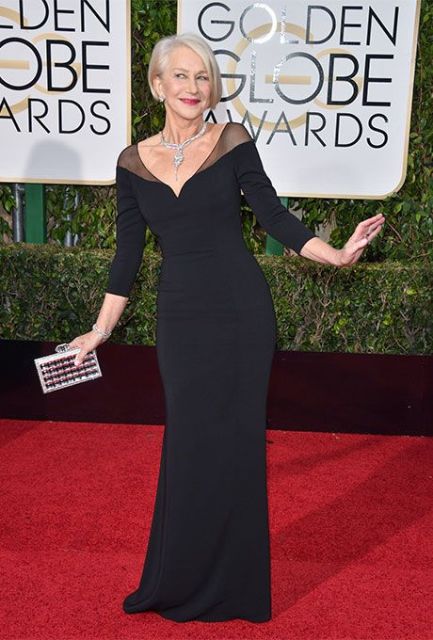 Image source: Getty Images
There have been a lot of black dresses on the red carpet, but none quite like this incredible beautiful sheer black dress which was worn by none other than Dame Helen Mirren. The dress was made by Badgley Mischka, and felt as if none other would have looked better in it than the 70-year-old, evergreen stunner.
19. Jennifer Lopez (2016)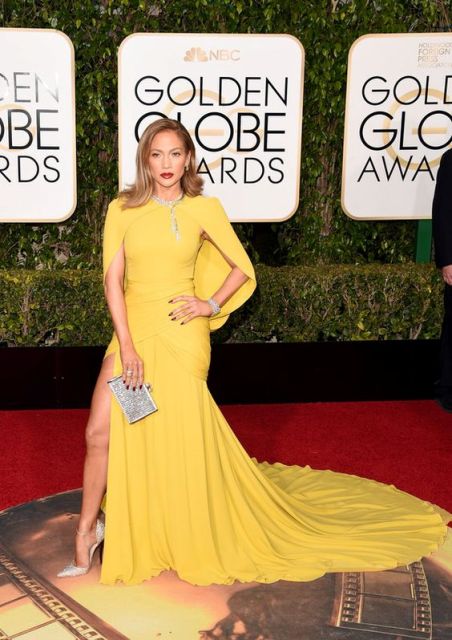 Image source: Getty Images
Jennifer Lopez looked like a vision in yellow when she attended the 2016 Golden Globes in a beautiful in Giambattista Valli. She accessorized her outfit with bold lips, Harry Winston diamonds, and a shimmery box clutch to match. She truly was a vision to behold.
20. Anne Hathaway (2013)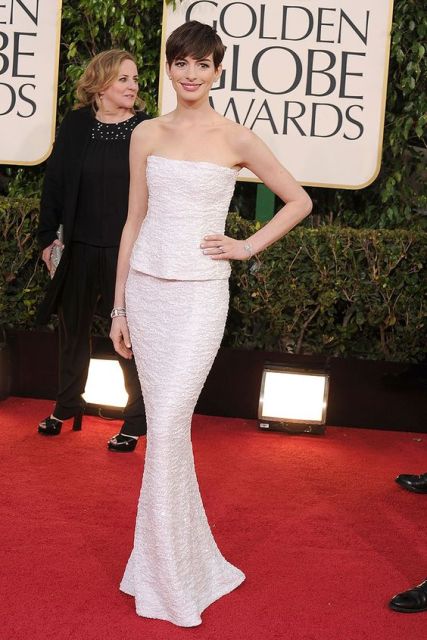 Image source: Getty Images
Even though the Golden Globes Red Carpet has seen its fair share of white gowns, Anne Hathaway's 2013 dress takes the cake for one of the best Golden Globe gowns ever, because of its simplicity and detail. The two-piece stunner was a part of the Chanel Couture collection, and till date, remains a talking point.
21. Amber Heard (2016)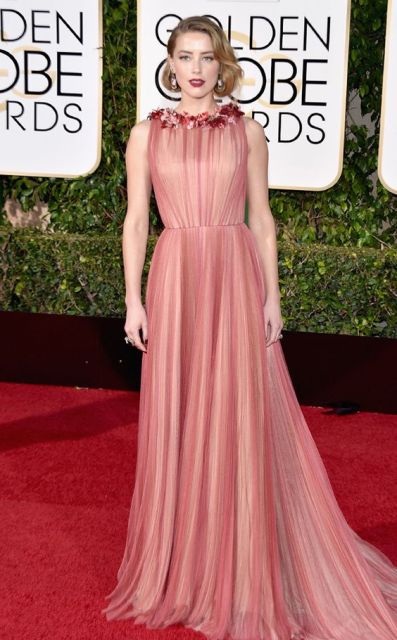 Image source: John Shearer via Getty Images
Amber Heard looks like a goddess any day, and the dress she chose to wear at the 2016 Golden Globes did that fact complete justice. Her satin pink Gucci dress had a cinched waistline and the fabric falling in ombré pleats around her. The only detail on the dress was added by the floral red, white, and pink collar.
22. Priyanka Chopra (2017)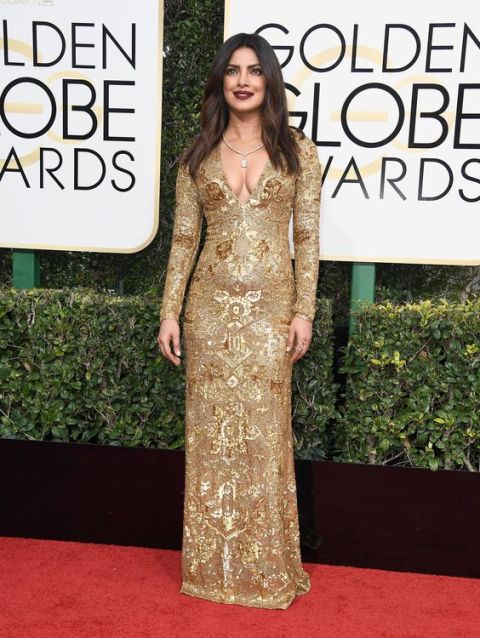 Image source: Getty Images
One of the most talked about celebrities of the year has been Priyanka Chopra because of her incredible rise to international stardom in the last couple of years, and she ensured her first ever appearance at the Golden Globes was unforgettable. She chose a golden, shimmery Ralph Lauren number, with silver embroidery and blush metal finish.
---
Suggested read: 15 best looks from the 2016 Met Gala red carpet
---
23. Mandy Moore (2017)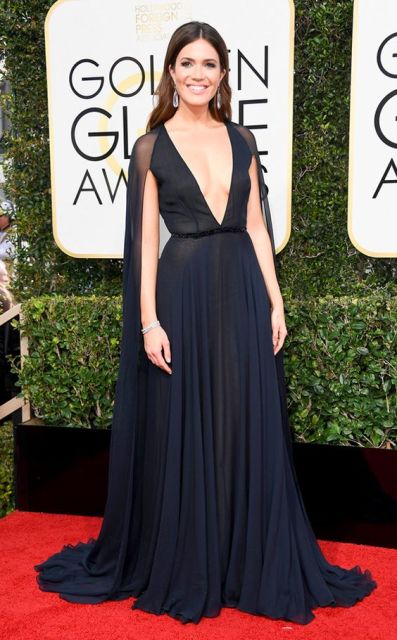 Image source: Frazer Harrison via Getty Images
This year, one of the most incredible dresses we saw was Mandy Moore's gorgeous navy Naeem Khan dress, complete with a plunging neckline and a foot-length cape. She kept her makeup and accessories understated, which only made her look that much more appealing.
The Golden Globes never cease to disappoint those looking for dresses to lust after, and we can only hope these classic dresses lead the way for more incredible red carpet fashion.
Summary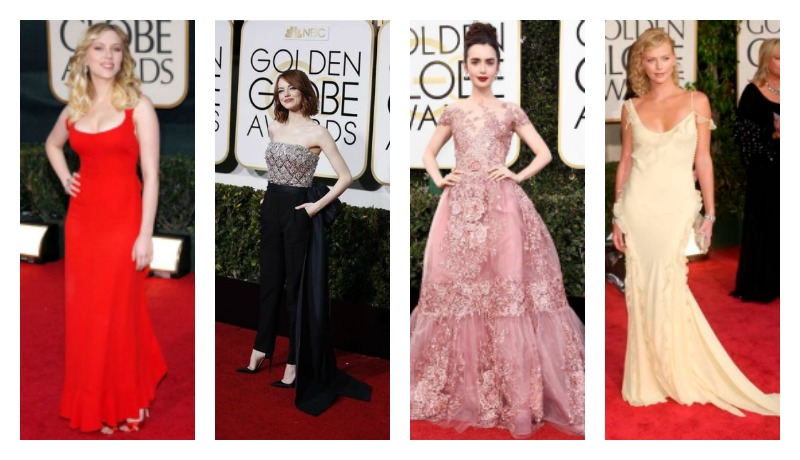 Article Name
23 Best Golden Globe Dresses Of All Time That Made Us Green With Envy
Author
Description
These are our top picks for the best Golden Globe dresses of ALL time! Take a look!