10. Cuteheart nails
So what if you want to show in every possible how terribly in love you are? Why not make hearts on your nails as well, which is quite possibly one of the cutest manicure styles for a wedding. It is ridiculously simple to execute, and the effect is simply stunning. If you really like the heart style, then you can go for a uniform style throughout, or you can notch up the bling and get one of your nails painted in striking shimmery silver paint.
11. Glitter and nude ombre
One of the most popular choices for brides on their wedding is nude nails. It is both chic and simple, and there is no problem of whether it will suit your dress or not, because nude suits everything. However, if you want to glam it up a little, there is no better way to do it other than with shimmery golden ombre details near the roots of your nails, which isn't too conspicuous, but striking at the same time.
12. Floral embellished manicure
if you know for sure that you won't be requiring your hands much, and you will have a calm, pristine wedding and you want your nails to be as pure and perfect as the rest of you, why not go over the top with your nails and get this add-on, embellished manicure, which is festive, special and celebratory, aka, perfect for a wedding? The transparent base serves as the perfect balance for the extra add-ons on your nails, making it a beautiful manicure for a wedding.
13. Matte color palette
Personally, I am very fond of matte manicure, because it just makes your nails looks so super chic. However, if you think that a simple matte manicure is rather dull for something as special as a wedding, then you can spice it up by turning it into a nude and white color palette, with your ring finger standing out in silver, glitter polish, and a white polish to offset the beige nude matte manicure in your other fingers.
14. Clear pink shimmer
Simple is always, always sexy, and there is no way that you can mess up with a simplistic manicure like this one. It is ideal for a wedding, because it won't draw unnecessary attention to your hand, and at the same time, the shimmer will make your hands look well-taken care of and ready for the main bling, which is your wedding band. You can even do it yourself, if you are equipped with a manicure kit, a little translucent pink polish and clear glitter polish.
15. Marble manicure
How cool would it be to have nails that look like actual marbles for your wedding? It is a fashionable new trend which is just in time for you to adopt it for your wedding. thankfully, you can use white as a primary base for your marble design, which means it is complement your wedding dress perfectly, whether you have a white wedding dress or not. It is easier to execute than you think, and the results are absolutely breathtaking.
16. Rose gold chrome nails
Chrome nails are usually very hardcore, which can be a reason why it isn't very popular on the aisles. However, when you know where to get your nails done from, and what color to go for, then you end up with results so breathtaking that it makes your hands look even more beautiful. A rose gold chrome manicure will make your nails look like the surface of an expensive mirror, and who wouldn't want to look this exciting on their wedding day?
---
Suggested read: 15 Amazing Tips For Healthy Nails
---
17. Something blue
One of the most ingenious ways of getting the "something blue" out of the way when you are dressing for your wedding, without ruining your pristine dress, is by painting your nails blue! A light, shimmery powdery blue would look totally beautiful with your entire getup, without interfering with the general look that you are going for on your wedding.
These were only few of the millions of wedding manicure ideas out there, and we hope that you find something worth sporting on your big day!
Featured image source: Instagram
Summary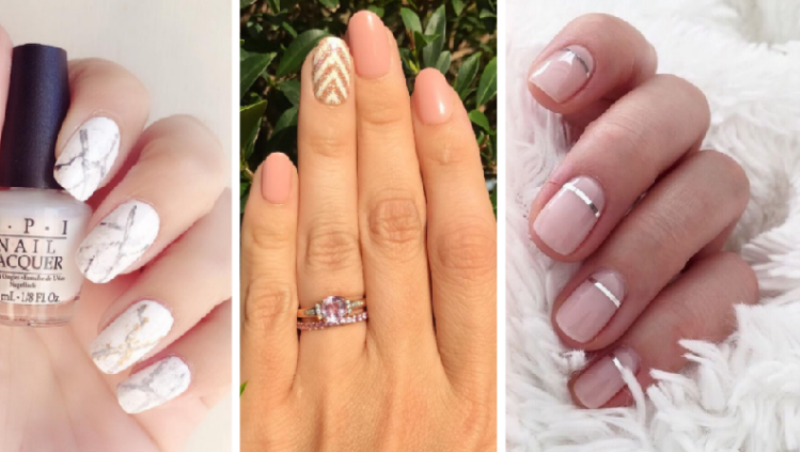 Article Name
17 Drop-Dead Gorgeous Wedding Manicure Ideas
Author
Description
Prepping for one of the most important days of your life? Check out these romantic wedding manicure ideas!