We know how tough it can be to nail that coveted look from the celeb lookbooks! But with NLT sharing the all important how-tos of getting those best makeup looks just right, the process should be a piece of cake. Make the most popular and best makeup looks and trends of this season work with our definitive tips and tricks on making them yours:
---
Suggested read: The best fall makeup looks, and how to get themb
---
I. Spring Blossoms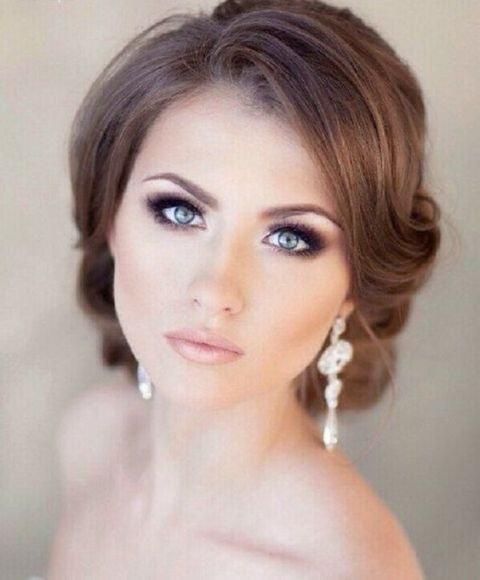 Image source: Pinterest
Use a mineral enriched spray to spritz your face and rub in generous amounts of moisturizer. Use a buffing brush to apply an even layer of mineralized, light-reflecting foundation and blend well. Blot your T-zone with compact and locate your cheekbone so you can contour a pink blush right across.
If you have a round face, sweep on the color, starting under your cheekbone, extending up towards the temple. This shall give your face a slimmer appearance. For people with a square face cut, concentrate your colour in the apples of your cheeks and go mellow so that your angular lines are softened. For those with an oval face shape, starting at your outer cheek and sweeping towards your hairline horizontally so that you can widen your face and balance proportions is a good idea. For those with a heart-shaped face, shade your blush from below the apple of your cheek diagonally toward the cheekbone, This shall widen a narrow chin and jaw.
You can wear this look to any event that needs you to switch from day to night, effortlessly.
II. Coral Kiss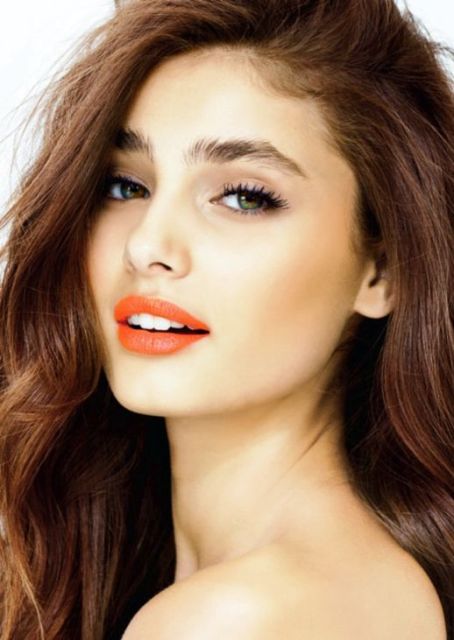 Image source: Pinterest
Strong colors draw attention straight to your mouth, so go for well-defined and well-finished lips by smoothing out and hydrating your lips with chapstick first. Line the lips with a matching liner and dab a lipbrush into a wet shine lipstick so you can smear it evenly across the lips using your liner as guide. Gloss over the lips with a high-shine clear gloss so as to enhance your pucker and remember to keep your coral shade as deep as your skin tone is warm. You will have to experiment with different shades and textures ranging from neon orange to terracotta- as your skin tone and makeup have to sync in.
In case, you need to plump up your lips, you can outline your lips just outside their natural edge and brush on the color until you fill in the new outline. To tone down your lips, on the other hand, you will have to blend a thin layer of concealer into the edges of your lips and outline them just inside the lip line so as to brush on the lip colour. Skipping gloss shall be a good idea in this case. To add definition, outline your upper lip emphasizing the dip in Cupid's bow and draw a line just outside your lower lip's edge to add fullness. Brush on a matte coral and skip the gloss. A single-tone look shall need you to blend foundation evenly and use two shades of coral. Smooth the darker shade on the lower lip and vice versa. The trick is to make both lips appear same. Pump up the gloss to diffuse the difference in shades.
You can carry this look to the hottest nightspots in town.
III. Lilac Gaze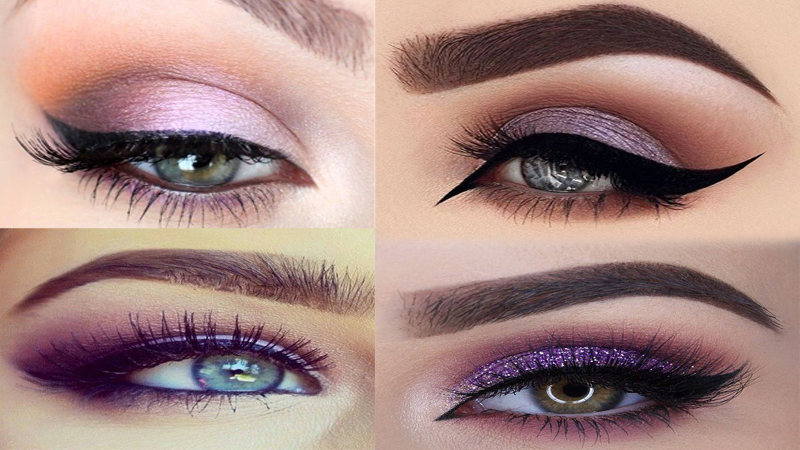 Image source: Pinterest
My favorite look on the list, this one works best with almond-shaped eyes but with a little effort, can be turned versatile. Use a brow pencil in light feather strokes to fill in gaps. Smear a little primer evenly across the entire eyelid from the inner corner to the end of the crease line. Draw a bold line with eyeliner extending outward to the outer corner, and then smudge with a brush to create a soft look. With a sponge, sweep the eyeshadow across the upper lid all the way to the crease and brow-bone and sweep completely over the lower eyelid beneath the lashes. Blend luminizing powder from the brow bone to the eyebrow, extending till the outer edge and curl your lashes to load up on mascara. Experiment with lighter hues like lavender during day time and opt for deeper tones like violet and purple at night.
In case, you have deep set eyes, shade your eyelid from the inner corner and extend beyond the outer tip. Use light shades in the middle, and darker tints on and above the socket line. Blend the darker shade upwards and outwards to make your eyes appear bigger. For wide set eye, reduce the distance between your eyes by applying darker tints from the outer corner inwards. Add a lighter shade from the middle of your eyelid to the inner corner of your eye and blend until the shades are seamless. For close set eyes, start with a thin layer of light shadow from the inner corner all the way to the middle. Use darker tints from the middle to the outer corner of the eye socket and blend shades to show a gradation.
Eyes that slant downwards should have the eyeshadow preened upward and out. Use the eyeliner close to the upper lashline and then blend in the shadow along the socket line in the outer eye area. Dense coats of mascara should lift the eyes. Eyes that slant upwards, though, should go for smudging the liner and slightly thickening it along the upper lashes. A thin, smudged line under the lower eyelashes should cut it. To make your eyes look wider, dense mascara should be added on.
You can sport this look on a date!
IV. Sassy Spikes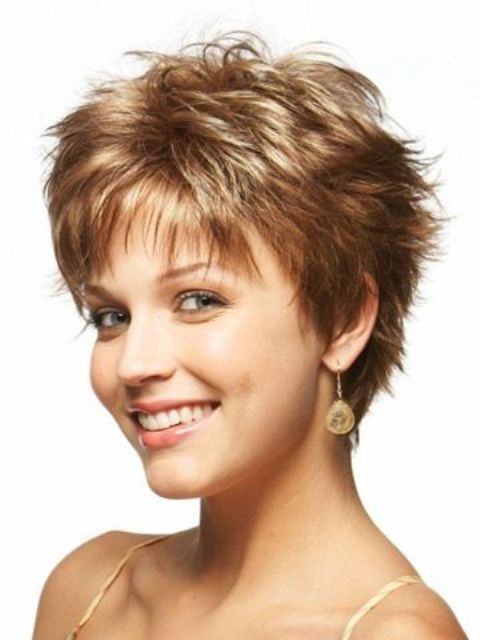 Image source: Pinterest
This style works best with short, straight hair that allows for movement- so, work a small coin-sized amount of heat-protection serum in your hair. Blast dry it while working your fingers in to create texture. Use a straightener to iron the bangs that frame the face from mid-length to the tips and give the hair a sharp, spiky look. Iron the tips at the nape for an edgy look. Leave the movement of the hair at the crown natural and finish with an anti-frizz, fixing spray to keep your hair in place.
You can sport this look for an evening out with friends.
---
Suggested read: A complete guide on how to apply makeup for pale skin
---
V. Romantic Curls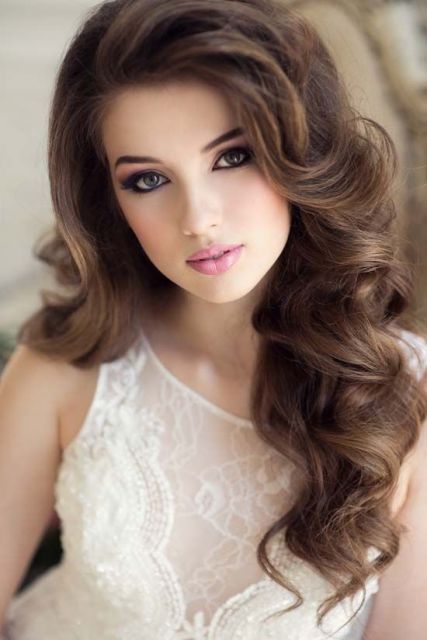 Image source: Pinterest
Messy, half-open curls are the best go-to style for those with wavy, thick hair. To get the look right, work a large coin-sized amount of styling mousse into your hair, Blow dry with a diffuser to remove all traces of moisture and use curling tongs to create vertical ringlets from the tips upwards. Shake out the ringlets for a textured feel and use a leave-in spray for a high shine finish. Scrunch your hair with your fingertips for added bounce and volume.
Wear the look anywhere!
Which of these best makeup looks / trends are you trying today? Tell us in the comments below.
Featured image source: Pinterest
Summary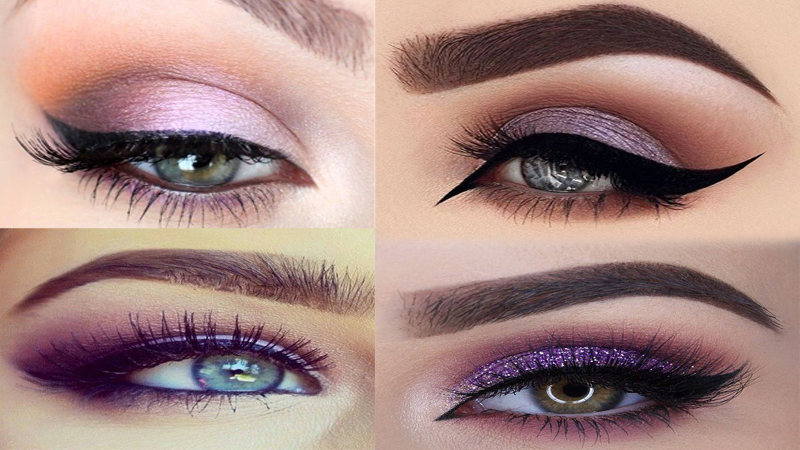 Article Name
The NLT Master Class On Getting The Best Makeup Looks Of This Season RIGHT!
Author
Description
Make the most popular and best makeup looks YOURS with our handy guide...