2016 was the year of new trends and fashion highlights, some of which were just passing fads, while others were here to stay for good. Of them, a renewed interest in crop tops is perhaps our favorite, because crop tops are some of the most good-looking, stylish, and fashionable apparel out there. They can come in all colors, shapes, and can suit literally everyone, no matter what their body type is, as long as you know how to wear a crop top.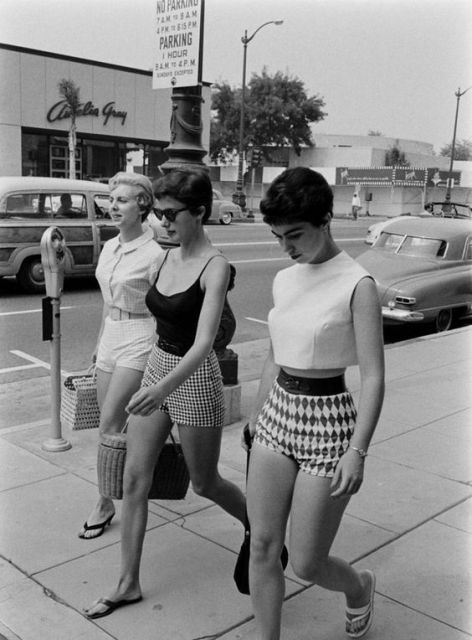 Image source: Pinterest/MissMoss
Whether you are aiming for that retro chic look, or you are trying to keep things casual with a pair of jeans without looking boring, crop tops are likely to become your life-saver. They can be paired with anything, and when you know how to style your crop top right, it is impossible for you to make a fashion faux pas.
---
Suggested read: 15 fashionable tips on how to wear a cardigan and NOT look like an old lady
---
Here are 15 crop top trends you can check out in order to figure out how to wear a crop top to best suit your personal style, and have a fashionable, diva-style 2017.
1. Crop top and dungarees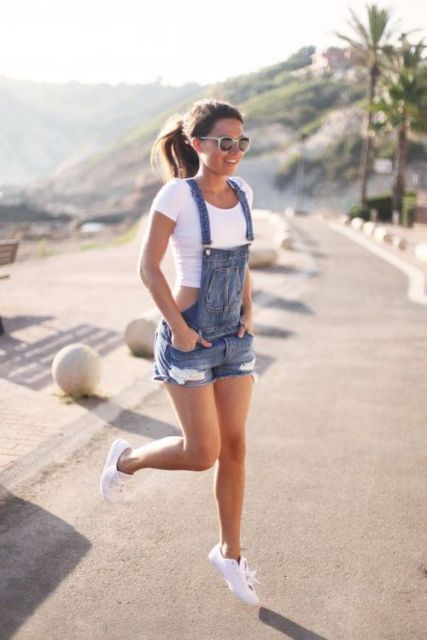 Image source: Pinterest/Playbuzz
The whole point of fashion is to let your clothes reflect your mood and personality. If you are feeling those Coachella vibes throughout the year, you can very well sport this festive, summery, casual look with a simple white snug crop top and a pair of short dungarees with your favorite casual accessories to match. They make your old pair of dungarees look way cooler than they actually are.
2. Hipster vibes in monochrome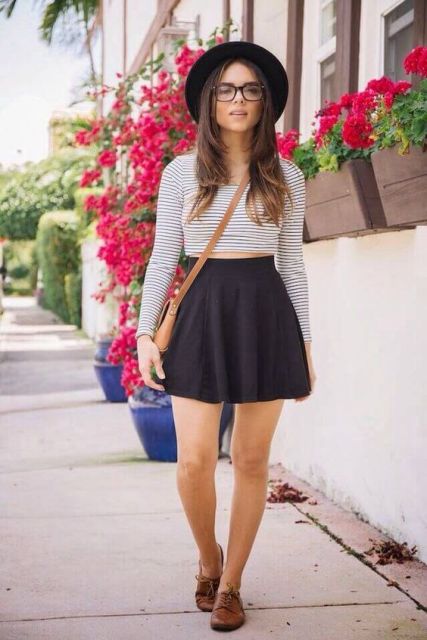 Image source: Pinterest/Worthminer
This is one of the more popular crop top trends which has emerged in the last year. If you want to look super trendy, but stay casual at the same time, pair your cute striped crop top with a short black skirt and monochrome accessories for a chic, Parisian look that is going to get you on a lot of people's fashion goals list.
3. The crop top party look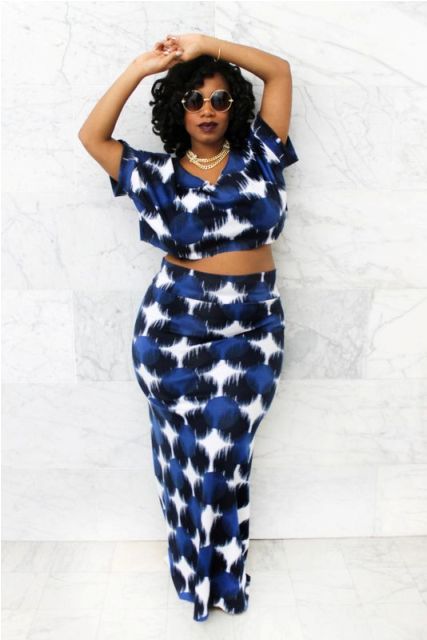 Image source: Pinterest/thecurvyfashionista
Summer is almost here (okay, it's not; but a girl can dream) and there is no dearth of parties that you have to attend really soon. For a look that is literally going to blow everyone's minds, pair your printed crop top with a matching printed long fitted pencil skirt, and let your midriff do all the drama needed in your outfit.
4. Crop tops and plaid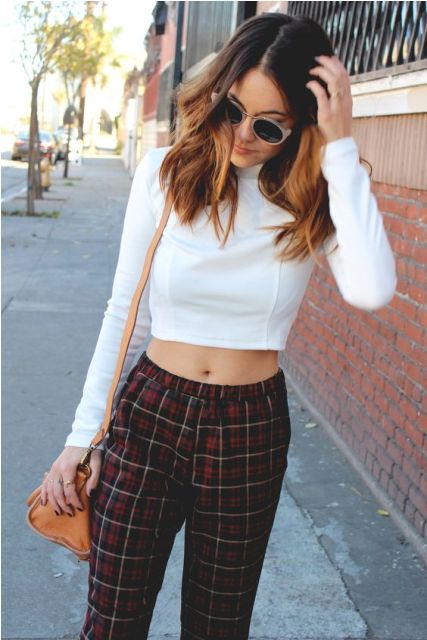 Image source: Pinterest/trnycstyle
I firmly believe that retro fashion is forever, and you will understand why when you see an outfit like this strutting on the road, giving you major fashion goals in life. A simple plain white crop top with full sleeves would go wonderfully with a pair of tailored, tapering plaid pants and a satchel bag. You can't really get more diva than this.
5. Fun matching prints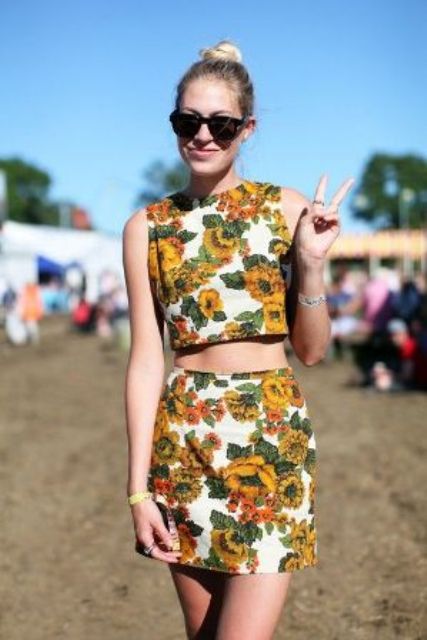 Image source: Tumblr
Getting matching prints on your crop top and your bottoms is a genius idea, because then you can show off your midriff and end up on Pinterest. However, this one comes with a cute little flared skirt, which is perfect for a picnic or a casual road trip or an outing because of its vibrant cut and colors.
6. Funny crop top prints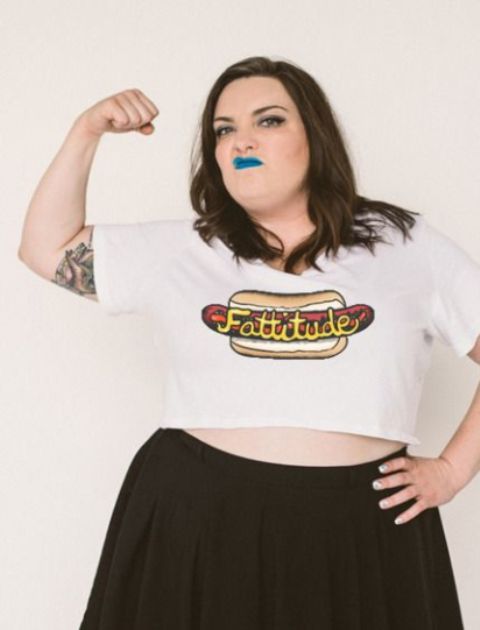 Image source: Tumblr
Cool things written on your crop top is way cooler than cool things written on a T-shirt, which is usually the case. It is minimalistic, stylish, and attractive because you also have the hitched edge giving your graphics extra emphasis, especially when you know how to wear a crop top with the right bottoms (in this case, a chic and simple silk midi skirt).
7. More vintage crop top fashion, pin-up girl style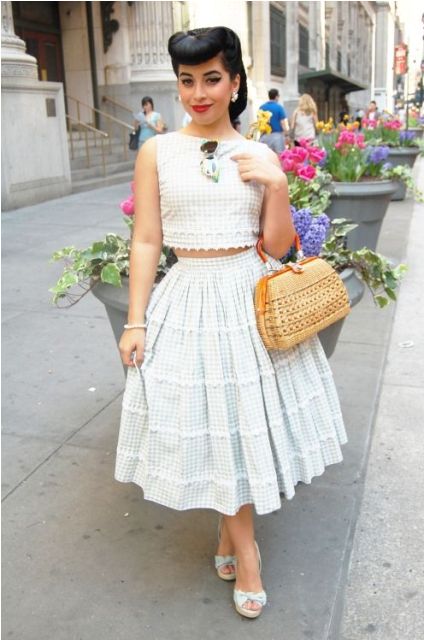 Image source: Pinterest/vintagevandalizm
Even though you might not want to go all out with your makeup and step out as a pin up girl (although that would be really cool), you can take some major fashion inspiration from that era. This super cute outfit consists of an embroidered crop top with a lace border, paired with a flared white midi skirt cinched at the waist. The outfit is both comfortable and practical, and at the same time trailblazing in terms of contemporary fashion.
---
Suggested read: The ultimate guide on different types of heels, and how to wear them
---
8. Quirky baggy crop tops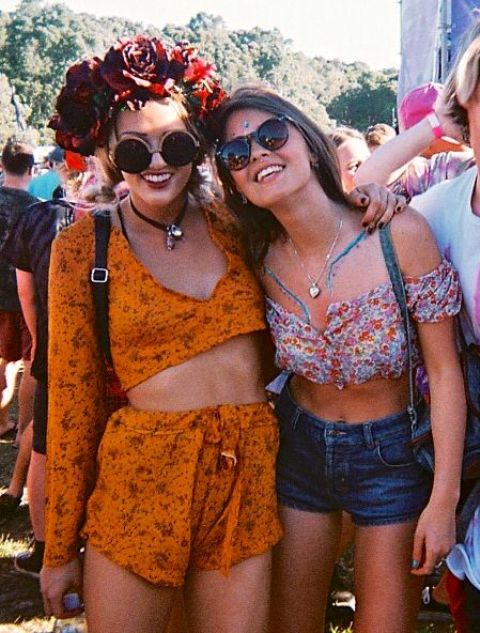 Image source: Tumblr
A trend that was quite quick to pick up momentum in the crop top world was that of the baggy but quirky crop tops, that came in all kinds of colors, shapes, and cuts. You can either mix and match your floral printed strappy crop top with a simple pair of black shorts, or you can go all out and pair your wild, flaming orange asymmetrical crop top with a pair of matching shorts, or bottoms of a completely different material and color. The possibilities are honestly, endless.
9. Sleek crop top look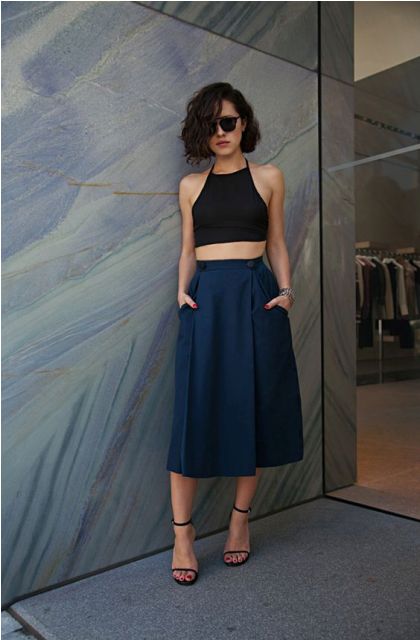 Image source: Pinterest/Bloglovin
If you are looking for something more demure, this is the look for you. A simple racer back, strappy crop top with a straight neckline would go wonderfully well with a large, crumpled midnight blue midi skirt. Paired with the right strappy heels, this is the look that is going to get you a million fashion brownie points.
10. Asymmetrical crop tops are fashion of the future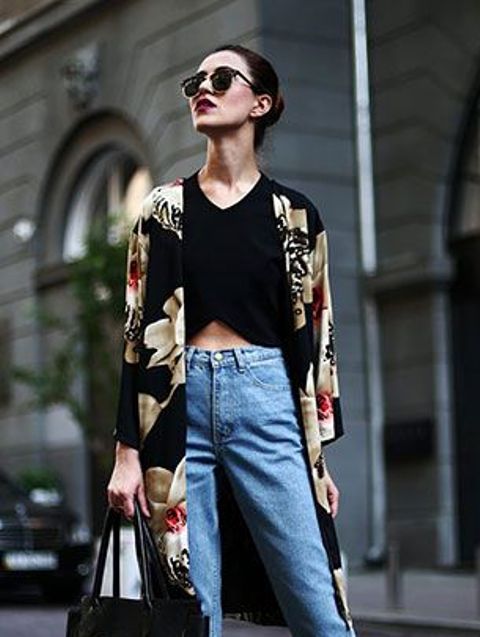 Image source: Pinterest/issue247
If you have been thinking of new ways to spice up your crop top look, then look no further. Crop tops are usually characterized either by straight hemlines or frayed hemlines or hems that have been stitched in lace or pleats (peplum style). The asymmetrical crop top is trendy and smart and unique because you can pair them with practically anything to spice up your attire. In this case, it is worn with a pair of faded high waist jeans and a large printed jacket. This is a flawless semi-formal look, as well as a casual look that is literally the definition of diva.
11. Another asymmetrical crop top look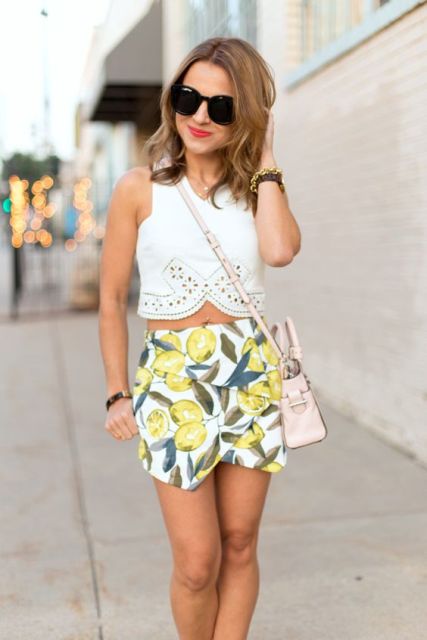 Image source: Pinterest/helloframboise
This is another gorgeous look you can sport if you aren't willing to become a hipster just to wear an asymmetrical crop top. This fresh, summery look is goals because of the sweet white cut out crop top, which has been paired with a lemon print skirt, on which the hemline is the same as the crop top.
12. Wearing crop tops as beach wear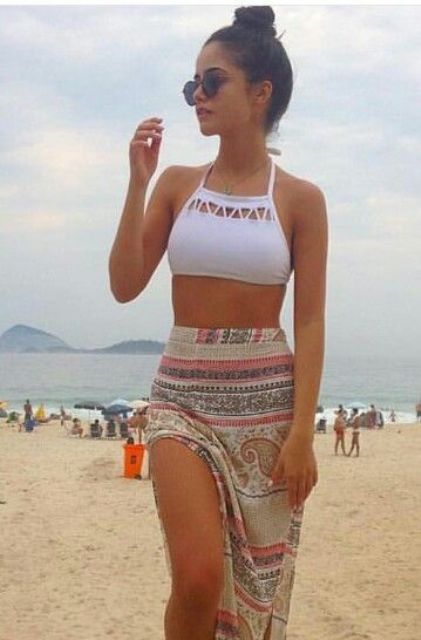 Image source: Pinterest/iconosquare
The whole point of fashion is to stand out from the crowd and become the trendsetter instead of following rules set by others. If you are surrounded by people from the Stone Age who still wear bikinis and monokinis to the beach, lead by example by wearing a sweet crop top with spaghetti straps and a sarong with a sexy slit that is thigh-high for a fashionable day out at the beach. You are likely to become the talking point of every conversation you pass on the beach.
13. Peplum style flowy crop top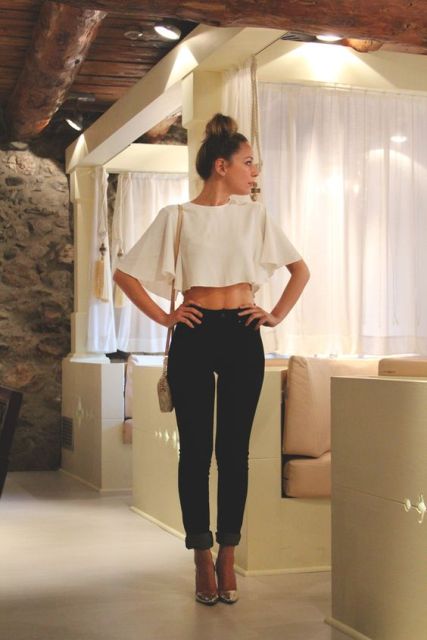 Image source: Pinterest/fenzyme
Planning a girls' night outfit is usually a pain in your behind, and you end up with a heap of clothes you thought you wanted to wear but decided not to, ultimately. This outfit is literally the end of all your woes, because it is perfection. The creamy, silken peplum style crop top falls in gentle pleats around your torso, which when paired with a pair of skinny jeans is the ultimate combination for a fashionable and practical choice of outfit.
14. Cropped hoodie with sweatpants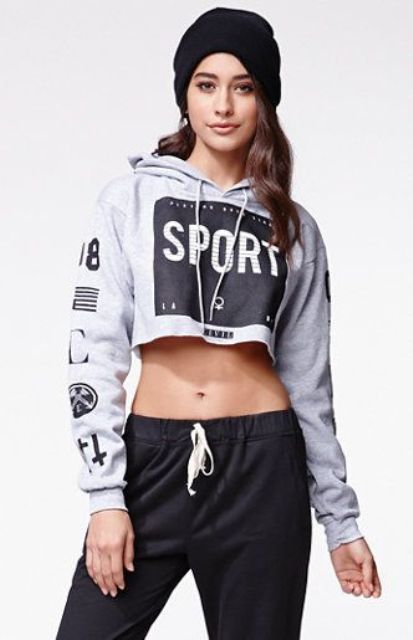 Image source: Pinterest/pacsun
If you have been under the impression that crop tops are only tops and can come in top material like cotton and linen and silk and what not, then think again, because the fashion industry is so obsessed with them that there is a whole range of crop sweaters and crop hoodies for you to choose from. If you have been lusting after the cool, sporty looks that Bella Hadid and Kendall Jenner have been flaunting all over the place, here is a shortcut you can use to look like them with legit, zero effort.
---
Suggested read: All you need to know about how to wear a red lipstick
---
15. Deep neck chic monochrome crop top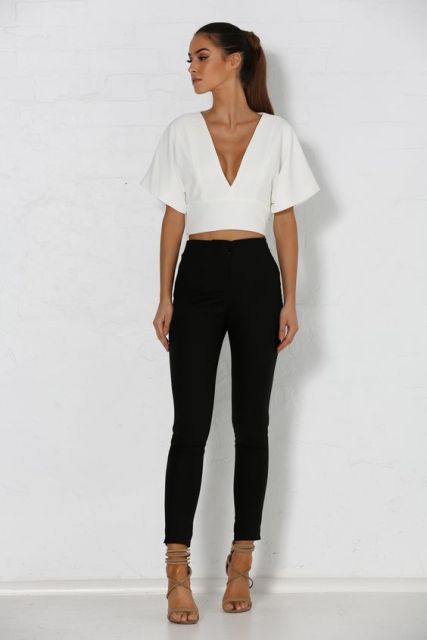 Image source: Pinterest/meshki
If someone has been telling you that deep necklines and crop tops don't go together, and it would be a mistake to try to sport that trend, then they have been jerking with you, because crop tops that have been cut out like this are drop-dead gorgeous. If you are trying to figure out how to wear a crop top with a plunging V-neck, take inspiration from this razor sharp look comprising of a neatly tailored white top, paired with a pair of skinny jeans or tailored high-waist trousers.
No matter what kind of look you are feeling today – festive, badass, demure, cheerful, retro – a crop top is going to be your best friend no matter what. Once you know how to pair it with the right apparel and choose the right accessories for your look, you are going to become a diva in no time.
Summary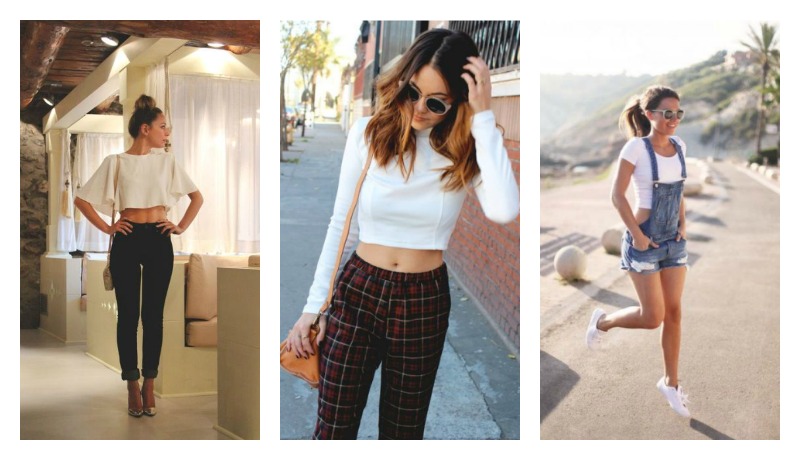 Article Name
15 Stylish Tips On How To Wear A Crop Top And Make A Fashion Statement
Author
Description
Crop tops come in all colors, shapes, and can suit literally everyone, no matter what their body type is, as long as you know how to wear a crop top.