Picking the right wedding dress can be tricky. There are so many styles, so many colors, and so many different lengths to choose from. One pretty underrated length of wedding dresses is the tea-length wedding dress. The tea-length dress should essentially end above your ankles. However, if you're not a stickler for definitions, a tea-length dress could end at any point between your ankles and your calves. This length was verrrryyy popular during the early 1900s, but was eventually crowded out by shorter hems.
This type of wedding dresses is an excellent choice if you're planning an outdoor wedding and are worried you'll dirty your floor-length wedding dress. Also, if you're addicted to shoes and want to show off a gorgeous pair at your wedding, tea-length dresses allow you to do so without having to hold up your dress all day. Plus, if you're a fan of pin up girls (like mega-hottie Dita Von Teese), or even simply a fan of vintage couture, this wedding dress style is the way to go!!!
---
Suggested read: 15 blush wedding dresses bound to make you blush with pleasure
---
Here are 25 ethereal tea-length wedding dresses that'll make you want to ditch the train and hop on the short wedding dress carriage (pun intended).
1. Simple white tulle dress with an illusion collar
Image source: Pinterest
This beautiful white tulle dress is perfect for any bride who wants a classic but practical wedding dress. The illusion boat-neck collar is feminine and very chic. The fitted bodice draws in your waist and the flared skirt makes your body look curvy. This dress is simple and classic and something you just can't go wrong with!!
2. Pink ombre princess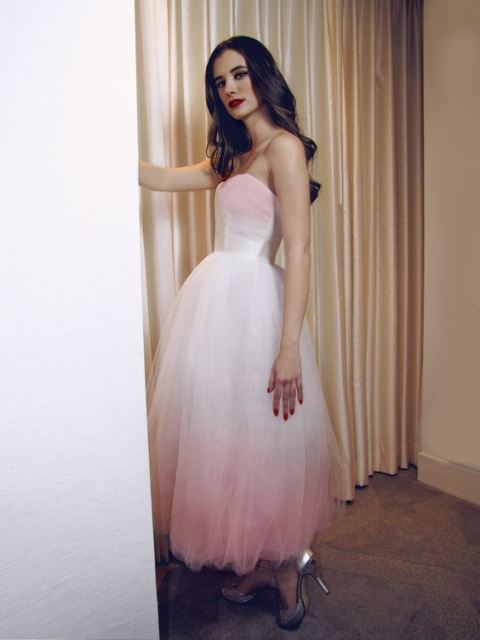 Image source: Pinterest
It's pink, it's ombre, and it's strapless. I mean really, I don't think you can top that. The soft pink ombre adds some edge to a simple white tulle dress. The classic sweetheart neckline makes the dress look feminine and princess-y.
3. Sequin ombre
Image source: Pinterest
This silver number by THEIA is just breath-taking. If a poofy tulle dress is not for you and you want something a lot more glamorous and bold, then this dress simply HAS to be on your list of dream wedding gowns. The sequined gradient is probably the coolest thing we've seen in a while. The off-shoulder sleeves and dipped hem add a feminine touch to what can only be described as a warrior goddess' wedding dress.
4. Golden and embroidered
Image source: Pinterest
This stunning sheer Elie Saab number was made for the diva bride who has no qualms about being the center of attention. It's your wedding. Why not go all out with a golden, embroidered ethereal tea-length wedding dress that people will talk about FOREVER? The sheer fabric and crew neck make the dress look young and fresh, and balance the beautiful gold detailing. The slim golden belt adds structure and also a contemporary touch to the dress, thus keeping it from looking over-the-top sparkly.
5. Champagne and gold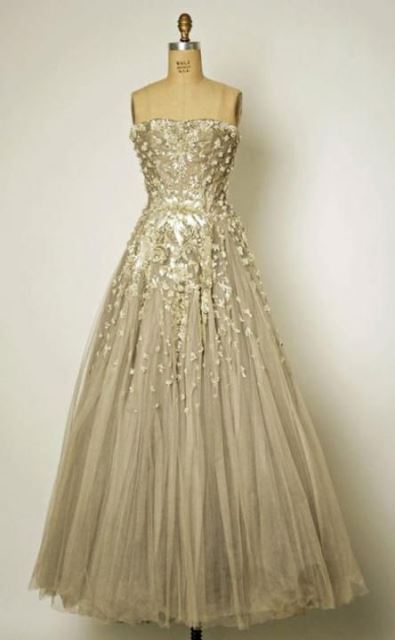 Image source: Pinterest
As far as ethereal tea-length wedding dresses go, you can't really do much better than this beauty. It's strapless, has a champagne tulle skirt, a golden silk bodice with golden appliqué… and it is VINTAGE DIOR. Need we say more?
6. Something blue
Image source: Pinterest
White wedding dresses ain't your thing? No problem. This Nicole Spose blue strapless dress could be your something blue! The color is soft and pretty, and the striped bodice makes the dress look more youthful. The gorgeous appliqué can make any bride look like a Disney princess, and who doesn't want to be a Disney princess?!
7. Structured and stunning
Image source: ModWedding
Not all beautiful wedding dresses are strapless. Take this full-sleeved dress by Ashi Studio, for example. This dress looks like it was made for a queen. We LOVE how structured the dress is. While the structure of the dress makes it look so regal, the intricate detailing on the body and the skirt, and the appliqué along the hem are what makes it look ethereal.
8. If you got it, flaunt it
Image source: Pinterest
This err… unconventional dress by Israeli designer Inbal Dror is very NSFW. This dress is sexy, intricate, and just plain beautiful. If you're comfortable enough with your body to flaunt this much of it on your wedding day, then four for you Glenn Coco! The bold sheer top is in contrast with the classic tulle skirt with stitched detailing, and that's what makes this dress one of a kind.
9. Old Hollywood charm
Image source: Pinterest
This vintage wedding dress has an old Hollywood charm to it. The conservative draped collar and the simple and clean design makes this dress perfect for any body type. This dress is like a blank canvas and can be personalized by the bride. Even on its own, this dress can make you look like you've descended from heaven.
10. Two piece wedding dress
Image source: Pinterest
Another dress for the unconventional bride. This two piece sheer dress by Limor Rosen looks like something Aphrodite would wear. The nude layers under the sheer fabric make the dress look modern and less stereotypically bride-y. The cute little sheer top adds a quirky twist to an ethereal dress.
11. Flower power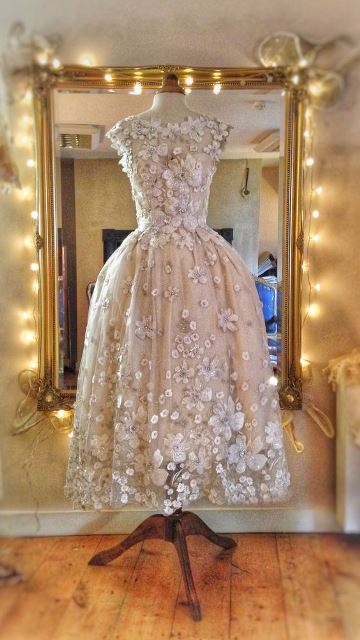 Image source: Pinterest
Joanne Fleming takes the floral wedding dress up a notch with this breath-taking blush number, "Tamara." The 1950s silhouette and gorgeous floral detailing ooze femininity and sophistication.
12. Yep, that's a cape
Image source: Pinterest
This peach-colored vintage chiffon dress has a cape. Yes, you read that correctly, a CAPE. Yes, yes, the flow-y material, the sleek and simple silhouette, and the rhinestone waist detail are all very beautiful, but seriously though. It has a cape. It's all chic and pretty in the front, but pure funky in the back.
---
Suggested read: 20 stunningly sexy sheer wedding dresses that will make you swoon
---
13. The high fashion bride
Image source: theknot
This dress is a bit shorter than a typical tea-length dress, but it's the layered organza tail that we're obsessed with. This turtle-neck, beaded masterpiece by Christian Siriano practically screams "high-fashion."
14. Peek-a-boo
Image source: Pinterest
This dress has so much going for it we can't even begin to describe just how awesome it is. For starters, it's by Elie Saab. The stitched-on leaf detailing, the peek-a-boo skirt, and the fur-lined sleeves are all meant for a modern bride with fabulous taste and major self-confidence. Wearing a green dress down the aisle is no easy feat, but this dress is sure worth the risk!
15. Boho chic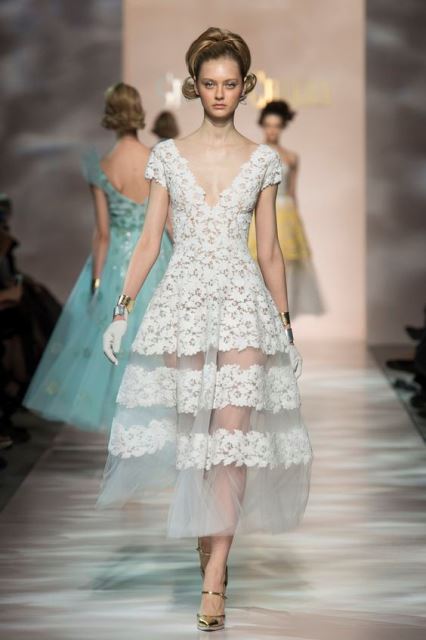 Image source: NowFashion
This enchanting dress by Georges Chakra has a boho-chic vibe to it. The floral detail is youthful and fresh while the deep v-neck and the peek-a-boo skirt add a sexy element to the dress. This dress would be a lovely choice for a spring or summer wedding.
16. Pastels and metallics
Image source: Pinterest
This lilac-colored Ralph and Russo wedding dress has "wedding dress goals" written all over it. What really stand out about this dress are the gold metallic details along the bodice and the hem of the dress, and the contrast between the delicate lilac tulle skirt and the bold corset bodice.
17. Pale yellow fairy princess dress
Image source: Pinterest
This exquisite pale yellow dress is yet another masterpiece by Joanne Fleming. The dipped hem and the subtle lace detailing in between the floral appliqués are tiny factors that add to the fairy princess vibe of this dress.
18. Dreamy drop-waist dress
Image source: Pinterest
Can any wedding dress list ever be complete without a Marchesa dress? This dreamy drop-waist wedding dress is breathtakingly beautiful. We love the deep green lace detailing and the unconventional drop-waist flare-skirt silhouette of the dress. Also, the green and champagne color combination is a refreshing change from the usual white wedding dresses.
19. Dull gold and blush
Image source: Pinterest
Yet another beguiling creation by Elie Saab. This captivating blush wedding dress is a pretty near perfect option for a fall wedding or an evening wedding. The gorgeous color is complemented by the non-traditional dull-gold floral detail. The silhouette is fun and flirty, and the whole look is tied together by a traditional broad satin belt.
20. The old and the new
Image source: Pinterest
This ethereal two-piece dress can make even the biggest skeptic shed a wedding tear. This dress is ideal for a non-conformist bride who wants to be different from the crowd, but still retain the femininity and beauty of a traditional wedding dress. The two-piece style and boxy top make the dress look contemporary while the exquisite lace detailing adds a vintage feel to it.
21. The colorful bride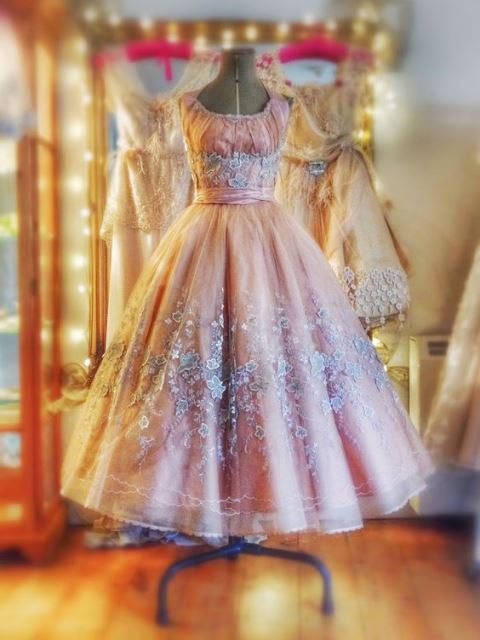 Image source: Pinterest
If pastels and shades of white are not your cup of tea, try this striking Joanne Fleming peach ballerina dress with silver floral detailing. We love the bright metallic sheen of the dress and the girly halter-neck.
22. Lace and tulle
Image source: Pinterest
Not all brides like glittering wedding dresses. This chic lace and tulle dress is for the minimalist bride. We love the minimal lace detailing on the dress and sweetheart neckline with the illusion collar. Very simple and very chic.
23. Black bombshell
Image source: Pinterest
This stunning black dress by Chanel could make even the most traditional brides change their mind. There are so many elements of this dress that we are completely in love with. The masculine stiff collar contrasts with the feminine tulle and the pleated skirt. The golden belt gives this ethereal dress a bold warrior goddess vibe.
24. Princess bride
Image source: ChicVintageBrides
Who said that you need to wear a floor-length ball gown to look like a princess on your wedding day? This simple Monique Lhuillier gown is absolutely enchanting. We love the crisscross pattern on the bodice and the sheer simplicity of the dress.
---
Suggested read: 28 gorgeous unconventional wedding dresses perfect for a non-conforming bride
---
25. Chic and shiny
Image source: Pinterest
This captivating asymmetrical wedding dress by Oscar de la Renta strikes a delicate balance between chic and shine. The cement grey color complements the shiny thread-work on the dress beautifully, therefore tying the whole ensemble into a cohesive fairy princess-y bridal look.
The best thing about tea-length wedding dresses is that they'll make you look like an actress from an old Hollywood film no matter what. Which of these beautiful dresses caught your eye?
Summary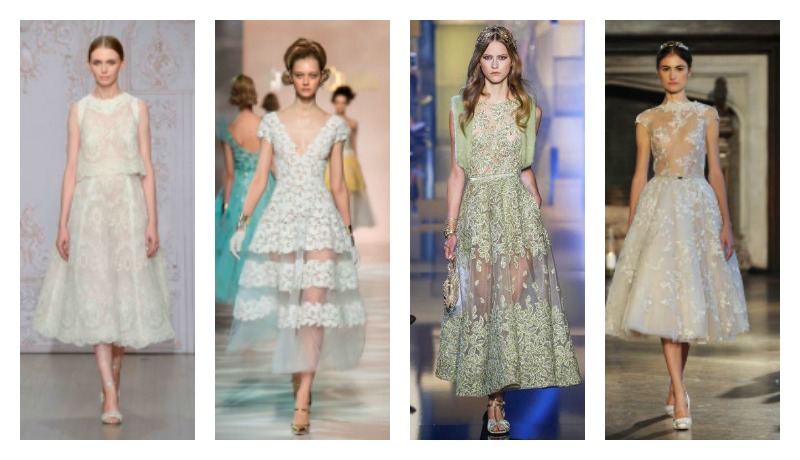 Article Name
25 Ethereal Tea-length Wedding Dresses You're Going To Fall In Love With
Author
Description
There's a chic charm to tea-length wedding dresses, and it sure comes out in this list of ethereal gowns.