Everyone is always awed by large, embellished, over-the-top cakes which take weeks to make. However, in recent times, wedding cake trends are undergoing significant changes. More and more people are planning toned-down, minimalist weddings, and rustic wedding cakes are the perfect addition to this. You don't need to be planning a rustic wedding in order to have a rustic wedding cake, as they can be made to suit any type of ceremony.
Extravagant wedding cakes are no longer the norm for today's weddings. Many celebrities, such as Angelina Jolie and Hilary Duff have opted for rustic, deconstructed cakes, inspiring many brides-to-be who are planning simple weddings. There is no reason to believe that a rustic wedding cake is unsophisticated or unpolished. In fact, these types of cakes look extremely classy on your wedding table.
---
Suggested read: 15 naked wedding cakes that are rustic yet charming
---
Here are 20 of the most alluring rustic wedding cakes to keep in mind while planning your wedding:
1. Frosted cake with cacti detail
Before you look at the cake, you might think cactus details are a strange concept. However, once you see the wedding cake for yourself, you will understand that it cannot get more rustic or elegant than this. The three tiers are separated by edible string, and the succulent cactus details add a bit of color to your wedding cake. It is then covered with a simple layer of buttercream frosting.
2. White and gold with blueberry sprigs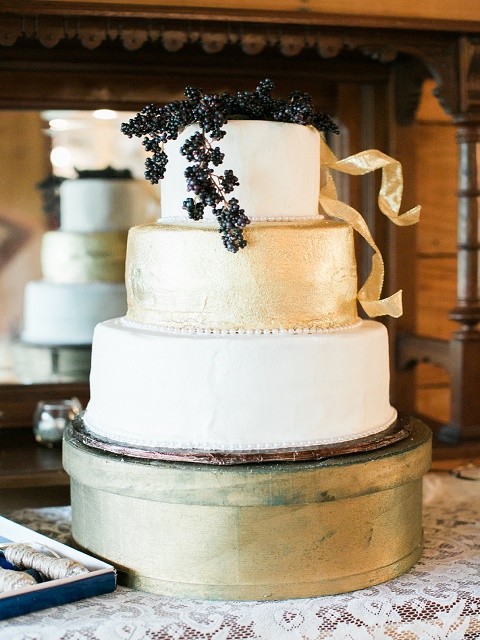 Keeping the simple nature of a rustic wedding cake in mind, this one consists of three tiers of buttercream cake along with edible sugar pearls, ribbons, and fondant on the top and the bottom tier. The middle tier is elegantly spray painted with edible gold dust, and the rusticity is enhanced by the addition of a wild sprig of blueberries. The three tiers can have three different flavors.
3. One tier minimalistic wedding cake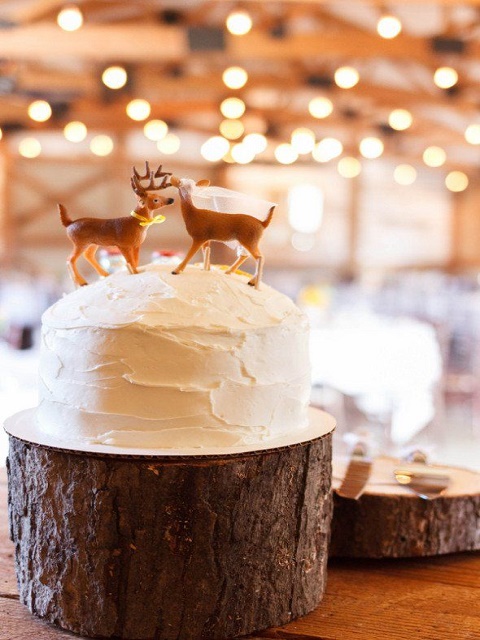 Image source: Pinterest
It doesn't get more rustic than this. This is a simple, one-tier vanilla and buttercream frosting cake which has been placed on top of a piece of tree bark. It might look simple, but the most unique feature of this rustic wedding cake is the two reindeer toppers wearing bride and groom attire, which has been made with molding chocolate. This is possibly one of the most aesthetically pleasing rustic wedding cakes.
4. Pink textured wedding cake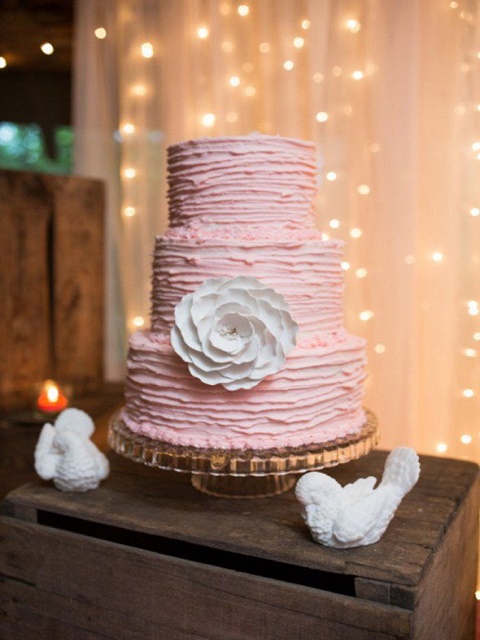 Image source: Pinterest
This is another three-tiered cake, and when looking at it, it becomes evident that it has been made with a lot of love and care. The pink color of the buttercream frosting is distinctly unique, and it has been textured with professional bakers' molding tools. The only other detail is the large white sugar flower in the shape of a peony, which is all the decoration it needs to shine.
5. Two-tier detailed floral cake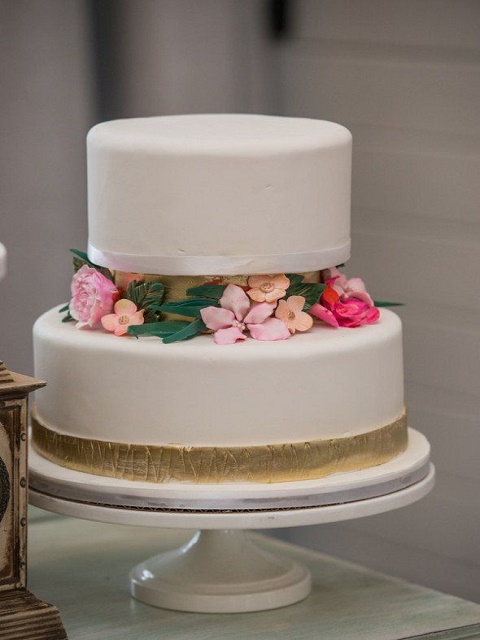 Image source: Pinterest
If you want to add some more details and elegance to your rustic wedding cake, you can check out this adorable little cake which is two-tiered and packs in some fine details, which might not be as simple to execute as you think. Packed between the two layers is a gold band surrounded by sugar flowers which lines the bottom layer. The polished fondant adds to its elegance.
6. Fun sunflower rustic wedding cake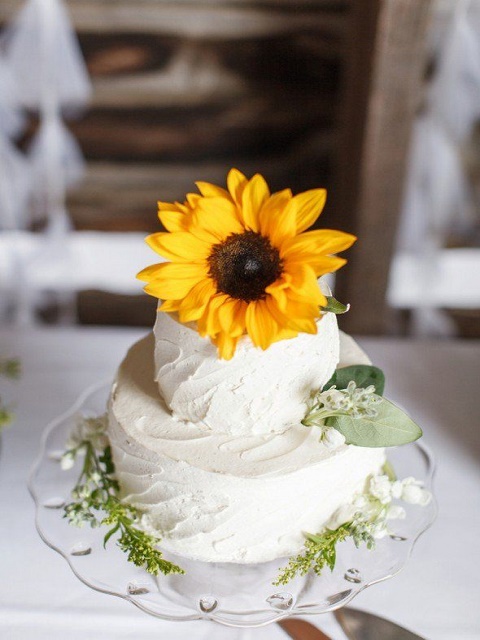 Image source: Pinterest
When it comes to rustic wedding cake ideas, there is no such thing as too many flowers. This two-tiered cake is pure chocolate inside with vanilla icing in the middle, and the textured buttercream covering on top is made to look sandy by mixing in granulated brown sugar. The sunflower is all the pizzazz this cake needs, and the sprigs of Baby's Breath at the bottom are edible too!
7. One tier floral cake and cupcakes for woodland wedding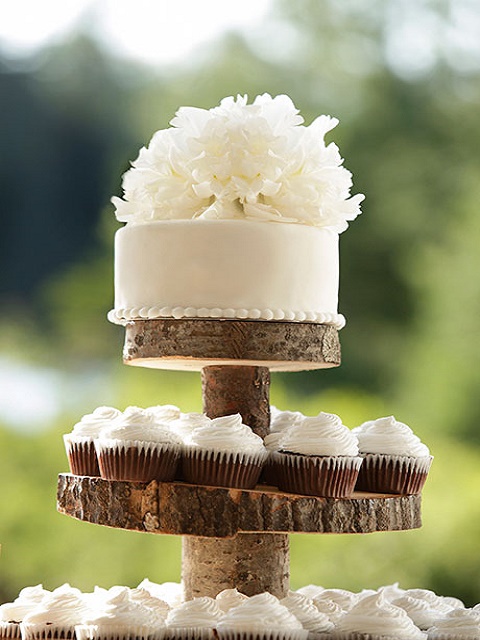 Perfect for a woodland or outdoor wedding, this one-tier cake mounted on a rustic wooden cake stand has a bunch of white peonies on top made with sugar. If you have peonies in your bouquet, then this cake is the perfect choice! However, the best addition is the halo of cupcakes at the bottom in different flavors, but with the same white buttercream frosting!
---
Suggested read: 15 unique cupcake wedding cakes that left us wanting more!
---
8. Super festive fruit and flowers naked cake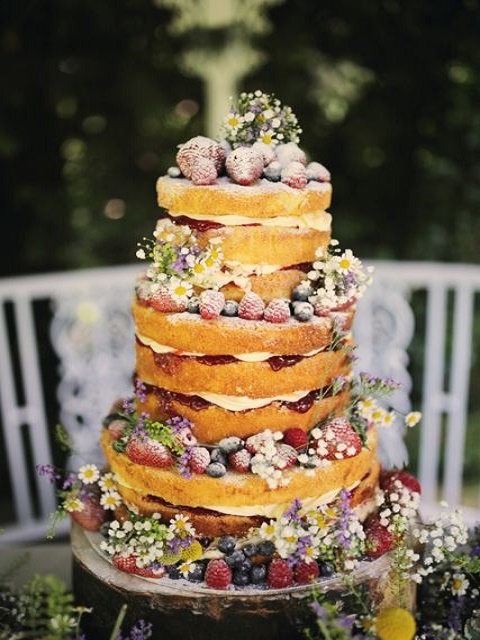 Image source: Pinterest
This is possibly the most festive-looking cake on the list. Although this cake has 9 layers, they have been left as it is, without any frosting or fondant. Packed between the layers are yummy additions like jam, whipped cream, sugar flowers, and fruits and berries which have been dusted with icing sugar. So perfect.
9. Simplistic cake with unique cake topper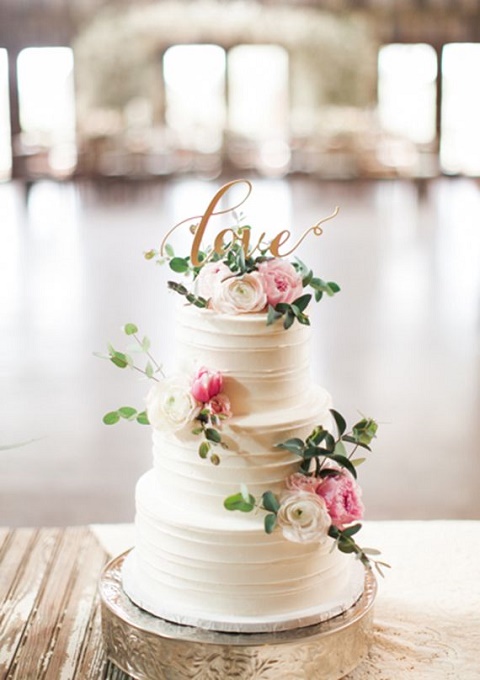 Image source: Pinterest
This lovely three-tiered wedding cake with roses and leaves is covered with a simple, yet elegant, layer of buttercream frosting. Also, a cake topper like this is not only unique, but impossible to put on a lavish, extravagant cake.
10. Double-flavored rustic naked cake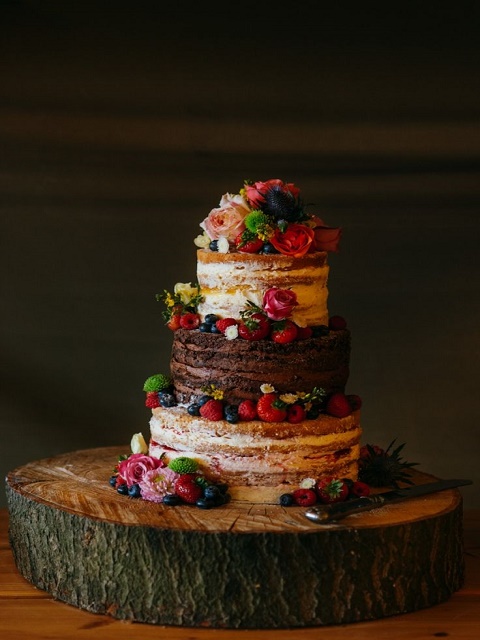 Image source: Pinterest
This is the kind of cake that immediately becomes the center of attention at your wedding, despite being rustic and "naked" without an outer layer of frosting. With two layers of Victorian sponge cake, one layer of rich chocolate cake, sugar flowers, and fresh seasonal fruits, this is the kind of cake you won't forget very easily.
11. Grazed white three-tiered chocolate cake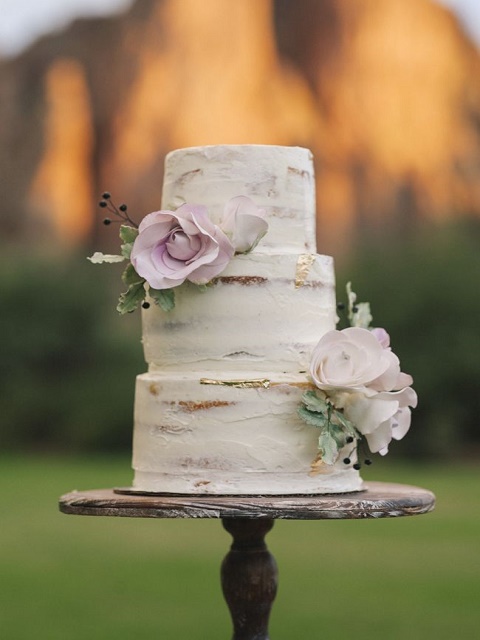 Image source: Pinterest
Rustic wedding cakes should be made to look super-elegant while at the same time effortless, with the idea being that you can even make them yourself. This three-tiered beauty embodies these concepts perfectly. Made with chocolate cake (you can use other flavors too), this one is covered with a thinly spread layer of buttercream, which is decorated with sugar roses and leaves made with fondant.
12. Lavender white wedding cake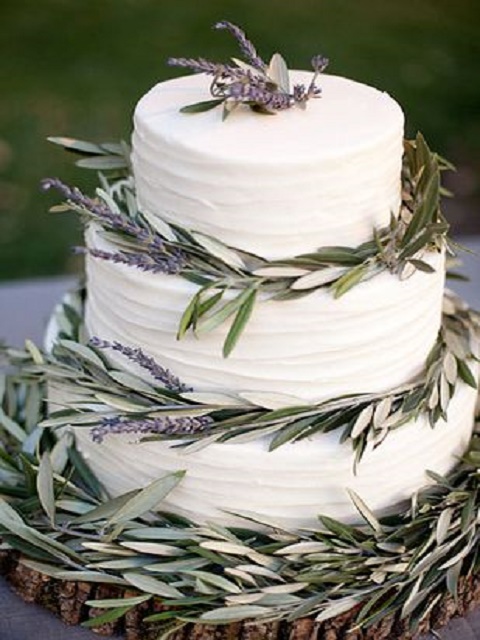 Image source: Pinterest
One of the best things about rustic wedding cakes is that you can match the decorations on your cake with your bouquet, or even the flowers used to decorate the venue. This simple, white, three-tiered cake is a perfect example, made with stunning and rustic lavender details. And the whole thing is edible of course!
13. Messy cacti cake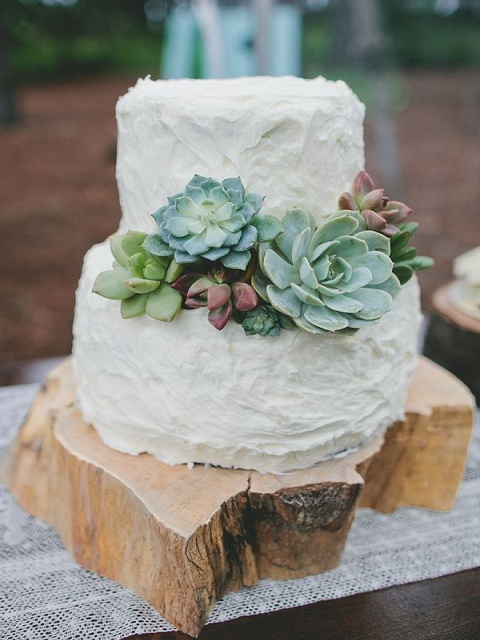 Image source: Pinterest
You might think having so many cacti on a wedding cake is strange, but this is a perfect example of rusticity at its best. Along with just two layers of sponge cake (in any flavor) and the messy icing which can be lathered on with some care, the cake is completed by the addition of cacti made with fondant, or even rice treats or molding chocolate.
14. Ombré fall wedding cake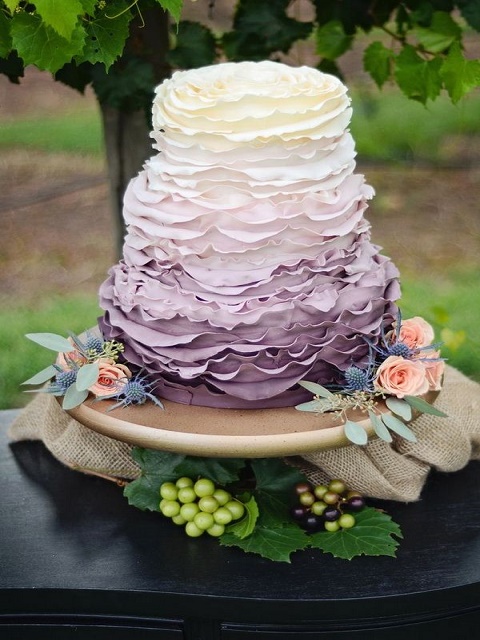 Image source: Pinterest
This is the perfect rustic wedding cake for a fall wedding, especially if you are looking for something fancier. The ombré shade is achieved with the help of edible spray paint in different shades, and the fondant is carved out of the main sheet and then wrapped around the three tiers of different flavors of cake. The flowers are the perfect finish.
---
Suggested read: 20 awesome wedding cake ideas for a special occasion
---
15. Minimalistic burlap wedding cake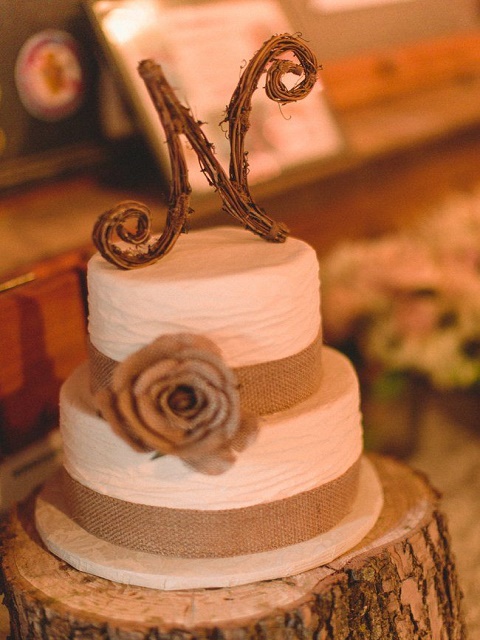 Image source: Pinterest
It is incredible how the addition of unconventional things such as 'wooden' flowers (made with fondant and chocolate of course) and burlap can inspire one-of-a-kind rustic wedding cake ideas. There is nothing more to this cake than two tiers of sponge covered in white icing, brown fondant bands with burlap texture, a flower, and a cake topper made with grapevine, yet it is so incredibly elegant.
16. A wedding cake that is all about the flower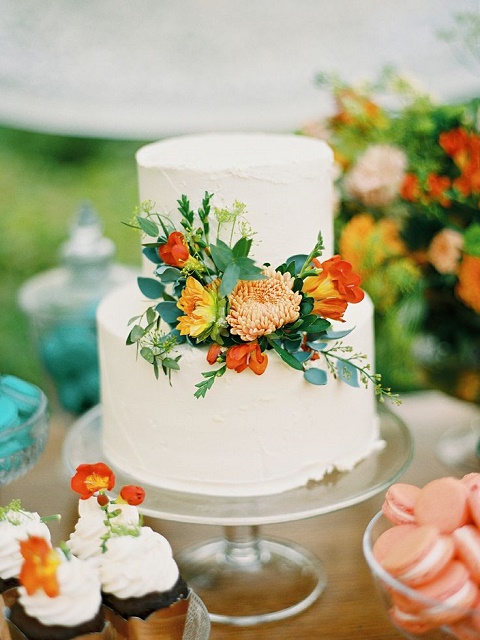 Image source: Pinterest
Despite the fact that there is literally nothing else on this cake except for seasonal flowers for decoration, it is bound to become one of the most attractive centrepieces on your wedding table. The smooth texture of the white fondant brings out the colors of the flowers even more.
17. Four-tier twig and pearl wedding cake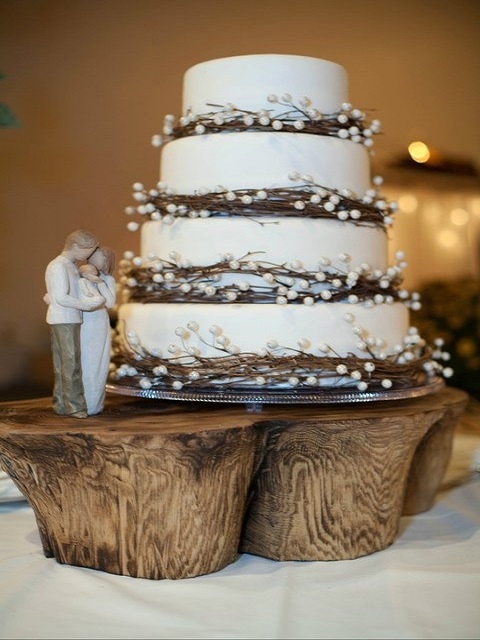 Image source: Pinterest
When you are designing your rustic wedding cake, there are many details you can choose to add to complete the look of the cake. This one is unique because the four fondant-covered tiers are separated by halos of nest-like chocolate twigs with a spray of sugar pearls, which create the look of ethereal nests. Perhaps a cake topper of 'love-birds' would be the finishing touch to this work of art.
18. One-tier rustic berry cake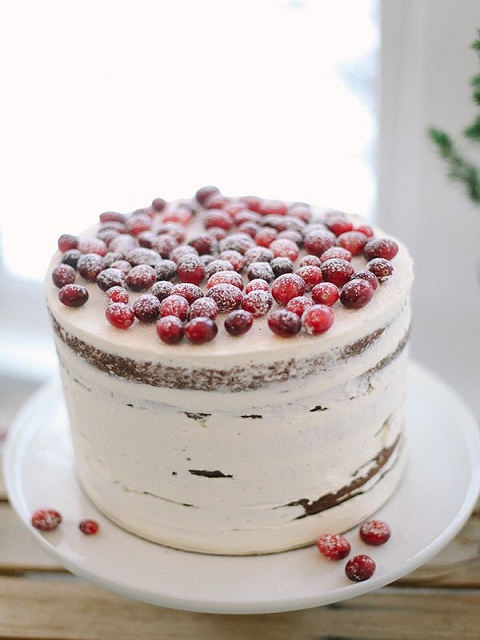 Image source: Pinterest
This is the kind of wedding cake which makes you stop in your tracks the moment you set eyes on it because of its simple beauty. The only decoration needed is the thin layer of buttercream, with the cake peeking out in parts, and the berries which have been dusted with icing sugar on top. The perfect cake for a fall or winter rustic wedding.
19. Naked orange flower sponge cake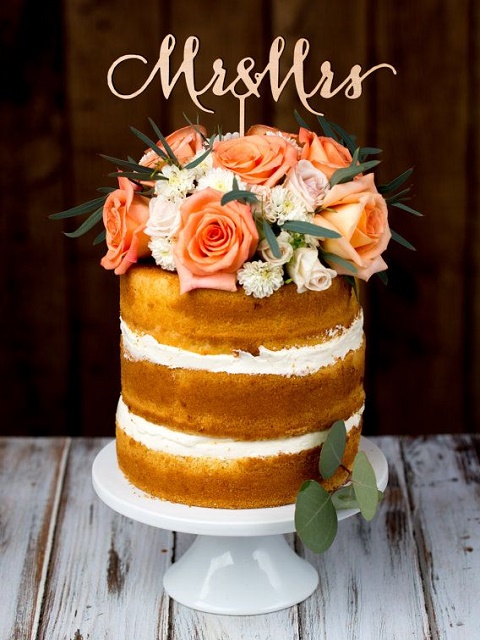 Image source: Pinterest
If you want some color in your rustic wedding cake, you can leave the beautiful color of this sponge cake as it is. The layers of buttercream between the tiers and the bloom of fresh flowers on top are the perfect decorative additions. Also, the cake topper is one of a kind (and edible too).
---
Suggested read: How to choose the perfect wedding cake for your reception
---
20. Colorful, minimalistic three-tier cake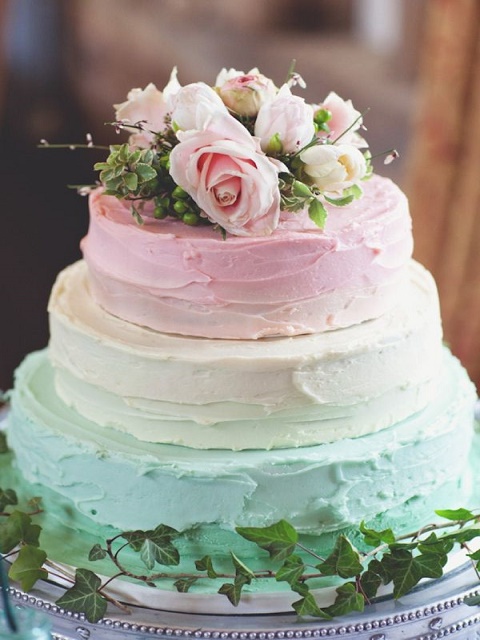 Image source: Pinterest
If you are not satisfied with the idea of only one color on your rustic wedding cake, you can play around with some soothing pastel colors. In this cake, for example, the three tiers are three different shades of messy buttercream, giving an interesting ombré effect. The flowers, vines, and buds are the perfect and only rustic additions to the wedding cake.
So that's our list of rustic wedding cakes you can take inspiration from.
Featured image source: Pinterest
Summary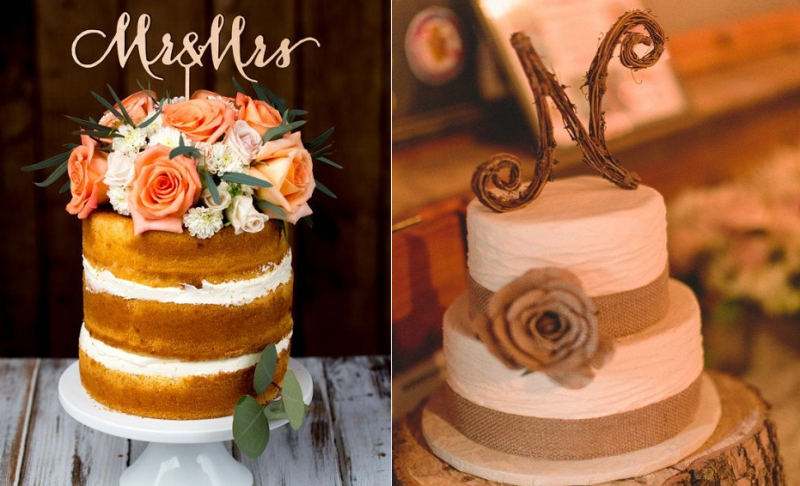 Article Name
20 Rustic Wedding Cakes For An Intimate Affair
Author
Description
Rustic wedding cakes have a charm all their own, even if they are minimalistic. Check out these 20 wedding cakes that bring that charm forth.