The Ultimate wedding cake fails are here!
Yes, it is the costliest mixture of eggs, flour, and sugar that you will ever eat or feed others, but ordering the perfect wedding cake is every so often a priority for the couple, especially the bride (remember how finicky she is about every detail of the wedding?!). So if the cake arrives on the big day but does not resemble the picture inspiration or the wedding cake ideas promised, it can be severely heart-breaking!
Every bride dreams of a fairy tale wedding, where each element is heart-picked. She wants her wedding ceremony to be picture perfect. But is every wife-to-be lucky enough to see this happening? No.
Planning a wedding ceremony is stressful business for the couple. They spend months making sure that even the smallest detail is taken care of. They want everything in the wedding squared to perfection. However, the fails unavoidably happen. It's either your photographer who goofs up the shoot or the DJ who churns up awful numbers! And I have not even begun talking about the food department going off-track or the bride having a wardrobe malfunction!
---
Suggested read: 10 worst songs to play at your wedding
---
Even minor stumbles can undermine the newlyweds' delicate morale, but there's one thing that must be flawless without a shadow of a doubt, and that is the wedding cake. An excellent wedding cake though expensive, involving great deal of effort and time, cannot be compromised with! However, not all cakes make history for the right reasons! We would like to applaud those bakers who came up will epic wedding cake fails like the ones listed below!
1. The life-size model cake!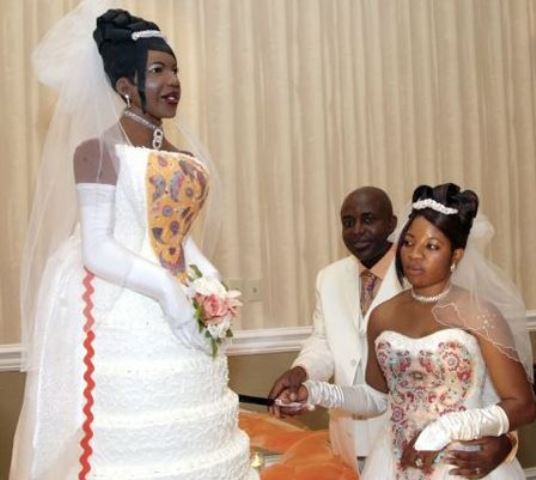 Image source: Pinterest
That look on her face should be enough for you to understand why this cake topped the list of wedding cake fails. You want me to go on further? Well, first you have a cake that looks like you (uglier version that too!), and then you need to cut it. Like, what is the symbolism behind it, anyway?!
2. Shit just got real!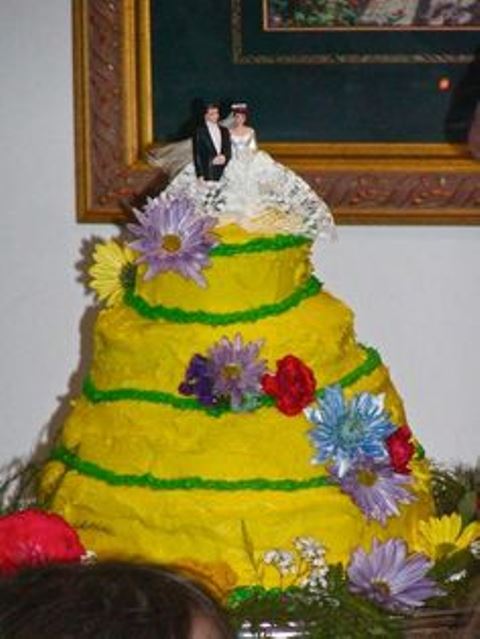 Image source: Pinterest
The color stinks (literally!)
Are those wild flowers?!
Do you realize that the tiers aren't even equally placed?
Or well set for that matter?
This is a total disaster, beyond normal wedding cake fails!
3. Fair is foul and foul is fair!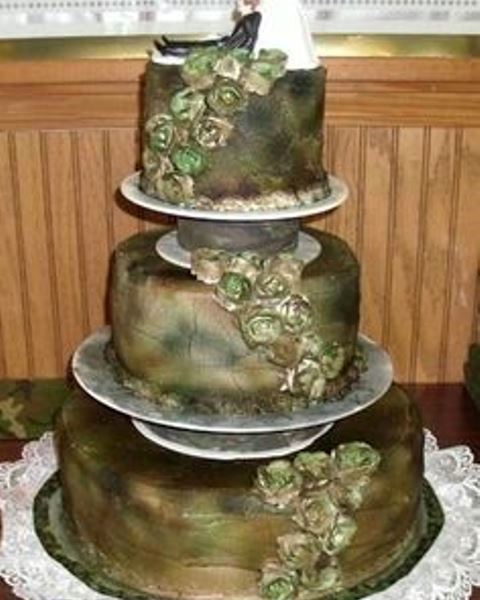 Image source: Pinterest
Why so morbid?! I guess the bakers were saving up on the colors. Or maybe it was a death-themed wedding ceremony. That makes sense! However, I don't think any sane bride would want a wedding like that and definitely not desire a wedding cake that looks like a corpse itself!
4. The anatomical cake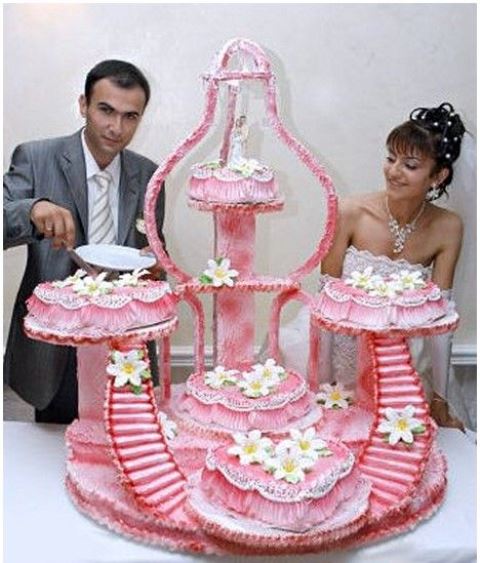 Image source: Pinterest
Okay. Where do I start! Are they both gynaecologists? I guess they are just anatomy enthusiasts (I have no idea if anything like that even exists!). Who in the world will want a wedding cake model of the uterus?! To say the least, this is gender bias! We must also have a cake on the male reproductive system, milord!
5. The fall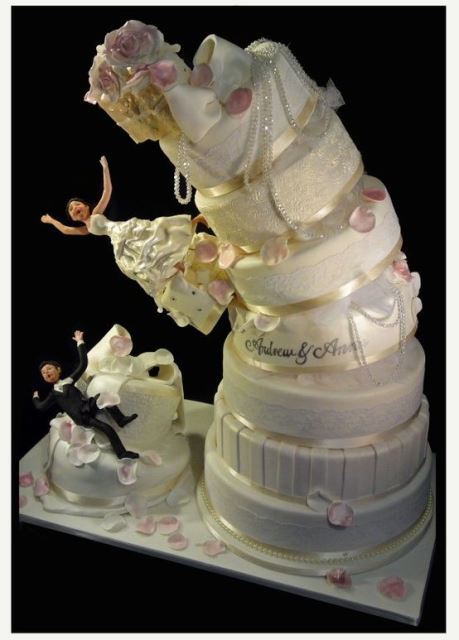 Image source: Pinterest
… And we all fall down! Goes well with a nursery rhyme; really well actually! But with a wedding cake? Nah! Too many tiers is not a good option unless you know the balancing act! Otherwise it can be a nightmare! Imagine you go to cut a slice of your wedding cake and it comes crumbling down! Not a pleasant sight, I tell you!
6. The brown beast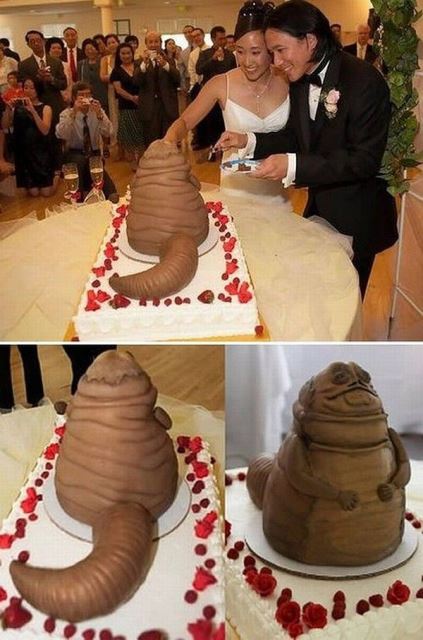 Image source: Pinterest
And what is this creature supposed to be? Does it make any difference? It looks as ugly no matter what it's called! Having this 'being' on your wedding cake is horrific! I don't understand why the couple looks so happy. If I were the bride, I would be sobbing throughout the ceremony and days after it!
7. Mr. and Mrs. Smith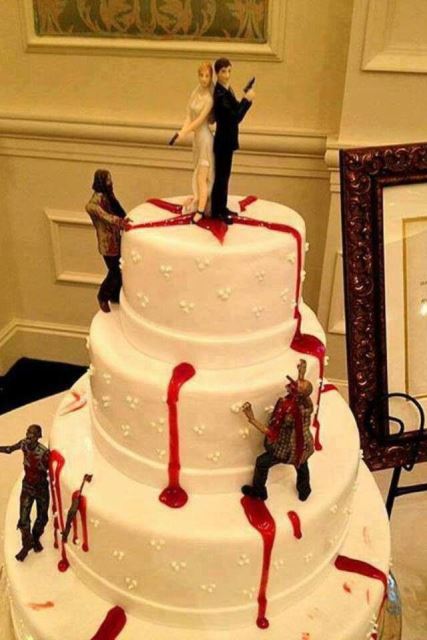 Image source: Pinterest
If you are a deadly assassin couple this is your wedding cake, but for a lay man this can be pretty gory! The message this one's giving out is real good. The 'confronting all problems together and having each other's back,' but the depiction has gone a little wrong. Blood splatters on a wedding cake do not make for an aww-dorable surprise!
8. 'Period'ic cake!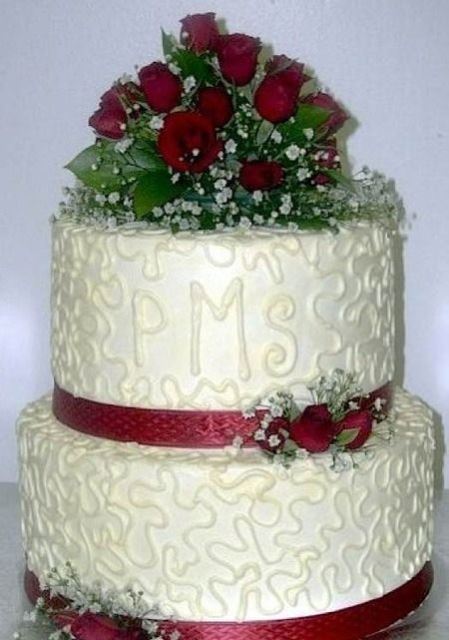 Image source: Pinterest
PMS? Like, really? In my opinion, this is a prank. This is also the reason why you must never let your husband-to-be place the order! I really hope you are not actually PMSing while you see this cake because then all hell is going to break loose!
9. The Hulk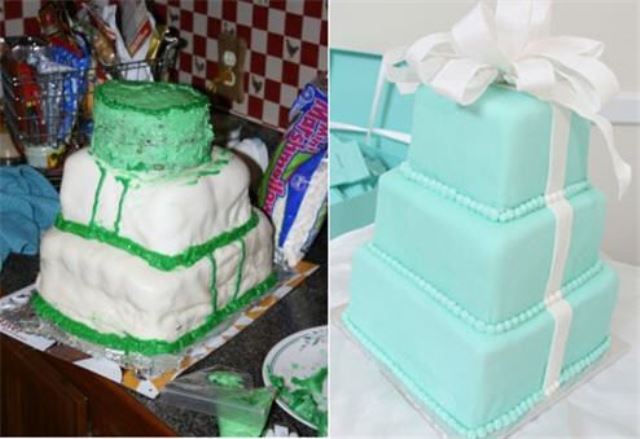 Image source: Pinterest
Yes, man proposes and God disposes, but you don't imagine your baker will act God. After he sees the design that you have chosen for yourself, he gets a chance to say whether he can do justice to it or not. Once he says yes, he better deliver! Worse are the ones who show you brilliant ideas but scare the hell out of you in reality, at your wedding!
10. Colors galore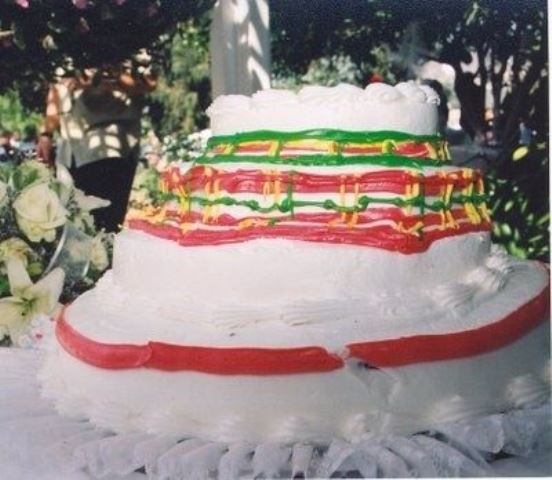 Image source: Pinterest
A list on wedding cake fails would be incomplete without a mention of this shapeless wedding cake. Is this some kind of an abstract art form that no one in this world seems to appreciate?! Whatever be it, sue this guy!
11. 'Tyred' up in holy matrimony!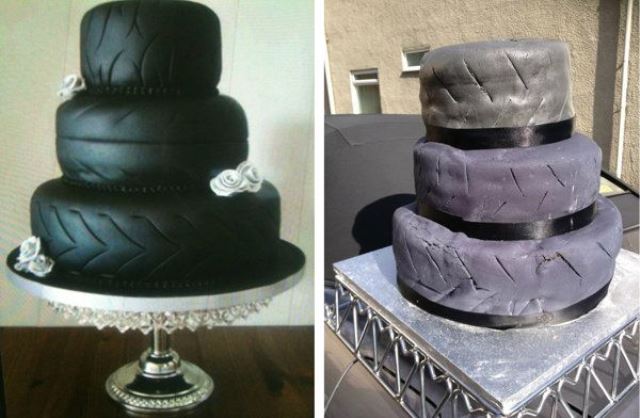 Image source: Pinterest
I neither like the sample nor the actual wedding cake. I mean a tyre, seriously? Okay, they may binge on Formula One racing or they may be huge fans of Fast and Furious, but this is not legit! If I was a guest at this wedding, I promise you I wouldn't have dug even my eyes into this scary cake let alone put it in my mouth!
12. Nothing at all!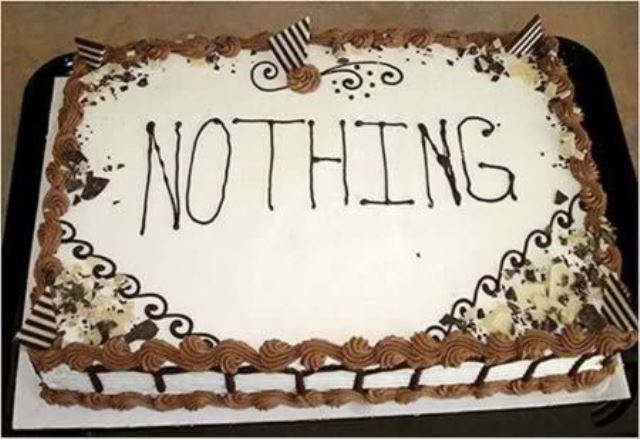 Image source: Pinterest
Some people believe in less being more. But, my dear, it's your wedding and I suppose, that shouldn't mean "nothing" to you? And the design also sucks for that matter. Ah, I get it! Nothing about this wedding cake is worth a penny!
---
Suggested read: 8 wedding superstitions that brides still believe in
---
13. Funeral at a wedding!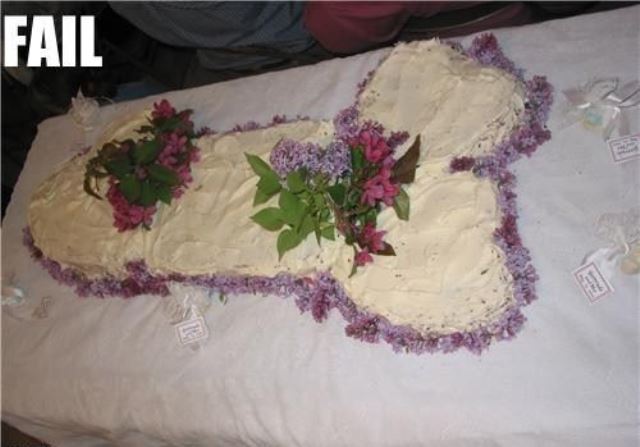 Image source: Pinterest
Is this a funeral-cum-wedding? Trying to save money doing both at the prize of one! This is a hideous cake: shapeless, colorless, concept-less! I pity the bride who dealt with this but would love to see her reaction when she first set her eyes on it! Cheap thrills of life, you know!
14. Wish you were 'beer'!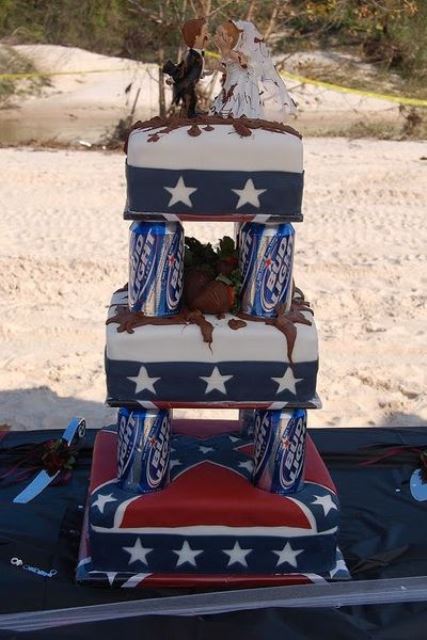 Image source: Pinterest
Waiting for me to describe this innovative wedding cake? Well don't even expect! Is this a depiction of a couple who loves to drink? And are they getting married because they are drunk?! If we minus the cans from below, it does not make such a bad attempt. But the chocolate on the top layer looking like mud splashes… now that has to be done away with!
15. Veggie delight!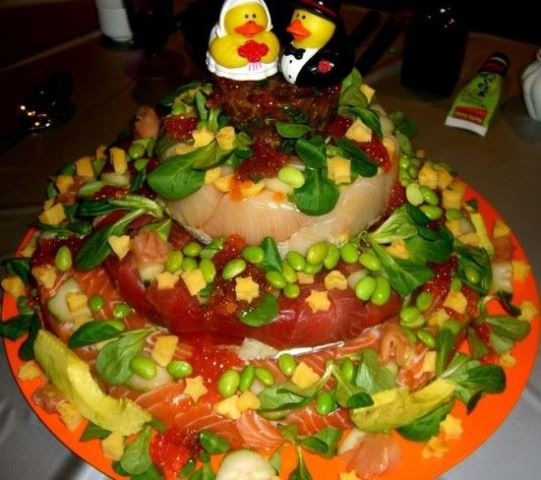 Image source: Pinterest
A pizza or a cake? Experimenting with your wedding cake is a good thing to do. Some of us hate monotony, don't we? And some of us dream of introducing something different that will make us a memory in the minds of all the people who have attended the wedding. Well, a memory is good news but a haunting one, I don't think so!
16. Taxi!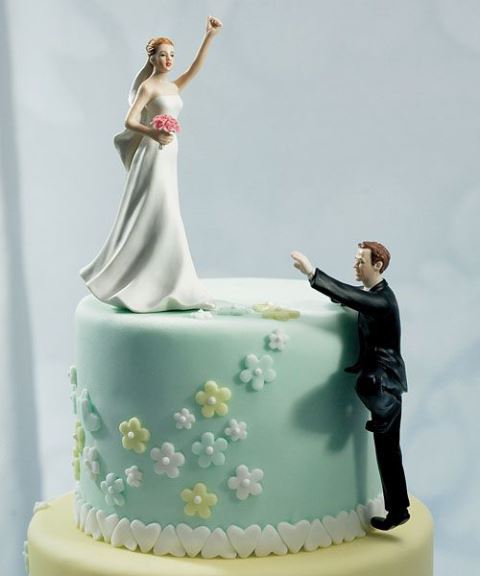 Image source: Pinterest
Are they trying to book a cab? Even if that is true, they seem to be headed in two different directions; not such a good thing if you are planning to spend the rest of your life together. Is this an illustration of such deep thoughts or is it only one of the wedding cake designs that failed?!
17. Broom the groom!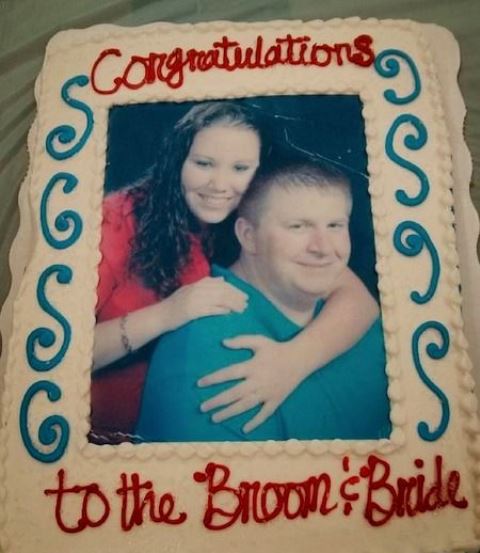 Image source: Pinterest
To the 'broom'… ouch! Also a photograph of the couple on the wedding cake is not such a good idea. Remember, they will be cutting this thing? And that people will be actually getting a slice of it! Empathize, people!
18. Something's fishy!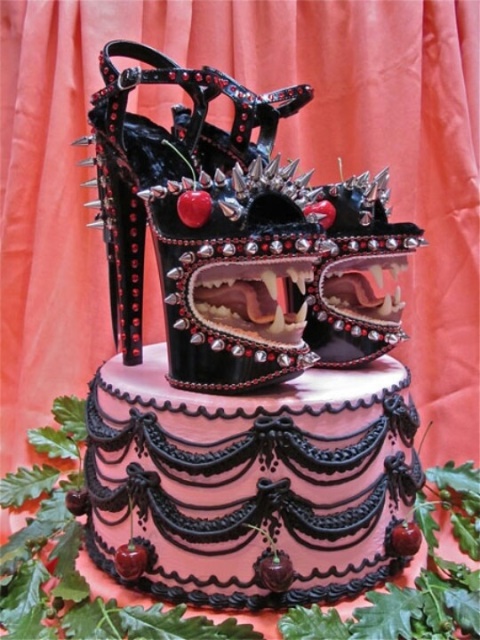 Image source: Pinterest
Two piranha sandals on a wedding cake? Creative indeed, but does not serve the purpose! And if we just look at the tones chosen for this 'Shark Attack' wedding cake, it is enough to send chills down our spines. One of the worst wedding cake fails in my opinion, because though it's good it's awful for the event.
19. Nerd wreck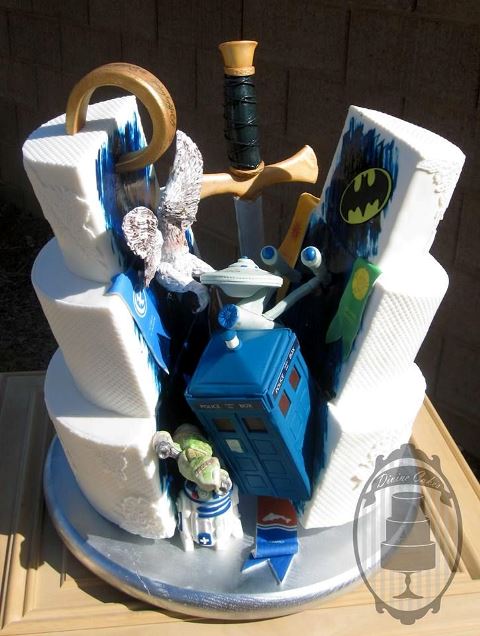 Image source: Divine Cakes
This looks more like a teenager's birthday cake, but one that's gone all wrong! I mean, it looks like someone baked it first, then split it and shoved in all the stuff which he forgot to place in the first place! With the chaos going on in here, it does look like Gotham city! 😉
20. The hate cake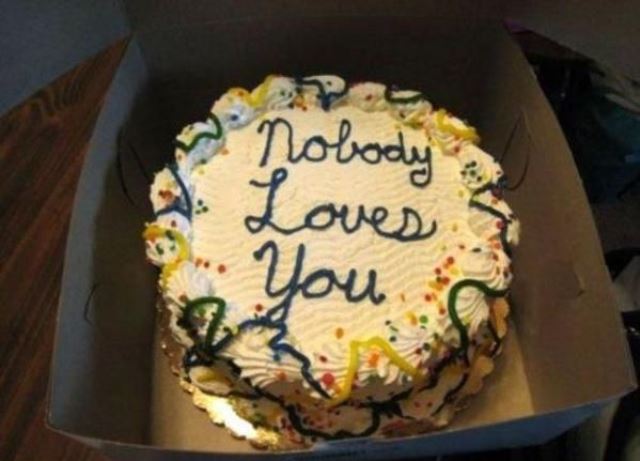 Image source: Pinterest
Pure heartbreak! A perfect wedding message to that boss who is a pain in all the wrong places, does not approve any of your holiday requests, and basically, bosses over you! The frills, or whatever those things the baker has tried with the blue, green, and yellow, are cringe-worthy!
21. Chees(y) cake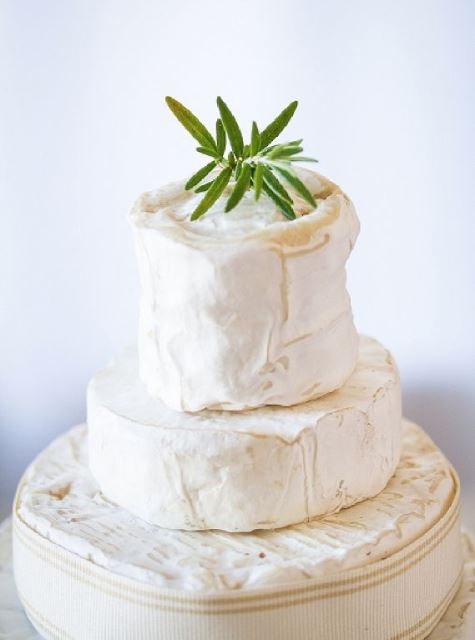 Image source: Pinterest
I love cheese cakes, and most probably, will order one on my wedding. But if this is what cheese cake means to a few, I think I have much to worry about! And what's with the green leaves on top?!! One of the most bizarre wedding cake fails!
22. Will add no feathers in your cap!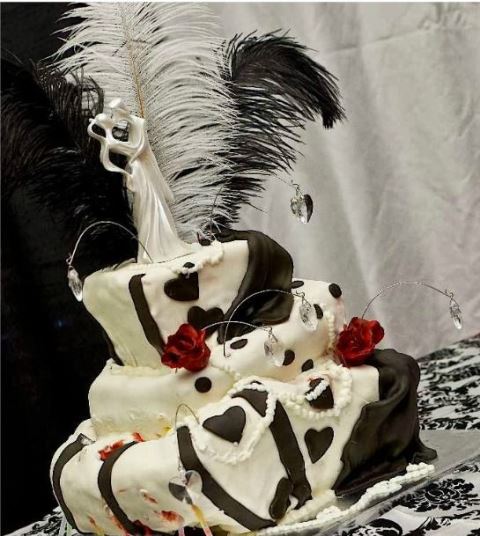 Image source: Pinterest
At least they could have arranged for a better cake top, for Christ's sake! The tiers have crumbled, the cake design is awful, the roses are placed haywire! And to top it all, feathers on a cake! Fuzzy, indeed!
23. Newly weeds!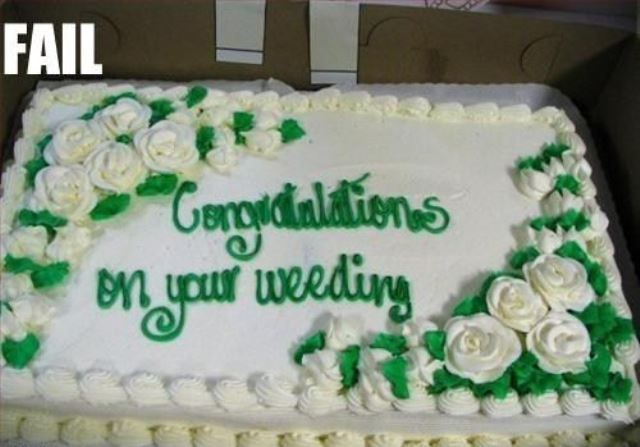 Image source: Pinterest
Thank you for baking a cake because I smoked some pot! And keeping it all green because you are color sensitive, lovely! #Facepalm!
24. Game over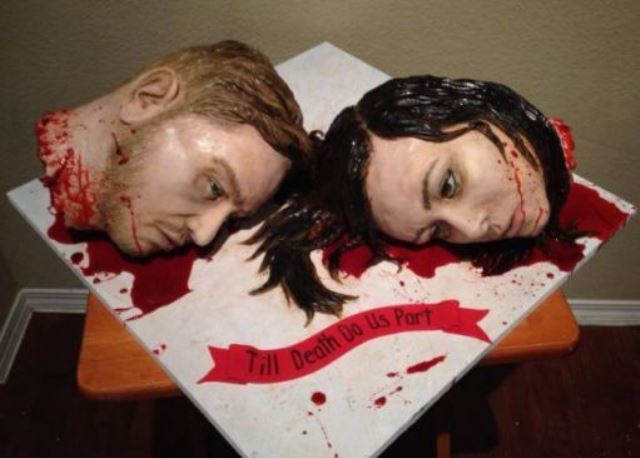 Image source: Pinterest
This baker has taken the 'Til death do us part' thingy way to seriously!
---
Suggested read: 7 reasons why you don't need a theme to have a memorable wedding
---
25. Deck-orate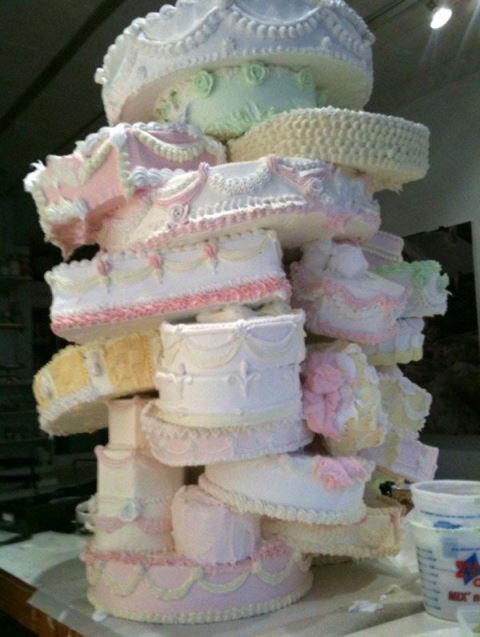 Image source: Pinterest
The list on wedding cake fails would be a failure in itself if it wouldn't include this masterpiece! Behold the beauty! Do it quickly before the London Bridge falls down, my fair lady!
A wedding cake is the central piece of attraction when it comes to a marriage ceremony. It is distressing not only for the bride but for the guests also to watch a horrendous cake make its way through the hall to the stage! If you are marrying anytime soon, make sure you ask the baker for a sample, or prepare to feature on our next list of wedding cake fails! 😉
Summary
Article Name
25 Wedding Cake Fails That Left Brides In Tears
Author
Description
You haven't seen them till you've seen the worst wedding cake fails that are sure to leave the brides in tears! #WeddingFails