Do you believe that the sweetest delights in the world come naked? 😉
You do, right! But am not really talking dirty! 😛
I am talking of the new 'naked' rage – naked wedding cakes! Baring that tall edifice of sweetness at that warm outdoor wedding is the best way to prevent the carefully done icing dripping down those tiers! After all, your wedding confection does not really need cream to be sweet. And if you don't believe me, you will, in just about fifteen seconds.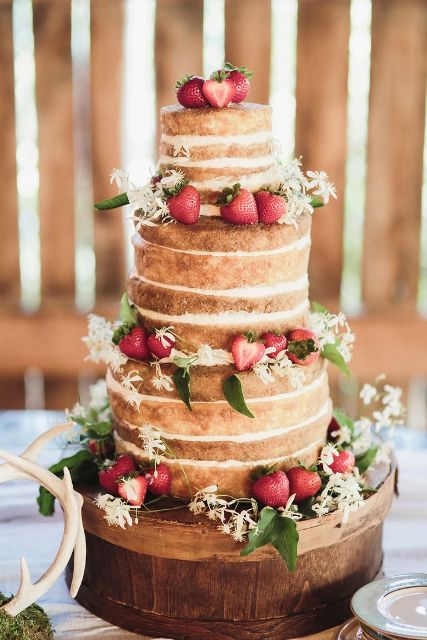 Image source: Pinterest
---
Suggested read: The most amazing wedding cakes ever
---
As you scroll down, you will see the choicest of naked wedding cakes brought together in a heart-picked list for some sweet inspiration for your nuptials! Not only is the perception that these unfrosted novelty wedding cakes are not beautiful so wrong, but naked wedding cakes are equally scrumptious and delightful! Available in all shapes, sizes, and flavors, delectably filled with fruit and adorably lined with flowers for that attractive accent, these naked wedding cakes offer the perfect sweetness to spread in your mouth as you take bite-fuls! Enjoy our spread:
1. Chocolate floral naked wedding cake
Image source: Pinterest
The pairing of the darker chocolate base against the lighter frosting or mousse helps offset the pastel colors of the floral accents and brings about a lovely contrast to the whole nude edifice. And when you bring together chocolate and flowers, you are already spelling out R.O.M.A.N.C.E in sweet flavors, right?
2. Caramel drip naked wedding cake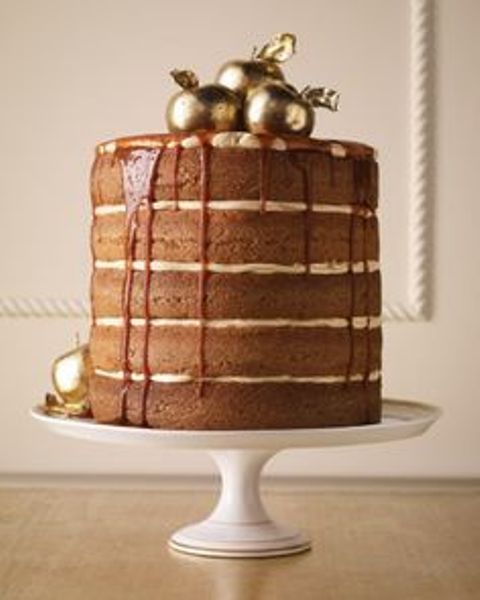 Image source: Pinterest
Instead of opting for the traditional chocolate or vanilla topping accented with flowers or trendy cake toppers, why not pour down caramel over the bare layers? The result would be yummilicious!
3. Light frosting cake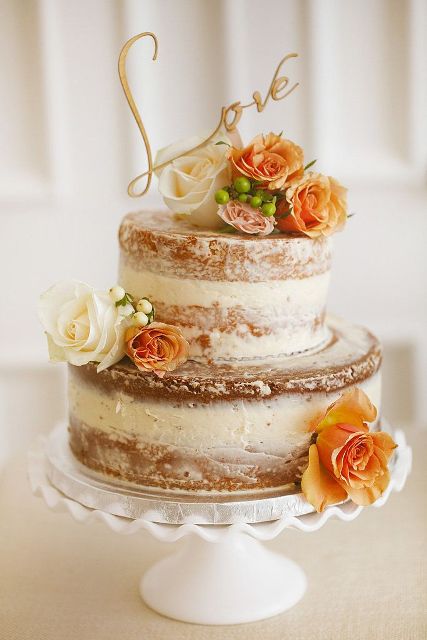 Image source: Pinterest
If complete undressing is something you wish to reserve for some private moments of 'sweet-er' romance, then you could opt for the light frosting cake. 😉 A brushing of a light layer of frosting over your cake shall give you the best taste of both worlds!
4. Sectional frosting cake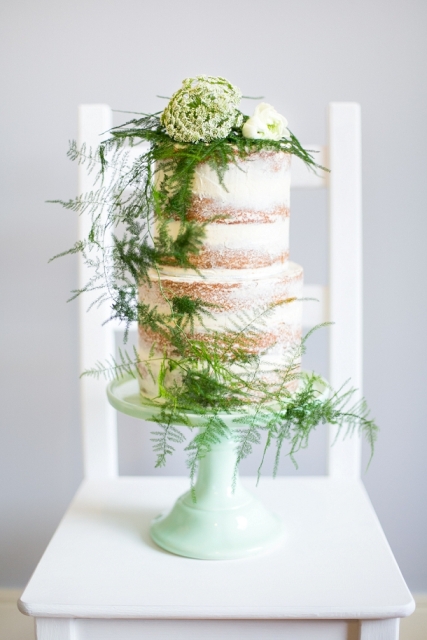 Image source: Pinterest
This one is an actual rendition of the best of both worlds and sports frosted and naked tiers in sequence – thereby, giving guests the option to devour a slice that best appeals to their palate, while giving the cake a unique look!
---
Suggested read: Wedding cupcake ideas that will steal your heart and seal your decision
---
5. Choco-layers naked wedding cake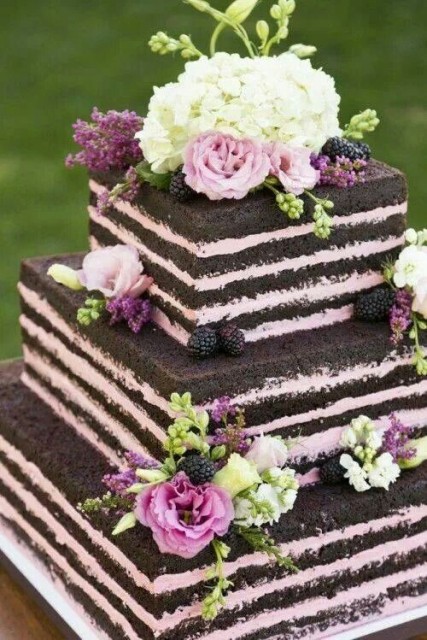 Image source: Pinterest
Layers upon layers of chocolate along with light cream frosting to glue them together! Ahh – the crowd's cheering! Throw in the best of fruit and floral accents and watch the crowds melt into the sweetness!
6. Red velvet drip 
Image source: Pinterest
A red velvet dessert topped with juicy fruit is the perfect emblem of romance on a cake stand. We can see all mouths watering already!
7. The powdered nude wedding cake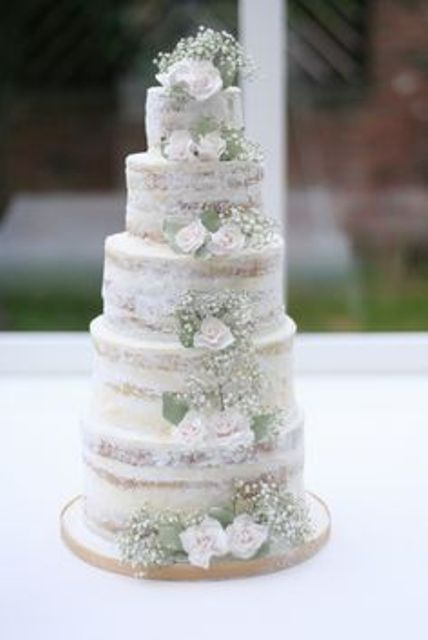 Image source: Pinterest
Sprinkling your minimalist nude wedding cake with powdered sugar for that wonderful texture and a dash of extra sweetness is a great way to have guests cut out extra slices and still not have enough! They will be raving about your pick for days! So SWEET! 😀
8. Full of fruit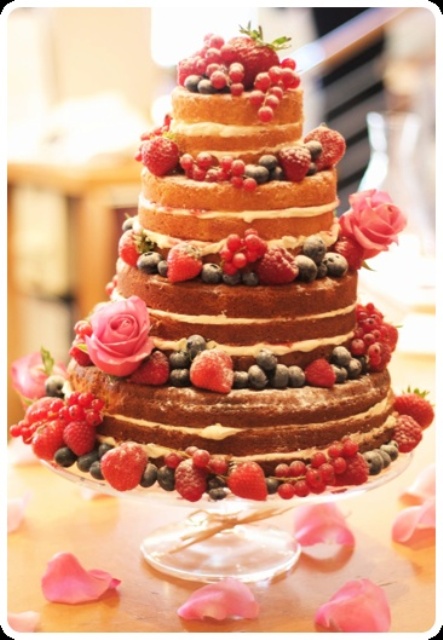 Image source: Pinterest
Whenever you are in doubt about a naked wedding cake, all you got to do is pile a ton of juicy, succulent fruit on each layer! You can never go wrong with this timeless tasty trick!
9. Burst of color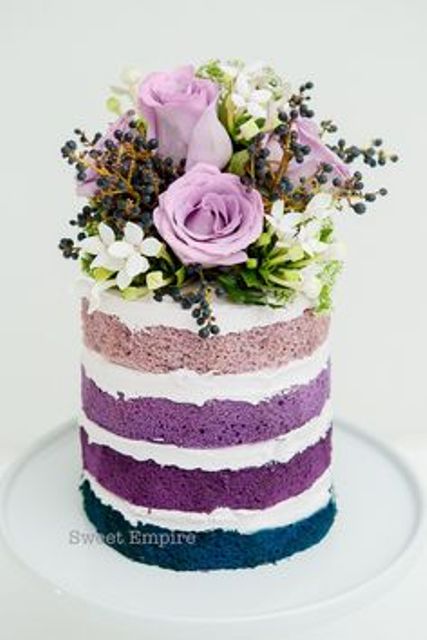 Image source: Pinterest
Adding a pop of color to your unfrosted wedding cake and adding the final touches with complementary-hued flower accents can never fail to spread sweet smiles! Ahh – to be bathed in colorful sweetness!
10. Naked vanilla cake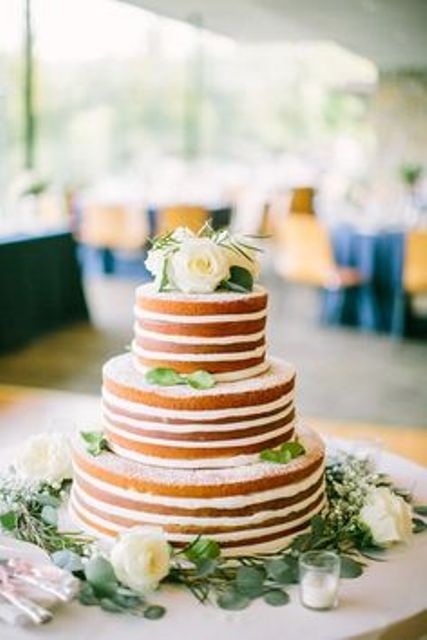 Image source: Pinterest
A naked vanilla cake topped with fresh flowers and surrounded by verdant greens is the best way to inject a rustic, romantic vibe into the milieu. Not to forget with just the right dash of sweetness! Did someone ask for another slice? 😉
11. The choco-strawberry duo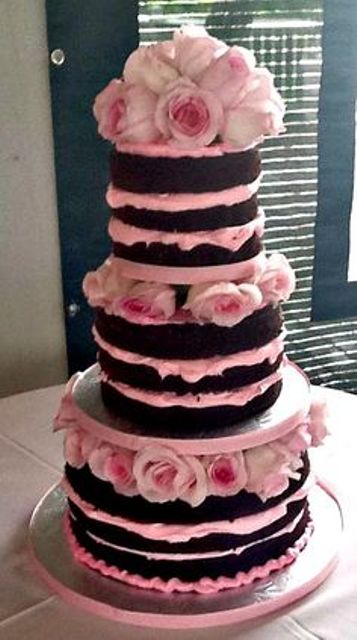 Image source: Pinterest
---
Suggested read: The most extravagant celebrity wedding cakes ever
---
Nothing is more delightful than layers of chocolicious delight bathed in pink creamy flavor! After all, you cannot undress chocolate and strawberry together and expect them not to make love, can you? Enjoy their sinful sweetness!
12. The ombre naked wedding cake
Image source: Pinterest
Add a new twist on the naked trend by piling up layers of dark to light in ombre fashion to sweeten the edifice of your nuptials. It is a surefire way to win them all – heart-in-mouth!
13. The seasonal sweetness
Image source: Pinterest
Since these are best suited for warm outdoor weddings, you could opt for spring or summer delights with yellow nude cakes with deep goldenrod, cream, and peachy floral accents. You could even add leaves and twigs and package the whole thing into one sweet bundle of summery treat!
14. Rainbow naked wedding cake
Image source: Pinterest
You cannot go wrong with the rainbow naked wedding cake. Not only do the VIBGYOR colors delight the summer audience but the vibrant feel extends the sweet verve to spread as a smile-wave on mouths full of cake-in-color!
15. Funfetti naked wedding cake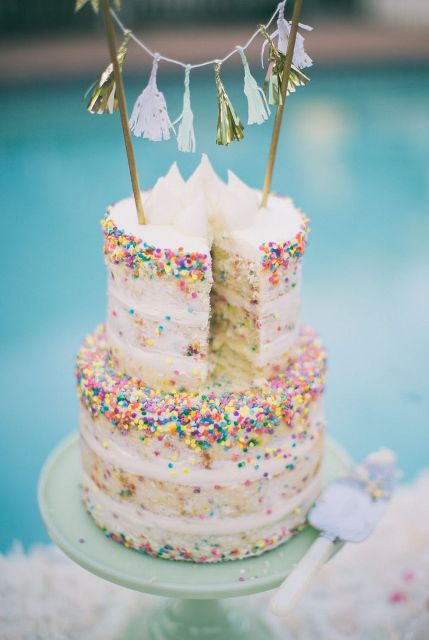 Image source: Pinterest
Funfetti cakes are always fun, right? Sprinkle as much fun, in as many ways to the nude cake you have chosen for your nuptials! These li'l elves will make them fun and fabulous!
So much sweetness in 'naked' – as promised, so delivered – didn't we? 😉
Featured image source: Pinterest
Summary
Article Name
15 Naked Wedding Cakes That Are Rustic Yet Charming
Author
Description
Naked wedding cakes are just 'sweet' reminders that a lot of 'naked' in the wedding can be sweetly savored in public too! ;)