Jumpsuits have been appearing every now and again in the fashion scene for the past few years. However, since fashion has reached a stage where pretty much everything is trendy, needless to say, these comfortable as heck cuties have reached an all-time fashion high. There are a trillion different styles of jumpsuits, catering to the individual choices of so many people.
---
Suggested read: 20 bold style tips on how to rock denim jackets
---
Here are 20 amazing tips on how to wear a jumpsuit like a total diva!
1. Jumpsuit with a plunging neckline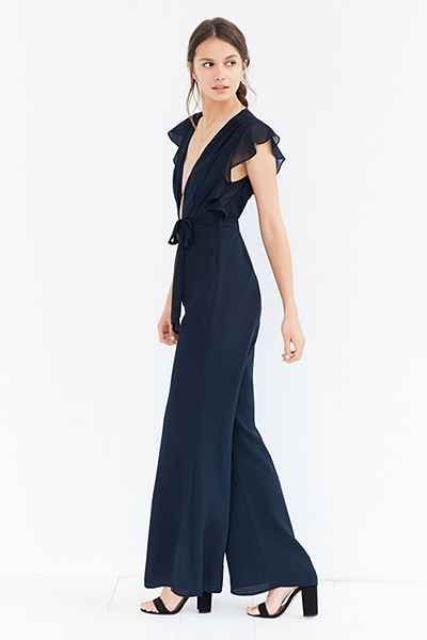 Image source: Pinterest
This gorgeous blue jumpsuit from Urban Outfitters is all about the daring neckline. Gone are the days when jumpsuits were baggy and boring. We can't get enough of the sexy navel-plunge neckline and the feminine ruffle sleeves. Wear this on a date with your significant other, and revel in their complete inability to take their eyes off you.
2. Boho-chic jumpsuit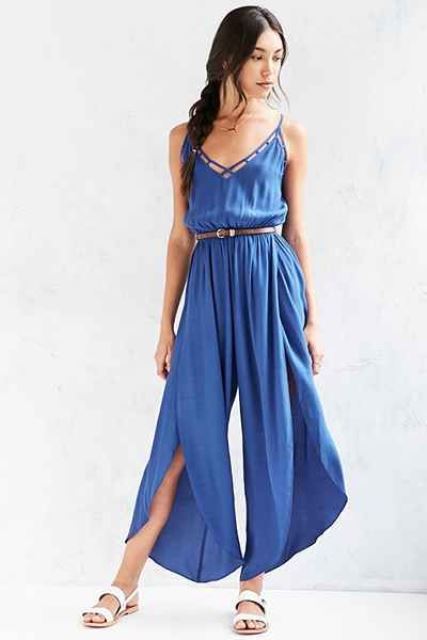 Image source: Pinterest
This babe of a jumpsuit, also from Urban Outfitters, is PERFECT for a summer festival, or simply a day out with friends and family. We love the cerulean blue (The Devil Wears Prada flashback anyone?) and the spliced wide legs. The lattice work on the top is an edgy addition to this very cute outfit.
3. The dungaree jumpsuit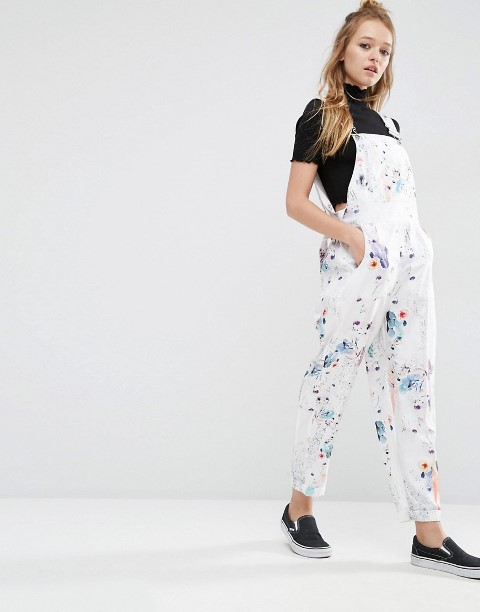 Image source: Asos
Can any jumpsuit list ever be really complete without a dungaree jumpsuit? This white floral print jumpsuit from Asos is artsy and very hipster. The floral print is a very unusual (and VERY well-liked) addition to the classic white dungarees. This is a very casual outfit, but can be made a bit more edgy and sexy if the black high-neck top is replaced with a bold and sexy lace bralette.
4. Palazzo style jumpsuit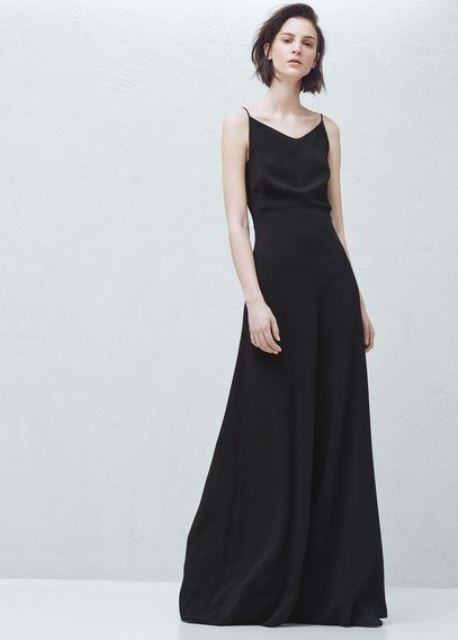 Image source: Pinterest
This palazzo-style jumpsuit from Mango is a high-fashion version of a regular jumpsuit. The flared wide legs and loose-fitted top is very chic and will make you look like you have legs for days! Pair this with a nice denim jacket and a hat or sexy cat-eye sunglasses for a killer street-style statement.
5. Culotte jumpsuit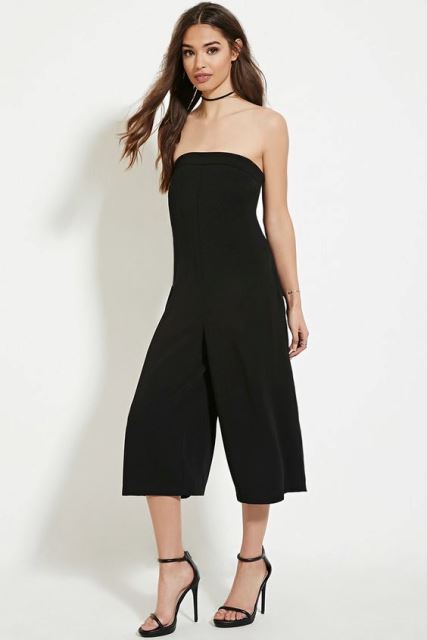 Image source: Pinterest
This strapless jumpsuit from Forever 21 is perfect for a night out on the town. We love the trendy culotte legs, which is an excellent choice for the hot summer nights. An all-black outfit is always very chic and very stylish. Instead of a simple choker, you could throw on a gorgeous layered necklace for a bit more glam look.
6. Metallic jumpsuit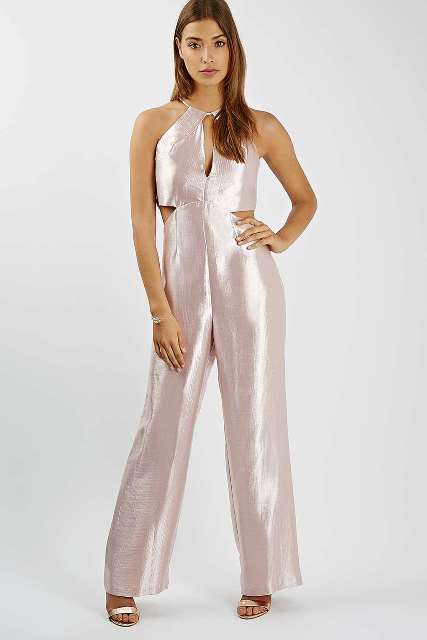 Image source: Topshop
This metallic jumpsuit from Topshop is giving us an early 2000s vibe, and we're loving it! The soft pink metallic color is edgy and stylish. The keyhole and waist cut-outs add some sensuality to this structured jumpsuit. This outfit, with a pair of strappy heels, would be a very good choice to wear to a wedding reception where you can pull off this fun number without looking too out of place.
7. Striped jumpsuit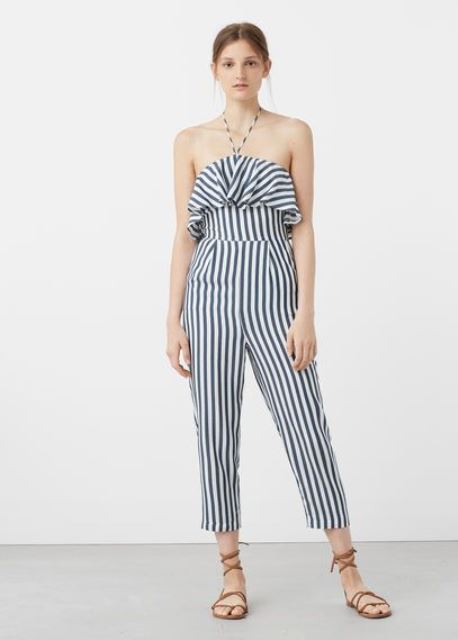 Image source: Pinterest
This jumpsuit from Mango is one of the best summer outfits we've come across in a while. It is fun and flirty and very chic. The vertical monochrome stripes will elongate your figure and make you look taller than you are. The halter neck and the ruffled overlay are girly and very cute. This will be a pretty cool outfit to wear to any informal events. Throw a pastel-colored leather jacket over your shoulders and a pair of strappy block heels, and you will nail the street style game.
8. Tie-dye jumpsuit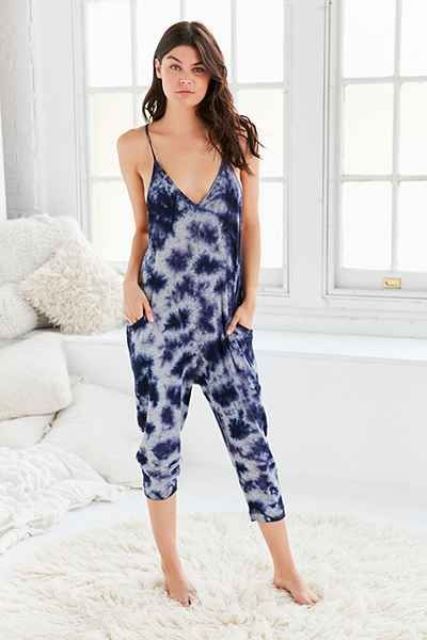 Image source: Pinterest
This tie-dye jumpsuit from Urban Outfitters is making our DIY-loving senses tingle. We love the cool blue color and the slouchy fit of the jumpsuit. The tapered midi-length pants are chic and summery while the slinky thin straps and plunging v-neck, make the outfit a lot more sexy than a regular jumpsuit. There is a risk of major side-boob action, so you could wear a cute little white or metallic bralette underneath. Alternatively, you could wear this to a pool party and wear the bikini underneath this for some playful peek-a-boo action!
9. Pastel-colored jumpsuit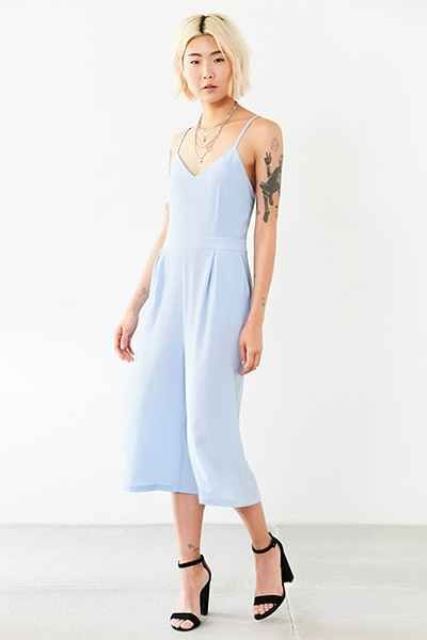 Image source: Pinterest
Summer and pastels go hand in hand. So it should come as no surprise that we love this ice blue jumpsuit from Urban Outfitters (again). The culotte-style pants allow you to flaunt a gorgeous pair of strappy sandals or heels. Although, instead of something drastic like black shoes, why not go for a nice white pair for a chic look, or even metallic ones for a more edgy look?
---
Suggested read: 15 stunning tips and tricks to wear boyfriend jeans with panache
---
10. Floral detail jumpsuit

Image source: Pinterest
Off-the-rack jumpsuits not quite working for ya? Why not try this stunning jumpsuit by Elie Saab? There is so much we love about this outfit. The beautiful floral detail around the neck and shoulders look striking against the clean white color of the jumpsuit. The boat-neck and the full-sleeves are a refreshing change from the usual sleeveless jumpsuits. This outfit is perfect for a wedding, or for a posh lunch date.
11. Sweatpant jumpsuit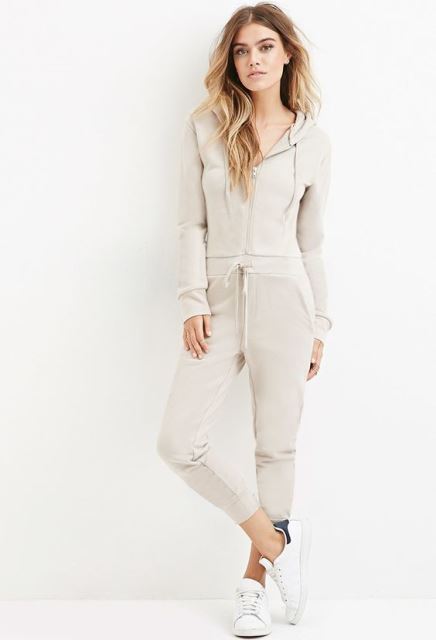 Image source: Pinterest
We're back to Forever 21 with this sweatpant jumpsuit. We might as well end the list here because honestly, can you really do any better than a sweatpant jumpsuit? It looks so comfortable and yet stylish as heck! The soft beige color and the joggers-style pants make this outfit look young and cute.
12. Asymmetrical overlay jumpsuit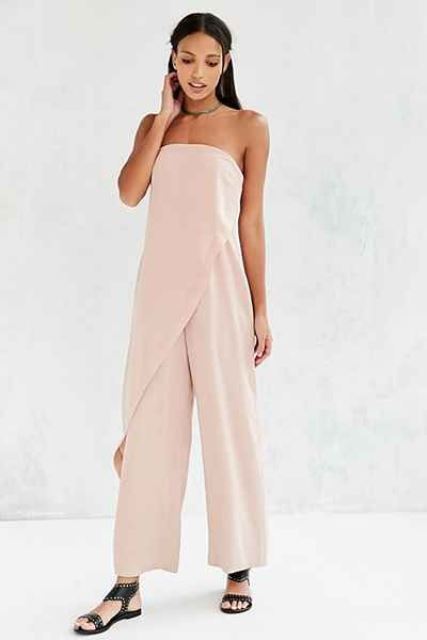 Image source: Pinterest
This strapless jumpsuit is breathtakingly beautiful. We love the edgy asymmetrical overlay, which looks feminine and incredibly chic in this lovely blush nude color. The ankle-length pants make the look perfect for a summer brunch. You could swap the sandals for a pair of cute wedges and wear a pretty printed jacket over the jumpsuit for a very posh and trendy look.
13. Indigo jumpsuit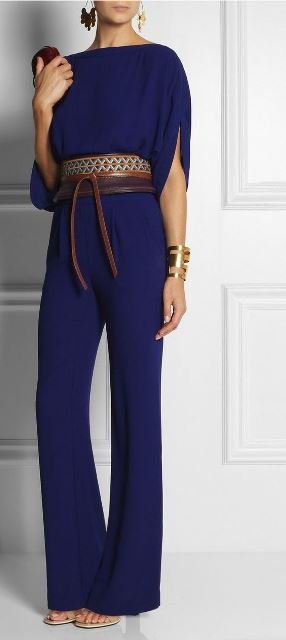 Image source: Pinterest
This indigo Diane von Furstenberg creation is drop-dead gorgeous. We are obsessed with the loose-fitted boat-neck top and the poncho-style sleeves. We love the regal blue color of the jumpsuit, and how beautifully it complements the wide leather belt that helps draw the waist in and make it look tiny. This outfit is perfect for a wedding, or an office party.
14. White culotte jumpsuit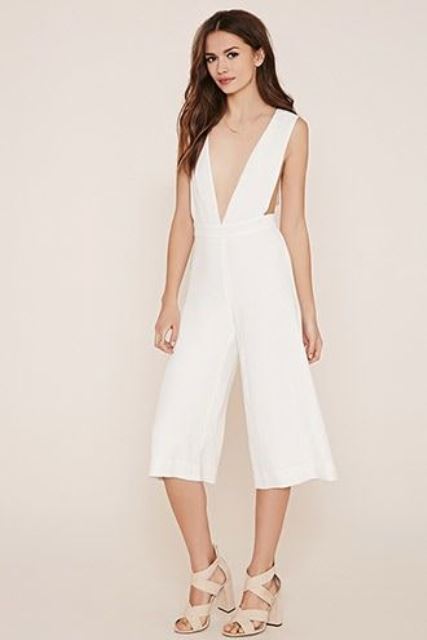 Image source: Pinterest
This white jumpsuit from Forever 21 is exquisite. We love the bold plunging neckline, and possible side-boob action. The color and style of the dress are very feminine and very chic. Alternatively, you could wear a denim crop top underneath and swap the heels for a pair of booties or gladiator sandals, and the look transforms into something a lot more hipster and trendy.
15. Androgynous jumpsuit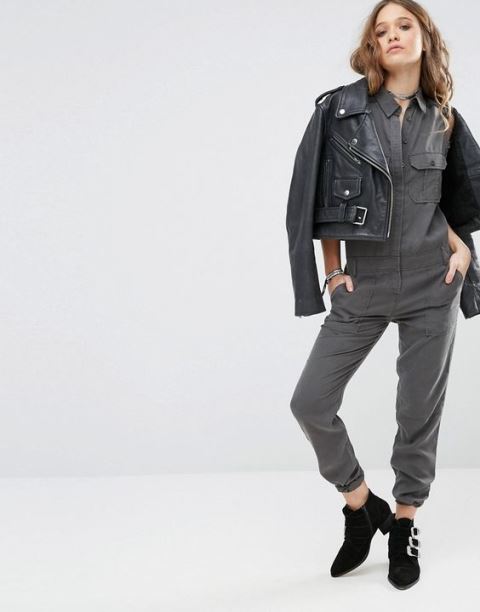 Image source: Pinterest
This grey military–style jumpsuit from Asos is very modern and edgy. We love how androgynous it is. The dark grey color is very trendy and edgy. This jumpsuit is for the badass fashionista who refuses to conform to the rules of gender-based style.
16. The sexy cut-out jumpsuit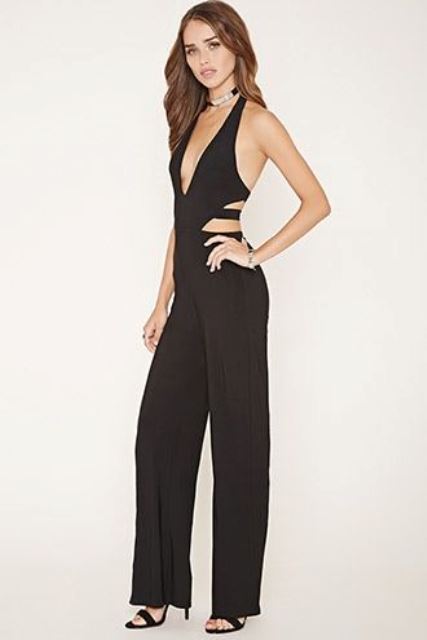 Image source: Pinterest
This black cut-out jumpsuit from Forever 21 is sensuous and very feminine. The black color is super-slimming. The halter-neck, the plunging neckline, and the side and back cut-outs make this dress immensely sexy. You could pair this with an embroidered jacket for a chic night-out outfit.
17. Lace-panel jumpsuit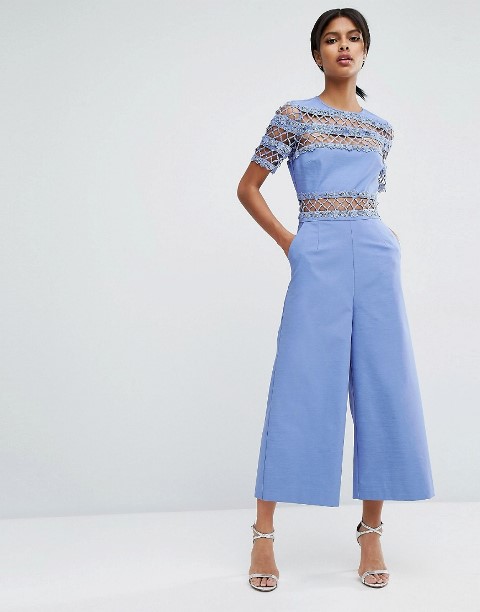 Image source: Asos
This sky-blue jumpsuit is an absolute stunner. We love the color and the wide legs of the jumpsuit. But what we love the most is the edgy lace-paneling on the top and sleeves of the jumpsuit, which is what makes this piece truly one of a kind. This outfit needs minimal accessorizing, and will be an excellent choice for a brunch or lunch date with friends or with your significant other.
18. Wide-striped jumpsuit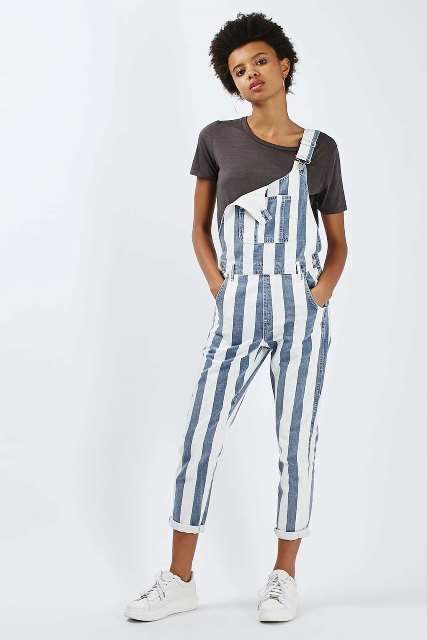 Image source: Topshop
This striped denim dungaree style jumpsuit from Topshop is sooo cool! We love the wide vertical stripes and the rolled hem of the legs. This jumpsuit, paired with a bright colored pair of sneakers and a white vest will look super low-maintenance but chic and trendy at the same time.
19. Crepe jumpsuit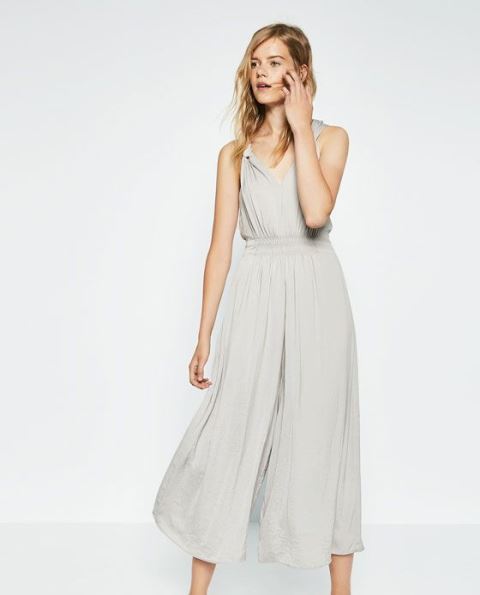 Image source: Pinterest
This gathered crepe jumpsuit from Zara is for the minimalist fashionista. We love the soft grey color and the beautiful flowy silhouette of the jumpsuit. On its own, it is an exquisite piece that will satisfy the minimalist in you. But, if you like a bit more fun in your outfits, the neutral color and style of this jumpsuit will allow you to accessorize it and customize it to suit your personality.
---
Suggested read: 12 stunning ways to wear distressed jeans that will up your style quotient
---
20. The Kardashian-Jenner inspired jumpsuit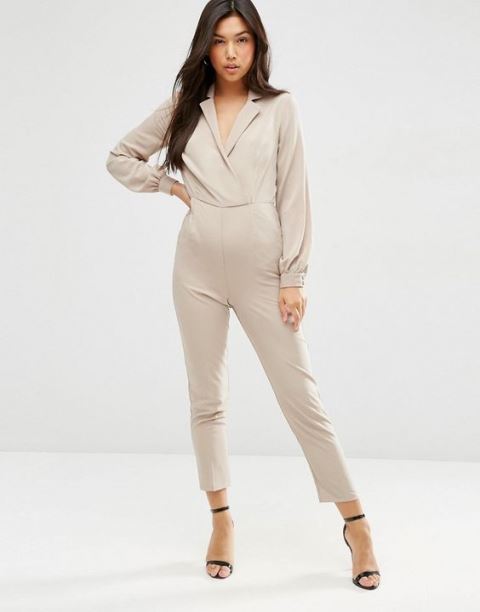 Image source: Pinterest
This beige jumpsuit from Asos is giving us major Kardashian-Jenner vibes. Perhaps it's the form-fitted silhouette or the v-neck collared wrap top. Of course, it is a MUCH toned down version of something the Kardashians would wear, but it is nonetheless pretty sexy. Accessorize this jumpsuit with a slim belt and a well-fitted jacket, and it will be a perfect work outfit. This outfit will make you look confident and strong, which is just what you need in an outfit that you can wear to work.
There are a million other tips on how to wear a jumpsuit, but these our some of our favorites. Jumpsuits manage to combine two very contradictory aspects of fashion – comfort and style. That is probably why they are so popular. One of our best tips on how to wear a jumpsuit is to appreciate their versatility and try on different accessories with the same jumpsuit, for completely different looks.
Summary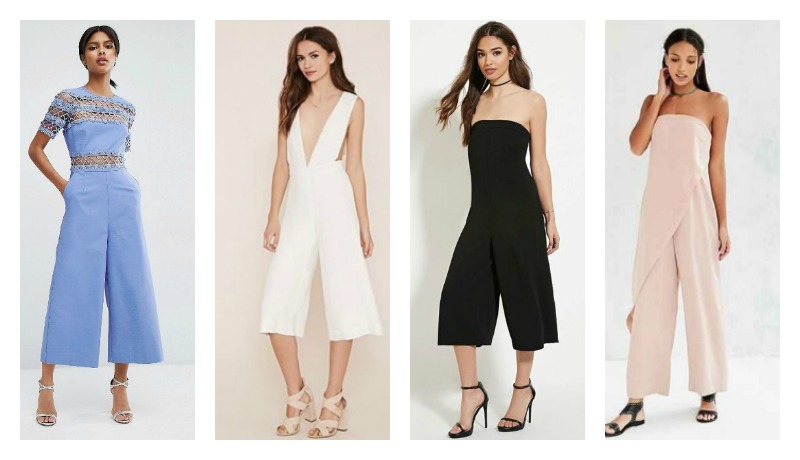 Article Name
20 Tips On How To Wear A Jumpsuit And Rock It
Author
Description
Jumpsuits are the IT thing this season. Know how to wear a jumpsuit and rock like the diva you are, here!