Carolina Herrera is one of the biggest names to be reckoned with in the bridal fashion industry, and to be able to get married in Carolina Herrera wedding dresses is definitely a dream come to true for brides-to-be. Amongst a lot of other labels in this genre, the wedding dresses from this brand have certainly managed to enchant generations of brides, and here are some solid examples why.
---
Suggested read: 22 stunning Vera Wang dresses that will make you want a wedding ASAP
---
1. Full lace and silk vintage wedding dress
A characteristic feature of Carolina Herrera wedding dresses is the beautiful use of lace. This dress is a shining example of that kind of expertise. The entire length of the dress is replete with gorgeous lacework over ivory silk, which is enhanced because of the illusion neckline. The dress is perfectly vintage in the kind of charm it exudes, but perfectly contemporary in style.
2. Pleated silk and chiffon empire dress
This dress is perfect for the ultimate city wedding. The body of the dress is simplistic, with copious amounts of smooth silk, with an underlay of chiffon layers. The highlight of the dress, however, is the neckline, which is low-cut and gorgeous, because of the folded over, pleated edges, creating a collar-effect.
3. Exquisite dip-dyed wedding dress
The exquisite silhouette on this dress takes your breath away because of scrunched up texture of the full skirt of the dress. The layers that are exposed from underneath are dip-dyed various shades of blue and grey to create a magical effect.
4. Pale blue and white tulle and chiffon dress
The best thing about this dress is the complete lack of symmetry, which would otherwise be bothersome, but looks absolutely stunning in this context. The wrap-around style of the tulle in the top has been dip-dyed the palest of blues, while the rest of the dress is a mass of blue lace and white chiffon. The wide black belt throws the whole dress into focus.
5. Beautiful blush wedding dress
This perfectly beautiful dress comes in a delicate shade of blush, which makes it remarkable. The top is sleeveless with a deep neckline that descends to the belt, while the skirt is a mass of comfortably structured tulle, arranged in pleats.
6. Two-piece racer-back wedding dress
This dress is the perfect marriage of conservative and fun, traditional and modern. Even though the skirt is a traditional tulle A-line with delicate prints, the detached top is a plain white racer-back with a slight hint of midriff, making it the ultimate choice for a unique bride.
7. Suit-style masterpiece
One of the best things about this dress is that despite being composed of a button down shirt and a pair of tailored pants all in white, it looks incredibly feminine and flattering, even with the addition of the intricately designed floor-length veil.
8. Nude and silver dress
Even though Hillary Swank wore this Carolina Herrera creation on the red carpet, this would be the perfect choice for an elaborate wedding ceremony for a bride. The nude bodice of the dress throws sharply into light the delicate silver sequins that create an ethereal effect on the dress.
9. Layered traditional wedding dress
This dress is literally flawless. Even though it is a traditional white dress, the layers and the details on it make it a vision to behold. The highlight of course, is the skirt on which there is a large lace motif, and is also accompanied by layers on layers of flowing tulle, to create a grander effect in terms of size and structure. The veil, too, is a genius addition to this already gorgeous dress.
10. Silk wedding dresses with embellishments
Another characteristic quality about Carolina Herrera wedding dresses is the creation of some incredible backs for their already incredible creations. This seemingly innocent wedding dress packs in a surprise in the form of a pearl and silver embellished bandeau, revealed from under a mass of flowing silk.
11. Minimalistic cotton and lace wedding dress
Olivia Palermo looked stunning in her Carolina Herrera wedding dress, which was composed of a simple white top with three-quarter sleeves, and an incredibly structured skirt with a thigh-high slit, and lace on tulle detailing.
---
Suggested read: 20 most gorgeous dip dye wedding dresses you have EVER seen
---
12. Strapped black and blush tulle wedding dress
When innovation meets tradition, fantastic wedding dresses like these emerge as a result. The entire wedding dress is composed of a mass of blush colored frayed tulle that has been uniformly dip-dyed, and a top held together by gorgeous black strappy panels, a revolutionary detail as far as wedding dresses go.
13. Minimalistic fitted wedding dress
Even though the structure of the dress is a standard trumpet cut, the minimalistic detail near the belt, consisting of a patch of cinched tulle under silk panels makes the dress an ingenious, and remember-able creation from Carolina Herrera. The back, too, is appealing because of the use of panels instead of plain material.
14. Full-sleeved lace creation
Everything about this dress is gorgeous, starting from the illusion neckline, the illusion back panels, the thigh-high slit along the tulip-shaped skirt, and the intricately designed full sleeves on the dress. Everything comes together to make you look like a complete goddess on your wedding day.
15. Vintage-style floral wedding dress
If vintage chic is your calling, then Carolina Herrera has something for you too! This gorgeous blush-colored dress with thin spaghetti straps is detailed with over-exaggerated floral accents, which makes the dress a unique and elegant choice for modern brides, with an affinity for the bygone days. (Also, this is like, one of her most famous dresses ever).
16. Kimono-style wrap-around dress
This dress is a compact, elegant, and feminine creation, inspired by the kimono of the East. The delicately pleated sleeveless top is separated from the fitted skirt with a white panel belt, from which emerges a detachable expanse of white fabric in the form of a gorgeous train/cape.
17. Dull silver sequined mermaid-style dress
If you have always aspired to be a mermaid, here is your chance to actually be one, that too on your wedding day! This gorgeously detailed wedding dress is composed of a top which has intricate sequined details, wide panel borders, and long sleeves, while the fish-scale pattern of sequins, crystals, and gems on the skirt will definitely make you feel like a mermaid princess.
18. Pale grey paneled wedding dress
This is the kind of wedding dress that you simply can't take your eyes off of. The tea-length dress is magical on a whole different level, not only because of the pale grey color which it has been dip-dyed to create, but also because of the belt-like embroidery with stones and crystals and black sequins to create a fairy tale effect on this full-tulle dress.
19. Gold and blush sequined galaxy dress
The dress Ivanka Trump wore to the 2017 Presidential Inauguration ceremony was wedding dress goals for all aspiring brides out there. The dress consisted of a mass of golden sequins placed on a blush nude body. The neckline too, was of an elegant cut, and the entire dress seemed to be made of stars.
20. Corset-style mermaid dress
Mermaid dresses sometimes look monotonous, but not this one, as Carolina Herrera combines various textures and materials to create this unique effect. The corseted top is offset by the expanse of plain silk, which is then broken by layers on layers of crinkled silk.
21. Greek peplum-style twisted fabric wedding dress
It is hard to describe the complete and exquisite beauty of this dress. Even though there aren't any extraneous elements added to it, it still manages to take your breath away because of its simplistic style. The twisted straps are in concord with the delicate belt, and the elongated skirt of this gorgeous peplum-style dress.
22. Magnificent button-down wedding dress
Look at Miranda Kerr looking like an angel from heaven in that amazing dress. Who would have thought button-downs would look this good on a wedding dress? The dress is made of dreamy silk and flowing tulle, and there is also a sneaky thigh-high split, making it the perfect blend of old-school and brand new.
23. That veil tho
Excuse me while I go fawn over that INCREDIBLE veil detail.
---
Suggested read: The ONLY wedding dress shopping glossary you need
---
24. Textured chiffon free flowing wedding dress
The whole picture exudes joy, which is what you will be feeling as a bride when you wear a dress like this. The daring slit is offset by the thigh-slit in the skirt, and the entire dress is composed of textured chiffon, making it an absolute stunner.
Honestly though, Carolina Herrera for the win.
Summary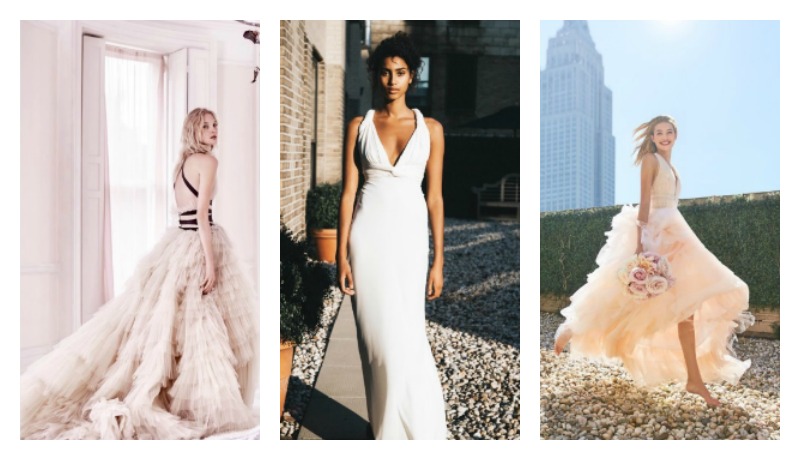 Article Name
24 Exquisite Carolina Herrera Wedding Dresses To Make You Start Planning Your Wedding
Author
Description
A characteristic feature of Carolina Herrera wedding dresses is the beautiful use of lace. Check out these gorgeous creations for inspiration!