Non-conformists brides are so badass because they have the courage to break away from tradition and wear whatever the heck they want on the most special day of their lives. However, despite being quite a rebel in the marriage scene, a non-conformist bride does not compromise on beauty or femininity or any of the other things that are characteristic of a wedding dress. They just stand to show how unconventional wedding dresses too can be worn to commemorate their day of union.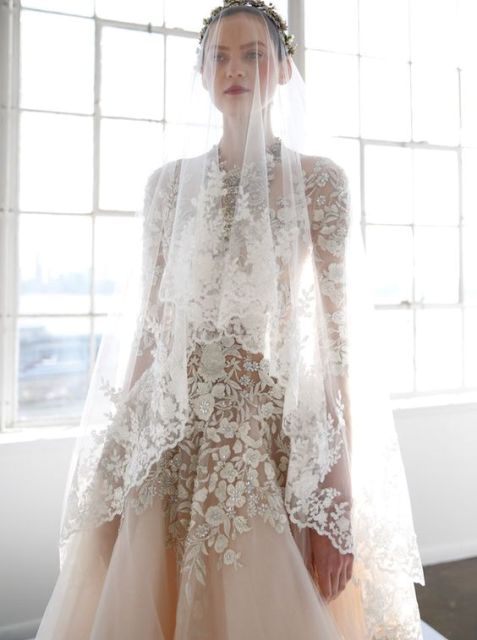 Image source: Pinterest
An unconventional wedding dress would only appeal to someone who is quirky, likes to think differently, despises everything that is trending at the moment, and is fearless enough to experiment with their look on one of the most important days of their lives. If this sounds like your MO, here are 28 unconventional wedding dresses that are bound to catch your fancy.
---
Suggested read: 20 stunningly sexy sheer wedding dresses that will make you swoon
---
1. This stunning silver wedding dress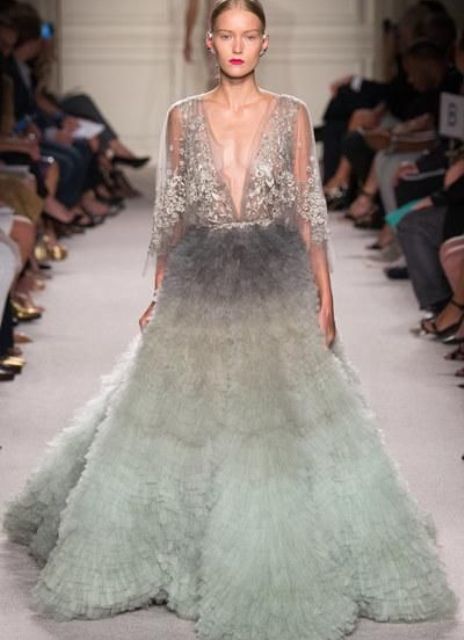 Image source: Pinterest
What makes this Marchesa wedding dress so beautiful and so unconventional is the fact that it contains a million different shades of white, gray, and blue and also has some of the most breath-taking embellishments alongside the plunging V-neckline and the feathered bodice, making you look like a fantastical and definitely unconventional bride.
2. A different take on the mermaid
Image source: Pinterest
This choker dress by Alexander McQueen is a mermaid dress for the unconventional bride, who definitely doesn't like to play it safe when it comes to dressing big. The crochet work is interspersed with black patchwork, which gives way to a feathery mermaid skirt.
3. Structured white wedding dress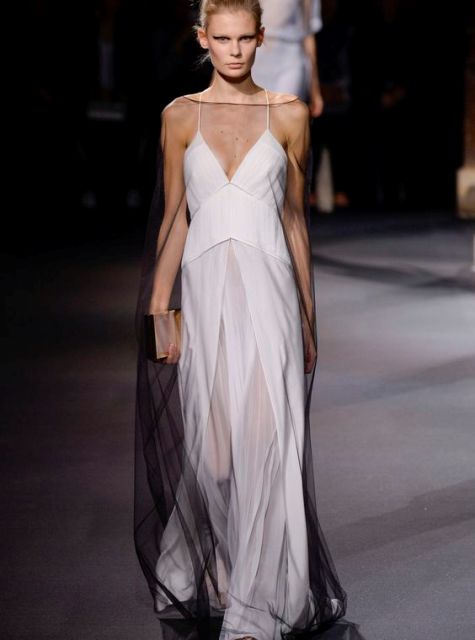 Image source: Pinterest
A wedding dress is supposed to look gorgeous and this dress from Vionnet gets an A+ in that category, with its simple bodice in an A-line structure, thin straps, and a black sheer sheath for the whole dress, immediately making it an unconventional pick for an unconventional bride.
4. Intricately embroidered full body dress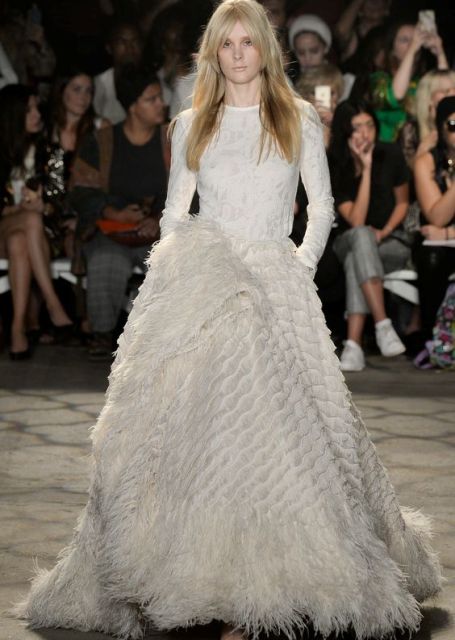 Image source: Pinterest
This Christian Siriano creation is remarkable because of the pleat effect that is created because of the carefully stitched and embroidered bodice along with the asymmetrical faux fur lining near the hem.
5. Short cut-out dress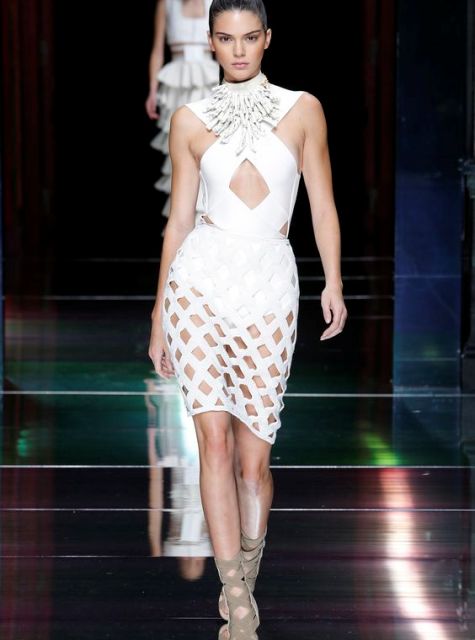 Image source: Pinterest
Short wedding dresses are all the rage, but you could make them even more unconventional with cut-outs in all a beautifully stenciled pattern with a ruffled choker detail, such as this pretty Balmain dress.
6. White appliqué and black lace
Image source: Pinterest
When it comes to unconventional wedding dresses, this dress from Rodarte is a great example, because not only is it primarily composed of stunning black lace, but the Greek white leaf appliqué running in vines across the dress makes it exceptionally gorgeous.
7. Blue oceanic A-line wedding dress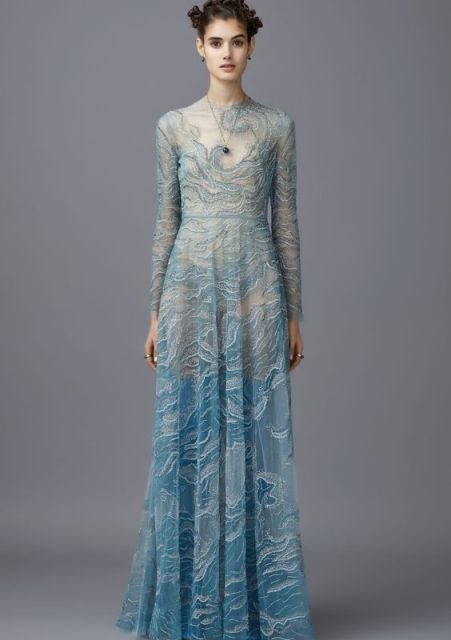 Image source: Pinterest
Whether it is the color or the structure, there is nothing about this Valentino dress that can be considered conventional. The illusion neckline highlights the symbolism of the pattern and color of the dress, by making you look like an ocean goddess. *starts planning exotic beach wedding*
8. There is no better way to rock monochrome on your wedding
Image source: Pinterest
Here is another Alexander McQueen creation which is bound to take your breath away with its simplicity and uniqueness, with a fitted A-line black silk bodice and a frayed parchment white hemline.
9. White and glitter pant-suit number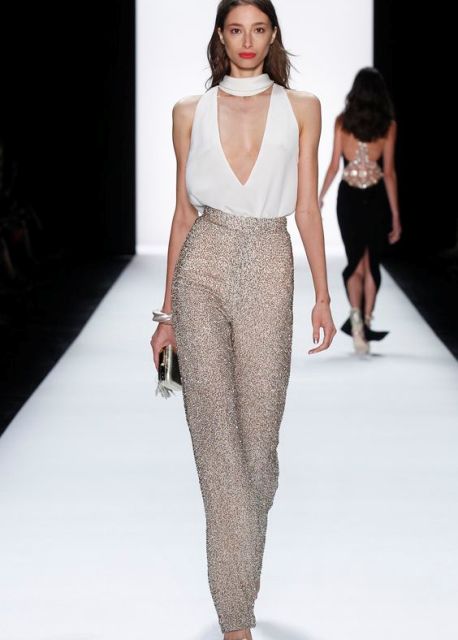 Image source: Pinterest
Brides like white on their wedding day and they like shimmer and glitter, and when you have unconventional demands, this pant-suit with a choker top and ridiculously fabulous pants by Badgley Mischka are ultimate #weddinggoals.
10. Steel print floral wedding dress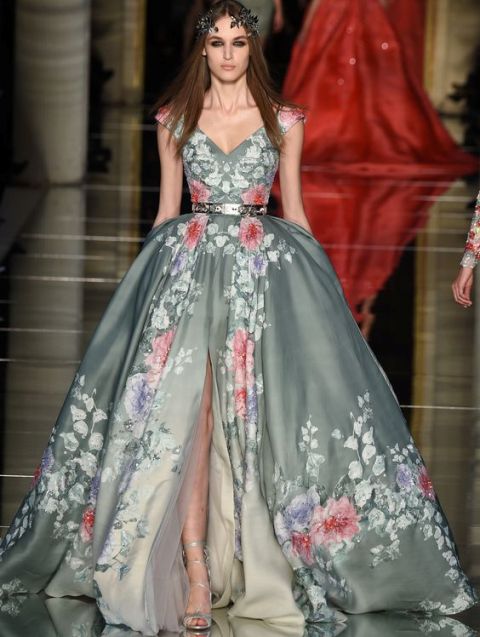 Image source: Pinterest
This Zuhair Murad dress is proof of the fact that you can look gorgeous and unconventional at the same time. The floral print on the steely gray bodice along with the simple neckline and the split makes this dress a harmonious blend of risqué and traditional.
11. Layered shift dress in off-white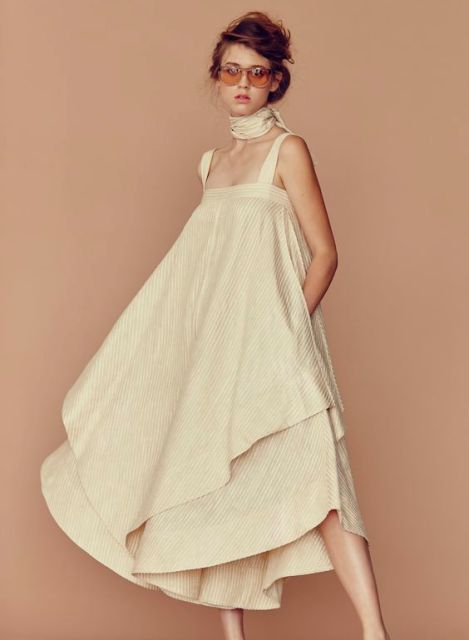 Image source: Pinterest
The layers, the length, and the structure of this Electric Feathers dress, all work together to create something so beautiful, that you can't help but plan an entire wedding around it. Also, it looks hella comfortable.
12. Another masterpiece in monochrome
Image source: Pinterest
This dress from Aganovich definitely qualifies as one of the most gorgeous unconventional wedding dresses, because although technically it is a pant-suit, the bunched up pleats and the stark contrasts make it much more interesting.
13. Stunning pant and cape number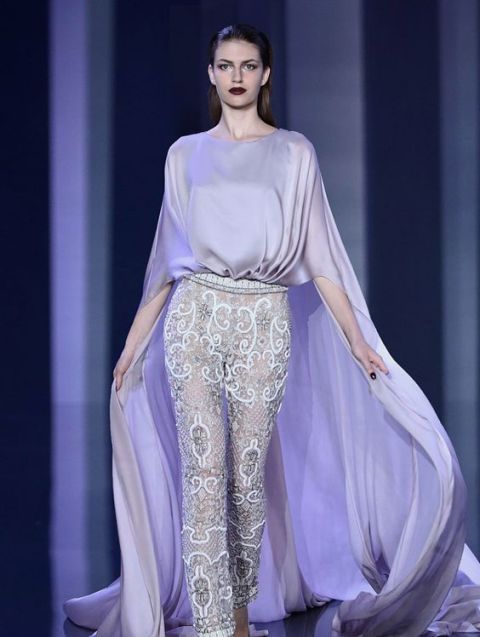 Image source: Pinterest
This dress by Ralph and Russo is super gorgeous and unconventional because – goodbye veil, goodbye long train, hello sexy cape, OMG those embroidered pants, and satin. So much win.
---
Suggested read: 15 stunning long-sleeved wedding dresses that make a statement
---
14. Stunning dyed and sequined wedding dress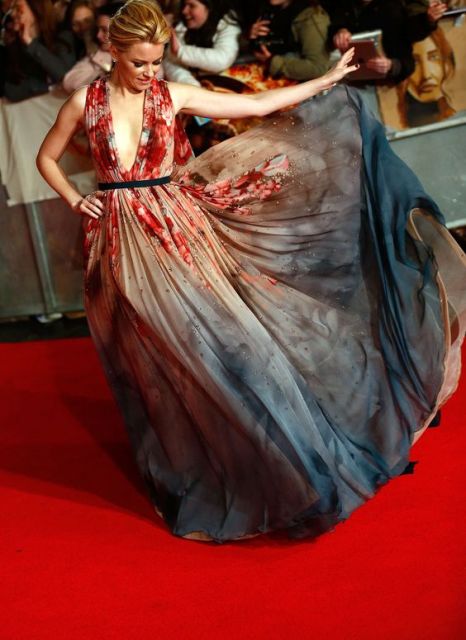 Image source: Pinterest
To be honest, Elizabeth Banks wore this to the premier of her film, but if you wore this blue, peach and red dyed Elie Saab stunner with sequins and prints to your wedding, people would be talking about your wedding dress for a really long time.
15. Pink dress and tulle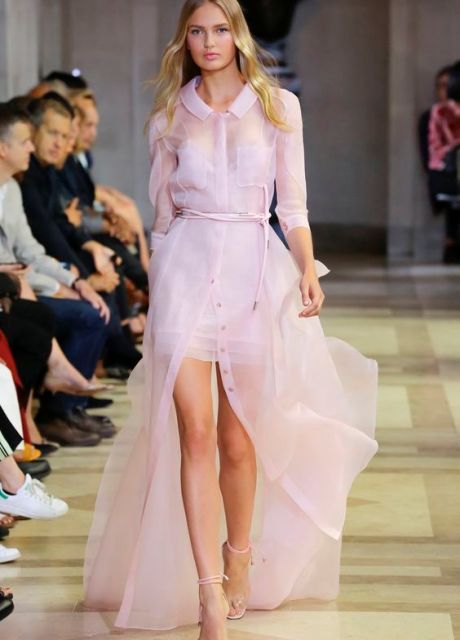 Image source: Pinterest
Cute as it may sound, this Carolina Herrera dress is badass. With its collared shirt and mini-skirt combination along with the full tulle skirt to top, this sheer number is the right amount of fun and fabulous for your wedding.
16. Shift dress in all white and layers
Image source: Pinterest
There is nothing like a comfortable wedding dress, and it is also a great way to showcase your unconventional tastes. This DKNY dress works because of its structure and illusory layers.
17. Flowy white dress with nautical stripes
Image source: Pinterest
There are very few ways in which you can dress unconventionally for something like a beach wedding, which is why this Ralph Lauren dress immediately caught our attention, with its jumpsuit/palazzo like structure and the uniform nautical stripes.
18. Radical geometrical pleats on pink and white dress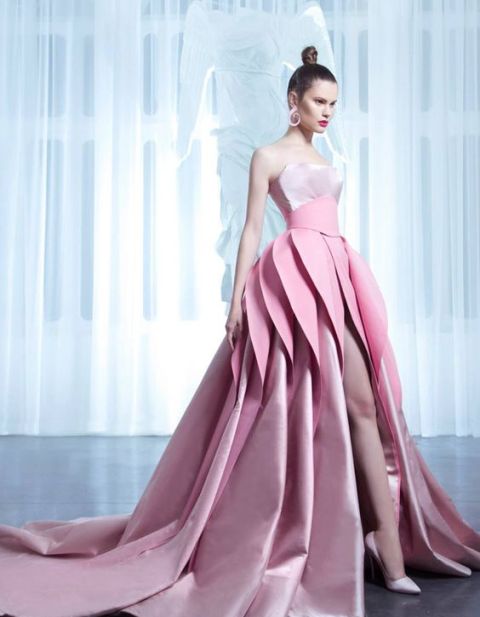 Image source: Pinterest
A Nicolas Jebran wedding dress like this is sure to be a head turner at your wedding, with those cutting edge pink pleats on the skirt which are highlighted further by the thigh-high slit, as well as the broad belt and the structured top in pale pink.
19. Full sequin and cape number
Image source: Pinterest
You might be fabulous, but you will never be full sequined wedding separates with a Peter Pan collar with a shimmery cape Chanel dress fabulous.
20. Gold and pink oriental style dress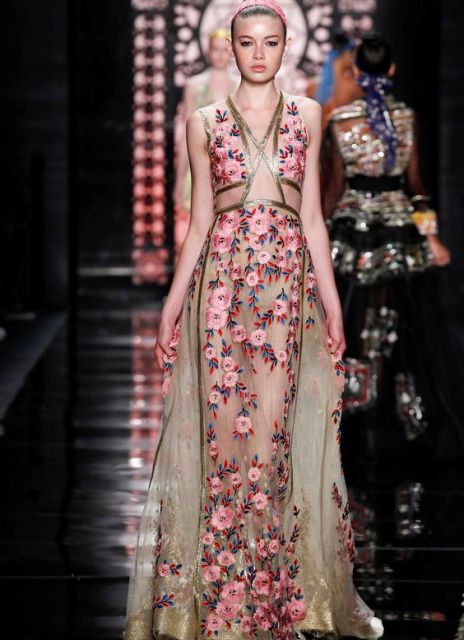 Image source: Pinterest
This stunner by Reem Acra gets extra brownie points for unconventionality because of the dainty gold panelling and stitched pink and blue florals on a shimmery fabric.
21. Asymmetrical white shift dress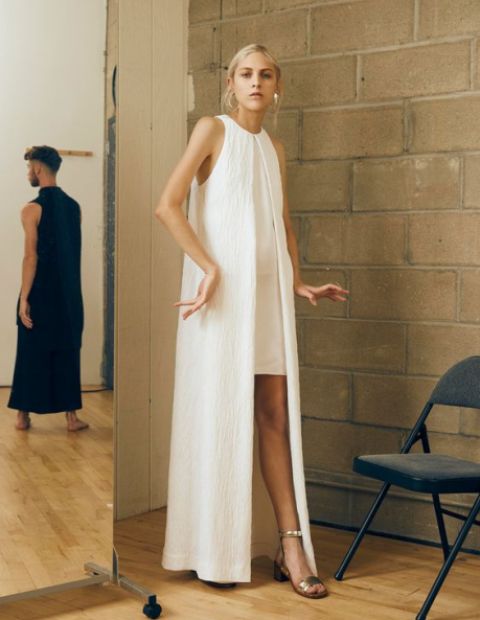 Image source: Pinterest
Yeah, asymmetrical dresses are pretty, but when you have a stark contrast like in this Rosetta Getty dress, it looks like you are wearing a cape over a simple shift dress, making you look fabulous, because in no situation does a cape look out of place, tbh.
22. Stitched sequin dress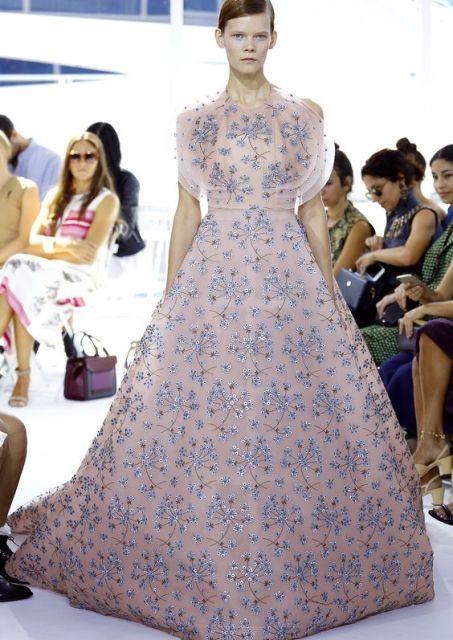 Image source: Pinterest
On the surface, these Delpozo dress looks like a straight and simple A-liner, but this is anything but on-the-surface. With a whimsical fanned-out top, this dress is uniformly distributed with stitched blue sequins in floral patterns, which along with the blush color of the dress, works towards making it look gorgeous.
23. Asymmetrical fur-lined stunner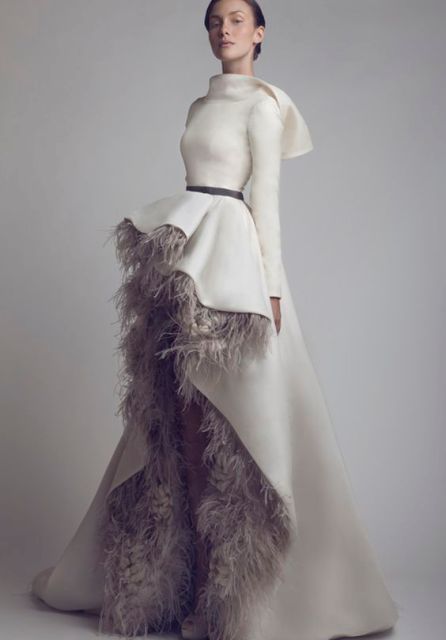 Image source: Pinterest
I am not sure which part about this Ashi Studio dress is not unconventional. Not only is this dress structured in the most unique way imaginable, but it also comes with a radical asymmetrical hemline lined with frayed fur, and a hood. Yup. A hood.
24. Strapless jumpsuit with dainty veil
Image source: Pinterest
This jumpsuit from the house of Angel Sanchez screams classy and unique, because it has a wonderfully feminine strapless top with mosaic print and sweetheart neckline, which gives way to pristine tailored ankle bottoms, all of which is paired with a dainty tulle veil.
25. Exceptional printed wedding dress in full tulle and organza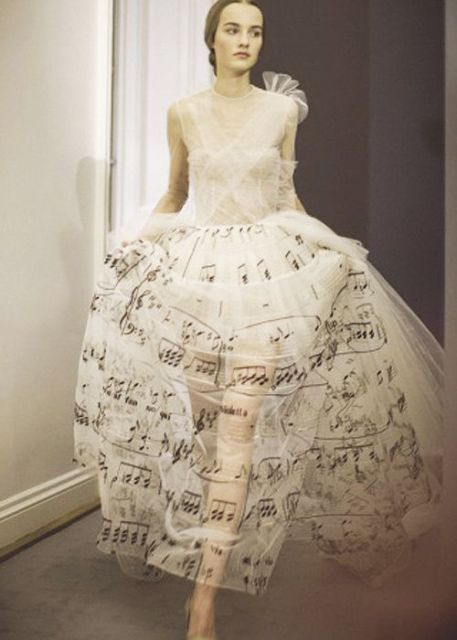 Image source: Pinterest
Valentino does it again with this winner piece from its collection, composed entirely of light tulle and organza, and an internal corset structure gives the skirt volume, while leaving the bottom half sheer, and the most remarkable feature is of course the musical print on the skirt.
26. Beautiful short dress with a cape
Image source: Pinterest
Here is Krikor Jabotian putting all other wedding dressmakers to shame with this period piece which gives you a one-way ticket to looking like Helen of Troy on your wedding, with its gold on gold embroidery and that cape.
27. Keeping it real with flower power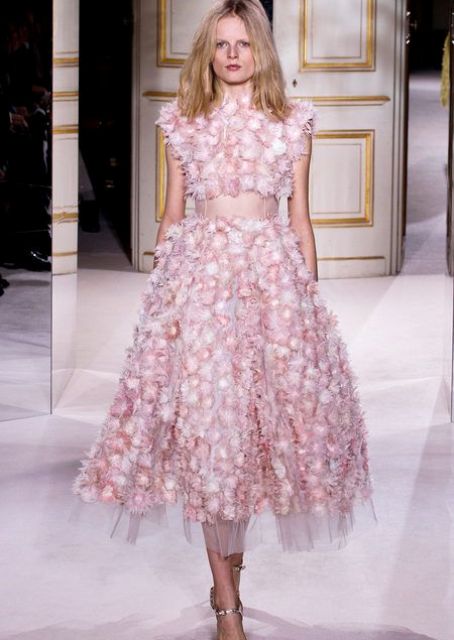 Image source: Pinterest
This floral dress by Giambattista Valli is a combination of feminine and eccentric, with its almost overwhelming show of flower on dainty pink tulle, separated with a satin sash.
---
Suggested read: 15 stunning pink wedding dresses for the unconventional bride
---
28. Midnight blue stunner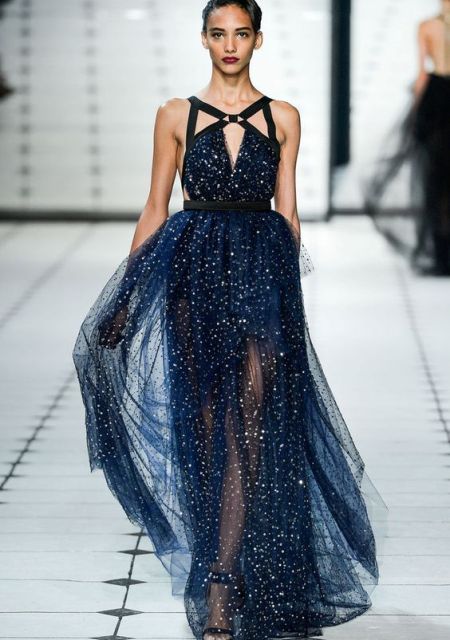 Image source: Pinterest
A midnight blue Jason Wu stunner for your wedding with ample tulle and strappy black detail is the last thing that would look out of place at your romantic ceremony.
The best thing about unconventional wedding dresses is that they are eye-catchers in the literal sense of the term, and even if you have never even thought of marriage, these are bound to make you wish you were getting married sometime soon.
Summary
Article Name
28 Unconventional Wedding Dresses For The Non-conforming Bride
Author
Description
If you've always shunned tradition and convention, then these stunning and absolutely gorgeous unconventional wedding dresses will surely appeal to you.