Are you tying the knot next month? Do you think you can see your bridesmaids twirling to Pachelbel Canon in D, and your guests fox-trotting to the quirky country songs, when you skim through your Wedding board on Pinterest?
NO?!
Image source: Pinterest 
Well, just like your dress, the floral and food arrangements, and the décor, need to be non-traditional keeping up with the unconventional couple that you are, your soundtrack for the evening also, has to suit your unique style. Rather than going for the classical (a.k.a boring!) wedding marches or overdone ballads, try to have a mix-tape that flaunts unconventional wedding songs!
---
Suggested read: The most popular wedding songs of 2016 are…
---
Even the audiences are nauseated to find themselves spinning to, "The First Day of My Life," from "Such Great Heights"! More recently, we are seeing bands like the Magnetic Zeroes and The Lumineers serving up love ballads that are fit for a wedding.
If you and your S.O. are planning to shake to the beat of your own drum, try some unconventional wedding songs for your first dance. No, these tunes will not make it to the feel-good commercials, but from your entrance and the first steps you take on the aisle to the time you dance the night away as just marrieds, these songs will speak to you! Here are a few suggestions for your wedding playlist!
Thank us later!
1. "Chateau Lobby #4 (In C For Two Virgins)" by Father John Misty
Written about Josh Tillman, himself, and his wife, this lovestruck stream of consciousness, talks about them running around LA when they met for the first time. It is a raw ballad, with lyrics that will make you go "Aw!" Tillman unabashedly declares his love for his wife with lines like,
"What are you doing with your whole life? How 'bout forever"
2. "The Air That I Breathe" by The Hollies
This one's a soothing love song from the 70s. It sounds like a dream that never dispels. Starting with a drumroll that goes straight into a sincere chorus humming, "Sometimes, all I need is the air that I breathe and to love you," this one is a must!
3. "I <3 U SO" by Cassius
From the French pop duo, this 2010 single starts like an explosive! Using heavy synth and cathedral-like chord progressions, the tune marches into the one line that's repeated for the rest of the song:
"Oooh I love you so / But why I loved you I'll never know."
4. "Fresh Feeling" by Eels
This one starts off with the lines, "You don't have a clue / What it is like to be next to you!"
The Eels go on to say how good and true it is to be in love! Nothing is more gleeful than the "fresh feeling" of the coming together of lovers when "tomorrow is here".
5. "Fool For Love" by Lord Huron
This indie folk ballad begins like it's drawing a portrait of an idyllic wedding day. It has a simple melody, and plays delicately as though it's imitating church gongs from a distance. Lyrics like, "I know she's gonna be my wife / Gonna fall in love I'm gonna live my life with her," will sway you into having this one on the wedding playlist!  
6. "Don't Wait" by Mapei
You can slow things down a notch with this love song. With heavy percussion and a rich, sensual delivery, this tune will add an impact. Lyrics such as, "Let's laugh and cry, until we die" will lend your party a soul.
7. "Hysteric (Acoustic)" by Yeah Yeah Yeahs
This sentimental song has an acoustic version that makes the intimately vulnerable confession of love more romantic. Wait till you hear the indelible line, "You suddenly complete me."
8. "Anywhere We Go" by Kaptan
This single will ignite honeymoon-level endorphins, so brace yourselves! The gliding chorus gives you a good feeling when it croons, "Ooh, don't know just what you do to me / Anywhere we go."
9. "I'm Amazed" by My Morning Jacket
"I'm amazed," has some ambiguous lyrics here and there, but the one that counts, which is the title of the track, is repeated again and again, and what it is followed by makes the wedding-jam a sing-along friendly song!
10. "Love They Say" by Tegan And Sara
The twins deliver a lovely love pop track using airy harmony and syrupy declarations! The lyrics of this track could help you with your wedding vows too! 😉
Here's a sample: "The first time I saw your face / I knew I was meant for you."
11. "Tonight, Tonight" by The Smashing Pumpkins
A sweeping 90s classic with all sincere raw emotions in the right place, makes this track unbeatable on this list of unconventional wedding songs. It features the Chicago Symphony Orchestra with rolling drums and roaring guitars.
12. "I'm On Fire" by Chromatics
This brooding single by none other than Bruce Springsteen, has been covered by the Chromatics. For its evocatively gorgeous synth-pop results, you must include it in your wedding playlist!
---
Suggested read: 12 amazing wedding makeup tutorials you never knew you needed
---
13. "You Can Count On Me" by Panda Bear
The artist behind Panda Bear croons "Know you can count on me",,and you can feel your heart melting! Noah Benjamin Lennox sings with choirboy exactness in repeating harmony!
14. "Our Way To Fall" by Yo La Tengo
A slow jam that's all about sweet memories of love, stressed by a soft hi-hat! Ira Kaplan walks down memory lane with this romantic number, where she remembers, "Walking up to you / I remember my face turned red / And I remember staring at my feet… We're on our way to fall in love."
15. "Lava" by Kuana Torres Kahele, Napua Greig, James Ford Murphy
A beauty of a song about love overcoming everything else. It does not matter where you have your wedding, make sure "I lava you" is on loop over the squealing of dolphins and the thrumming of a ukulele!
16. "We're Going To Be Friends" by The White Stripes
An innocent melody about what friendship's all about, this schoolyard track is an adorable nod to marriage! With words like, "Here we are, no one else / We walked to school all by ourselves," the track talks about how the two of you, together, can take on the world, and keep learning every step of the way!
17. "Where Do You Go To (My Lovely)" by Peter Sarstedt
This 1969 track has the most perfect lyrics for any wedding, in any part of the globe! It paints a Wes Anderson-ic tale, featuring French accordions and everything quixotic!
18. "Eyes" by Rogue Wave
"Eyes" will wash over your senses, and soothe them with the feeling of being in love! The Rogue Wave serenade about a sense of security when they say, "But the one thing I'm missing…is in your eyes / In your eyes / In your eyes."
19. "A Candle's Fire" by Beirut
This one's ceremonious, and yet, whimsical! A robust and playful number, "A Candle's Fire" talks about the whole journey that the couple have walked to get this far: "But you and I traveled through the fog / To arrive at our front gate."
20. "Nothing But Our Love" by JR JR
JR JR, formerly called Dale Earnhardt Jr. Jr., serves up a sweet humming over babbling electronics. "All we have is nothing but our love (It's easy)." Simple, and to the point!
21. "Starlight" by Muse
This one's a stadium rock anthem but it has all the right ingredients (in epic proportions!) to be The Wedding Day Song! It talks of the future, but does not miss out on the lyrical confessions of love! With igniting lines like, "Hold you in my arms / I just wanted to hold you in my arms," you cannot give this one a miss!
22. "Adore You" by Miley Cyrus
I know, Cyrus is not the first artist that comes to one's mind when deciding a playlist for a wedding! But, I can totally justify why this one needs to be on your list! The lyrics are awesomely soulful. Check. The track is slow. Check. It has lyrics like, "I love lying next to you, I could do this for eternity / You and me, were meant to be in holy matrimony." Double check!
23. "Need Your Love (Acoustic)" by The Temper Trap
A hyperbolic track, this one, is transformed into a beautiful and intimate wedding song by its acoustic version! The chorus moves toward the subject of love daintily with, "Oh I need your love, I need your love."
24. "No One's Gonna Love You" by CeeLo Green
A cover of "No One's Gonna Love You," by Band Of Horses, this is a surprisingly earnest song that talks about the highs and lows of being in love. Green's done a great job with this otherwise stadium-thumping track! 
---
Suggested read: 20 stunning non-traditional wedding dresses for the quirky bride
---
25. "The Start Of Something" by Voxtrot
Doesn't the title itself tell you how appropriate this track is for a wedding?! And then, there are lines like, "Is this the end or just the start of something really, really beautiful?"
Well, we wanted to end it with this track! 😉
That's a wrap from us! For more on weddings, from the décor ideas to what to wear at your wedding or to your best friend's, and much more, sign up for our newsletter today.
Featured image source: Google, copyright-free image under Creative Commons License
Summary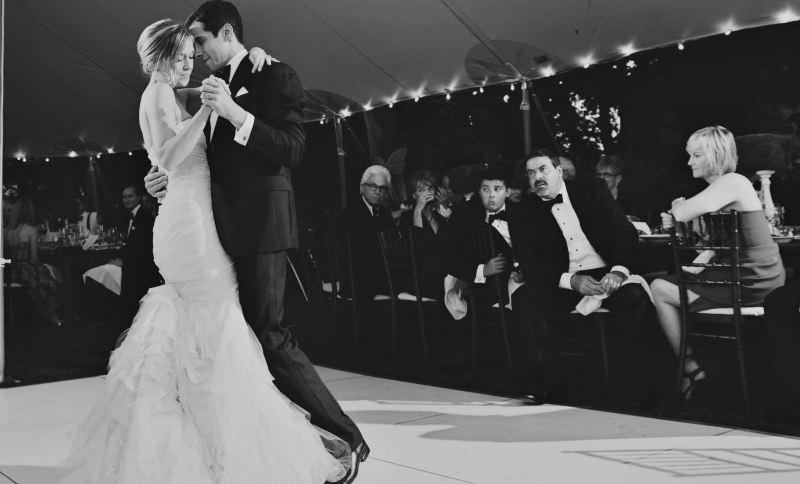 Article Name
25 Most Unconventional Wedding Songs For The Unconventional Couple
Author
Description
Want your wedding day playlist to be just as exceptional as you both are? Well, here are 25 unconventional wedding songs you can pick from!