If you are already looking up wedding makeup tutorials, then things are getting serious, and it is time to get hold of some inspiration to look like the superstar that you actually are on your wedding day. To be honest, it is not easy looking perfect when all the attention is on you; actually it is a lot of pressure, contrary to popular opinion, which is why you need some professionals to tell you how to pull off a number of different looks, which you can experiment with before finally fixing one particular makeup routine that you will re-create on your wedding day.
Please notice my use of the word "re-create" and not create. Why am I acting like a complete creep? Because I cannot emphasize enough the importance of trial runs before a wedding, because the rule goes that there is something major that has to go wrong on your wedding day, and you don't want your makeup to be the one thing that goes wrong during your perfect ceremony. Make sure you try and re-try several makeup looks, and choose one which will make you look fabulous on your wedding day, depending on your dress, your wedding theme, whether you will be indoors or outdoors and other such factors.
---
Suggested read: A complete guide on how to meet someone at a wedding
---
Here are 16 wedding makeup tutorials which are going to give you some serious wedding inspiration, which you can use not only if you are the bride, but also if you are a bridesmaid, the maid of honor, or even a guest.
1. The smoky eyes bridal look
This tutorial by Sona Gasparian is truly a wonderful example of how a bride can look dramatic yet classy on her wedding day. Sometimes, wedding makeup can become bland and unremarkable in an attempt to be understated and natural, but this manages both without overdoing either. When you are the bride, it is important that your eyes are highlighted, and while the rest of the makeup remains muted and simple with just a little blush, nude lips, and a lot of highlighter, the eyes do all the talking with their dark and shimmery look.
2. Dreamy wedding makeup tutorial
Personally, this is one of the most comprehensive wedding makeup tutorials I have watched, because it is lucid and the results are stunning. It is also great because Kelly Track explains why she uses the makeup that she does in the video, and why they are particularly important for a wedding – like SPF-free products and waterproof eye makeup. The look itself is simple, with pink-toned eyes and killer cheekbones with a basic pink gloss on your lips (super easy to maintain).
3. Drugstore wedding makeup tutorial
You might be a really huge makeup enthusiast, but that does not necessarily mean that you will have to buy high-end products and the most expensive eye-shadow palettes and only the most expensive lipsticks to pull off ethereal looks like this. This wedding makeup tutorial shows how you can look like a complete goddess on your wedding day by using normal drugstore makeup products, which will still make you look like a professional did it with professional-grade products. It is a soft and dewy look which would look great whether you're the bride or belong to the bridal party!
4. Glam and conservative makeup tutorial
A lot of people have a problem with keeping the glam factor in control when it comes to doing makeup for a wedding. This tutorial reminds you that you can be glam but you have to keep it in check so as to not become garish. The contrast between the hard contours on your cheekbones and the softer brush strokes for the rest for your face ensures that you have a super glam yet conservative look for your wedding day.
5. Natural, glowing, long-lasting bridal look
As Tanya Burr reveals at the start of her tutorial, the best thing about this particular makeup routine is that not only is it long-lasting, but it will also suit any style that you choose to go with on your wedding day, whether you are all for soft whites or full on bright and bold colors. You end up looking like the glowing bride that you want to look like on your wedding day, and it is as minimal as it gets without getting boring.
---
Suggested read: 9 terrible wedding planning tips you MUST avoid at all costs
---
6. Minimal touch-up soft pink makeup tutorial
When you know you have to spend hour after hour looking flawless in your makeup, you have to seek out realistic tutorials, and this is what Tina Yon shows you how to do. The look that you get to recreate is glam and all the makeup products are waterproof in case you get all teary during the day. You can use only the basic products and without much difficulty, you can recreate this feminine bridal look.
7. Peach and purple wedding glam
This is a wedding makeup tutorial with a twist, because along with the basics, it adds a pop of color to your look, which you can recreate depending on the colors of your wedding. For Nitraa B's video, she used peach and a touch of purple on her lids, but you can experiment around with these colors in case you feel these won't go with your overall wedding look. The shades that are used are neutral with the right pink and purple undertones so that you look dressed up, but not too much so.
8. Glittery gold and smoky eyes for your wedding
Usually, when people are doing their makeup, they either go for just gold and glitter or smoky eyes. However, if you are feeling extra special on your wedding day, like you should, then you can go right ahead and do both. This tutorial makes you look your part as the most important person in your wedding as the bride, but then even if you are attending as a guest or as a member of the bridal party, then too you can look fabulous in a look like this.
9. Vintage chic bold wedding makeup look
This makeup look by Teni Panosian is for brides who would like to create one hell of an impression on their wedding day, with some vintage chic bold makeup glam. This look goes all out with the smoky eyes and the red pout and the vintage head gear (which you can obviously do without). What is amazing is the sheer universality of the look, which ensures that you look beautiful with this makeup and a contemporary wedding dress as well.
10. Traditional dusty rode makeup tutorial
If you are feeling the traditional bride in you on your wedding day, then this simple, super sweet look by Chloe Morello is the look for you, because it is romantic, easy to execute, and makes you look au naturel because it doesn't look like you have tons of makeup on, but that you were born looking like a rosy, glamorous stunner.
11. Brown mattes and shimmery eyes for your wedding
This is another wedding makeup tutorial which will teach you how to pull off an understated glam look for your wedding, by drawing attention to your eyes and not highlighting the mouth. The shimmery eye shadow is absolutely flawless which will give you a dreamy glow on your wedding day. Brown mattes on your face and lips with just a tinge of shimmer is what will make your look pop and make you look like the ethereal, glowing bride that you are on your wedding day.
---
Suggested read: 25 most ethereal wedding hair accessories you have laid eyes on
---
12. Natural beauty wedding makeup routine
Your aim on your wedding day should be to look as natural as possible, but still manage to stand out from the rest of the party. This wedding makeup tutorial teaches you how to pull off a simple and natural look, but with the quintessential bridal glow in place for you to look your best on your wedding day. Even though this YouTube-er uses all the works including fake lashes and lip gloss to complete the look, you still end up looking simple, and feeling light and comfortable in your skin, which is exactly how you should be feeling all throughout your wedding day.
Weddings can be hard unless you are feeling absolutely comfortable, not only with your dress, but with your makeup as well. Also, I cannot emphasize the importance of trial and error enough, meaning you have to try out several different makeup routines before your wedding to determine which one suits you best, before you can finalize one. Once you have managed to figure out how you want to look, you can save quite a lot of dough by doing your makeup yourself and not hiring a professional makeup artist who will probably not do things the way you want them anyway.
Featured image source: Pixabay, under Creative Commons License
Summary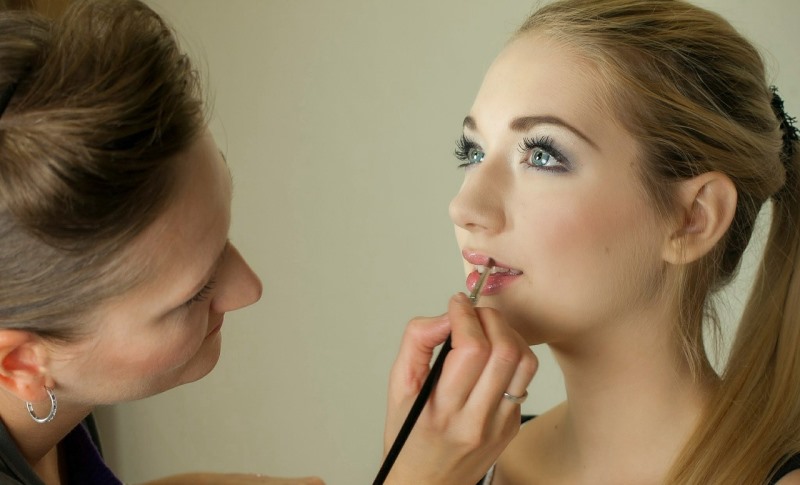 Article Name
12 Wedding Makeup Tutorials You Never Knew You Needed
Author
Description
If you're already looking up wedding makeup tutorials, then things are getting serious, and it's time to get inspired to look your best on your wedding day.