Yes, Nietzsche once said that without music, life would be something of an 'error,' but dude, by playing the worst wedding songs on your big day, you are turning the lives of your guests into a 'frightful' nightmare. Thanks for being so noble, but no thanks!
You know what's worse than having no songs at your wedding? Having songs like "Love will tear us apart" that goes on to croon,
"When routine bites hard
And ambitions are low
And the resentment rides high
But emotions won't grow"
Now wait, wait! Marriage is a serious business and "seriouser and seriouser" 😉 is the wedding! You will have to deal with a whole lot of Disney crap even if you have no clue whether Snow White was the daft one, locked up in a tower or which of Pinocchio's body parts grew longer when he lied??? Ahem! Let's leave it at that! The point is that the floral arrangements have to be first class, and severe attention has to be given to the lighting, the cake, and oh, the wedding outfits. I am sure you want to look nothing less than Mr. Darcy/Elizabeth Bennett!
---
Suggested read: 10 reasons why you should ban your wedding guests from playing photographers
---
Now a part of all this mumbo-jumbo, which is one of the most significant when it comes to entertainment and also adds up to the ambience, is music. Sadly, it is overlooked/overcooked! I thought of helping you with a list of 'what to play,' but figured 'what not to' has a great deal to choose from, and I am but a person of choices! So let's roll!
1. My Heart Will Go On by Celine Dion
Now, I realize that this is the movie that you both watched together for the first time and you got a little intimate after (naughty fellas!), but hey! We have been to the movie too with the people we don't want to even think of anymore! So why are you doing this to us?!
I have nothing against the gorgeous Celine Dion, but babe, Titanic itself pushed this track into the Land of Cliché Romance! Also, if you were not too busy getting to know each other 'in-depth,' 😉 I am sure you remember that Jack dies in the end. Tragic much?
2. Rent by the Pet Shop Boys
The Pet Shop Boys have recorded some awesome tracks like "Home and Dry" and "West End Girls" and other stuff! I know the high that their poisonous lyrics give, especially when coupled with their crazy pop music! But "Rent"! Now, playing that at your wedding shows how high you are! To start with, it's a naïve narration about an escort who indulges in a long-term paid affair with a popular guy like it is some real 'lurve'! I can't take away from the genius of the song which lies in its to and fro between what the narrator knows and what he is hiding! But with lyrics like, "Look at my hopes, look at my dreams/ the currency we've spent / I love you, you pay my rent," it's just going to kill the wedding vibe!
3. Creep by Radiohead
Let me start off with the thumb rule when it comes to avoiding the worst wedding songs. A song with words like, "what the hell am I doin' here?" or "I don't belong here" MUST BE AVOIDED. And guess what? Creep has both the lines! So a definite "no" there! You may not believe me but uber-cool guys who are also fans of Radiohead choose this or a track like "Fake Plastic Trees," and actually dance to them at their wedding. By dance, what I mean is "oscillate," the way we used to, in middle school. Miserable is the first thing that's coming to my mind as I imagine that move or whatever it was!
4. Love Story by Taylor Swift
Tay Tay's super hit single seems like a terrific choice for a wedding, right? It has words like, "Baby just say yes." So convenient. Also, there is an actual proposal at the end of the song. #Awww.
No!
Firstly, this is based on Romeo and Juliet! So, you haven't bothered brushing up on your Shakespeare?! You even failed watching Baz Luhrmann's movie adaptation?! Grool! Let me give you a spoiler! It is the story of two star-crossed lovers who are barred from marrying each other by their awful families. So they elope. Then a lot of things happen and finally they drink poison and die a painful death! So cute! NOT!
5. Every Breath You Take by The Police
Don't you find the narrator, um, a tad bit stalker-ish?! Especially when he keeps repeating "I'll be watching you?" Whoa! "Oh! Can't you see" what I am trying to tell you? Okay, so take it from Sting himself: "I think the song is very, very sinister and ugly and people have actually misinterpreted it as being a gentle little love song, when it's quite the opposite." Still not convinced? Okay, the songwriter even thought of surveillance and Big Brother when he was penning this song about a possessive lover after he woke up to the words, "Every breath you take, every move you make!" You still think it's one of the best wedding songs? Bah! Humbug!
---
Suggested read: 7 reasons why you don't need a theme to have a memorable wedding
---
6. Marry You by Bruno Mars
This song is adorable but it has suffered an overkill because it's a part of almost all the flash-mob proposals that happened after this was released! And if you have been busy tapping your toes to the peppy beats, dear grooms and brides-to-be, I am sure you missed the words, "It's a beautiful night / We're looking for something dumb to do / Hey baby, I think I wanna marry you!" So, like Bruno, if you think marriage is dumb, go ahead, play the song! You can hop up on your "dancing juice" and have a Vegas-style wedding ceremony in a chapel in a mall with an Elvis impersonator tying you both in holy matrimony! But otherwise, it's a no from me! Also, how serious are you about this whole deal if you go, "If we wake up and you wanna break up, that's cool!" You are not Rachel and Ross. Don't drink and marry!
7. I Will Always Love You by Whitney Houston
This is one of the most common wedding reception songs, but just because something is popular doesn't make it suited for the occasion. Let me make it very clear to you that there is a very thin line between romantic numbers and wedding songs. The lyrics like, "If I should stay, I would only be in your way. So I'll go, and yet I know I'll think of you each step of the way. Good-bye. Please don't cry. We both know I'm not what you need," make it loud and clear that this is a romantic sappy track but NOT a wedding song. Jesus H Christ! If you don't want your guests to sob into their champagne flutes, avoid this song!
8. Lovin', Touchin', Squeezin' by Journey
Sounds sexy, no? Has a hot title! Well, don't judge a song by its title!
"You make me weep and wanna die, just when you said we'd try. When I'm all alone, you're out with someone else. It won't be long till you're alone, when your lover hasn't come home, cause he's lovin', touchin', squeezin' another."
Yeah, so decoding this, we find out that the song is actually about a guy who cheated on a girl who now is cheating on him by going around with a guy who will eventually cheat on her! Phew! Your guests will require a disloyalty scorecard to keep pace with this! Not to mention how inappropriate it would be play a song about cheating on the day you tie the knot? Ick!
9. Careless Whisper by George Michael
Begins with a sultry sexy saxophone tune but it's not about what you thought it was about if you listen to the 'careless whisper' quite carefully! 😉
"I feel so unsure as I take your hand and lead you to the dance floor as the music dies." – He is cheating on her and their relationship is failing!
"Time can never mend the careless whisper of a friend." – A friend of hers squealed on him.
"Now that you've gone" – She has kicked him out!
"Was what I did so wrong" – Self-pity, self-pity, everywhere!
If, even after this 'song autopsy,' you want to save this track and play it on your wedding day, I say you store it for the divorce mashup!
---
Suggested read: 10 best reasons to have a destination wedding
---
10. Fairytale of New York by The Pogues
To begin with, this is a Christmas song, okay?! And if it has anything to do with marriage or love it is the tête-à-tête between a drunken couple who is spitting venom at each other! They are fed up of one another and are quite vocal about it in a jail's drunk tank! I have the lyrics backing my case:
"I could have been someone," he complains.
"Well, so could anyone / You took my dreams from me/ When I first found you," she retorts.
"I kept them with me, Babe / I put them with my own / Can't make it all alone / I've built my dreams around you," he responds!
Masochistic!
Now, I have given you a 'what-not-to playlist,' but you'll have to draw up your playlist on your own, coz you can't afford me! 😉 Hahaha! Nah! Because it's your wedding, remember? So the more personalized your arrangements are, the more will it reflect the love between the two of you! I have certainly made your work easier though by chalking these 12 worst wedding songs out. I am actually just saving myself from the next wedding music disaster. Hope my inviters are reading too! 😉
Summary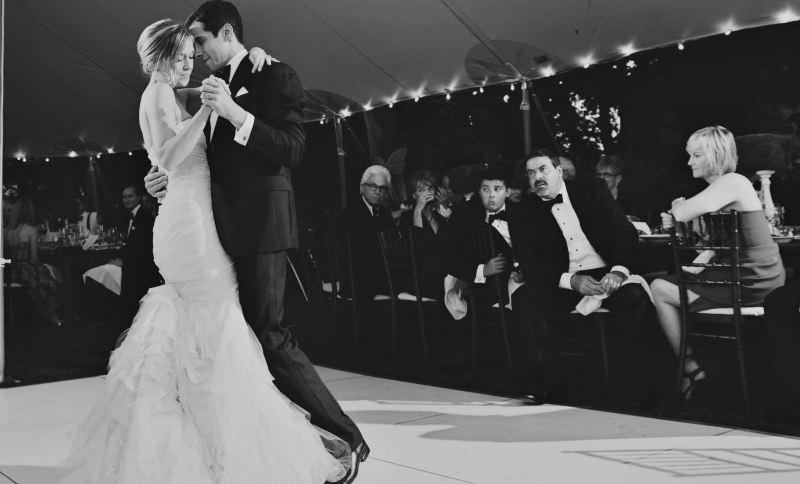 Article Name
10 Worst Wedding Songs You Must NEVER Play At Your Wedding
Author
Description
Weddings are a once-in-a-lifetime occasions, and you don't want to be the talk of town for playing the worst wedding songs, do you? Beware of these songs!