Most girls dream of getting married to their prince charming when they grow up. But for 4-year-old Abby Sayles, this dream has come true a bit early! This adorable 4-year-old, thinks she's found 'the one' in her nurse, Matt Hickling. Hickling is a nurse at Albany Medical Center's Melodies Center for Childhood Cancer, where Abby is battling pre-B cell acute lymphoblastic leukemia.
Over the past year, as Abby has battled cancer, Hickling has been by her side, every step of the way. And it's no wonder that there grew a deep bond between Matt and Abby.
Image source: Youtube
The cute Abby, talking about her nurse, said,
"Matt is awesome and kind."
Awwww!
And Abby decided that it was time to pop the question.
Image source: Youtube
When Abby's mother Renee Sayles got to know what her daughter had in mind, she said,
"I sent him [Matt Hickling] a text message just giving him a heads up that this was the idea that was in her head, just so he wasn't shocked."
---
Suggested read: What is love? Here's what people aged 0-105 had to say…
---
And when asked what she said to Hickling, an excited Abby said,
"Matt, will you marry me?"

"I tried to play hard to get, and she was looking right at me with those eyes," said Hickling.
In the end, Matt couldn't play hard to get for long. When Abby was asked what Matt said when she popped the question, she said, "Yeah!"
Image source: Youtube
With both the bride and groom ready, the hospital staff wasted no time putting together a wedding in one of the wards. While one of Matt's coworkers lent him a tuxedo t-shirt, others bought a few bouquets of flowers – one for Abby to hold, and the rest were strewn across the 'aisle' for Abby to walk on towards her groom.
Since there wasn't any organ music, those present for the 'wedding,' improvised by humming the eternally recognizable, 'Here Comes the Bride.'
Check out the video of the wedding here:
The 4-year-old cancer patient Abby's mother, Renee, was full of gratitude for the hospital staff. She said,
"It means the world. They seriously make everything so much easier for us to deal with this process."
The groom, who was Abby's knight in hospital scrubs, said,
"It was just a great moment to share with this family and everyone and what they go through from day to day. And to have her remember something like this, when she can look back on it when she's older, and hopefully be really touched by it."
Awww!
We all wish the 4-year-old bride all the happiness in this world and a speedy and full recovery, so that she can get married for real when she's older and much healthier.
Featured image source: Youtube
Summary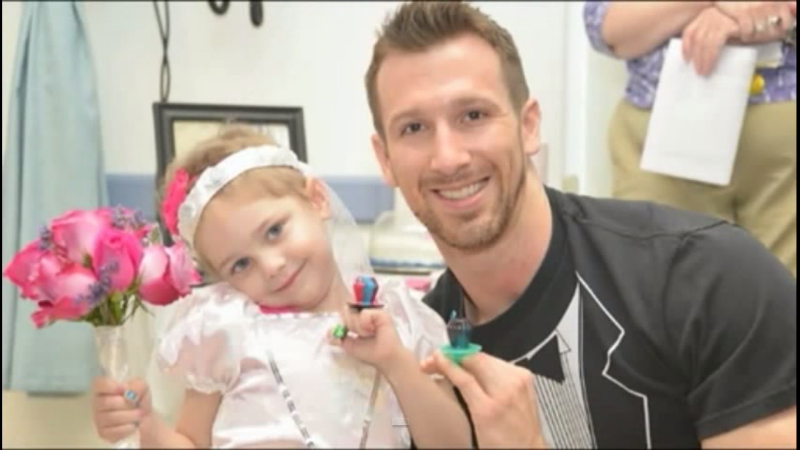 Article Name
4-year-old Cancer Patient 'Marries' Favorite Nurse At Hospital
Author
Description
4-year-old cancer patient Abby Sayles has 'married' her favorite nurse, Matt Hickling, with the 'dream wedding' thrown by hospital staff. Take a look.