Having a sibling is a great thing. The companionship, the camaraderie, the special bond you share with your sibling is like none other. And if your sibling is a twin, then that bond is all the more closer and different in a good way. It's said that twins share much of their personalities with each other than regular siblings. Imagine triplets then. Their bond would be three times stronger.
This strong triple bond between triplets was brought to the fore when identical triplet sisters tied the knot on the same day at their joint wedding ceremony in Passo Fundo, Riuo Grande do Sul, Brazil.
Rochelle, Rafaela, and Tagiane Bini, 29, walked down the aisle towards their separate grooms, dressed in similar wedding dresses, sporting the same hairstyles and makeup. The only difference – other the grooms of course – was the color of the bouquets they held.
---
Suggested read: Couple plans grand wedding in 11 countries and 38 ceremonies!
---
The joint ceremony was held in Catedral Nossa Senhora Aparecida on March 21st, and was pretty 'special and one of a kind,' opined wedding photographer Diovane Moraes. It was attended by over 600 guests too.
The photographer also revealed that Gabriel is Rochelle's husband, Rafael is Rafaela's groom, and Tagiane's husband is Eduardo. Apparently, Moraes didn't know their last names.
While it might seem quite difficult in telling the identical triplet sisters apart, their grooms had no trouble identifying their beautiful brides. Eduardo said he could tell who Tagiane was because 'she was the most beautiful one,' according to Moraes.
But the men have mixed up the ladies in the past, revealed Moraes. Apparently, Eduardo once mistook Rochelle for Tagiane and accidentally hugged her from behind. The family found the incident funny.
The family also told Brazilian media that they often agreed on things, and that they have similar taste. Though the hair and makeup artists made different suggestions for the brides' wedding day, they wanted to look the same, so chose the same hairdo and makeup.
The couples sure do look good together. We wish the newlyweds a happy married life. Congratulations!
Summary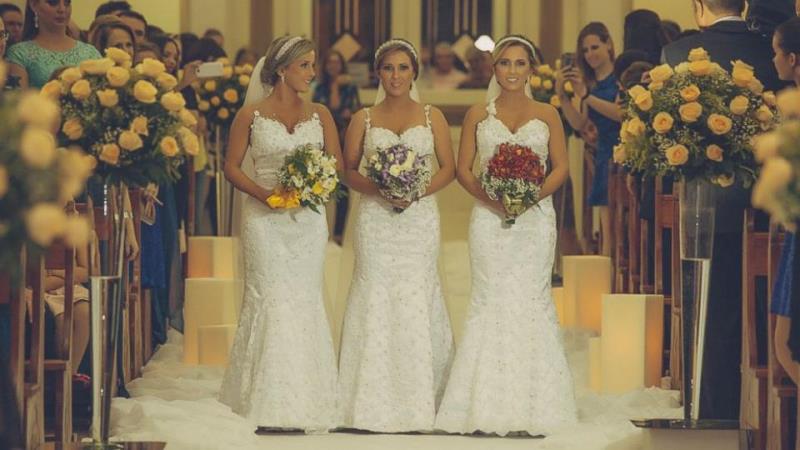 Article Name
Identical Triplet Sisters Wed On The Same Day In Brazil
Author
Description
Identical triplet sisters tied the knot on the same day in joint wedding ceremony. Here are the details from the wedding.