The first question that might pop into your mind is, why is it imperative to learn about the women in science and engineering? Why women in particular and why in this field? To start this discourse about the role and contribution of women in these fields, it is important first, to talk about the position of professional women in general.
For centuries, their position has been undermined by men who are their peers and their achievements have been overshadowed because of their gender. This has led to biasness towards women, which have compelled them to remain in the shadows for quite some time in history. Despite this obvious gender discrimination, the feminist movement of the 1970s and the 1980s allowed them back into public and professional life as an equal of man, and they have excelled since.
---
Suggested read: 10 Most Powerful Women In Business, Who Are Conquering The World
---
Even before the feminist movement, a number of women left an indelible mark, particularly in the field of science. Some of the names include Marie Curie, who made invaluable contributions to the field of radioactivity; Maria Mayer, who first suggested the accepted model of the atomic nucleus; Rosalind Franklin, Rachel Carson, Gertrude Elion, and many, many more.
However, in today's world, not only have people stopped giving enough credit and recognition to some of the greatest women scientists and engineers ever seen in history, but scientists and engineers in general. It is undoubtedly true that the world cannot run without the contributions of science and engineers, because every single aspect of our lives is determined by either of the two. Therefore, it is only fair that some of the most capable women in science and engineers claim their share of fame and recognition, not only as exemplary professionals in their respective fields, but also as women who beat the odds and emerged victorious.
1. Jacqueline K. Barton
Jacqueline K. Barton, apart from being one of the world's most respected scientists is also a professor of Chemistry in the California Institute of Technology. She is renowned for her research on DNA, and her discoveries in the field.
Barton discovered that DNA has the ability to conduct electricity, but this particular property undergoes a drastic shift when the DNA is subjected to certain chemical changes and mutations. According to other scientists, this discovery could change the way people study about DNA entirely, and change the way people research about mutations and cloning.
2. Lisette Titre
Another field in which women face an unusual level of sexism is the field of virtual reality and video games. Lisette Titre has been defying the odds and fighting against the current by being a pioneer in the field of game development for the past thirteen years. Currently, she is the art director at Ubisoft, the company which is renowned for being the creator of the Assassins Creed series.
Apart from being brilliant at what she does, Titre is also a tireless advocate of the rights of young women, and along with developing video games, she also encourages the underprivileged youth, and especially women to engage in the field in which she is currently working.
3. Rita Colwell
Rita Colwell is the Director of National Science Foundation. The fact that she is the director of so prestigious an institute is proof enough of her prowess, but she is also one of the leading researchers in the world in the field of science and technology. For the past 25 years, Colwell has been involved in one of the most in-depth study of cholera, and despite the fact that her day time job is taxing and time-consuming, she feels she would be "starved" without her research on cholera.
In an interview to Discover magazine, Colwell said, "We took this elegant, interdisciplinary research involving molecular biology, oceanography, remote sensing, and clinical medicine and came up with a very simple technique to prevent the disease: filtering water through sari cloth… This is the kind of holistic approach we need to solve complicated scientific issues."
---
Suggested read: Women In Leadership Roles Who Have Carved A Niche For Themselves
---
4. Trisha Kothari
Max Levchin, the former partner founder of PayPal and the current founder of the new company called Affirm has this to say about Trisha Kothari- "Trisha Kothari is one of the most exciting up-and-coming coders in America." Not only is she is a regular genius, but also the first female engineer of the financial startup company which is called Affirm.
Affirm turns your phone into a credit card, allowing you to complete transactions with several merchants. The COO of Affirm, Huey Lin says, "Trish was instrumental in building the core aspects of a financial platform that powers everything we do."
Before she spearheaded the project which led to the creation of Affirm, she also interned at places like LinkedIn and Google, earned the prestigious Anita Borg scholarship and even scholarships from Microsoft.
5. Gretchen Daily
Gretchen Daily is a research professor at one of the most reputed Universities in the world- namely Stanford University. However, her contribution to the world of environmental science has been considered invaluable in recent times. According to her theory, the way to conserve nature and build a sustainable future, is by understanding the true economic worth of the services that nature provides. Her research has resulted in a unifying bond between ecologists and economists, who have taken a more practical approach in nature conservation and policy making.
6. Tracey Chou
Tracey Chou is one of the world's youngest and most dynamic woman engineers. After working in prestigious positions with high profile companies like Google and Quora, she joined another international company- Pinterest, where she still works today.
Apart from playing a crucial role in software development in all of the places where she has worked, she is also an advocate for the rights of women to work on an equal plane with men in various professional fields. She was instrumental in the movement in Los Angeles which compelled companies to reveal the number of female engineers they had, and has been encouraging young women to excel in this particular field, serving as an inspiration herself.
7. Persis Drell
Persis Drell is the Director of Research at Stanford Linear Accelerator Centre. Despite coming from a physicist background and getting to interact with some of the most renowned physicist of the previous century, Drell was determined to dabble in the field of mathematics. However, she ultimately ended up becoming one of the country's leading physicists, and currently researches elementary particle physics, using giant colliders.
Her research lies in the field of elemental physics, where she is trying to discover what the world is made of in the most fundamental and preliminary level by examining particles at their source.
8. Kamilah Taylor
Kamilah Taylor is another inspiration woman that the world should definitely know about. She is the senior software engineer at LinkedIn, and has played a major role in almost all software related changes that LinkedIn has undergone in the past few years.
Not only is Kamilah a highly established software engineer, but also a published author. She wrote a book called Women in Tech: Take Your Career to the Next Level with Practical Advice and Inspiring Stories, which coincides with her mission to introduce more and more women into the world of tech. She also delivers lectures and engaged in international conferences and is involved with a number of progressive organizations like BlackGirlsCode to further her mission to help women, especially underprivileged young women to establish themselves professionally.
---
Suggested read: 11 Famous Women Inventors And Their Marvelous Inventions
---
9. Sylvia Earle
Sylvia Earle' designation as Explorer in Residence of The National Geographic Society is cool enough as an introduction, but when you read about her actual achievements, you are going to be even more inspired for sure. She is not only a deep-sea diver, but also an oceanographer, and a developer of things which can be submerged in the sea in the U.S. marine protected areas which are protected and surveyed.
Her entire mission is to make information about the inaccessible ocean accessible to the public, so that they can relate to the ocean on a more personal basis. Her whole motive is the education of the public on the contributions and necessities of the ocean, so that they feel obligated to protect it out of a personal sense of responsibility. She has to her credit more than 6,000 hours of time diving in the great blue sea, and is one of the world's foremost authorities on oceanography.
Even though there are a considerable number of women in science and engineering and techonology professionally,  not enough of them are recognized or celebrated for their invaluable contributions.
Even though they are quietly continuing their research and activities and making drastic changes which affect the world, one thing that connects them all is their passion to inspire more and more young women to live up to their potential and excel in their respective fields. NLT salutes these women in science and engineering, who are truly shining examples of grit, potential and success.
Summary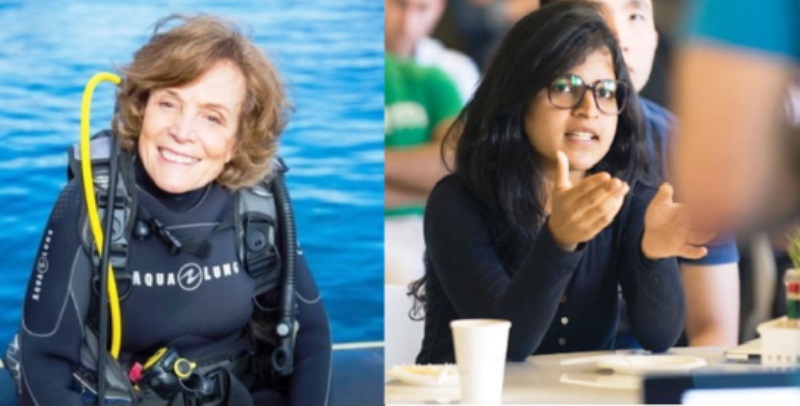 Article Name
9 Women In Science And Engineering You Need To Know About
Author
Description
No on talks about the brains behind the modern scientific and technological marvels. Here are 9 women in science and engineering who deserve to be famous.