Puberty blessed us with a lot of things including acne, and if acne was one of the permanent things you walked away with from that terrifying period of your life, then your struggle with makeup is a very real struggle. A lot of people who have acne-prone skin find it difficult to find makeup which will make them feel beautiful and comfortable. If you wake up and realize that you have broken out, the last thing you would want to do is apply layers and layers of makeup on your face which might make your face look cakey, pasty, and flake off during the course of the day. The key is to finding the right kind of makeup, which will hide your acne, or make your face look as pretty as you want it to be.
---
Suggested read: 7 ways you're actually making your acne worse
---
Does makeup cause acne?
One of the primary concerns that people who have acne-prone skin have is the effect that makeup has on their skin. It is perfectly normal to be confused about whether makeup actually aggravates your acne and makes it worse or not.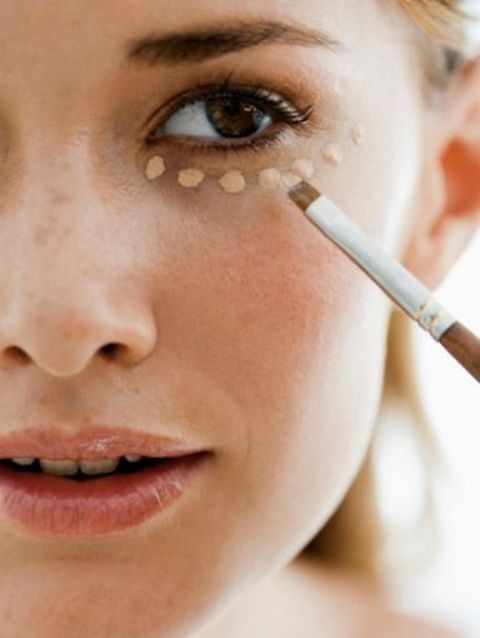 Image source: Pinterest
The good news is, makeup does not cause acne, which means even if you do breakout, you don't need to deny yourself your makeup routine to ensure that your skin behaves. Acne is essentially clogged pores on your face, which leads to the accumulation of pus, which then leads to the formation of acne. There are only two ways in which makeup can make your acne worse – first is if you do not remove your makeup at the end of the day, because of which your pores remain clogged and make your acne worse, and second, when you are allergic to some of the harsh chemicals used in drug-store makeup products.
The trick is to find the right makeup products for acne-prone skin, and you are lucky to say the least because a lot of great brands have a lot of great makeup, which is not likely to affect your acne in the least, and instead, give you the perfect makeup look.
1. Foundation: Clinique Stay Oil-Free Matte Makeup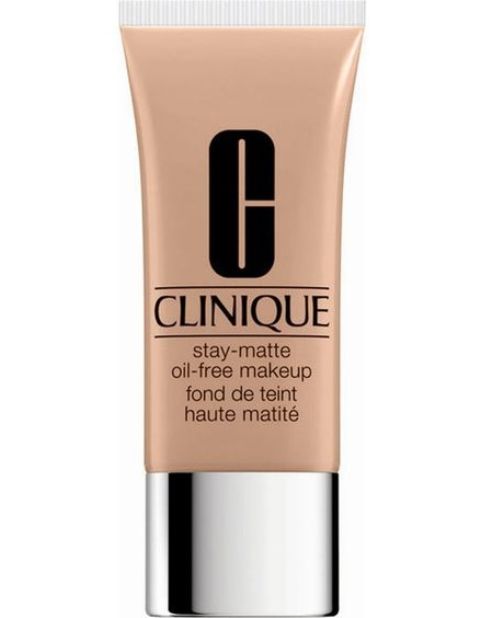 Image source: Pinterest
Foundation is perhaps one of the most important things you need to pick with care when you are picking makeup for acne-prone skin. One of the best brands, according to dermatologists, for this purpose is Clinique with its oil-free, matte range. The fact that it is oil-free ensures that your face doesn't become even oilier than it already is, and the matte finish gives your face a dry, controlled look throughout the day. Clinique also has a wide range of skin tones, so you shouldn't really have trouble finding something suitable for you.
Other great foundations for acne-prone skin:
Hourglass Immaculate Liquid Powder Foundation
Revlon Colorstay Combination/Oily Skin
Laura Mercier Oil Free Supreme Foundation
Urban Decay Naked Skin Weightless Ultra Definition Makeup
2. Concealer: Lancome Maquicomplet Complete Coverage Concealer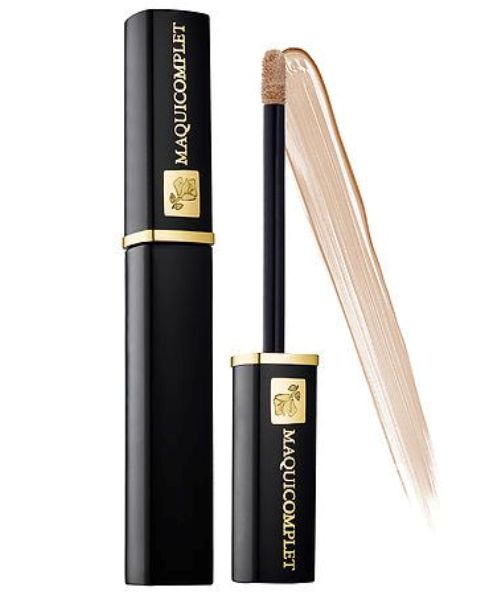 Image source: Pinterest
When you have acne-prone skin, concealer is likely to become your best friend, so it is important that you choose the right concealer for your skin, which will hide all the blemishes and acne, and give you a smooth finish. Concealers should be highly pigmented and this is what this product promises. So even if your breakouts are being especially mean to you, you can handle them with the Lancome Maquicomplet Complete Coverage series, which also impresses on the formula front, and offer a lot of skin tones.
Other concealers you can check out for acne-prone skin:
MAC Studio Finish (with high SPF)
Physician's Formula Conceal RX
Kat Von D Lock-it Tattoo Conceal
Estée Lauder Double Wear Concealer
3. Primer: Bare Minerals Prime Time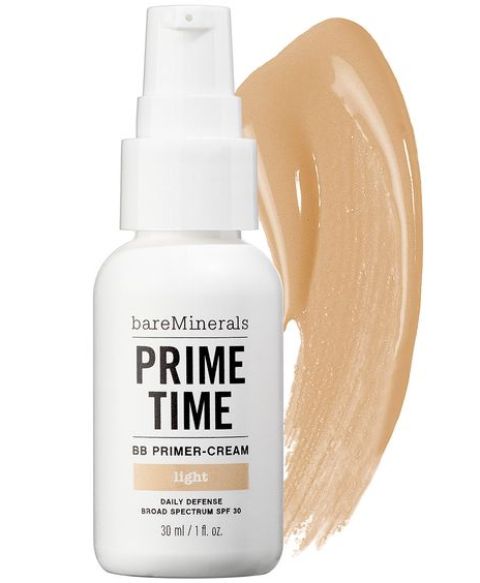 Image source: Pinterest
People often tend to not include primers in their makeup routines. However, a primer is essential for the flawless makeup look that you are always lusting after. Primer reduces the redness around your acne, ensures that your makeup stays in place most of the day, and also hides blemishes. Prime Time from Bare Minerals also contains SPF which ensures that on sunny days or humid days, your acne doesn't go nuts. It is also natural, light, and oil-free, which keeps your makeup in place without making your face feel any heavier.
Other primers which are great for acne-prone skin:
Clarins Instant Smooth Perfecting Touch
MAC Prep + Prime SPF 50 Primer
Smashbox Photo Finish Light
Makeup For Ever HD Microperfecting Primer in Green
Smashbox Cosmetics Photo Finish Primer Water
4. Setting Powder: Revlon Nearly Naked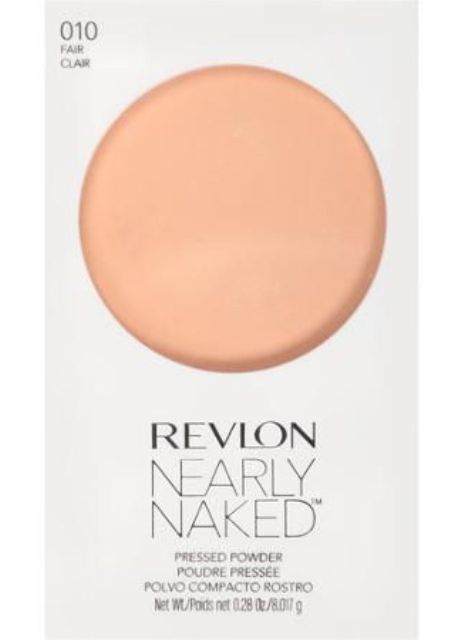 Image source: Pinterest
When you are done with the base for your makeup, you need to ensure that it stays in place with the perfect setting powder. Revlon's new Nearly Naked line is easy on the skin, especially if you have acne-prone skin, which offers coverage and as well as a matte-finish and a natural look to your base.
Other setting powders you can check out:
Maybelline's Dream Matte Powder
Neutrogena Mineral Powder
Urban Decay De-Slick
---
Suggested read: 12 effective tips on how to get rid of acne naturally
---
5. BB Cream: boscia BB Cream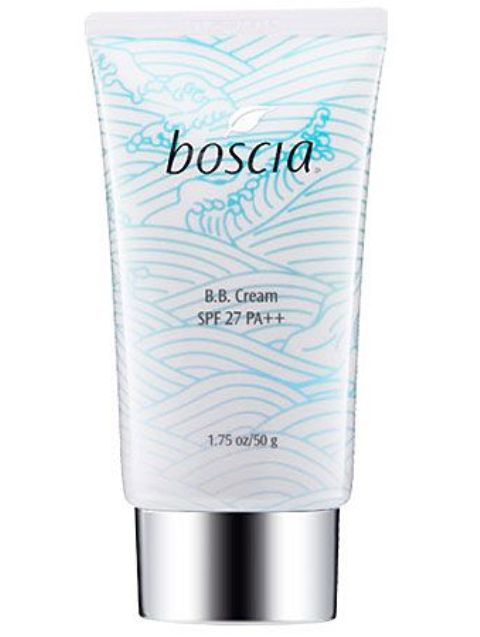 Image source: Pinterest
BB cream is practically a godsend when it comes to makeup for acne-prone skin. Boscia's beauty balm offers a light and oil-free base which is also self-color-correcting, meaning it can adjust itself to most skin shades giving you a beautiful and spotless finish.
Other BB creams that work wonders on acne-prone skin:
L'Oreal Paris Magic Skin Beautifier BB Cream
La Roche-Posey Effaclar BB Cream
Jart+ BB Cream
Clinique Acne Solution BB Cream
6. Blush: NARS Blush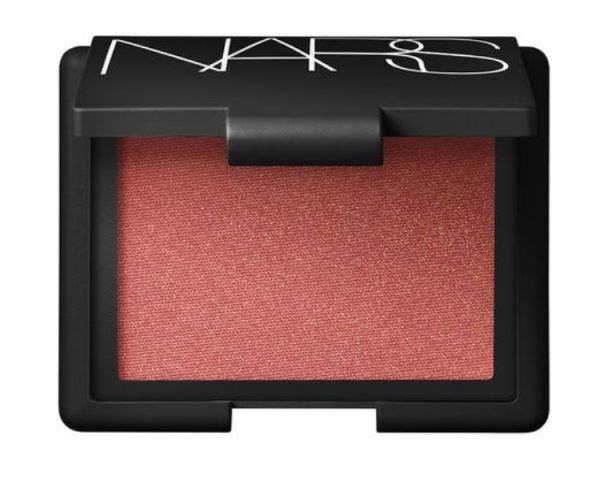 Image source: Pinterest
Even if you manage to choose some of the best makeup products for your skin if you have acne, the wrong blush could very well ruin your perfect base, because it might end up highlighting all the acne marks that you had carefully hidden. The ultra-light, oil-free, highly pigmented NARS blush is a favorite amongst makeup artists all over the world, for its subtle finish and smooth formula.
Other great blushes for acne-prone skin:
MAC Sheertone Blush
Colorbar Cheekillusion Blush
Maybelline Dream Mousse Blush
7. Bronzer: NYX Matte Bronzer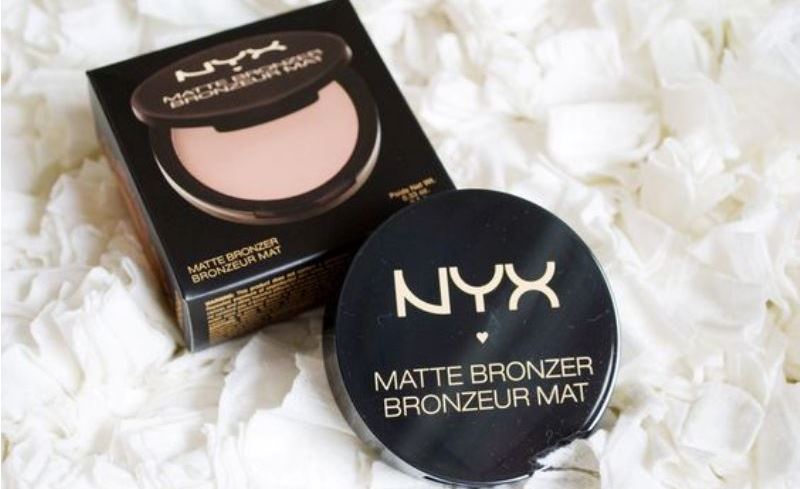 Image source: Pinterest
The point of a bronzer is to make your skin look all sun-kissed and tanned and amazing, after you have applied your base makeup. If you do not choose the right bronzer, especially when you have acne-prone skin, you might end up looking garish. The NYX Matte Bronzer has a super-light formula which is easy to apply and lasts for 6-8 hours, which is actually great for a bronzer.
Other bronzers for acne-prone skin:
Maybelline Eye Studio Diamond Glow Eyeshadow Palette in Copper Brown
Urban Decay Beached Bronzer
Bobbi Brown Bronzing Powder
8. Highlighter: Laura Mercier Matte Radiance Baked Powder In Highlight 101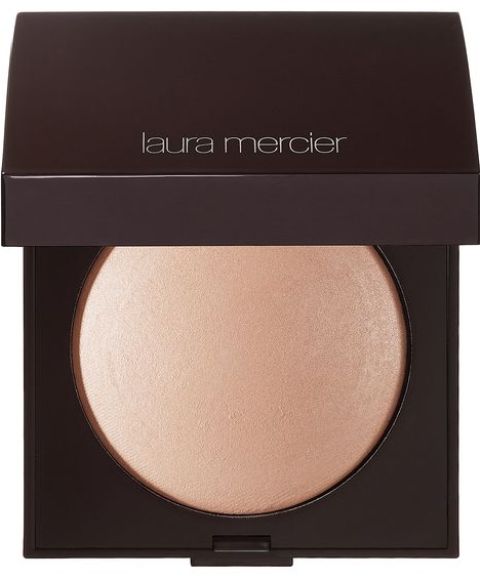 Image source: Pinterest
For women who have acne-prone skin, it is nothing short of a nightmare trying to highlight your cheekbones and T-bone without highlighting your acne. However, there are a lot of powder-based, oil-free highlighters such as the Laura Mercier Matte Radiance Baked Powder, which can give you a glowing finish, without highlighting all the wrong things.
Other highlighters you can use:
NARS Cosmetics Liquid Illuminator
Hourglass Ambient Lighting Powder
Benefit Shy Beam Matte Liquid Highlighter
9. Tinted Moisturizer: Laura Mercier Oil-Free Tinted Moisturizer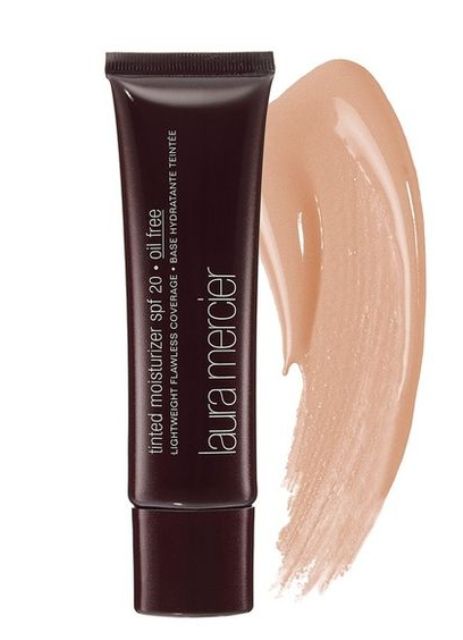 Image source: Pinterest
Even though a moisturizer seems pretty pointless when you have acne, it is important that you hydrate your skin, and you can even use it as makeup if you get the tinted kind. Not only does this Laura Mercier tinted moisturizer moisturize your skin, it also makes your skin appear luminescent since it has a sheer finish. It also does a great job of covering blemishes, although it shouldn't be considered a replacement for a good concealer.
Other tinted moisturizers you can check out:
Physicians Formula Organic Wear Tinted Moisturizer
Jouer Luminizing Moisturizing Tint
---
Suggested read: The MOST perfect skin care routine for oily skin
---
10. Setting spray: Makeup Revolution Pro Fix Oil-Control Makeup Fixing Spray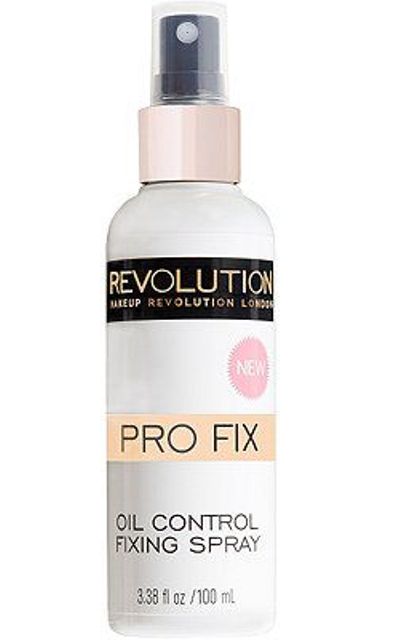 Image source: Pinterest
Not only is this cheap as hell, but also super effective when it comes to rendering your makeup smudge-proof, fade-proof, and water-proof. If you are unwilling to opt for setting powder, you can opt for this water-based miraculous creation, which will not only keep your makeup in place, but also ensure that there is less oil-production by your face throughout the day, so that in the battle between makeup and your acne, we all know who wins.
Other great setting sprays for people with acne-prone skin:
Urban Decay All Nighter Long Lasting Spray
L'Oreal Paris Infallible Makeup Extender Setting Spray
Caudalie Grape Water (all-organic)
Apart from these awesome products, you can experiment with some other products from good, established brands, and always make sure you clean your application tools like brushes and sponges, so that you can have flawless makeup every day, acne or not.
Featured image source: Pixabay, under Creative Commons License
Summary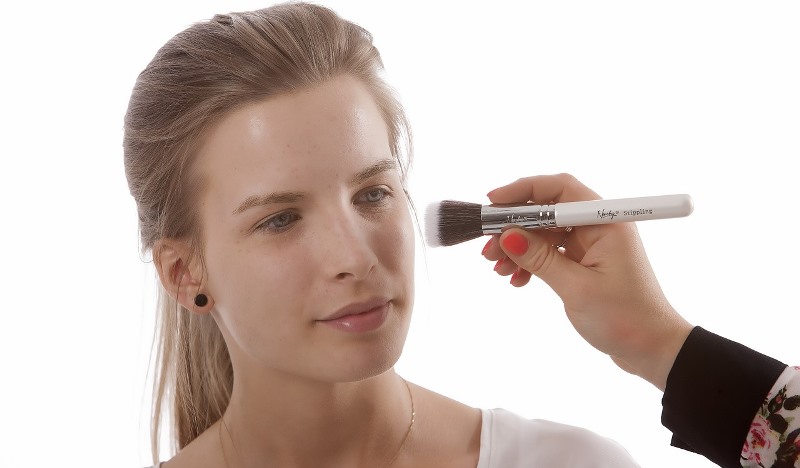 Article Name
All You Need To Know About Applying Makeup For Acne-prone Skin
Author
Description
If you have acne, then you'd do well to know everything there is about applying makeup for acne-prone skin.