Bigg Boss is back with a brand new season that promises double the dose of 'fun' for viewers who feed their voyeuristic fetish off of the several platters of catfights, melodrama, PDA and not to forget, slang showers and brawls in the Bigg Boss house.
Image source: Facebook/ColorsTV.BiggBoss
This season, though, seems all set to ride even higher on the TRP-waves by doubling the amount of these yum-platters- with a theme that sums it up in two words 'double trouble.' Teamed in pairs by actual tying, the pairs already seemed to have tasted the kind of 'double trouble' that will be brewing in the Bigg Boss house this season. After all, they've had their clothes shredded, been tied to each other and are now expecting the next twist with not-so-abated-breath.
From whatever inkling we have- from the very 'innocuous' pairing that the paid Cupid (scriptwriter) of Bigg Boss has done to 'spice' up the dishes Bigg Boss cooks, we can tell you this:
1. Digangana Suryavanshi and Roopal Tyagi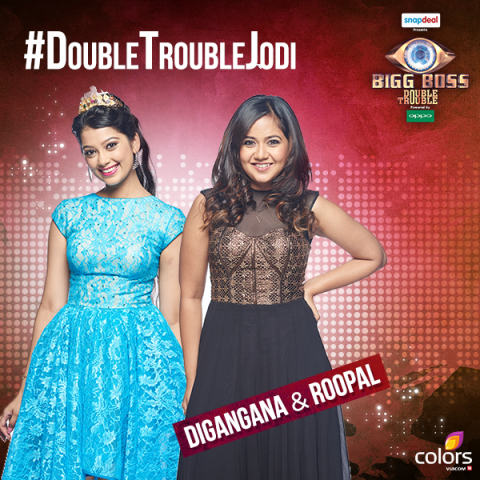 Image source: Facebook/ColorsTV.BiggBoss
The 17-year-old Digangana has made it to the house, after being notoriously famous for her catfights with former co-star Farnaz Shetty. Roopal Tyagi, on the other hand, has been put in the house with her ex Ankit Gera, who is paired with singer Arvind Vegda. Hear the fast-ticking bomb yet?
2. Kishwer Merchant and Aman Verma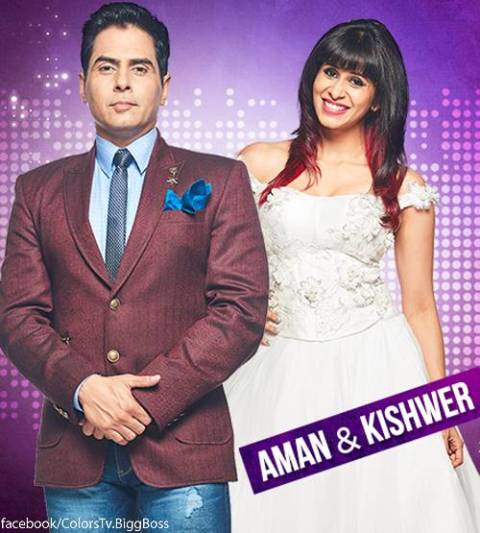 Image source: Facebook/ColorsTV.BiggBoss
Controversy's child Aman Verma returns in what he calls his 'comeback' teamed with Kishwer Merchant of Hip Hip Hurrah fame whilst Kishwer's real life, 17-years-junior boyfriend Suyyash Rai is in the house too. And before you ask, yes, he is paired with a gorgeous Bong babe- someone you'd remember from a certain Shik-dum from Dhoom- Rimmi Sen! Think the shake-shake Bigg Boss make there, I also.. 😛
3. Mandana Karimi and Keith Sequiera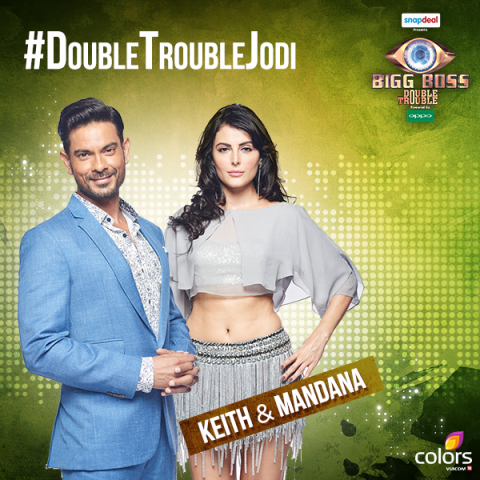 Image source: Facebook/ColorsTV.BiggBoss
Iranian model and actress Mandana Karimi who shall soon be seen opposite Tusshar Kapoor in Kya Kool Hai Hum 3 is paired with former VJ Keith Sequeira- whose real life girlfirend, Rochelle Maria Rao, too is in the house paired with yet another hot-blooded Punjabi lad of MTV Roadies X2 fame, Prince Narula. Wondering what the adla-badli will do…well, that's THE idea- to make you wonder…
---
Suggested read: Kangana Ranaut's must-watch interview at the World Summit
---
4. Prince Narula and Rochelle Maria Rao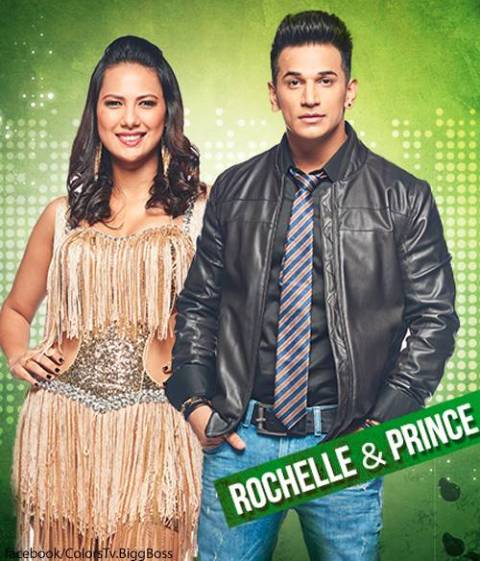 Image source: Facebook/ColorsTV.BiggBoss
Didn't we just tell you already? And oh- by the by, Rochelle came in when Prince was rejected by six female inmates!
5. Ankit Gera and Arvind Vegda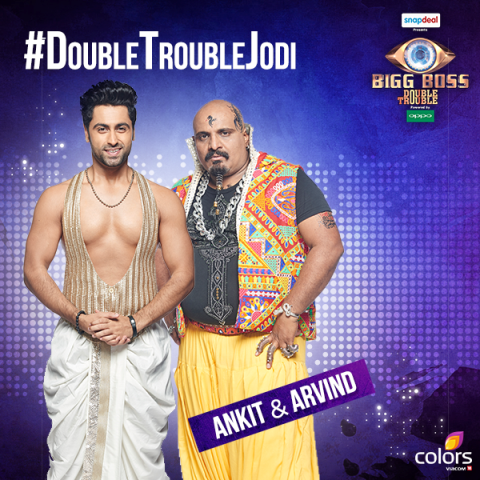 Image source: Facebook/ColorsTV.BiggBoss
Like I said earlier, if anything Roopal and Ankit shall follow in on the footsteps of former Bigg Boss ex-couple Delnaaz and Rajeev and rev up the TRP's. Meanwhile, Arvind..? Guess, he will give the background score! 😛
6. Suyyash Rai and Rimmi Sen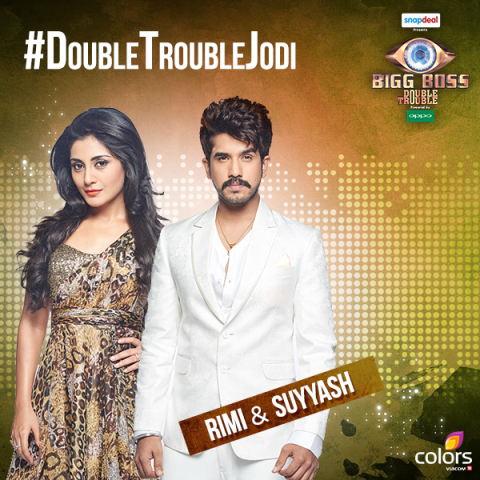 Image source: Facebook/ColorsTV.BiggBoss
Suyyash is the young lover of Kishwer but we wonder if Rimmi Sen's company shall cause the lover to declare 'it's over!' What…#JustSaying.. it's a possibility..it's Bigg Boss..
7. Vikas Bhalla and Yuvika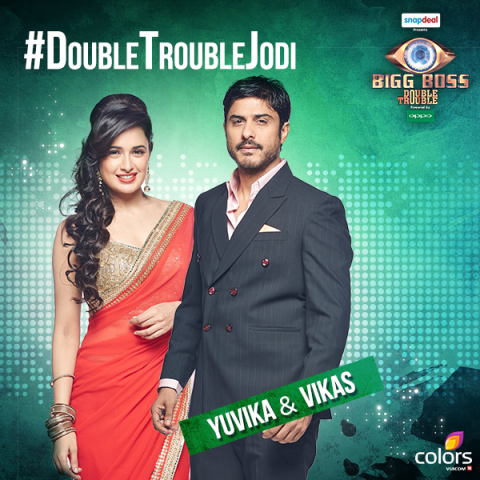 Image source: Facebook/ColorsTV.BiggBoss
Popular TV actor of Uttaran fame Vikas Bhalla is paired opposite the 2005 Zee Cine Stars Ki Khoj contestant and Om Shanti Om actress- Yuvika Chaudhary. Yes, I am wondering why they are here too!
Plus, let's not forget there's wild card too…
Phew- Bigg Boss- Double Trouble!
Featured image source: Facebook/ColorsTV.BiggBoss
Summary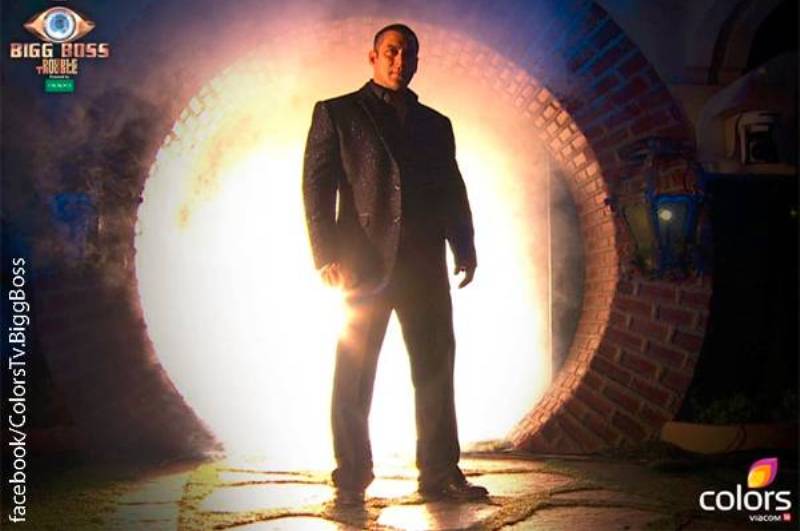 Article Name
Bigg Boss Season 9 Double Trouble Contestants
Author
Description
What really could bring on the DOUBLE TROUBLE that Bigg Boss 9 promises - take a look...