Black is never boring; it always comes across as hip in terms of color. And the basic black tops for women have always been the cynosure of fashionistas' eyes. Therefore, it will be wrong to say that black tops for women faded away as a trend. No matter how many latest colors make it to the fashion ramps, black is evergreen. In case you feel you are short of great tops or western wear for your wardrobe, here are some fashion forward hacks to style a basic black top. Black tops for women will never hold the same old significance. Read on.
1. Style it with a dress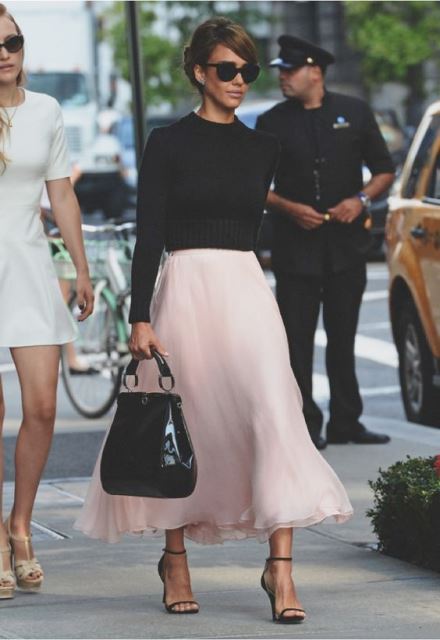 Image source: Pinterest
If you have that dress in pastel, then you can actually put any other outfit to shame. Guess how? Using the black shirt or the black top you have, you can simply slip it over the dress for an optimal color block effect. In addition, you need to make sure that you use the black top with a belt for dresses of midi length. This will not only jazz up the look but also ensure that you create a gorgeous vibe. Accessorize cleverly in colors that match the dress or simply go accessory-free. You could carry a clutch though, for optimal effect. Black shirts for women can also be used for similar styling.
---
Suggested read: 10 budget-friendly funky fashion accessories that you must grab now
---
2. Go for the slouch effect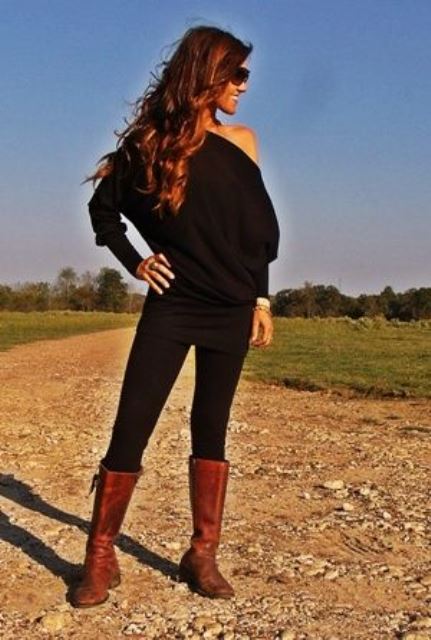 Image source: Pinterest
If you have a basic black top, why not use it cleverly to a balloon effect? You may simply slide it on one side for an off-shoulder slouch effect. This renders it a hippy-like effect while making sure that your overall fashion look is casual. Think like what Deepika Padukone's Veronica did in Cocktail.
3. Pep it up with slits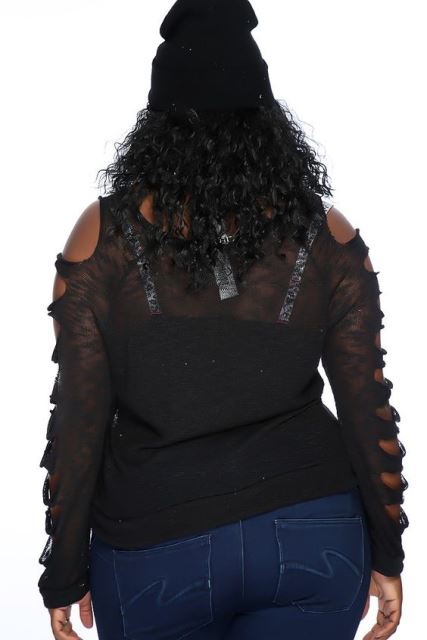 Image source: Pinterest
Black tops are basic but they can be wow too. If you have more than one of these and feel that it is losing glam, simply razor slit around the sleeves. You could also go for pastel patches or appliqués in interesting styles over the shirts. You can contrast this with a shocking colored tee or a camisole. This will pep up the overall look. You need to team it up with aviators to get this look right.
4. Layer layer layer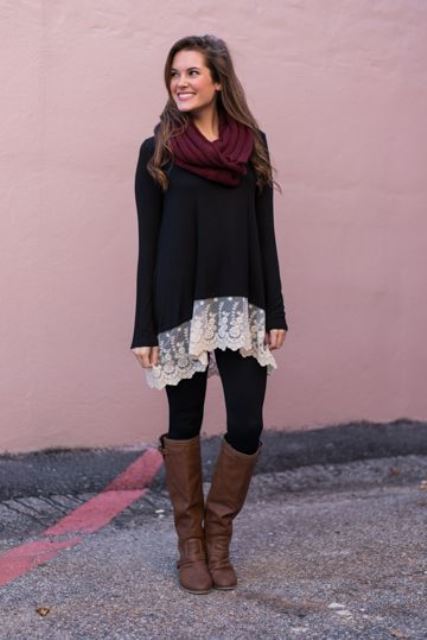 Image source: Pinterest
Black tops are your savior in times of fashion needs or even in a fashion crises. However, the best accompaniment to this is the concept of layering it right. From scarves to stoles and even to sheer cover-ups, you can play with layers until you are out of options. Because black contrasts well with anything and everything. The best layered looks are those that are funky yet chic. Do not attempt anything too risky or too bold.
5. Trinket it up

Image source: Pinterest
Why not stitch up some trinkets on the black top you own? You can add a brand new look to an old black top in a jiffy with this clever hack. The embellishments in metal add magic to a faded black top too. These hacks actually help you pour some elixir over a basic black top. What is even better is that you can style a black top with denims and not appear too conventional if you have these trinkets applied onto the top. You may even play with baubles, lace, and smaller metal motifs. There is no limit to the options available in this style. It all depends on your creativity and how much effort you want to put in to make your black top stand out.
6. The brooch magic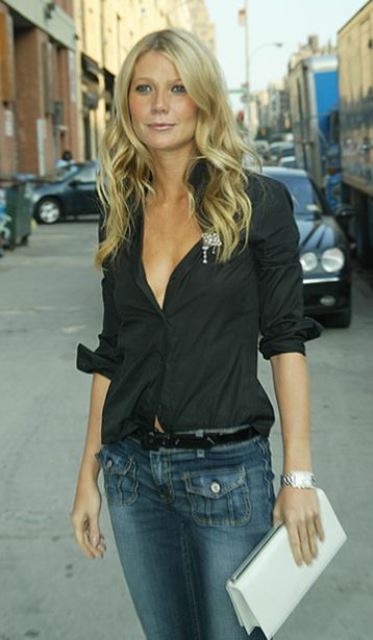 Image source: Pinterest
In case you have an antique brooch handed over from your mom, simply pin this to the basic black top. Pull up a pair of trousers or a short skirt, and you are good to go. These look actually help in breaking the monotony, and thus, these render a freshness to the same old black top like you never imagined.
7. Throw it over a tee
Image source: Pinterest
A black top can be worn over a full-sleeved tee without much thought. The sleeves must come in deep color that contrasts heavily against the black. You could choose to pair these with jeans, capris or even palazzos to complete this look. The only thing to keep in mind is that the fit must be comfortable and not too tight.
8. Skirt around
Image source: Pinterest
A basic black top needs no accompaniment over and above a wild flower-printed skirt. This could be a flared skirt or an A-line pick. This will add oomph to the top and make you look like a diva straight out of a Vogue photo shoot.
9. Structure it
Image source: Pinterest
Blazers and summer jackets are hip picks to go with basic black tops for women. The same applies to black shirts as well. With the best structured and neatest cuts these have, your simple black top will actually help you turn heads. The only thing to keep in mind here is to accessorize only your ears or say it with a statement watch.
---
Suggested read: 10 must-haves from international ramps from Spring Fashion 2016
---
10. Sashay some ethnicity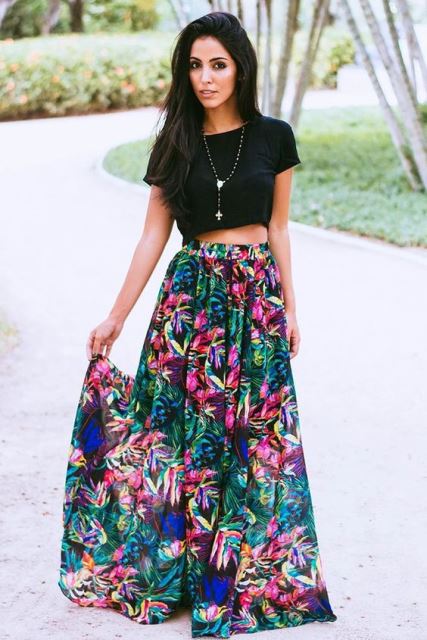 Image source: Pinterest
Who said a plain back top is Western? You can use it as a blouse for a half saree or even a sequined saree. Just make sure you pick the right weave and accessorize well for a full-blown ethnic look.
And that's how you can style a basic black top with anything – a skirt, a half-saree, or even a dress.
Summary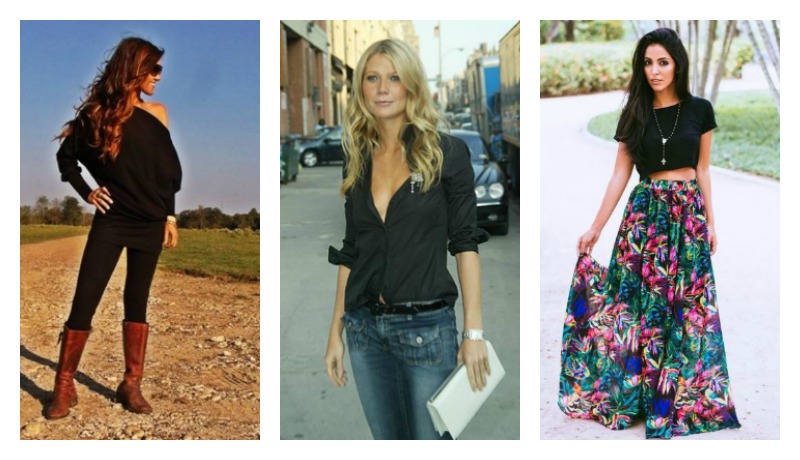 Article Name
Black Tops For Women: How To Style Them With Anything On The Go
Author
Description
Basic black tops for women can be paired with anything - a skirt, a pair of denims, or even a pastel dress! After all, black IS versatile!